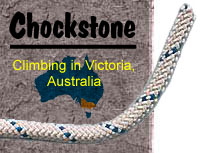 Sponsored By
ROCK
HARDWARE


Black Diamond: "ATC" Belay device - Suits 9-11mm ropes - Great all-rounder. Anodised Platinum. (Bronze?) Only 1 left! $19.00
32% Off

Chockstone Forum

A place for Victorian climbers to hang out and chat about climbing. Anyone can register and post messages.

Limit To: All A B C D E F G H I J K L M N O P Q R S T U V W X Y Z
| | | | | | | |
| --- | --- | --- | --- | --- | --- | --- |
| Icon | User | Location | Joined | # Posts | Last Posted | Last Logon |
| | Doug | Hobart | | 340 | 22/05/2015 | 3/09/2015 |
| | bjorniam | Sydney, Australia | 22/06/2012 | 30 | 3/09/2015 | 3/09/2015 |
| | IronCheff | Victoria, Australia | 12/03/2011 | 44 | 29/07/2015 | 3/09/2015 |
| | Hendo | Sydney, Australia | 15/12/2009 | 102 | 24/04/2015 | 3/09/2015 |
| | argos44 | Darwin, Australia | 8/10/2012 | 90 | 24/08/2015 | 3/09/2015 |
| | Bob Saki | Victoria, Australia | 11/04/2005 | 592 | 15/07/2011 | 3/09/2015 |
| | Clancy | Canberra, Australia | 19/08/2003 | 79 | 1/07/2015 | 3/09/2015 |
| | tnd | Sydney, Australia | 2/02/2005 | 1204 | 25/05/2015 | 3/09/2015 |
| | deep Van Winkle | Sydney, Australia | 13/12/2014 | 4 | 23/12/2014 | 3/09/2015 |
| | tomatessechees | Sydney Northern Beaches | 24/01/2014 | 11 | 16/06/2015 | 3/09/2015 |
| | MrBill | Victoria, Australia | 29/06/2015 | 1 | 29/06/2015 | 3/09/2015 |
| | Pommy | Gosford, Australia | 18/11/2003 | 130 | 10/06/2015 | 3/09/2015 |
| | daave | Wollongong, Australia | 11/09/2005 | 343 | 18/08/2015 | 3/09/2015 |
| | Cam McKenzie | Victoria, Australia | 17/01/2006 | 265 | 26/08/2015 | 3/09/2015 |
| | Rossco | Victoria, Australia | 29/01/2006 | 22 | 24/06/2015 | 3/09/2015 |
| | plugngo | Sydney | 11/02/2009 | 53 | 18/08/2015 | 3/09/2015 |
| | Dr Nick | Sydney, Australia | 6/03/2011 | 221 | 18/08/2015 | 3/09/2015 |
| | MisterGribble | Victoria, Australia | 6/04/2007 | 395 | 29/08/2015 | 3/09/2015 |
| | jkane | Victoria, Australia | 25/03/2006 | 259 | 17/07/2015 | 3/09/2015 |
| | lacto | Victoria, Australia | 14/05/2005 | 338 | 20/08/2015 | 3/09/2015 |
| | grantoss | Sydney, Australia | 28/07/2010 | 139 | 23/03/2015 | 3/09/2015 |
| | stuart h | Victoria, Australia | 20/11/2006 | 44 | 26/02/2015 | 3/09/2015 |
| | phillipivan | | 17/10/2009 | 530 | 3/09/2015 | 3/09/2015 |
| | dan_b | Victoria, Australia | 4/06/2011 | 88 | 22/07/2015 | 3/09/2015 |
| | Stu~ | Sydney, Australia | 1/04/2014 | 0 | | 3/09/2015 |
| | sholloway | Victoria, Australia | 27/04/2014 | 3 | 19/08/2015 | 3/09/2015 |
| | Damo666 | Australia | 26/02/2009 | 259 | 20/08/2015 | 3/09/2015 |
| | dmcg | ACT, Australia | 3/09/2007 | 27 | 17/08/2015 | 3/09/2015 |
| | The good Dr | Victoria, Australia | 19/04/2005 | 578 | 24/07/2015 | 3/09/2015 |
| | Dave_S | Victoria, Australia | 10/10/2012 | 133 | 1/09/2015 | 3/09/2015 |
| | IdratherbeclimbingM9 | Mt Buffalo (near enough) Victoria, Australia. | | 10185 | 3/09/2015 | 3/09/2015 |
| | Marky_07 | Fitzroy, Victoria | 20/06/2015 | 2 | 21/07/2015 | 3/09/2015 |
| | Garrath | Victoria, Australia | | 237 | 3/09/2014 | 3/09/2015 |
| | johnpitcairn | Auckland, New Zealand | 21/08/2012 | 72 | 12/08/2015 | 3/09/2015 |
| | Danis | Victoria, Australia | 4/04/2010 | 0 | | 3/09/2015 |
| | scarecrow | Adelaide, Australia | 11/06/2009 | 40 | 7/07/2015 | 3/09/2015 |
| | Goshen | Geelong, VIC, Australia | 29/04/2004 | 64 | 20/05/2015 | 3/09/2015 |
| | grangrump | Victoria, Australia | 22/06/2007 | 383 | 28/08/2015 | 3/09/2015 |
| | ado_m | Victoria, Australia | 22/11/2006 | 320 | 21/08/2015 | 3/09/2015 |
| | deadbudgy | Sydney, Australia | 26/10/2007 | 144 | 21/07/2015 | 3/09/2015 |
| | Dr Box | Melbourne | 5/11/2004 | 113 | 30/08/2015 | 3/09/2015 |
| | Sabu | Melbourne, Australia | 20/09/2004 | 2743 | 5/08/2015 | 3/09/2015 |
| | climberman | Corrimal, Australia | 25/07/2004 | 786 | 1/09/2015 | 3/09/2015 |
| | cbrown87 | Sydney, Australia | 27/07/2015 | 1 | 27/07/2015 | 3/09/2015 |
| | prb | Adelaide, Australia | 19/04/2004 | 458 | 3/09/2015 | 3/09/2015 |
| | timbigot | Victoria, Australia | 13/08/2012 | 70 | 28/08/2015 | 3/09/2015 |
| | nleong | Victoria, Australia | 31/03/2011 | 0 | | 3/09/2015 |
| | DL | Victoria, Australia | 25/07/2003 | 12 | 25/05/2014 | 3/09/2015 |
| | JonSnow9 | Wollongong, Australia | 12/05/2013 | 14 | 4/04/2015 | 3/09/2015 |
| | pmonks | U.S.A. | 29/07/2008 | 1267 | 29/08/2015 | 3/09/2015 |
| | whippet | Mt Victoria & Dargan , Blue Mtns | 28/04/2015 | 1 | 28/04/2015 | 3/09/2015 |
| | sbright | Victoria, Australia | 22/02/2006 | 52 | 18/10/2013 | 3/09/2015 |
| | beean | Townsville, Australia | 24/07/2013 | 6 | 2/08/2015 | 3/09/2015 |
| | potex | Victoria, Australia | 4/08/2015 | 0 | | 3/09/2015 |
| | pedro.c | Sydney, Australia | 27/11/2012 | 62 | 27/06/2015 | 3/09/2015 |
| | SnowSense | Victoria, Australia | 20/07/2015 | 3 | 12/08/2015 | 3/09/2015 |
| | rodw | NSW, Australia | 15/12/2003 | 2550 | 30/08/2015 | 3/09/2015 |
| | BBSR | NSW, Australia | 2/10/2012 | 38 | 13/08/2015 | 3/09/2015 |
| | gaetanr | Victoria, Australia | 5/12/2012 | 24 | 21/08/2015 | 3/09/2015 |
| | arniearms | Sydney, Australia | 21/07/2009 | 92 | 3/07/2015 | 3/09/2015 |
| | MP | South Australia | 23/03/2012 | 54 | 30/08/2015 | 3/09/2015 |
| | thisrod | Queensland, Australia | 14/02/2008 | 3 | 6/02/2015 | 3/09/2015 |
| | maxdacat | London | 14/09/2004 | 909 | 3/09/2015 | 3/09/2015 |
| | Wendy | Natimuk | 23/11/2004 | 3125 | 30/08/2015 | 3/09/2015 |
| | spiinal | Victoria, Australia | 3/10/2009 | 49 | 8/06/2015 | 3/09/2015 |
| | hutchie | Sydney, Australia | 25/06/2009 | 3 | 10/04/2014 | 3/09/2015 |
| | AndreasAachen | Victoria, Australia | 16/05/2014 | 3 | 20/05/2015 | 3/09/2015 |
| | Chillisalt | Victoria, Australia | 1/06/2013 | 9 | 21/07/2014 | 3/09/2015 |
| | barefootbushman | Western Australia, Australia | 26/05/2014 | 7 | 16/02/2015 | 3/09/2015 |
| | TimP | Castlemaine | 28/09/2013 | 158 | 3/09/2015 | 3/09/2015 |
| | spicelab | Sydney, Australia | 14/10/2005 | 230 | 26/07/2015 | 3/09/2015 |
| | cami | Victoria, Australia | 11/06/2014 | 0 | | 3/09/2015 |
| | Glen | Victoria, Australia | 18/06/2003 | 9 | 19/06/2014 | 3/09/2015 |
| | widewetandslippery | Victoria, Australia | 20/12/2006 | 3383 | 3/09/2015 | 3/09/2015 |
| | Mr Curly | New South Wals, Australia | 28/09/2014 | 2 | 31/07/2015 | 3/09/2015 |
| | sirdogalot | brisbane, Australia | 8/06/2011 | 8 | 15/06/2015 | 3/09/2015 |
| | mikllaw | Victoria, Australia | 14/01/2010 | 1578 | 27/08/2015 | 3/09/2015 |
| | Lingy | NSW, Australia | 8/04/2014 | 5 | 27/05/2015 | 3/09/2015 |
| | Jules Truong | NSW, Australia | 24/07/2013 | 50 | 3/09/2015 | 3/09/2015 |
| | garbie | Sydney, Australia | 14/11/2004 | 238 | 22/07/2015 | 3/09/2015 |
| | Natalie | Shepparton, Vic | 16/06/2015 | 6 | 25/08/2015 | 3/09/2015 |
| | tshaw | Porepunkah, Victoria, Australia | 14/12/2010 | 43 | 30/07/2015 | 3/09/2015 |
| | woody85 | Victoria, Australia | 21/05/2011 | 14 | 10/03/2015 | 3/09/2015 |
| | patto | Victoria, Australia | 10/06/2005 | 1219 | 31/08/2015 | 3/09/2015 |
| | Dalai | Victoria, Australia | | 4457 | 31/08/2015 | 3/09/2015 |
| | bigfish | Blackheath | 10/06/2011 | 56 | 27/08/2015 | 3/09/2015 |
| | shiltz | Victoria, Australia | | 506 | 28/07/2015 | 3/09/2015 |
| | Drake | Blue Mountains, Australia | 4/01/2013 | 107 | 29/06/2015 | 3/09/2015 |
| | Will_P | Victoria, Australia | 28/04/2011 | 203 | 5/05/2015 | 3/09/2015 |
| | pcb | Victoria, Australia | 17/08/2010 | 16 | 30/10/2013 | 3/09/2015 |
| | ldshield | Victoria, Australia | 4/10/2014 | 19 | 31/08/2015 | 3/09/2015 |
| | JES5 | Sydney, Australia | 24/03/2011 | 0 | | 3/09/2015 |
| | Camjammer | Sydney, Australia | 3/10/2007 | 8 | 27/05/2015 | 3/09/2015 |
| | ratt07 | wollongong Australia | 18/07/2010 | 9 | 12/06/2013 | 3/09/2015 |
| | Macciza | Blue Mountains, Australia | 12/02/2007 | 1667 | 17/08/2015 | 3/09/2015 |
| | Dave J | Victoria, Australia | 11/02/2005 | 267 | 7/07/2015 | 3/09/2015 |
| | Tastrad | Launceston, Tasmania | 16/07/2007 | 130 | 28/08/2015 | 3/09/2015 |
| | barney800 | Victoria, Australia | 31/10/2011 | 57 | 14/02/2015 | 3/09/2015 |
| | calipam | Camino, ca | 24/08/2015 | 3 | 24/08/2015 | 3/09/2015 |
| | hero | Victoria, Australia | 2/04/2006 | 626 | 3/09/2015 | 3/09/2015 |
| | kuu | Sydney, Australia | 10/01/2005 | 600 | 25/08/2015 | 3/09/2015 |
| | simone | Victoria, Australia | 30/07/2010 | 75 | 3/09/2015 | 3/09/2015 |
| | FatBoy | Victoria, Australia | | 291 | 24/06/2015 | 3/09/2015 |
| | harold | geelong,Victoria, Australia | 1/05/2004 | 198 | 30/08/2015 | 3/09/2015 |
| | trogster | Gardenvale, Melbourne | 21/10/2006 | 10 | 10/11/2013 | 3/09/2015 |
| | davemm | Victoria, Australia | 3/08/2015 | 0 | | 3/09/2015 |
| | nmonteith | Sydney, Australia | | 11125 | 18/08/2015 | 3/09/2015 |
| | radson | Sydney, Australia | 3/01/2011 | 32 | 24/02/2015 | 3/09/2015 |
| | SBW | Victoria, Australia | 17/01/2005 | 31 | 12/03/2015 | 3/09/2015 |
| | MonkeyBoy | Melbourne, Australia | 4/01/2009 | 329 | 31/07/2015 | 3/09/2015 |
| | Mick | Transitory | 13/06/2003 | 82 | 18/08/2015 | 3/09/2015 |
| | shortman | Victoria, Australia | 5/11/2010 | 2280 | 24/08/2015 | 3/09/2015 |
| | richb | Central Victoria, Australia | 12/08/2004 | 24 | 29/06/2015 | 3/09/2015 |
| | Groveller | Ballarat, Australia | 19/04/2012 | 133 | 20/08/2015 | 3/09/2015 |
| | skegly | Castlemaine, Victoria, Australia | 23/04/2011 | 331 | 27/08/2015 | 3/09/2015 |
| | Marssan | NSW, Australia | 16/07/2006 | 77 | 2/08/2015 | 3/09/2015 |
| | Ball_Bagg | South Australia | 23/01/2010 | 9 | 16/06/2015 | 3/09/2015 |
| | eosn | Victoria, Australia | 2/03/2014 | 25 | 14/05/2015 | 3/09/2015 |
| | lightfoot | Victoria, Australia | 28/01/2015 | 48 | 2/09/2015 | 3/09/2015 |
| | Daglar | Victoria, Australia | 27/04/2015 | 3 | 29/05/2015 | 3/09/2015 |
| | dave1962 | south australia, Australia | 12/09/2010 | 23 | 19/05/2015 | 3/09/2015 |
| | martym | Sydney | 3/04/2009 | 1030 | 2/09/2015 | 3/09/2015 |
| | jrc | Lindfield, NSW Australia | 6/02/2006 | 188 | 6/06/2015 | 3/09/2015 |
Member Statistics

Activity Percentage Graph
| | |
| --- | --- |
| Gym | |
| Boulder | |
| Top Rope | |
| Sport | |
| Trad Single | |
| Trad Multi | |
| Aid/Big Wall | |
| Ice | |
| Mountain | |
| Not Applicable | |
There are 123 registered members. Of these 6% have never posted, 20% have only posted a few times, leaving 75% who are major posters. 85% are from Australia.
The top users are: Doug, Bob Saki, tnd, daave, Cam McKenzie, Dr Nick, MisterGribble, jkane, lacto, phillipivan, Damo666, The good Dr, IdratherbeclimbingM9, Garrath, grangrump, ado_m, Sabu, climberman, prb, pmonks, rodw, maxdacat, Wendy, TimP, spicelab, widewetandslippery, mikllaw, garbie, patto, Dalai, shiltz, Will_P, Macciza, Dave J, hero, kuu, FatBoy, harold, nmonteith, MonkeyBoy, shortman, skegly, martym, jrc
The average user is 42 years old.
Home | Guide | Gallery | Tech Tips | Articles | Reviews | Dictionary | Forum | Links | About | Search
Chockstone Photography | Landscape Photography Australia | Australian Landscape Photography

Please read the full disclaimer before using any information contained on these pages.
Australian Panoramic | Australian Coast | Australian Mountains | Australian Countryside | Australian Waterfalls | Australian Lakes | Australian Cities | Australian Macro | Australian Wildlife
Landscape Photo | Landscape Photography | Landscape Photography Australia | Fine Art Photography | Wilderness Photography | Nature Photo | Australian Landscape Photo | Stock Photography Australia | Landscape Photos | Panoramic Photos | Panoramic Photography Australia | Australian Landscape Photography | Mothers Day Gifts | Gifts for Mothers Day | Mothers Day Gift Ideas | Ideas for Mothers Day | Wedding Gift Ideas | Christmas Gift Ideas | Fathers Day Gifts | Gifts for Fathers Day | Fathers Day Gift Ideas | Ideas for Fathers Day | Landscape Prints | Landscape Poster | Limited Edition Prints | Panoramic Photo | Buy Posters | Poster Prints