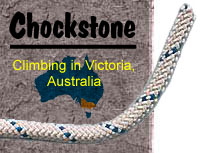 Sponsored By
ROCK
HARDWARE

FREIGHT FREE
in Australia


Edelrid: "Ultralight Helmet" (Turquoise) Mid blue .Fits 54 - 60cm Great heavy duty all-rounder. SUPER SPECIAL for a short time only! $79.00
21% Off

Chockstone Forum

A place for Victorian climbers to hang out and chat about climbing. Anyone can register and post messages.

Limit To: All A B C D E F G H I J K L M N O P Q R S T U V W X Y Z
| | | | | | | |
| --- | --- | --- | --- | --- | --- | --- |
| Icon | User | Location | Joined | # Posts | Last Posted | Last Logon |
| | ToTheTop | Sydney NSW, Australia | 4/07/2014 | 3 | 25/07/2014 | 25/07/2014 |
| | Scobs | Victoria, Australia | 8/09/2013 | 4 | 28/04/2014 | 25/07/2014 |
| | shortman | Victoria, Australia | 5/11/2010 | 2005 | 23/07/2014 | 25/07/2014 |
| | Dave_S | Victoria, Australia | 10/10/2012 | 48 | 14/07/2014 | 25/07/2014 |
| | frankvdp | Victoria, Australia | 31/07/2006 | 0 | | 25/07/2014 |
| | Doug | Hobart | | 294 | 14/07/2014 | 25/07/2014 |
| | f_abe | Mount Gambier, Australia | 13/04/2007 | 118 | 16/07/2014 | 25/07/2014 |
| | rightarmbad | queensland, Australia | 5/08/2004 | 473 | 16/07/2014 | 25/07/2014 |
| | davepalethorpe | Sydney, Australia | 2/12/2009 | 126 | 14/05/2014 | 25/07/2014 |
| | Paul | Victoria, Australia | 24/10/2005 | 538 | 28/04/2014 | 25/07/2014 |
| | stuart h | Victoria, Australia | 20/11/2006 | 38 | 25/07/2014 | 25/07/2014 |
| | hero | Victoria, Australia | 2/04/2006 | 620 | 25/07/2014 | 25/07/2014 |
| | Damo666 | Australia | 26/02/2009 | 229 | 3/06/2014 | 25/07/2014 |
| | plugngo | Sydney | 11/02/2009 | 47 | 10/04/2014 | 25/07/2014 |
| | rodw | NSW, Australia | 15/12/2003 | 2447 | 16/07/2014 | 25/07/2014 |
| | argos44 | Darwin, Australia | 8/10/2012 | 64 | 11/07/2014 | 25/07/2014 |
| | Sabu | Melbourne, Australia | 20/09/2004 | 2649 | 24/07/2014 | 25/07/2014 |
| | gfdonc | Victoria, Australia | 22/10/2003 | 2920 | 18/07/2014 | 25/07/2014 |
| | JamesMc | Victoria, Australia | 31/10/2003 | 716 | 28/06/2014 | 25/07/2014 |
| | Superstu | Ashfield, Sydney | 10/06/2003 | 1245 | 22/07/2014 | 25/07/2014 |
| | ErikaH | Sydney, Australia | 30/04/2007 | 21 | 23/07/2014 | 25/07/2014 |
| | Neil | WA | 4/07/2003 | 78 | 12/06/2014 | 25/07/2014 |
| | Esteban77 | Victoria, Australia | 5/06/2011 | 6 | 2/04/2013 | 25/07/2014 |
| | Lachy | Victoria, Australia | 21/05/2010 | 0 | | 25/07/2014 |
| | TimP | Castlemaine | 28/09/2013 | 26 | 2/07/2014 | 25/07/2014 |
| | Andrew_M | Sydney, Australia | 13/12/2003 | 252 | 6/07/2014 | 25/07/2014 |
| | Splurgal | Sydney, Australia | 23/07/2014 | 1 | 23/07/2014 | 25/07/2014 |
| | nmonteith | Sydney, Australia | | 10994 | 2/07/2014 | 25/07/2014 |
| | tas alex | Tasmania, Australia | 7/09/2008 | 63 | 15/08/2013 | 25/07/2014 |
| | JimmyS | Victoria, Australia | 3/10/2011 | 111 | 23/07/2014 | 25/07/2014 |
| | Doro | Victoria, Australia | 31/05/2009 | 52 | 20/05/2014 | 25/07/2014 |
| | freesolo | Victoria, Australia | 11/05/2005 | 225 | 17/07/2014 | 25/07/2014 |
| | J..D | Victoria, Australia | 28/04/2014 | 0 | | 25/07/2014 |
| | chunderfuzz | NSW, Australia | 15/07/2014 | 6 | 23/07/2014 | 25/07/2014 |
| | peteclimbs | Victoria, Australia | 4/09/2012 | 26 | 23/07/2014 | 25/07/2014 |
| | jossy | Melbourne, Australia | 1/02/2011 | 9 | 28/04/2014 | 25/07/2014 |
| | PGS | NSW | 26/02/2010 | 5 | 25/10/2010 | 25/07/2014 |
| | Loz and Tim | Newcastle, Australia | 7/01/2009 | 29 | 23/06/2014 | 25/07/2014 |
| | Dalai | Victoria, Australia | | 4350 | 24/07/2014 | 25/07/2014 |
| | adski | Sydney, Australia | | 559 | 3/02/2014 | 25/07/2014 |
| | egosan | Melbourne | 16/04/2008 | 1057 | 2/07/2014 | 25/07/2014 |
| | benji landau | Victoria, Australia | 9/05/2014 | 2 | 13/06/2014 | 25/07/2014 |
| | kuu | Sydney, Australia | 10/01/2005 | 587 | 1/07/2014 | 25/07/2014 |
| | woody85 | Victoria, Australia | 21/05/2011 | 9 | 20/07/2014 | 25/07/2014 |
| | Rawpowa! | Syndey, NSW | 8/06/2014 | 0 | | 25/07/2014 |
| | nleong | Victoria, Australia | 31/03/2011 | 0 | | 25/07/2014 |
| | dimpet | Victoria, Australia | 8/10/2006 | 215 | 22/04/2014 | 25/07/2014 |
| | dhunchak | Victoria, Australia | 2/08/2009 | 18 | 4/03/2014 | 25/07/2014 |
| | ajfclark | Horsham, Victoria | 18/01/2008 | 4883 | 23/07/2014 | 25/07/2014 |
| | ecowain | Mt Victoria, Australia | 3/11/2003 | 108 | 20/07/2014 | 25/07/2014 |
| | earwig | out bush | 22/10/2003 | 265 | 25/07/2014 | 25/07/2014 |
| | Zarb | Sydney, Australia | 17/07/2009 | 143 | 6/06/2014 | 25/07/2014 |
| | Reluctant | Victoria, Australia | 29/02/2012 | 122 | 18/07/2014 | 25/07/2014 |
| | ademmert | Victoria, Australia | 12/12/2004 | 377 | 27/06/2014 | 25/07/2014 |
| | richb | Central Victoria, Australia | 12/08/2004 | 21 | 5/06/2014 | 25/07/2014 |
| | Karl Bromelow | Victoria, Australia | 20/10/2006 | 185 | 28/06/2014 | 25/07/2014 |
| | Hendo | Sydney, Australia | 15/12/2009 | 101 | 9/07/2013 | 25/07/2014 |
| | vwills | Newcastle, Australia | 23/09/2003 | 540 | 22/07/2014 | 25/07/2014 |
| | Goshen | Geelong, VIC, Australia | 29/04/2004 | 54 | 19/07/2014 | 25/07/2014 |
| | YetAnotherStu | Sydney, Australia | 10/10/2010 | 1 | 17/04/2012 | 25/07/2014 |
| | Macciza | Blue Mountains, Australia | 12/02/2007 | 1508 | 25/07/2014 | 25/07/2014 |
| | jh | Grampians | | 36 | 28/05/2014 | 25/07/2014 |
| | hutchie | Sydney, Australia | 25/06/2009 | 3 | 10/04/2014 | 25/07/2014 |
| | martym | Sydney | 3/04/2009 | 800 | 25/07/2014 | 25/07/2014 |
| | Tek | Blackheath | 14/02/2013 | 0 | | 25/07/2014 |
| | JohnK | Victoria, Australia | | 369 | 21/07/2014 | 25/07/2014 |
| | dave | Victoria, Australia | 13/09/2003 | 308 | 8/07/2014 | 25/07/2014 |
| | freepete | Adelaide, Australia | 21/03/2010 | 106 | 19/07/2014 | 25/07/2014 |
| | Robb | Adelaide, Australia | 13/01/2004 | 558 | 5/07/2014 | 25/07/2014 |
| | dobbo | Victoria, Australia | 16/03/2014 | 9 | 11/07/2014 | 25/07/2014 |
| | Sturge | Sydney, Australia | 18/09/2010 | 42 | 10/11/2013 | 25/07/2014 |
| | MrNick | Victoria, Australia | 30/04/2014 | 1 | 30/04/2014 | 25/07/2014 |
| | scoflo | Wollongong, Australia | 1/01/2014 | 0 | | 25/07/2014 |
| | Paulie | Sth Coast NSW | | 978 | 24/07/2014 | 25/07/2014 |
| | spicelab | Sydney, Australia | 14/10/2005 | 225 | 14/07/2014 | 25/07/2014 |
| | NeverRest | Mill Park, Victoria, Australia | 31/03/2013 | 4 | 10/06/2014 | 25/07/2014 |
| | Freemo | Castlemaine, Vic | 23/07/2009 | 10 | 8/02/2014 | 25/07/2014 |
| | Big G | NSW, Australia | 13/08/2010 | 353 | 17/07/2014 | 25/07/2014 |
| | mikllaw | Victoria, Australia | 14/01/2010 | 1439 | 23/07/2014 | 25/07/2014 |
| | sbm | Sydney, NSW, Australia | 25/08/2010 | 369 | 25/07/2014 | 25/07/2014 |
| | kilbz | wollongong, Australia | 10/03/2014 | 5 | 26/06/2014 | 25/07/2014 |
| | aaw | Victoria, Australia | 8/08/2009 | 16 | 10/03/2013 | 25/07/2014 |
| | ratt07 | wollongong Australia | 18/07/2010 | 9 | 12/06/2013 | 25/07/2014 |
| | maxdacat | London | 14/09/2004 | 828 | 16/07/2014 | 25/07/2014 |
| | mitch46and2 | adelaide | 26/08/2013 | 5 | 10/06/2014 | 25/07/2014 |
| | brendan | | 4/03/2006 | 404 | 25/07/2014 | 25/07/2014 |
| | dave1962 | south australia, Australia | 12/09/2010 | 17 | 16/07/2014 | 25/07/2014 |
| | jono_1 | Canberra, Australia | 10/08/2004 | 92 | 18/07/2014 | 25/07/2014 |
| | Dr Nick | Sydney, Australia | 6/03/2011 | 204 | 17/06/2014 | 25/07/2014 |
| | Pok | Newcastle, Australia | 11/08/2010 | 43 | 25/07/2014 | 25/07/2014 |
| | grangrump | Victoria, Australia | 22/06/2007 | 364 | 25/07/2014 | 25/07/2014 |
| | MichaelOR | Victoria, Australia | 3/07/2004 | 168 | 13/06/2014 | 25/07/2014 |
| | Stu~ | Sydney, Australia | 1/04/2014 | 0 | | 25/07/2014 |
| | ben_R | Victoria, Australia | 7/11/2013 | 3 | 15/11/2013 | 25/07/2014 |
| | DL | Victoria, Australia | 25/07/2003 | 12 | 25/05/2014 | 25/07/2014 |
| | Miguel75 | Victoria, Australia | 11/07/2009 | 2600 | 15/07/2014 | 25/07/2014 |
| | Capt_mulch | Lismore, NSW | 23/07/2007 | 1267 | 20/07/2014 | 25/07/2014 |
| | Snappy | Queensland, Australia | 5/09/2008 | 56 | 2/06/2014 | 25/07/2014 |
| | latch | NSW, Australia | 24/05/2010 | 34 | 9/04/2014 | 25/07/2014 |
| | craigd | Kyneton Victoria, Australia | 3/05/2008 | 5 | 25/08/2009 | 25/07/2014 |
| | skegly | Castlemaine, Victoria, Australia | 23/04/2011 | 280 | 24/07/2014 | 25/07/2014 |
| | 2G | Blue Mountains, Australia | 30/08/2013 | 25 | 14/07/2014 | 25/07/2014 |
| | sue.d | Victoria, Australia | 22/07/2014 | 1 | 22/07/2014 | 25/07/2014 |
| | TonyB | | 10/03/2007 | 403 | 21/06/2014 | 25/07/2014 |
| | Hayds13 | Sydney, Australia | 21/12/2010 | 1 | 21/12/2010 | 25/07/2014 |
| | Colg | NSW, Australia | 27/08/2013 | 14 | 11/06/2014 | 25/07/2014 |
| | climberman | Corrimal, Australia | 25/07/2004 | 728 | 19/06/2014 | 25/07/2014 |
| | dmcg | ACT, Australia | 3/09/2007 | 21 | 20/06/2014 | 25/07/2014 |
| | Pat | Victoria, Australia | 16/03/2007 | 839 | 20/06/2014 | 25/07/2014 |
| | a_stevo | Sydney, Australia | 23/05/2012 | 12 | 9/06/2014 | 25/07/2014 |
| | richiec | Victoria, Australia | 2/09/2013 | 5 | 28/03/2014 | 25/07/2014 |
| | anthonycuskelly | Victoria, Australia | 9/09/2005 | 206 | 1/04/2014 | 25/07/2014 |
| | Cam McKenzie | Victoria, Australia | 17/01/2006 | 254 | 12/07/2014 | 25/07/2014 |
| | johnpitcairn | Auckland, New Zealand | 21/08/2012 | 39 | 25/06/2014 | 25/07/2014 |
| | sbright | Victoria, Australia | 22/02/2006 | 52 | 18/10/2013 | 25/07/2014 |
| | barefootbushman | Western Australia, Australia | 26/05/2014 | 3 | 22/07/2014 | 25/07/2014 |
| | IronCheff | Victoria, Australia | 12/03/2011 | 34 | 8/07/2014 | 25/07/2014 |
| | Dave J | Victoria, Australia | 11/02/2005 | 252 | 26/06/2014 | 25/07/2014 |
| | Pommy | Gosford, Australia | 18/11/2003 | 121 | 2/07/2014 | 25/07/2014 |
| | stingray4100 | Victoria, Australia | 3/09/2007 | 35 | 18/07/2014 | 25/07/2014 |
| | BundyBear | Sutherland Shire, Sydney, NSW. | 15/12/2003 | 444 | 24/07/2014 | 25/07/2014 |
| | Sonic | Wollongong, NSW, Australia | 9/07/2008 | 217 | 17/07/2014 | 25/07/2014 |
| | Fiona | Victoria, Australia | 25/12/2013 | 7 | 18/06/2014 | 25/07/2014 |
| | Mr Poopypants | The Gong | 19/12/2009 | 213 | 25/07/2014 | 25/07/2014 |
| | User Name | Victoria, Australia | 15/01/2007 | 16 | 3/03/2014 | 25/07/2014 |
| | Cameron | Melbourne, Victoria, Australia | 1/01/2014 | 0 | | 25/07/2014 |
| | austclimbfest | Blue Mountains, Australia | 2/06/2013 | 2 | 25/07/2014 | 25/07/2014 |
| | DrDave | Newcastle, Australia | 19/08/2013 | 3 | 25/02/2014 | 25/07/2014 |
| | Ben_E | Victoria, Australia | 30/08/2010 | 256 | 8/07/2014 | 25/07/2014 |
| | sholloway | Victoria, Australia | 27/04/2014 | 1 | 27/04/2014 | 25/07/2014 |
| | Ashy | NSW, Australia | 13/07/2005 | 6 | 21/12/2006 | 25/07/2014 |
| | Nick Da Frog | Wolllongong, Australia | 22/09/2008 | 26 | 19/03/2014 | 25/07/2014 |
| | tomatessechees | Sydney Northern Beaches | 24/01/2014 | 2 | 18/07/2014 | 25/07/2014 |
| | jrc | Lindfield, NSW Australia | 6/02/2006 | 168 | 23/06/2014 | 25/07/2014 |
| | robertsonja | Victoria, Australia | 18/09/2003 | 178 | 16/09/2013 | 25/07/2014 |
| | The good Dr | Victoria, Australia | 19/04/2005 | 523 | 11/07/2014 | 25/07/2014 |
| | JES5 | Sydney, Australia | 24/03/2011 | 0 | | 25/07/2014 |
| | Drake | Blue Mountains, Australia | 4/01/2013 | 69 | 14/05/2014 | 25/07/2014 |
| | Hawkman | Coffs Harbour, Australia | | 735 | 3/05/2014 | 25/07/2014 |
| | lfranklin | Victoria, Australia | 18/01/2009 | 23 | 23/11/2013 | 25/07/2014 |
| | deadbudgy | Sydney, Australia | 26/10/2007 | 133 | 27/05/2014 | 25/07/2014 |
| | Will_P | Victoria, Australia | 28/04/2011 | 188 | 30/05/2014 | 25/07/2014 |
| | dmc | Sydney, Australia | 16/12/2009 | 21 | 18/06/2014 | 25/07/2014 |
| | matthewp | Sydney, Australia | 16/01/2009 | 46 | 16/07/2014 | 25/07/2014 |
| | Owen80 | NSW, Australia | 6/05/2013 | 4 | 9/04/2014 | 25/07/2014 |
| | mabsydney | NSW, Australia | 20/06/2007 | 50 | 24/06/2014 | 25/07/2014 |
| | ado_m | Victoria, Australia | 22/11/2006 | 303 | 6/05/2014 | 25/07/2014 |
| | timbigot | Victoria, Australia | 13/08/2012 | 18 | 24/06/2014 | 25/07/2014 |
| | Garrath | Victoria, Australia | | 235 | 23/07/2014 | 25/07/2014 |
| | mjf | Sydney | 11/08/2009 | 4 | 10/06/2014 | 25/07/2014 |
| | tnd | Sydney, Australia | 2/02/2005 | 1187 | 16/07/2014 | 25/07/2014 |
| | kieranl | Victoria, Australia | | 3839 | 25/07/2014 | 25/07/2014 |
| | radson | Sydney, Australia | 3/01/2011 | 23 | 24/06/2014 | 25/07/2014 |
| | lacto | Victoria, Australia | 14/05/2005 | 321 | 14/07/2014 | 25/07/2014 |
| | pieman | Sydney | 1/08/2011 | 14 | 16/06/2014 | 25/07/2014 |
| | diogobz | NSW, Australia | 23/04/2013 | 2 | 16/07/2014 | 25/07/2014 |
| | beean | Townsville, Australia | 24/07/2013 | 1 | 24/07/2013 | 25/07/2014 |
| | justanotheraccount | Victoria, Australia | 1/03/2012 | 1 | 31/03/2012 | 25/07/2014 |
| | dfinnecy | sydney, Australia | 18/11/2008 | 77 | 23/06/2014 | 25/07/2014 |
| | IdratherbeclimbingM9 | Mt Buffalo (near enough) Victoria, Australia. | | 9653 | 25/07/2014 | 25/07/2014 |
| | Cali | Geelong, Victoria, Australia | 10/06/2013 | 9 | 12/07/2014 | 25/07/2014 |
| | halcyonCorsair | Melbourne, Australia | 10/02/2014 | 2 | 10/02/2014 | 25/07/2014 |
| | gaetanr | Victoria, Australia | 5/12/2012 | 16 | 22/07/2014 | 25/07/2014 |
| | Nut Tool | Blue Mountains, Australia | 14/07/2014 | 3 | 20/07/2014 | 25/07/2014 |
| | adrian | Victoria, Australia | 20/06/2003 | 116 | 21/07/2014 | 25/07/2014 |
| | ev224 | Victoria, Australia | 2/06/2014 | 0 | | 25/07/2014 |
| | jimihendrix | Sydney, Australia | 29/12/2009 | 22 | 16/07/2014 | 25/07/2014 |
| | OodlesDownHere | Victoria, Australia | 21/06/2014 | 0 | | 25/07/2014 |
| | BlankSlab | Australia | 19/09/2011 | 170 | 9/07/2014 | 25/07/2014 |
| | Jodestar | Victoria, Australia | 13/09/2009 | 102 | 23/07/2014 | 25/07/2014 |
| | wombly | sydney, Australia | 28/10/2005 | 264 | 16/06/2014 | 25/07/2014 |
| | jkane | Victoria, Australia | 25/03/2006 | 257 | 10/04/2014 | 25/07/2014 |
| | macey | Albury-Wodonga, Vic | 31/03/2008 | 25 | 25/07/2014 | 25/07/2014 |
| | gtempest | Victoria, Australia | 28/01/2004 | 67 | 23/05/2013 | 25/07/2014 |
| | pezz | horsham, victoria Australia | 26/06/2010 | 133 | 20/07/2014 | 25/07/2014 |
| | scarecrow | Adelaide, Australia | 11/06/2009 | 37 | 9/06/2014 | 25/07/2014 |
| | Lingy | NSW, Australia | 8/04/2014 | 1 | 30/04/2014 | 25/07/2014 |
| | salty crag | Victoria, Australia | 21/08/2009 | 285 | 5/06/2014 | 25/07/2014 |
| | Lee C | The Mountains | 17/03/2007 | 130 | 3/07/2014 | 25/07/2014 |
| | Tastrad | Launceston, Tasmania | 16/07/2007 | 110 | 21/07/2014 | 25/07/2014 |
| | bjorniam | Sydney, Australia | 22/06/2012 | 13 | 7/03/2014 | 25/07/2014 |
| | phil_nev | Victoria, Australia | | 1122 | 2/07/2014 | 25/07/2014 |
| | strerror | Sydney, Australia | 17/05/2011 | 84 | 25/02/2014 | 25/07/2014 |
| | bones | Victoria, Australia | 21/12/2006 | 508 | 16/07/2014 | 25/07/2014 |
| | Cams | Brisbane | 29/11/2012 | 13 | 21/07/2014 | 25/07/2014 |
| | weimun | Sydney, Australia | 2/07/2014 | 2 | 2/07/2014 | 25/07/2014 |
| | Snacks | Newcastle, Australia | 20/09/2012 | 100 | 22/07/2014 | 25/07/2014 |
| | Bagerk | Victoria, Australia | 27/05/2014 | 0 | | 25/07/2014 |
| | expresso | UK | 1/09/2012 | 21 | 6/02/2014 | 25/07/2014 |
| | figs | Sydney, Australia | 7/11/2011 | 25 | 6/03/2014 | 25/07/2014 |
| | DMueller | Jamberoo, Australia | 20/01/2005 | 4 | 21/07/2014 | 25/07/2014 |
| | Jigglypuff | Victoria, Australia | 2/03/2014 | 19 | 19/06/2014 | 25/07/2014 |
| | kimbyl | New South Wales, Australia | 1/03/2010 | 37 | 15/07/2014 | 25/07/2014 |
| | steven86 | Townsville, Queensland, Australia | 25/08/2004 | 0 | | 25/07/2014 |
| | shiltz | Victoria, Australia | | 479 | 16/07/2014 | 25/07/2014 |
| | Li | Goolwa, SA | 24/04/2008 | 132 | 28/09/2012 | 25/07/2014 |
| | Chillisalt | Victoria, Australia | 1/06/2013 | 9 | 21/07/2014 | 25/07/2014 |
| | Wendy | Natimuk | 23/11/2004 | 2925 | 24/07/2014 | 25/07/2014 |
| | chrisflowers | Sydney | 31/01/2011 | 2 | 23/07/2014 | 25/07/2014 |
| | Darrren | Tasmania, Australia | 12/01/2006 | 77 | 5/06/2014 | 25/07/2014 |
| | tshaw | Victoria, Australia | 14/12/2010 | 34 | 31/03/2014 | 25/07/2014 |
| | Zane Priebbenow | NSW, Australia | 31/05/2009 | 28 | 13/07/2014 | 25/07/2014 |
| | daave | Wollongong, Australia | 11/09/2005 | 332 | 15/07/2014 | 25/07/2014 |
| | trog | Vancouver, BC | 3/09/2009 | 49 | 18/07/2014 | 25/07/2014 |
| | BenHev | Victoria, Australia | 14/06/2003 | 74 | 28/05/2014 | 25/07/2014 |
Member Statistics

Activity Percentage Graph
| | |
| --- | --- |
| Gym | |
| Boulder | |
| Top Rope | |
| Sport | |
| Trad Single | |
| Trad Multi | |
| Aid/Big Wall | |
| Ice | |
| Mountain | |
| Not Applicable | |
There are 205 registered members. Of these 7% have never posted, 21% have only posted a few times, leaving 72% who are major posters. 83% are from Australia.
The top users are: shortman, Doug, rightarmbad, Paul, hero, Damo666, rodw, Sabu, gfdonc, JamesMc, Superstu, Andrew_M, nmonteith, freesolo, Dalai, adski, egosan, kuu, dimpet, ajfclark, earwig, ademmert, Karl Bromelow, vwills, Macciza, martym, JohnK, dave, Robb, Paulie, spicelab, Big G, mikllaw, sbm, maxdacat, brendan, Dr Nick, grangrump, MichaelOR, Miguel75, Capt_mulch, skegly, TonyB, climberman, Pat, anthonycuskelly, Cam McKenzie, Dave J, BundyBear, Sonic, Mr Poopypants, Ben_E, jrc, robertsonja, The good Dr, Hawkman, Will_P, ado_m, Garrath, tnd, kieranl, lacto, IdratherbeclimbingM9, BlankSlab, wombly, jkane, salty crag, phil_nev, bones, shiltz, Wendy, daave
The average user is 38 years old.
Home | Guide | Gallery | Tech Tips | Articles | Reviews | Dictionary | Forum | Links | About | Search
Chockstone Photography | Landscape Photography Australia | Australian Landscape Photography

Please read the full disclaimer before using any information contained on these pages.
Australian Panoramic | Australian Coast | Australian Mountains | Australian Countryside | Australian Waterfalls | Australian Lakes | Australian Cities | Australian Macro | Australian Wildlife
Landscape Photo | Landscape Photography | Landscape Photography Australia | Fine Art Photography | Wilderness Photography | Nature Photo | Australian Landscape Photo | Stock Photography Australia | Landscape Photos | Panoramic Photos | Panoramic Photography Australia | Australian Landscape Photography | Mothers Day Gifts | Gifts for Mothers Day | Mothers Day Gift Ideas | Ideas for Mothers Day | Wedding Gift Ideas | Christmas Gift Ideas | Fathers Day Gifts | Gifts for Fathers Day | Fathers Day Gift Ideas | Ideas for Fathers Day | Landscape Prints | Landscape Poster | Limited Edition Prints | Panoramic Photo | Buy Posters | Poster Prints