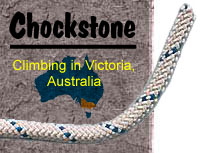 Sponsored By
ROCK
HARDWARE


17 Down Under: 17 DOWN UNDER. "A celebration of moderate grade climbing in Victoria". 184 pages. 285 images. Father & son team, Steve & John Morris, embark on a journey to climb and photograph 50 of the best rock climbs in Victoria, grade 17 & under. Inc bookmark $50.00
9% Off

Chockstone Forum

A place for Victorian climbers to hang out and chat about climbing. Anyone can register and post messages.

Limit To: All A B C D E F G H I J K L M N O P Q R S T U V W X Y Z
| | | | | | | |
| --- | --- | --- | --- | --- | --- | --- |
| Icon | User | Location | Joined | # Posts | Last Posted | Last Logon |
| | J..D | Victoria, Australia | 28/04/2014 | 3 | 27/06/2015 | 10/02/2016 |
| | dave | Victoria, Australia | 13/09/2003 | 319 | 9/01/2016 | 10/02/2016 |
| | Mr Poopypants | The Gong | 19/12/2009 | 232 | 14/12/2015 | 10/02/2016 |
| | Keenas | NSW, Australia | 5/01/2016 | 3 | 5/01/2016 | 10/02/2016 |
| | hipdos | Canberra, Australia | 6/05/2005 | 160 | 13/01/2015 | 10/02/2016 |
| | apaul | Victoria, Australia | 30/10/2011 | 2 | 9/06/2012 | 10/02/2016 |
| | TimP | Castlemaine | 28/09/2013 | 184 | 1/02/2016 | 10/02/2016 |
| | dave1962 | south australia, Australia | 12/09/2010 | 26 | 15/11/2015 | 10/02/2016 |
| | BA | Victoria, Australia | | 906 | 10/01/2016 | 10/02/2016 |
| | uwhp510 | Victoria, Australia | 10/06/2005 | 331 | 11/12/2014 | 10/02/2016 |
| | Doug | Hobart | | 351 | 8/02/2016 | 10/02/2016 |
| | dmcg | ACT, Australia | 3/09/2007 | 29 | 1/12/2015 | 10/02/2016 |
| | The good Dr | Victoria, Australia | 19/04/2005 | 585 | 2/02/2016 | 10/02/2016 |
| | ajfclark | Horsham, Victoria | 18/01/2008 | 5388 | 10/02/2016 | 10/02/2016 |
| | Rawpowa! | Syndey, NSW | 8/06/2014 | 53 | 2/02/2016 | 10/02/2016 |
| | JoeR | Victoria, Australia | 23/12/2014 | 3 | 23/11/2015 | 10/02/2016 |
| | deep Van Winkle | Sydney, Australia | 13/12/2014 | 5 | 29/09/2015 | 10/02/2016 |
| | simey | Victoria, Australia | 5/02/2005 | 2328 | 31/01/2016 | 10/02/2016 |
| | cami | Victoria, Australia | 11/06/2014 | 1 | 31/10/2015 | 10/02/2016 |
| | f_abe | Mount Gambier, Australia | 13/04/2007 | 138 | 11/12/2015 | 10/02/2016 |
| | Ryno | Victoria, Australia | 27/01/2015 | 9 | 24/11/2015 | 10/02/2016 |
| | Macciza | Blue Mountains, Australia | 12/02/2007 | 1709 | 8/02/2016 | 10/02/2016 |
| | harold | geelong,Victoria, Australia | 1/05/2004 | 209 | 25/01/2016 | 10/02/2016 |
| | phillipivan | | 17/10/2009 | 602 | 29/01/2016 | 10/02/2016 |
| | dmc | Sydney, Australia | 16/12/2009 | 33 | 7/02/2016 | 10/02/2016 |
| | climberman | Corrimal, Australia | 25/07/2004 | 800 | 20/12/2015 | 10/02/2016 |
| | Eduardo Slabofvic | Victoria, Australia | 2/02/2005 | 2962 | 26/01/2016 | 10/02/2016 |
| | Danis | Victoria, Australia | 4/04/2010 | 1 | 6/02/2016 | 10/02/2016 |
| | DL | Victoria, Australia | 25/07/2003 | 12 | 25/05/2014 | 10/02/2016 |
| | gfdonc | Victoria, Australia | 22/10/2003 | 3094 | 10/02/2016 | 10/02/2016 |
| | bz | canberra | 12/10/2015 | 1 | 23/01/2016 | 10/02/2016 |
| | Olbert | Wollongong, Australia | 6/07/2008 | 1061 | 30/01/2016 | 10/02/2016 |
| | PThomson | Blue Mountains, Australia | 19/01/2011 | 195 | 28/01/2016 | 10/02/2016 |
| | PeterW | Melbourne, Victoria, Australia | 22/11/2013 | 20 | 6/02/2016 | 10/02/2016 |
| | muddy | Victoria, Australia | 10/01/2010 | 4 | 30/06/2010 | 10/02/2016 |
| | mitch46and2 | adelaide | 26/08/2013 | 14 | 4/01/2016 | 10/02/2016 |
| | widewetandslippery | Victoria, Australia | 20/12/2006 | 3429 | 29/01/2016 | 10/02/2016 |
| | deadbudgy | Sydney, Australia | 26/10/2007 | 151 | 5/02/2016 | 10/02/2016 |
| | barney800 | Victoria, Australia | 31/10/2011 | 62 | 13/12/2015 | 10/02/2016 |
| | Neil | WA | 4/07/2003 | 82 | 6/01/2016 | 10/02/2016 |
| | grantoss | Sydney, Australia | 28/07/2010 | 142 | 1/12/2015 | 10/02/2016 |
| | bne | Victoria, Australia | 7/08/2003 | 136 | 19/03/2012 | 10/02/2016 |
| | plugngo | Sydney | 11/02/2009 | 54 | 25/11/2015 | 10/02/2016 |
| | Garrath | Victoria, Australia | | 237 | 3/09/2014 | 10/02/2016 |
| | jkane | Victoria, Australia | 25/03/2006 | 261 | 5/11/2015 | 10/02/2016 |
| | JF | Sydney, Australia | 15/01/2016 | 0 | | 10/02/2016 |
| | jubs | Victoria, Australia | 11/05/2015 | 2 | 2/12/2015 | 10/02/2016 |
| | lukef | Victoria, Australia | 4/05/2014 | 7 | 17/12/2015 | 10/02/2016 |
| | armstp | Victoria, Australia | 28/12/2005 | 46 | 7/05/2015 | 10/02/2016 |
| | sholloway | Victoria, Australia | 27/04/2014 | 3 | 19/08/2015 | 10/02/2016 |
| | grangrump | Victoria, Australia | 22/06/2007 | 388 | 16/10/2015 | 10/02/2016 |
| | dfinnecy | sydney, Australia | 18/11/2008 | 78 | 5/08/2014 | 10/02/2016 |
| | citationx | Sydney, Australia | 26/01/2005 | 945 | 3/01/2016 | 10/02/2016 |
| | kuu | Sydney, Australia | 10/01/2005 | 606 | 15/11/2015 | 10/02/2016 |
| | brendan | | 4/03/2006 | 423 | 29/11/2015 | 10/02/2016 |
| | Hawkman | Coffs Harbour, Australia | | 737 | 2/02/2016 | 10/02/2016 |
| | barefootbushman | Western Australia, Australia | 26/05/2014 | 10 | 6/11/2015 | 10/02/2016 |
| | Bob Saki | Victoria, Australia | 11/04/2005 | 593 | 22/12/2015 | 10/02/2016 |
| | argos44 | Darwin, Australia | 8/10/2012 | 109 | 25/12/2015 | 10/02/2016 |
| | FatBoy | Victoria, Australia | | 303 | 1/02/2016 | 10/02/2016 |
| | DSPIES | Victoria, Australia | 14/04/2008 | 42 | 12/01/2016 | 10/02/2016 |
| | Dalai | Victoria, Australia | | 4483 | 25/01/2016 | 10/02/2016 |
| | allensaurusrex | Sydney, Australia | 25/05/2014 | 49 | 15/01/2016 | 10/02/2016 |
| | john d | Sydney, Australia | 31/01/2016 | 3 | 10/02/2016 | 10/02/2016 |
| | Karl Bromelow | Victoria, Australia | 20/10/2006 | 220 | 17/01/2016 | 10/02/2016 |
| | Crushed Lollypop | Victoria, Australia | 29/10/2013 | 5 | 13/08/2015 | 10/02/2016 |
| | Lingy | NSW, Australia | 8/04/2014 | 7 | 23/12/2015 | 10/02/2016 |
| | lacto | Victoria, Australia | 14/05/2005 | 349 | 26/01/2016 | 10/02/2016 |
| | johnpitcairn | Auckland, New Zealand | 21/08/2012 | 83 | 7/02/2016 | 10/02/2016 |
| | billk | Victoria, Australia | 7/02/2005 | 662 | 15/01/2016 | 10/02/2016 |
| | PhilippG | Victoria, Australia | 27/01/2016 | 1 | 27/01/2016 | 10/02/2016 |
| | dicky | Victoria, Australia | 4/07/2010 | 33 | 8/01/2016 | 10/02/2016 |
| | hero | Victoria, Australia | 2/04/2006 | 640 | 10/02/2016 | 10/02/2016 |
| | gaetanr | Victoria, Australia | 5/12/2012 | 26 | 23/11/2015 | 10/02/2016 |
| | Snacks | Sydney, Australia | 20/09/2012 | 168 | 2/02/2016 | 10/02/2016 |
| | Rossco | Victoria, Australia | 29/01/2006 | 22 | 24/06/2015 | 10/02/2016 |
| | hwalks | Victoria, Australia | 9/12/2012 | 3 | 2/12/2015 | 10/02/2016 |
| | kilbz | wollongong, Australia | 10/03/2014 | 6 | 2/05/2015 | 10/02/2016 |
| | HarryHill | Sydney, Australia | 9/10/2014 | 8 | 21/01/2016 | 10/02/2016 |
| | maxdacat | London | 14/09/2004 | 930 | 29/01/2016 | 10/02/2016 |
| | ado_m | Victoria, Australia | 22/11/2006 | 325 | 1/02/2016 | 10/02/2016 |
| | Isildur | NSW | 9/04/2007 | 27 | 21/12/2013 | 10/02/2016 |
| | Mike | Bendigo, Victoria, Australia. | | 649 | 3/02/2016 | 10/02/2016 |
| | ambyeok | Victoria, Australia | 22/08/2008 | 678 | 14/01/2016 | 10/02/2016 |
| | Seth | Perth, Australia | 25/03/2009 | 36 | 5/02/2016 | 10/02/2016 |
| | Jenni Lees | Australia - Everywhere! | 13/10/2014 | 10 | 27/12/2015 | 10/02/2016 |
| | Lee C | The Mountains | 17/03/2007 | 138 | 14/01/2016 | 10/02/2016 |
| | Cams | Brisbane | 29/11/2012 | 28 | 4/11/2015 | 10/02/2016 |
| | benbro | Launceston | 8/11/2013 | 0 | | 10/02/2016 |
| | rightarmbad | queensland, Australia | 5/08/2004 | 508 | 27/01/2016 | 10/02/2016 |
| | oweng | Hobart | | 502 | 30/01/2015 | 10/02/2016 |
| | Zarb | Sydney, Australia | 17/07/2009 | 192 | 13/01/2016 | 10/02/2016 |
| | patto | Victoria, Australia | 10/06/2005 | 1231 | 7/02/2016 | 10/02/2016 |
| | Wendy | Natimuk | 23/11/2004 | 3149 | 20/01/2016 | 10/02/2016 |
| | Steggles | Blue Mountains | 26/08/2013 | 4 | 6/10/2014 | 10/02/2016 |
| | Vumnoo | Bayswater, Vic | 2/12/2015 | 4 | 7/01/2016 | 10/02/2016 |
| | Will_P | Victoria, Australia | 28/04/2011 | 207 | 18/01/2016 | 10/02/2016 |
| | martym | Sydney | 3/04/2009 | 1092 | 26/01/2016 | 10/02/2016 |
| | Dr Nick | Sydney, Australia | 6/03/2011 | 230 | 4/02/2016 | 10/02/2016 |
| | pedro.c | Sydney, Australia | 27/11/2012 | 64 | 5/11/2015 | 10/02/2016 |
| | Ariel | Melbourne, Australia | 7/12/2014 | 5 | 6/10/2015 | 10/02/2016 |
| | tshaw | Porepunkah, Victoria, Australia | 14/12/2010 | 47 | 11/11/2015 | 10/02/2016 |
| | Estey | ACT, Australia | | 128 | 20/10/2015 | 10/02/2016 |
| | Kanya | Victoria, Australia | 26/07/2004 | 31 | 26/02/2010 | 10/02/2016 |
| | ademmert | Victoria, Australia | 12/12/2004 | 389 | 18/12/2015 | 10/02/2016 |
| | shortman | Victoria, Australia | 5/11/2010 | 2305 | 20/01/2016 | 10/02/2016 |
| | JohnK | Victoria, Australia | | 425 | 10/12/2015 | 10/02/2016 |
| | woodn | Sydney , Australia | 30/01/2016 | 1 | 1/02/2016 | 10/02/2016 |
| | Pietro_2003 | Sweden | 29/01/2004 | 47 | 23/10/2013 | 10/02/2016 |
| | vwills | Newcastle, Australia | 23/09/2003 | 587 | 10/02/2016 | 10/02/2016 |
| | dhunchak | Victoria, Australia | 2/08/2009 | 25 | 15/01/2016 | 10/02/2016 |
| | gm84 | Sydney, Australia | 19/08/2009 | 26 | 22/01/2016 | 10/02/2016 |
| | ldshield | Victoria, Australia | 4/10/2014 | 28 | 1/02/2016 | 10/02/2016 |
| | Cam McKenzie | Victoria, Australia | 17/01/2006 | 267 | 4/11/2015 | 10/02/2016 |
| | Doolie | Leura, Australia | 14/11/2012 | 18 | 16/09/2014 | 10/02/2016 |
| | tay | Victoria, Australia | 15/07/2015 | 9 | 4/02/2016 | 10/02/2016 |
| | ben wiessner | Hobart, Australia | 9/11/2004 | 109 | 17/10/2015 | 10/02/2016 |
| | strerror | Sydney, Australia | 17/05/2011 | 85 | 20/01/2015 | 10/02/2016 |
| | daave | Wollongong, Australia | 11/09/2005 | 346 | 7/12/2015 | 10/02/2016 |
| | JimmyS | Dunkeld | 3/10/2011 | 133 | 18/12/2015 | 10/02/2016 |
| | bungan | Sydney, Australia | 7/02/2016 | 1 | 7/02/2016 | 10/02/2016 |
| | sliamese | Hobart, Tasmania | 10/01/2006 | 473 | 28/01/2016 | 10/02/2016 |
| | Ball_Bagg | South Australia | 23/01/2010 | 13 | 21/01/2016 | 10/02/2016 |
| | Damo666 | Australia | 26/02/2009 | 264 | 3/02/2016 | 10/02/2016 |
| | partysteve | Victoria, Australia | 7/12/2011 | 3 | 24/09/2014 | 10/02/2016 |
| | figs | Sydney, Australia | 7/11/2011 | 31 | 15/12/2015 | 10/02/2016 |
| | rodw | NSW, Australia | 15/12/2003 | 2575 | 3/02/2016 | 10/02/2016 |
| | SBW | Victoria, Australia | 17/01/2005 | 31 | 12/03/2015 | 10/02/2016 |
| | phil_nev | Victoria, Australia | | 1148 | 30/12/2015 | 10/02/2016 |
| | whippet | Mt Victoria & Dargan , Blue Mtns | 28/04/2015 | 1 | 28/04/2015 | 10/02/2016 |
| | dan_b | Victoria, Australia | 4/06/2011 | 106 | 8/02/2016 | 10/02/2016 |
| | salty crag | Victoria, Australia | 21/08/2009 | 306 | 3/01/2016 | 10/02/2016 |
| | mikllaw | Victoria, Australia | 14/01/2010 | 1635 | 1/02/2016 | 10/02/2016 |
| | 2G | Blue Mountains, Australia | 30/08/2013 | 32 | 12/12/2015 | 10/02/2016 |
| | woody85 | Victoria, Australia | 21/05/2011 | 14 | 10/03/2015 | 10/02/2016 |
| | semi.ivan | Victoria, Australia | 18/08/2014 | 21 | 17/01/2016 | 10/02/2016 |
| | Ashy | NSW, Australia | 13/07/2005 | 6 | 21/12/2006 | 10/02/2016 |
Member Statistics

Activity Percentage Graph
| | |
| --- | --- |
| Gym | |
| Boulder | |
| Top Rope | |
| Sport | |
| Trad Single | |
| Trad Multi | |
| Aid/Big Wall | |
| Ice | |
| Mountain | |
| Not Applicable | |
There are 137 registered members. Of these 1% have never posted, 23% have only posted a few times, leaving 76% who are major posters. 81% are from Australia.
The top users are: dave, Mr Poopypants, hipdos, TimP, BA, uwhp510, Doug, The good Dr, ajfclark, simey, Macciza, harold, phillipivan, climberman, Eduardo Slabofvic, gfdonc, Olbert, PThomson, widewetandslippery, deadbudgy, Garrath, jkane, grangrump, citationx, kuu, brendan, Hawkman, Bob Saki, FatBoy, Dalai, Karl Bromelow, lacto, billk, hero, Snacks, maxdacat, ado_m, Mike, ambyeok, rightarmbad, oweng, Zarb, patto, Wendy, Will_P, martym, Dr Nick, ademmert, shortman, JohnK, vwills, Cam McKenzie, daave, sliamese, Damo666, rodw, phil_nev, salty crag, mikllaw
The average user is 44 years old.
Home | Guide | Gallery | Tech Tips | Articles | Reviews | Dictionary | Forum | Links | About | Search
Chockstone Photography | Landscape Photography Australia | Australian Landscape Photography

Please read the full disclaimer before using any information contained on these pages.
Australian Panoramic | Australian Coast | Australian Mountains | Australian Countryside | Australian Waterfalls | Australian Lakes | Australian Cities | Australian Macro | Australian Wildlife
Landscape Photo | Landscape Photography | Landscape Photography Australia | Fine Art Photography | Wilderness Photography | Nature Photo | Australian Landscape Photo | Stock Photography Australia | Landscape Photos | Panoramic Photos | Panoramic Photography Australia | Australian Landscape Photography | Mothers Day Gifts | Gifts for Mothers Day | Mothers Day Gift Ideas | Ideas for Mothers Day | Wedding Gift Ideas | Christmas Gift Ideas | Fathers Day Gifts | Gifts for Fathers Day | Fathers Day Gift Ideas | Ideas for Fathers Day | Landscape Prints | Landscape Poster | Limited Edition Prints | Panoramic Photo | Buy Posters | Poster Prints