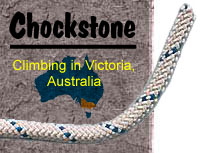 Sponsored By
ROCK
HARDWARE


Petzl: D11 "Rappel Rack". For use with 1 or 2 ropes. Diameters from 9mm to 13mm. Two red fixed bars make for easy threading. SUPER Special! $119.00
21% Off

Chockstone Forum

A place for Victorian climbers to hang out and chat about climbing. Anyone can register and post messages.

Limit To: All A B C D E F G H I J K L M N O P Q R S T U V W X Y Z
| | | | | | | |
| --- | --- | --- | --- | --- | --- | --- |
| Icon | User | Location | Joined | # Posts | Last Posted | Last Logon |
| | AndreasAachen | Victoria, Australia | 16/05/2014 | 12 | 25/05/2017 | 27/06/2017 |
| | widewetandslippery | Victoria, Australia | 20/12/2006 | 3635 | 26/06/2017 | 27/06/2017 |
| | semi.ivan | Victoria, Australia | 18/08/2014 | 43 | 21/06/2017 | 27/06/2017 |
| | Rock Blocked | Victoria, Australia | 24/06/2017 | 0 | | 27/06/2017 |
| | Dave J | Victoria, Australia | 11/02/2005 | 285 | 4/05/2017 | 27/06/2017 |
| | harold | geelong,Victoria, Australia | 1/05/2004 | 213 | 14/02/2017 | 27/06/2017 |
| | TooFatToClimb | Victoria, Australia | 15/11/2006 | 19 | 25/10/2016 | 27/06/2017 |
| | MisterGribble | Victoria, Australia | 6/04/2007 | 500 | 16/06/2017 | 27/06/2017 |
| | dave1962 | south australia, Australia | 12/09/2010 | 39 | 27/02/2017 | 27/06/2017 |
| | Epic Steve | Brisbane, Australia | 5/01/2008 | 36 | 1/05/2017 | 27/06/2017 |
| | JMK | Lower blue mts | 7/01/2009 | 86 | 5/06/2017 | 27/06/2017 |
| | ademmert | Victoria, Australia | 12/12/2004 | 402 | 13/06/2017 | 27/06/2017 |
| | Crepuscular | Victoria, Australia | 20/03/2011 | 3 | 24/03/2011 | 27/06/2017 |
| | Notime to climb | Victoria, Australia | 8/02/2012 | 18 | 22/08/2016 | 27/06/2017 |
| | marky | Victoria, Australia | 4/12/2008 | 150 | 28/04/2017 | 27/06/2017 |
| | Keenas | NSW, Australia | 5/01/2016 | 11 | 15/11/2016 | 27/06/2017 |
| | patto | Victoria, Australia | 10/06/2005 | 1302 | 6/06/2017 | 27/06/2017 |
| | phillipivan | | 17/10/2009 | 680 | 15/06/2017 | 27/06/2017 |
| | Rawpowa! | Syndey, NSW | 8/06/2014 | 94 | 18/05/2017 | 27/06/2017 |
| | barney800 | Victoria, Australia | 31/10/2011 | 66 | 10/07/2016 | 27/06/2017 |
| | davepalethorpe | Sydney, Australia | 2/12/2009 | 128 | 2/01/2017 | 27/06/2017 |
| | Camjammer | Sydney, Australia | 3/10/2007 | 11 | 16/12/2016 | 27/06/2017 |
| | Andrew_M | Melbourne, Australia | 13/12/2003 | 269 | 11/05/2017 | 27/06/2017 |
| | Dave_S | Victoria, Australia | 10/10/2012 | 231 | 6/06/2017 | 27/06/2017 |
| | Miguel75 | Victoria, Australia | 11/07/2009 | 2871 | 19/06/2017 | 27/06/2017 |
| | Paul | Victoria, Australia | 24/10/2005 | 558 | 6/06/2017 | 27/06/2017 |
| | ampedandwired | Sydney | 17/09/2004 | 31 | 13/03/2011 | 27/06/2017 |
| | Estey | ACT, Australia | | 135 | 13/06/2017 | 27/06/2017 |
| | Markg | Brisbane, Australia | 27/02/2015 | 7 | 19/08/2016 | 27/06/2017 |
| | pieman | Sydney | 1/08/2011 | 17 | 26/01/2015 | 27/06/2017 |
| | Karl Bromelow | | 20/10/2006 | 240 | 4/06/2017 | 27/06/2017 |
| | gfdonc | Victoria, Australia | 22/10/2003 | 3242 | 23/06/2017 | 27/06/2017 |
| | lfranklin | Victoria, Australia | 18/01/2009 | 24 | 23/12/2015 | 27/06/2017 |
| | Freemo | Castlemaine, Vic | 23/07/2009 | 11 | 26/04/2015 | 27/06/2017 |
| | Sturge | Sydney, Australia | 18/09/2010 | 47 | 25/11/2016 | 27/06/2017 |
| | PeterW | Melbourne, Victoria, Australia | 22/11/2013 | 60 | 24/06/2017 | 27/06/2017 |
| | pedro.c | Sydney, Australia | 27/11/2012 | 75 | 17/06/2017 | 27/06/2017 |
| | dave | Victoria, Australia | 13/09/2003 | 323 | 8/04/2017 | 27/06/2017 |
| | kady | Victoria, Australia | 27/06/2007 | 34 | 27/06/2017 | 27/06/2017 |
| | SBW | Victoria, Australia | 17/01/2005 | 44 | 19/04/2017 | 27/06/2017 |
| | Tastrad | Launceston, Tasmania | 16/07/2007 | 166 | 27/06/2017 | 27/06/2017 |
| | spiinal | Victoria, Australia | 3/10/2009 | 54 | 7/01/2017 | 27/06/2017 |
| | oweng | Hobart | | 502 | 30/01/2015 | 27/06/2017 |
| | ajfclark | Horsham, Victoria | 18/01/2008 | 5688 | 23/06/2017 | 27/06/2017 |
| | rodw | NSW, Australia | 15/12/2003 | 2677 | 31/05/2017 | 27/06/2017 |
| | nerm | Tasmania, Australia | 25/09/2006 | 87 | 15/12/2015 | 27/06/2017 |
| | bigfish | Blackheath | 10/06/2011 | 74 | 13/06/2017 | 27/06/2017 |
| | citationx | Sydney, Australia | 26/01/2005 | 954 | 26/06/2017 | 27/06/2017 |
| | f_abe | Mount Gambier, Australia | 13/04/2007 | 154 | 19/05/2017 | 27/06/2017 |
| | antforknee | Victoria, Australia | 5/01/2010 | 10 | 13/02/2017 | 27/06/2017 |
| | Sabu | Melbourne, Australia | 20/09/2004 | 2791 | 9/05/2017 | 27/06/2017 |
| | garbie | Sydney, Australia | 14/11/2004 | 242 | 9/01/2017 | 27/06/2017 |
| | mikllaw | Victoria, Australia | 14/01/2010 | 1745 | 26/06/2017 | 27/06/2017 |
| | Eduardo Slabofvic | Victoria, Australia | 2/02/2005 | 3094 | 15/06/2017 | 27/06/2017 |
| | climberman | Corrimal, Australia | 25/07/2004 | 822 | 25/04/2017 | 27/06/2017 |
| | Doug | Hobart | | 369 | 24/06/2017 | 27/06/2017 |
| | The good Dr | Victoria, Australia | 19/04/2005 | 605 | 2/06/2017 | 27/06/2017 |
| | tnd | Sydney, Australia | 2/02/2005 | 1219 | 15/06/2017 | 27/06/2017 |
| | hwilliams | Melbourne, Victoria, Australia | 20/06/2004 | 5 | 4/03/2011 | 27/06/2017 |
| | Stu~ | Sydney, Australia | 1/04/2014 | 3 | 7/06/2017 | 27/06/2017 |
| | trogster | Gardenvale, Melbourne | 21/10/2006 | 13 | 13/04/2017 | 27/06/2017 |
| | bz | canberra | 12/10/2015 | 3 | 24/08/2016 | 27/06/2017 |
| | Dalai | Victoria, Australia | | 4656 | 26/06/2017 | 27/06/2017 |
| | Will_P | Victoria, Australia | 28/04/2011 | 218 | 23/05/2017 | 27/06/2017 |
| | ClintR | Sydney, Australia | 17/06/2010 | 10 | 6/05/2015 | 27/06/2017 |
| | Cams | Brisbane | 29/11/2012 | 35 | 20/04/2017 | 27/06/2017 |
| | Ben_E | Victoria, Australia | 30/08/2010 | 281 | 20/10/2016 | 27/06/2017 |
| | kieranl | Victoria, Australia | | 4375 | 16/06/2017 | 27/06/2017 |
| | Sandym | NSW | 31/10/2012 | 18 | 25/05/2017 | 27/06/2017 |
| | hipdos | Canberra, Australia | 6/05/2005 | 160 | 13/01/2015 | 27/06/2017 |
| | Kenton | Wollongong, NSW | 14/09/2015 | 2 | 20/12/2015 | 27/06/2017 |
| | dfinnecy | sydney, Australia | 18/11/2008 | 78 | 5/08/2014 | 27/06/2017 |
| | kuu | Sydney, Australia | 10/01/2005 | 615 | 25/05/2017 | 27/06/2017 |
| | Bails | Victoria, Australia | 5/08/2014 | 1 | 13/02/2015 | 27/06/2017 |
| | tom.p | Melbourne, Australia | 5/02/2013 | 13 | 30/01/2017 | 27/06/2017 |
| | johnpitcairn | Auckland, New Zealand | 21/08/2012 | 133 | 21/05/2017 | 27/06/2017 |
| | Nick SA | Victoria, Australia | 7/11/2011 | 8 | 19/06/2017 | 27/06/2017 |
| | Cam McKenzie | Victoria, Australia | 17/01/2006 | 267 | 4/11/2015 | 27/06/2017 |
| | ldshield | Victoria, Australia | 4/10/2014 | 42 | 16/06/2017 | 27/06/2017 |
| | gaetanr | Victoria, Australia | 5/12/2012 | 35 | 7/02/2017 | 27/06/2017 |
| | JakeyB | Tasmania, Australia | 3/09/2010 | 5 | 26/06/2017 | 27/06/2017 |
| | lightfoot | Victoria, Australia | 28/01/2015 | 91 | 19/03/2017 | 27/06/2017 |
| | deadbudgy | Sydney, Australia | 26/10/2007 | 164 | 27/03/2017 | 27/06/2017 |
| | DSPIES | Victoria, Australia | 14/04/2008 | 47 | 13/04/2017 | 27/06/2017 |
| | jacksonclimbs | Texas | 11/02/2017 | 18 | 27/06/2017 | 27/06/2017 |
| | mallion | ACT, Australia | 20/05/2011 | 32 | 7/06/2017 | 27/06/2017 |
| | Glen | Victoria, Australia | 18/06/2003 | 10 | 13/09/2016 | 27/06/2017 |
| | peteclimbs | Victoria, Australia | 4/09/2012 | 80 | 25/05/2017 | 27/06/2017 |
| | thisrod | Queensland, Australia | 14/02/2008 | 3 | 6/02/2015 | 27/06/2017 |
| | TimP | Castlemaine | 28/09/2013 | 227 | 23/03/2017 | 27/06/2017 |
| | JES5 | Sydney, Australia | 24/03/2011 | 0 | | 27/06/2017 |
| | pmonks | U.S.A. | 29/07/2008 | 1323 | 5/05/2017 | 27/06/2017 |
| | dmcg | ACT, Australia | 3/09/2007 | 42 | 15/03/2017 | 27/06/2017 |
| | cruze | Christchurch, New Zealand | 22/11/2004 | 1459 | 18/05/2017 | 27/06/2017 |
| | deep Van Winkle | Sydney, Australia | 13/12/2014 | 12 | 18/03/2017 | 27/06/2017 |
| | Pommy | Gosford, Australia | 18/11/2003 | 140 | 5/06/2017 | 27/06/2017 |
| | Lee C | The Mountains | 17/03/2007 | 152 | 23/03/2017 | 27/06/2017 |
| | BA | Victoria, Australia | | 926 | 11/05/2017 | 27/06/2017 |
| | bones | Victoria, Australia | 21/12/2006 | 553 | 22/06/2017 | 27/06/2017 |
| | lacto | Victoria, Australia | 14/05/2005 | 359 | 9/06/2017 | 27/06/2017 |
| | shortman | Victoria, Australia | 5/11/2010 | 2411 | 4/05/2017 | 27/06/2017 |
| | matthewp | Sydney, Australia | 16/01/2009 | 57 | 7/06/2017 | 27/06/2017 |
| | Mark R | Victoria, Australia | 27/02/2007 | 76 | 7/05/2017 | 27/06/2017 |
| | tshaw | Porepunkah, Victoria, Australia | 14/12/2010 | 61 | 4/03/2017 | 27/06/2017 |
| | dhunchak | Victoria, Australia | 2/08/2009 | 27 | 3/10/2016 | 27/06/2017 |
| | Ball_Bagg | South Australia | 23/01/2010 | 19 | 14/04/2017 | 27/06/2017 |
| | argos44 | Darwin, Australia | 8/10/2012 | 118 | 22/10/2016 | 27/06/2017 |
| | woody85 | Victoria, Australia | 21/05/2011 | 14 | 10/03/2015 | 27/06/2017 |
| | Jenny | Victoria, Australia | 3/06/2011 | 2 | 15/10/2015 | 27/06/2017 |
| | sirja | Victoria, Australia | 4/11/2013 | 9 | 14/01/2017 | 27/06/2017 |
| | lukef | Victoria, Australia | 4/05/2014 | 15 | 26/05/2017 | 27/06/2017 |
| | WillT | Australia | 20/06/2017 | 0 | | 27/06/2017 |
Member Statistics

Activity Percentage Graph
| | |
| --- | --- |
| Gym | |
| Boulder | |
| Top Rope | |
| Sport | |
| Trad Single | |
| Trad Multi | |
| Aid/Big Wall | |
| Ice | |
| Mountain | |
| Not Applicable | |
There are 112 registered members. Of these 3% have never posted, 13% have only posted a few times, leaving 84% who are major posters. 79% are from Australia.
The top users are: widewetandslippery, Dave J, harold, MisterGribble, ademmert, patto, phillipivan, Andrew_M, Dave_S, Miguel75, Paul, Karl Bromelow, gfdonc, dave, Tastrad, oweng, ajfclark, rodw, citationx, f_abe, Sabu, garbie, mikllaw, Eduardo Slabofvic, climberman, Doug, The good Dr, tnd, Dalai, Will_P, Ben_E, kieranl, hipdos, kuu, Cam McKenzie, deadbudgy, TimP, pmonks, cruze, Lee C, BA, bones, lacto, shortman
The average user is 44 years old.
Home | Guide | Gallery | Tech Tips | Articles | Reviews | Dictionary | Forum | Links | About | Search
Chockstone Photography | Landscape Photography Australia | Australian Landscape Photography | Landscape Photos Australia

Please read the full disclaimer before using any information contained on these pages.
Australian Panoramic | Australian Coast | Australian Mountains | Australian Countryside | Australian Waterfalls | Australian Lakes | Australian Cities | Australian Macro | Australian Wildlife
Landscape Photo | Landscape Photography | Landscape Photography Australia | Fine Art Photography | Wilderness Photography | Nature Photo | Australian Landscape Photo | Stock Photography Australia | Landscape Photos | Panoramic Photos | Panoramic Photography Australia | Australian Landscape Photography | High Country Mountain Huts | Mothers Day Gifts | Gifts for Mothers Day | Mothers Day Gift Ideas | Ideas for Mothers Day | Wedding Gift Ideas | Christmas Gift Ideas | Fathers Day Gifts | Gifts for Fathers Day | Fathers Day Gift Ideas | Ideas for Fathers Day | Landscape Prints | Landscape Poster | Limited Edition Prints | Panoramic Photo | Buy Posters | Poster Prints