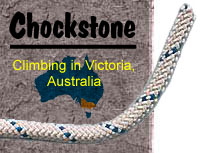 Sponsored By
ROCK
HARDWARE


Black Diamond: Black Diamond "PosiWire" Quick-Draw Sets. (6 Pack) Top: Straight gate Positron. (Anodised Ink Blue) Bottom: UPGRADED HotWire Wire gate. (Anodised Ink Blue) Dogbone: 12cm long and 14mm wide. NB Works out at $22.50 per quick-draw. $135.00
32% Off

Chockstone Forum

A place for Victorian climbers to hang out and chat about climbing. Anyone can register and post messages.

Limit To: All A B C D E F G H I J K L M N O P Q R S T U V W X Y Z
| | | | | | | |
| --- | --- | --- | --- | --- | --- | --- |
| Icon | User | Location | Joined | # Posts | Last Posted | Last Logon |
| | climberman | Corrimal, Australia | 25/07/2004 | 815 | 19/07/2016 | 25/07/2016 |
| | citationx | Sydney, Australia | 26/01/2005 | 952 | 25/07/2016 | 25/07/2016 |
| | shortman | Victoria, Australia | 5/11/2010 | 2371 | 11/07/2016 | 25/07/2016 |
| | rodw | NSW, Australia | 15/12/2003 | 2604 | 17/07/2016 | 25/07/2016 |
| | Lee C | The Mountains | 17/03/2007 | 145 | 20/07/2016 | 25/07/2016 |
| | Clancy | Canberra, Australia | 19/08/2003 | 82 | 13/05/2016 | 25/07/2016 |
| | PGS | NSW | 26/02/2010 | 27 | 18/06/2016 | 25/07/2016 |
| | Notime to climb | Victoria, Australia | 8/02/2012 | 17 | 24/07/2016 | 25/07/2016 |
| | bz | canberra | 12/10/2015 | 2 | 4/06/2016 | 25/07/2016 |
| | MP | South Australia | 23/03/2012 | 59 | 25/07/2016 | 25/07/2016 |
| | salty crag | Victoria, Australia | 21/08/2009 | 310 | 3/07/2016 | 25/07/2016 |
| | ampedandwired | Sydney | 17/09/2004 | 31 | 13/03/2011 | 25/07/2016 |
| | Robb | Adelaide, Australia | 13/01/2004 | 567 | 23/07/2015 | 25/07/2016 |
| | Freddofrog | Perth, Australia | 17/06/2016 | 7 | 21/07/2016 | 25/07/2016 |
| | billk | Victoria, Australia | 7/02/2005 | 673 | 12/07/2016 | 25/07/2016 |
| | a_stevo | Sydney, Australia | 23/05/2012 | 15 | 4/05/2015 | 25/07/2016 |
| | OozeDumbHopeless | Victoria, Australia | 5/04/2014 | 22 | 17/07/2016 | 25/07/2016 |
| | Ashy | NSW, Australia | 13/07/2005 | 6 | 21/12/2006 | 25/07/2016 |
| | allensaurusrex | Sydney, Australia | 25/05/2014 | 57 | 29/06/2016 | 25/07/2016 |
| | SBW | Victoria, Australia | 17/01/2005 | 41 | 19/04/2016 | 25/07/2016 |
| | lightfoot | Victoria, Australia | 28/01/2015 | 76 | 2/07/2016 | 25/07/2016 |
| | Zarb | Sydney, Australia | 17/07/2009 | 237 | 25/07/2016 | 25/07/2016 |
| | Marssan | NSW, Australia | 16/07/2006 | 79 | 24/07/2016 | 25/07/2016 |
| | theandrewglover | Victoria, Australia | 22/11/2013 | 7 | 4/07/2016 | 25/07/2016 |
| | Ariel | Melbourne, Australia | 7/12/2014 | 11 | 9/07/2016 | 25/07/2016 |
| | wren | Victoria, Australia | 30/06/2009 | 4 | 27/06/2016 | 25/07/2016 |
| | bones | Victoria, Australia | 21/12/2006 | 542 | 11/07/2016 | 25/07/2016 |
| | rightarmbad | queensland, Australia | 5/08/2004 | 511 | 18/06/2016 | 25/07/2016 |
| | dave | Victoria, Australia | 13/09/2003 | 319 | 16/07/2016 | 25/07/2016 |
| | barney800 | Victoria, Australia | 31/10/2011 | 66 | 10/07/2016 | 25/07/2016 |
| | davepalethorpe | Sydney, Australia | 2/12/2009 | 127 | 14/06/2016 | 25/07/2016 |
| | bagotup | Coffs | 15/06/2009 | 17 | 12/04/2015 | 25/07/2016 |
| | craigd | Kyneton Victoria, Australia | 3/05/2008 | 5 | 25/08/2009 | 25/07/2016 |
| | Chockstone Moderator | Victoria, Australia | 8/10/2007 | 141 | 25/07/2016 | 25/07/2016 |
| | SgtLemur | Sydney, New South Wales, Australia | 20/02/2015 | 4 | 18/07/2016 | 25/07/2016 |
| | J..D | Victoria, Australia | 28/04/2014 | 4 | 14/06/2016 | 25/07/2016 |
| | antforknee | Victoria, Australia | 5/01/2010 | 7 | 26/04/2016 | 25/07/2016 |
| | apaul | Victoria, Australia | 30/10/2011 | 2 | 9/06/2012 | 25/07/2016 |
| | Eduardo Slabofvic | Victoria, Australia | 2/02/2005 | 3031 | 25/07/2016 | 25/07/2016 |
| | braedenh88 | Halls Gap, Victoria, Australia | 9/07/2012 | 25 | 13/06/2016 | 25/07/2016 |
| | RNM | Victoria, Australia | 19/12/2005 | 117 | 25/05/2016 | 25/07/2016 |
| | rowan | blue mountains Australia | 30/05/2006 | 33 | 3/03/2016 | 25/07/2016 |
| | widewetandslippery | Victoria, Australia | 20/12/2006 | 3498 | 25/07/2016 | 25/07/2016 |
| | ecowain | Mt Victoria, Australia | 3/11/2003 | 117 | 18/07/2015 | 25/07/2016 |
| | Macciza | Blue Mountains, Australia | 12/02/2007 | 1755 | 22/07/2016 | 25/07/2016 |
| | armstp | Victoria, Australia | 28/12/2005 | 47 | 8/05/2016 | 25/07/2016 |
| | daave | Wollongong, Australia | 11/09/2005 | 349 | 26/06/2016 | 25/07/2016 |
| | Freemo | Castlemaine, Vic | 23/07/2009 | 11 | 26/04/2015 | 25/07/2016 |
| | Wendy | Natimuk | 23/11/2004 | 3211 | 25/07/2016 | 25/07/2016 |
| | Ryno | Victoria, Australia | 27/01/2015 | 9 | 24/11/2015 | 25/07/2016 |
| | JoeR | Victoria, Australia | 23/12/2014 | 3 | 23/11/2015 | 25/07/2016 |
| | kuu | Sydney, Australia | 10/01/2005 | 608 | 25/06/2016 | 25/07/2016 |
| | pfabrice | Victoria, Australia | 28/01/2016 | 1 | 28/01/2016 | 25/07/2016 |
| | choise | Victoria, Australia | 25/07/2016 | 0 | | 25/07/2016 |
| | ademmert | Victoria, Australia | 12/12/2004 | 394 | 10/04/2016 | 25/07/2016 |
| | Cams | Brisbane | 29/11/2012 | 29 | 14/07/2016 | 25/07/2016 |
| | MichaelOR | Victoria, Australia | 3/07/2004 | 212 | 9/06/2016 | 25/07/2016 |
| | steve86 | Queensland, Australia | 12/07/2005 | 0 | | 25/07/2016 |
| | MisterGribble | Victoria, Australia | 6/04/2007 | 438 | 25/07/2016 | 25/07/2016 |
| | Sabu | Melbourne, Australia | 20/09/2004 | 2766 | 19/07/2016 | 25/07/2016 |
| | SteveC | Blueys, Australia | 29/08/2006 | 135 | 23/07/2016 | 25/07/2016 |
| | Dave_S | Victoria, Australia | 10/10/2012 | 199 | 20/07/2016 | 25/07/2016 |
| | The good Dr | Victoria, Australia | 19/04/2005 | 598 | 17/06/2016 | 25/07/2016 |
| | dave1962 | south australia, Australia | 12/09/2010 | 36 | 8/07/2016 | 25/07/2016 |
| | Steve Bell | Victoria, Australia | 18/11/2011 | 12 | 15/07/2016 | 25/07/2016 |
| | OzMamba | Victoria, Australia | 10/11/2014 | 26 | 19/07/2016 | 25/07/2016 |
| | Superstu | Ashfield, Sydney | 10/06/2003 | 1349 | 20/07/2016 | 25/07/2016 |
| | jubs | Victoria, Australia | 11/05/2015 | 0 | | 25/07/2016 |
| | JES5 | Sydney, Australia | 24/03/2011 | 0 | | 25/07/2016 |
| | Ball_Bagg | South Australia | 23/01/2010 | 15 | 26/06/2016 | 25/07/2016 |
| | D.Lodge | Victoria, Australia | | 415 | 21/07/2016 | 25/07/2016 |
| | whippet | Mt Victoria & Dargan , Blue Mtns | 28/04/2015 | 1 | 28/04/2015 | 25/07/2016 |
| | Sandym | NSW | 31/10/2012 | 6 | 22/07/2016 | 25/07/2016 |
| | ratt07 | wollongong Australia | 18/07/2010 | 9 | 12/06/2013 | 25/07/2016 |
| | lost tazmaniac | Victoria, Australia | 14/05/2009 | 47 | 16/11/2015 | 25/07/2016 |
| | Dane | Canberra, Australia | 3/05/2009 | 33 | 8/07/2016 | 25/07/2016 |
| | Jimmy39 | Adelaide Australia | 3/06/2016 | 0 | | 25/07/2016 |
| | ajfclark | Horsham, Victoria | 18/01/2008 | 5508 | 25/07/2016 | 25/07/2016 |
| | cogsy | Blackheath, Australia | 21/12/2008 | 123 | 18/05/2014 | 25/07/2016 |
| | peteclimbs | Victoria, Australia | 4/09/2012 | 75 | 26/04/2016 | 25/07/2016 |
| | gfdonc | Victoria, Australia | 22/10/2003 | 3146 | 22/07/2016 | 25/07/2016 |
| | Kable459 | Sydney NSW | 3/05/2016 | 9 | 23/07/2016 | 25/07/2016 |
| | Andy P | Victoria, Australia | 2/07/2015 | 76 | 25/07/2016 | 25/07/2016 |
| | plugngo | Sydney | 11/02/2009 | 55 | 8/06/2016 | 25/07/2016 |
| | argos44 | Darwin, Australia | 8/10/2012 | 116 | 26/06/2016 | 25/07/2016 |
| | TooFatToClimb | Victoria, Australia | 15/11/2006 | 16 | 3/04/2015 | 25/07/2016 |
| | voodoo | Sydney, Australia | 7/12/2009 | 150 | 16/06/2016 | 25/07/2016 |
| | BA | Victoria, Australia | | 916 | 5/07/2016 | 25/07/2016 |
| | hero | Victoria, Australia | 2/04/2006 | 655 | 24/05/2016 | 25/07/2016 |
| | pmonks | U.S.A. | 29/07/2008 | 1278 | 21/07/2016 | 25/07/2016 |
| | Andrew_M | Sydney, Australia | 13/12/2003 | 257 | 13/07/2016 | 25/07/2016 |
| | ben_R | Victoria, Australia | 7/11/2013 | 3 | 15/11/2013 | 25/07/2016 |
| | FatBoy | Victoria, Australia | | 308 | 21/05/2016 | 25/07/2016 |
| | deep Van Winkle | Sydney, Australia | 13/12/2014 | 9 | 12/04/2016 | 25/07/2016 |
| | PeterW | Melbourne, Victoria, Australia | 22/11/2013 | 35 | 22/07/2016 | 25/07/2016 |
| | bradc | blackheath, NSW | 23/10/2003 | 75 | 22/03/2016 | 25/07/2016 |
| | Damo666 | Australia | 26/02/2009 | 270 | 5/07/2016 | 25/07/2016 |
| | f_abe | Mount Gambier, Australia | 13/04/2007 | 141 | 10/07/2016 | 25/07/2016 |
| | Pommy | Gosford, Australia | 18/11/2003 | 134 | 10/04/2016 | 25/07/2016 |
| | CanClimber | Canberra, Australia | 16/05/2016 | 2 | 16/05/2016 | 25/07/2016 |
| | Dalai | Victoria, Australia | | 4539 | 24/07/2016 | 25/07/2016 |
| | kieranl | Victoria, Australia | | 4278 | 20/07/2016 | 25/07/2016 |
| | Rawpowa! | Syndey, NSW | 8/06/2014 | 77 | 25/07/2016 | 25/07/2016 |
| | ado_m | Victoria, Australia | 22/11/2006 | 334 | 14/07/2016 | 25/07/2016 |
| | hairy1 | Victoria, Australia | 11/01/2005 | 70 | 8/06/2016 | 25/07/2016 |
| | IronCheff | Victoria, Australia | 12/03/2011 | 47 | 22/06/2016 | 25/07/2016 |
| | Bails | Victoria, Australia | 5/08/2014 | 1 | 13/02/2015 | 25/07/2016 |
| | semi.ivan | Victoria, Australia | 18/08/2014 | 27 | 23/07/2016 | 25/07/2016 |
| | DL | Victoria, Australia | 25/07/2003 | 12 | 25/05/2014 | 25/07/2016 |
| | PThomson | Blue Mountains, Australia | 19/01/2011 | 202 | 12/07/2016 | 25/07/2016 |
| | Byron | Victoria, Australia | 8/11/2014 | 7 | 20/02/2015 | 25/07/2016 |
| | prb | Adelaide, Australia | 19/04/2004 | 462 | 25/07/2016 | 25/07/2016 |
| | gaetanr | Victoria, Australia | 5/12/2012 | 30 | 26/05/2016 | 25/07/2016 |
| | joejoejoeken | Victoria, Australia | 4/05/2016 | 2 | 7/07/2016 | 25/07/2016 |
| | technogeekery | Sydney | 14/10/2009 | 440 | 21/07/2016 | 25/07/2016 |
| | PDRM | Victoria, Australia | 22/11/2007 | 417 | 15/06/2016 | 25/07/2016 |
| | deadbudgy | Sydney, Australia | 26/10/2007 | 160 | 10/06/2016 | 25/07/2016 |
| | woody85 | Victoria, Australia | 21/05/2011 | 14 | 10/03/2015 | 25/07/2016 |
| | johnpitcairn | Auckland, New Zealand | 21/08/2012 | 112 | 25/07/2016 | 25/07/2016 |
| | maxdacat | London | 14/09/2004 | 942 | 12/07/2016 | 25/07/2016 |
| | simey | Victoria, Australia | 5/02/2005 | 2394 | 25/07/2016 | 25/07/2016 |
| | Isildur | NSW | 9/04/2007 | 27 | 21/12/2013 | 25/07/2016 |
| | mikllaw | Victoria, Australia | 14/01/2010 | 1668 | 20/07/2016 | 25/07/2016 |
| | tshaw | Porepunkah, Victoria, Australia | 14/12/2010 | 49 | 27/03/2016 | 25/07/2016 |
| | harold | geelong,Victoria, Australia | 1/05/2004 | 212 | 3/06/2016 | 25/07/2016 |
| | Adc | Sydney, Australia | 11/10/2011 | 18 | 7/07/2016 | 25/07/2016 |
| | tay | Victoria, Australia | 15/07/2015 | 9 | 4/02/2016 | 25/07/2016 |
| | Mr Poopypants | The Gong | 19/12/2009 | 233 | 22/07/2016 | 25/07/2016 |
| | DSPIES | Victoria, Australia | 14/04/2008 | 44 | 25/05/2016 | 25/07/2016 |
| | Climbincircles | Albury-Wodonga NSW, Australia | 31/10/2015 | 12 | 25/07/2016 | 25/07/2016 |
| | JDB | Victoria, Australia | 11/04/2006 | 409 | 25/07/2016 | 25/07/2016 |
| | Seth | Perth, Australia | 25/03/2009 | 37 | 14/04/2016 | 25/07/2016 |
| | Daglar | Victoria, Australia | 27/04/2015 | 7 | 1/06/2016 | 25/07/2016 |
| | nick_22 | Victoria, Australia | 2/11/2014 | 5 | 8/06/2016 | 25/07/2016 |
| | ben wiessner | Hobart, Australia | 9/11/2004 | 114 | 24/07/2016 | 25/07/2016 |
| | chalkytea | Australia | 25/07/2016 | 1 | 25/07/2016 | 25/07/2016 |
| | matthewp | Sydney, Australia | 16/01/2009 | 56 | 21/09/2015 | 25/07/2016 |
| | AndreasAachen | Victoria, Australia | 16/05/2014 | 3 | 20/05/2015 | 25/07/2016 |
| | kilbz | wollongong, Australia | 10/03/2014 | 6 | 2/05/2015 | 25/07/2016 |
| | gordoste | Albury, NSW, Australia | 27/10/2004 | 1126 | 8/07/2016 | 25/07/2016 |
| | Esteban77 | Victoria, Australia | 5/06/2011 | 8 | 26/10/2014 | 25/07/2016 |
| | cruze | Christchurch, New Zealand | 22/11/2004 | 1454 | 18/07/2016 | 25/07/2016 |
| | DaveW | Victoria, Australia | 29/08/2005 | 12 | 20/12/2011 | 25/07/2016 |
| | Tek | Blackheath | 14/02/2013 | 0 | | 25/07/2016 |
| | patto | Victoria, Australia | 10/06/2005 | 1268 | 13/07/2016 | 25/07/2016 |
Member Statistics

Activity Percentage Graph
| | |
| --- | --- |
| Gym | |
| Boulder | |
| Top Rope | |
| Sport | |
| Trad Single | |
| Trad Multi | |
| Aid/Big Wall | |
| Ice | |
| Mountain | |
| Not Applicable | |
There are 145 registered members. Of these 4% have never posted, 21% have only posted a few times, leaving 75% who are major posters. 83% are from Australia.
The top users are: climberman, citationx, shortman, rodw, salty crag, Robb, billk, Zarb, bones, rightarmbad, dave, Eduardo Slabofvic, widewetandslippery, Macciza, daave, Wendy, kuu, ademmert, MichaelOR, MisterGribble, Sabu, Dave_S, The good Dr, Superstu, D.Lodge, ajfclark, gfdonc, BA, hero, pmonks, Andrew_M, FatBoy, Damo666, Dalai, kieranl, ado_m, PThomson, prb, technogeekery, PDRM, deadbudgy, maxdacat, simey, mikllaw, harold, Mr Poopypants, JDB, gordoste, cruze, patto
The average user is 42 years old.
Home | Guide | Gallery | Tech Tips | Articles | Reviews | Dictionary | Forum | Links | About | Search
Chockstone Photography | Landscape Photography Australia | Australian Landscape Photography | Landscape Photos Australia

Please read the full disclaimer before using any information contained on these pages.
Australian Panoramic | Australian Coast | Australian Mountains | Australian Countryside | Australian Waterfalls | Australian Lakes | Australian Cities | Australian Macro | Australian Wildlife
Landscape Photo | Landscape Photography | Landscape Photography Australia | Fine Art Photography | Wilderness Photography | Nature Photo | Australian Landscape Photo | Stock Photography Australia | Landscape Photos | Panoramic Photos | Panoramic Photography Australia | Australian Landscape Photography | Mothers Day Gifts | Gifts for Mothers Day | Mothers Day Gift Ideas | Ideas for Mothers Day | Wedding Gift Ideas | Christmas Gift Ideas | Fathers Day Gifts | Gifts for Fathers Day | Fathers Day Gift Ideas | Ideas for Fathers Day | Landscape Prints | Landscape Poster | Limited Edition Prints | Panoramic Photo | Buy Posters | Poster Prints