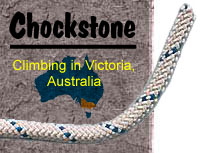 Sponsored By
ROCK
HARDWARE


DMM: Renegade SIZE LARGE. (2013 model) - Red piping... Adjustable Padded Harness, 7 Gear Loops Fits: Waist: 87-104cm Legs:55-70 cm NB Waist belt padding floats - Awesome design IMO. Only 1 left! $99.00
34% Off

Chockstone Forum

A place for Victorian climbers to hang out and chat about climbing. Anyone can register and post messages.

Limit To: All A B C D E F G H I J K L M N O P Q R S T U V W X Y Z
| | | | | | | |
| --- | --- | --- | --- | --- | --- | --- |
| Icon | User | Location | Joined | # Posts | Last Posted | Last Logon |
| | bully b | Victoria, Australia | 23/10/2009 | 10 | 2/02/2015 | 27/02/2015 |
| | mikllaw | Victoria, Australia | 14/01/2010 | 1516 | 10/02/2015 | 27/02/2015 |
| | hamish_b | Victoria, Australia | 22/02/2010 | 6 | 2/02/2015 | 27/02/2015 |
| | JFG | Victoria, Australia | 25/09/2013 | 2 | 25/08/2014 | 27/02/2015 |
| | Justin | Victoria, Australia | 24/07/2003 | 7 | 22/02/2007 | 27/02/2015 |
| | harold | geelong,Victoria, Australia | 1/05/2004 | 182 | 2/02/2015 | 27/02/2015 |
| | JamesMc | Victoria, Australia | 31/10/2003 | 738 | 22/02/2015 | 27/02/2015 |
| | Mark R | Victoria, Australia | 27/02/2007 | 63 | 1/02/2015 | 27/02/2015 |
| | Miguel75 | Victoria, Australia | 11/07/2009 | 2704 | 25/02/2015 | 27/02/2015 |
| | Dave_S | Victoria, Australia | 10/10/2012 | 91 | 27/02/2015 | 27/02/2015 |
| | Snappy | Queensland, Australia | 5/09/2008 | 57 | 26/09/2014 | 27/02/2015 |
| | shortman | Victoria, Australia | 5/11/2010 | 2206 | 27/02/2015 | 27/02/2015 |
| | JonSnow9 | Wollongong, Australia | 12/05/2013 | 13 | 27/01/2015 | 27/02/2015 |
| | sbm | Sydney, NSW, Australia | 25/08/2010 | 405 | 27/02/2015 | 27/02/2015 |
| | f_abe | Mount Gambier, Australia | 13/04/2007 | 127 | 13/02/2015 | 27/02/2015 |
| | GS | Victoria, Australia | 24/11/2014 | 1 | 19/02/2015 | 27/02/2015 |
| | marky | Victoria, Australia | 4/12/2008 | 129 | 27/02/2015 | 27/02/2015 |
| | SBW | Victoria, Australia | 17/01/2005 | 30 | 2/02/2015 | 27/02/2015 |
| | Notime to climb | Victoria, Australia | 8/02/2012 | 12 | 2/02/2015 | 27/02/2015 |
| | hipdos | Canberra, Australia | 6/05/2005 | 160 | 13/01/2015 | 27/02/2015 |
| | J..D | Victoria, Australia | 28/04/2014 | 1 | 20/02/2015 | 27/02/2015 |
| | Sabu | Melbourne, Australia | 20/09/2004 | 2702 | 26/02/2015 | 27/02/2015 |
| | Matt Callaghan | Victoria, Australia | 18/09/2014 | 6 | 30/12/2014 | 27/02/2015 |
| | dmc | Sydney, Australia | 16/12/2009 | 23 | 20/02/2015 | 27/02/2015 |
| | Ashy | NSW, Australia | 13/07/2005 | 6 | 21/12/2006 | 27/02/2015 |
| | kieranl | Victoria, Australia | | 4045 | 27/02/2015 | 27/02/2015 |
| | jaguarrh | NSW, Australia | 23/11/2014 | 1 | 5/12/2014 | 27/02/2015 |
| | dave1962 | south australia, Australia | 12/09/2010 | 22 | 30/12/2014 | 27/02/2015 |
| | deep Van Winkle | Sydney, Australia | 13/12/2014 | 4 | 23/12/2014 | 27/02/2015 |
| | Esteban77 | Victoria, Australia | 5/06/2011 | 8 | 26/10/2014 | 27/02/2015 |
| | Macciza | Blue Mountains, Australia | 12/02/2007 | 1557 | 24/02/2015 | 27/02/2015 |
| | oweng | Hobart | | 502 | 30/01/2015 | 27/02/2015 |
| | Lee C | The Mountains | 17/03/2007 | 133 | 19/02/2015 | 27/02/2015 |
| | dan_b | Victoria, Australia | 4/06/2011 | 71 | 27/02/2015 | 27/02/2015 |
| | lachlang | Victoria, Australia | 27/01/2015 | 0 | | 27/02/2015 |
| | ambyeok | Victoria, Australia | 22/08/2008 | 621 | 27/02/2015 | 27/02/2015 |
| | TimP | Castlemaine | 28/09/2013 | 105 | 27/02/2015 | 27/02/2015 |
| | JimmyS | Dunkeld | 3/10/2011 | 120 | 22/02/2015 | 27/02/2015 |
| | skegly | Castlemaine, Victoria, Australia | 23/04/2011 | 304 | 22/02/2015 | 27/02/2015 |
| | stuart h | Victoria, Australia | 20/11/2006 | 44 | 26/02/2015 | 27/02/2015 |
| | melon2 | Victoria, Australia | 22/11/2008 | 3 | 26/09/2014 | 27/02/2015 |
| | Wendy | Natimuk | 23/11/2004 | 3055 | 12/02/2015 | 27/02/2015 |
| | ajfclark | Horsham, Victoria | 18/01/2008 | 5141 | 25/02/2015 | 27/02/2015 |
| | kubepau | Victoria, Australia | 23/02/2015 | 0 | | 27/02/2015 |
| | Pommy | Gosford, Australia | 18/11/2003 | 126 | 30/01/2015 | 27/02/2015 |
| | Dalai | Victoria, Australia | | 4414 | 24/02/2015 | 27/02/2015 |
| | ratt07 | wollongong Australia | 18/07/2010 | 9 | 12/06/2013 | 27/02/2015 |
| | egosan | Melbourne | 16/04/2008 | 1065 | 13/02/2015 | 27/02/2015 |
| | SgtLemur | Sydney, New South Wales, Australia | 20/02/2015 | 0 | | 27/02/2015 |
| | kilbz | wollongong, Australia | 10/03/2014 | 5 | 26/06/2014 | 27/02/2015 |
| | JMK | Newcastle NSW, Australia | 7/01/2009 | 80 | 21/02/2015 | 27/02/2015 |
| | OodlesDownHere | Victoria, Australia | 21/06/2014 | 8 | 22/02/2015 | 27/02/2015 |
| | ecowain | Mt Victoria, Australia | 3/11/2003 | 112 | 22/11/2014 | 27/02/2015 |
| | MonkeyBoy | Melbourne, Australia | 4/01/2009 | 317 | 14/02/2015 | 27/02/2015 |
| | rowan | blue mountains Australia | 30/05/2006 | 28 | 17/07/2014 | 27/02/2015 |
| | pedro.c | Sydney, Australia | 27/11/2012 | 57 | 15/02/2015 | 27/02/2015 |
| | daave | Wollongong, Australia | 11/09/2005 | 338 | 13/10/2014 | 27/02/2015 |
| | patto | Victoria, Australia | 10/06/2005 | 1135 | 18/02/2015 | 27/02/2015 |
| | lfranklin | Victoria, Australia | 18/01/2009 | 23 | 23/11/2013 | 27/02/2015 |
| | Doc | Victoria, Australia | 7/06/2006 | 101 | 23/02/2015 | 27/02/2015 |
| | nerm | Tasmania, Australia | 25/09/2006 | 84 | 18/02/2015 | 27/02/2015 |
| | Freemo | Castlemaine, Vic | 23/07/2009 | 10 | 8/02/2014 | 27/02/2015 |
| | sholloway | Victoria, Australia | 27/04/2014 | 1 | 27/04/2014 | 27/02/2015 |
| | Estey | ACT, Australia | | 127 | 11/12/2014 | 27/02/2015 |
| | Loz and Tim | Newcastle, Australia | 7/01/2009 | 32 | 23/12/2014 | 27/02/2015 |
| | Bryn_W | Porongurup, Western Australia | 25/02/2015 | 0 | | 27/02/2015 |
| | IronCheff | Victoria, Australia | 12/03/2011 | 40 | 6/02/2015 | 27/02/2015 |
| | Eduardo Slabofvic | Victoria, Australia | 2/02/2005 | 2874 | 12/02/2015 | 27/02/2015 |
| | maxdacat | London | 14/09/2004 | 871 | 26/02/2015 | 27/02/2015 |
| | woody85 | Victoria, Australia | 21/05/2011 | 13 | 5/02/2015 | 27/02/2015 |
| | freepete | Adelaide, Australia | 21/03/2010 | 110 | 30/12/2014 | 27/02/2015 |
| | theandrewglover | Victoria, Australia | 22/11/2013 | 2 | 6/12/2013 | 27/02/2015 |
| | The good Dr | Victoria, Australia | 19/04/2005 | 559 | 27/02/2015 | 27/02/2015 |
| | acooper | Victoria, Australia | 23/02/2015 | 0 | | 27/02/2015 |
| | MP | South Australia | 23/03/2012 | 38 | 26/02/2015 | 27/02/2015 |
| | climberman | Corrimal, Australia | 25/07/2004 | 762 | 18/02/2015 | 27/02/2015 |
| | lightfoot | Victoria, Australia | 28/01/2015 | 22 | 22/02/2015 | 27/02/2015 |
| | dave | Victoria, Australia | 13/09/2003 | 312 | 12/12/2014 | 27/02/2015 |
| | mitch46and2 | adelaide | 26/08/2013 | 6 | 21/02/2015 | 27/02/2015 |
| | phillipivan | | 17/10/2009 | 455 | 26/02/2015 | 27/02/2015 |
| | dave1212 | Victoria, Australia | 3/02/2011 | 5 | 27/02/2015 | 27/02/2015 |
| | Fiona | Victoria, Australia | 25/12/2013 | 9 | 20/02/2015 | 27/02/2015 |
| | ado_m | Victoria, Australia | 22/11/2006 | 313 | 23/02/2015 | 27/02/2015 |
| | grangrump | Victoria, Australia | 22/06/2007 | 379 | 18/02/2015 | 27/02/2015 |
| | DangerLaef | Manly, NSW | 18/09/2004 | 35 | 20/10/2014 | 27/02/2015 |
| | halcyonCorsair | Melbourne, Australia | 10/02/2014 | 6 | 25/02/2015 | 27/02/2015 |
| | Dr Box | Melbourne | 5/11/2004 | 112 | 20/02/2015 | 27/02/2015 |
| | ben_R | Victoria, Australia | 7/11/2013 | 3 | 15/11/2013 | 27/02/2015 |
| | random | Victoria, Australia | 7/11/2008 | 2 | 15/10/2012 | 27/02/2015 |
| | Lingy | NSW, Australia | 8/04/2014 | 3 | 4/12/2014 | 27/02/2015 |
| | NealD | Sydney, Australia | 5/01/2009 | 32 | 25/02/2015 | 27/02/2015 |
| | vwills | Newcastle, Australia | 23/09/2003 | 553 | 22/01/2015 | 27/02/2015 |
| | Tastrad | Launceston, Tasmania | 16/07/2007 | 121 | 9/02/2015 | 27/02/2015 |
| | Ryno | Victoria, Australia | 27/01/2015 | 4 | 22/02/2015 | 27/02/2015 |
| | Sanka | Sydney, Australia | 23/11/2014 | 3 | 26/11/2014 | 27/02/2015 |
| | shiltz | Victoria, Australia | | 501 | 26/02/2015 | 27/02/2015 |
| | peteclimbs | Victoria, Australia | 4/09/2012 | 56 | 19/02/2015 | 27/02/2015 |
| | Cams | Brisbane | 29/11/2012 | 25 | 20/02/2015 | 27/02/2015 |
| | Markg | Brisbane, Australia | 27/02/2015 | 1 | 27/02/2015 | 27/02/2015 |
| | gonesurfing | Sydney, New South Wales | 3/01/2013 | 18 | 21/02/2015 | 27/02/2015 |
| | lacto | Victoria, Australia | 14/05/2005 | 330 | 24/02/2015 | 27/02/2015 |
| | Howsie | Victoria, Australia | 11/12/2013 | 39 | 27/02/2015 | 27/02/2015 |
| | Hawkman | Coffs Harbour, Australia | | 735 | 3/05/2014 | 27/02/2015 |
| | tnd | Sydney, Australia | 2/02/2005 | 1201 | 26/02/2015 | 27/02/2015 |
| | Garrath | Victoria, Australia | | 237 | 3/09/2014 | 27/02/2015 |
| | Dr Nick | Sydney, Australia | 6/03/2011 | 215 | 19/02/2015 | 27/02/2015 |
| | kuu | Sydney, Australia | 10/01/2005 | 595 | 15/01/2015 | 27/02/2015 |
| | martym | Sydney | 3/04/2009 | 948 | 26/02/2015 | 27/02/2015 |
| | prb | Adelaide, Australia | 19/04/2004 | 451 | 13/02/2015 | 27/02/2015 |
| | Drake | Blue Mountains, Australia | 4/01/2013 | 92 | 13/02/2015 | 27/02/2015 |
| | gfdonc | Victoria, Australia | 22/10/2003 | 3005 | 27/02/2015 | 27/02/2015 |
| | dicky | Victoria, Australia | 4/07/2010 | 29 | 3/12/2014 | 27/02/2015 |
| | Superstu | Ashfield, Sydney | 10/06/2003 | 1288 | 12/02/2015 | 27/02/2015 |
| | argos44 | Darwin, Australia | 8/10/2012 | 85 | 9/12/2014 | 27/02/2015 |
| | Stu~ | Sydney, Australia | 1/04/2014 | 0 | | 27/02/2015 |
| | dagibbs | Ottawa, Canada | 9/01/2015 | 0 | | 27/02/2015 |
| | tomcat | Victoria, Australia | 27/12/2014 | 1 | 27/12/2014 | 27/02/2015 |
| | ben wiessner | Hobart, Australia | 9/11/2004 | 104 | 15/10/2014 | 27/02/2015 |
| | plugngo | Sydney | 11/02/2009 | 50 | 22/10/2014 | 27/02/2015 |
| | tooclimb | NSW Australia | 19/08/2009 | 12 | 27/02/2015 | 27/02/2015 |
| | bjorniam | Sydney, Australia | 22/06/2012 | 17 | 24/11/2014 | 27/02/2015 |
| | Olbert | Wollongong, Australia | 6/07/2008 | 1028 | 13/02/2015 | 27/02/2015 |
| | bradc | blackheath, NSW | 23/10/2003 | 74 | 28/11/2014 | 27/02/2015 |
| | gaetanr | Victoria, Australia | 5/12/2012 | 22 | 8/12/2014 | 27/02/2015 |
| | brendan | | 4/03/2006 | 415 | 24/02/2015 | 27/02/2015 |
| | billk | Victoria, Australia | 7/02/2005 | 653 | 7/02/2015 | 27/02/2015 |
| | grantoss | Sydney, Australia | 28/07/2010 | 138 | 23/02/2015 | 27/02/2015 |
| | jprockbelly | Victoria, Australia | 21/09/2011 | 38 | 3/02/2015 | 27/02/2015 |
| | JenPl | NSW, Australia | 20/02/2015 | 1 | 20/02/2015 | 27/02/2015 |
| | crowman | Victoria, Australia | 6/03/2013 | 2 | 21/12/2014 | 27/02/2015 |
| | Art of Falling | Victoria, Australia | 2/11/2012 | 5 | 4/02/2015 | 27/02/2015 |
| | JES5 | Sydney, Australia | 24/03/2011 | 0 | | 27/02/2015 |
| | Allan | Victoria, Australia | 28/07/2014 | 6 | 8/10/2014 | 27/02/2015 |
| | johnpitcairn | Auckland, New Zealand | 21/08/2012 | 59 | 27/02/2015 | 27/02/2015 |
| | Grinder | Victoria, Australia | 23/06/2011 | 15 | 24/11/2014 | 27/02/2015 |
| | OzMamba | Victoria, Australia | 10/11/2014 | 5 | 12/01/2015 | 27/02/2015 |
| | Cameron | Melbourne, Victoria, Australia | 1/01/2014 | 0 | | 27/02/2015 |
| | radson | Sydney, Australia | 3/01/2011 | 32 | 24/02/2015 | 27/02/2015 |
| | matthewp | Sydney, Australia | 16/01/2009 | 52 | 17/02/2015 | 27/02/2015 |
| | barney800 | Victoria, Australia | 31/10/2011 | 57 | 14/02/2015 | 27/02/2015 |
| | Imaclawfan | Victoria, Australia | 24/08/2014 | 85 | 27/02/2015 | 27/02/2015 |
| | wallwombat | Bushranger Country, NSW. | 13/12/2006 | 3539 | 20/02/2015 | 27/02/2015 |
| | timbigot | Victoria, Australia | 13/08/2012 | 46 | 27/02/2015 | 27/02/2015 |
| | Syl | Victoria, Australia | 23/02/2015 | 1 | 23/02/2015 | 27/02/2015 |
| | rodw | NSW, Australia | 15/12/2003 | 2501 | 19/02/2015 | 27/02/2015 |
| | jrc | Lindfield, NSW Australia | 6/02/2006 | 184 | 26/02/2015 | 27/02/2015 |
| | barefootbushman | Western Australia, Australia | 26/05/2014 | 7 | 16/02/2015 | 27/02/2015 |
| | tshaw | Porepunkah, Victoria, Australia | 14/12/2010 | 39 | 22/01/2015 | 27/02/2015 |
| | Colg | NSW, Australia | 27/08/2013 | 29 | 18/02/2015 | 27/02/2015 |
| | BA | Victoria, Australia | | 880 | 4/02/2015 | 27/02/2015 |
| | MisterGribble | Victoria, Australia | 6/04/2007 | 373 | 1/02/2015 | 27/02/2015 |
| | latch | NSW, Australia | 24/05/2010 | 36 | 25/08/2014 | 27/02/2015 |
| | dunyabar | blackheath nsw | 9/01/2013 | 4 | 20/02/2015 | 27/02/2015 |
| | ldshield | Victoria, Australia | 4/10/2014 | 7 | 12/02/2015 | 27/02/2015 |
| | partysteve | Victoria, Australia | 7/12/2011 | 3 | 24/09/2014 | 27/02/2015 |
| | Rawpowa! | Syndey, NSW | 8/06/2014 | 5 | 13/01/2015 | 27/02/2015 |
| | Damo Milo | Victoria, Australia | 5/11/2014 | 7 | 13/01/2015 | 27/02/2015 |
| | Will_P | Victoria, Australia | 28/04/2011 | 201 | 19/02/2015 | 27/02/2015 |
| | Nomad | Victoria, Australia | 19/02/2013 | 7 | 19/02/2015 | 27/02/2015 |
| | scarecrow | Adelaide, Australia | 11/06/2009 | 39 | 12/09/2014 | 27/02/2015 |
| | EvDog | Victoria, Australia | 17/11/2011 | 26 | 30/12/2014 | 27/02/2015 |
| | SteveC | Blueys, Australia | 29/08/2006 | 131 | 24/10/2014 | 27/02/2015 |
| | Mig | Victoria, Australia | 2/12/2011 | 1 | 2/12/2011 | 27/02/2015 |
| | deadbudgy | Sydney, Australia | 26/10/2007 | 140 | 20/02/2015 | 27/02/2015 |
| | Dave J | Victoria, Australia | 11/02/2005 | 259 | 19/02/2015 | 27/02/2015 |
| | ademmert | Victoria, Australia | 12/12/2004 | 384 | 3/02/2015 | 27/02/2015 |
| | beean | Townsville, Australia | 24/07/2013 | 4 | 12/01/2015 | 27/02/2015 |
| | JohnK | Victoria, Australia | | 399 | 23/02/2015 | 27/02/2015 |
| | Ariel | Melbourne, Australia | 7/12/2014 | 3 | 22/02/2015 | 27/02/2015 |
| | arniearms | Sydney, Australia | 21/07/2009 | 90 | 6/08/2014 | 27/02/2015 |
| | Chriph | Victoria, Australia | 14/09/2013 | 26 | 19/02/2015 | 27/02/2015 |
| | Cam McKenzie | Victoria, Australia | 17/01/2006 | 264 | 2/02/2015 | 27/02/2015 |
| | leeman | Bondi, Australia | 27/08/2011 | 18 | 8/02/2015 | 27/02/2015 |
| | phil_nev | Victoria, Australia | | 1141 | 24/02/2015 | 27/02/2015 |
| | Seb | NSW, Australia | 24/10/2012 | 12 | 21/10/2014 | 27/02/2015 |
| | zensurfer | Victoria, Australia | 9/03/2013 | 7 | 13/11/2014 | 27/02/2015 |
| | Chardy | Adelaide, Australia | 22/02/2015 | 1 | 22/02/2015 | 27/02/2015 |
| | DSPIES | Victoria, Australia | 14/04/2008 | 41 | 5/12/2014 | 27/02/2015 |
| | oldtraddad | Katoomba, Australia | 13/09/2010 | 25 | 22/01/2013 | 27/02/2015 |
| | johny | Hobart, Tasmania | 14/09/2004 | 19 | 22/01/2015 | 27/02/2015 |
| | Andrew_M | Sydney, Australia | 13/12/2003 | 253 | 17/08/2014 | 27/02/2015 |
| | richb | Central Victoria, Australia | 12/08/2004 | 23 | 21/12/2014 | 27/02/2015 |
| | JAG | Victoria, Australia | 19/02/2015 | 0 | | 27/02/2015 |
| | rightarmbad | queensland, Australia | 5/08/2004 | 481 | 21/02/2015 | 27/02/2015 |
| | DJ Biggs | ACT, Australia | 22/04/2005 | 89 | 7/10/2014 | 27/02/2015 |
| | Jodestar | Victoria, Australia | 13/09/2009 | 103 | 16/09/2014 | 27/02/2015 |
| | pieman | Sydney | 1/08/2011 | 17 | 26/01/2015 | 27/02/2015 |
| | salty crag | Victoria, Australia | 21/08/2009 | 295 | 3/02/2015 | 27/02/2015 |
| | gffc | ACT, Australia | 16/11/2014 | 1 | 19/02/2015 | 27/02/2015 |
| | White Gold | Victoria, Australia | 22/01/2011 | 38 | 4/02/2015 | 27/02/2015 |
| | Byron | Victoria, Australia | 8/11/2014 | 7 | 20/02/2015 | 27/02/2015 |
| | a_stevo | Sydney, Australia | 23/05/2012 | 12 | 9/06/2014 | 27/02/2015 |
| | torque | Victoria, Australia | 7/05/2007 | 32 | 19/07/2013 | 27/02/2015 |
| | MattyB | Sydney, NSW | 2/04/2009 | 60 | 5/11/2013 | 27/02/2015 |
| | bones | Victoria, Australia | 21/12/2006 | 518 | 16/02/2015 | 27/02/2015 |
Member Statistics

Activity Percentage Graph
| | |
| --- | --- |
| Gym | |
| Boulder | |
| Top Rope | |
| Sport | |
| Trad Single | |
| Trad Multi | |
| Aid/Big Wall | |
| Ice | |
| Mountain | |
| Not Applicable | |
There are 195 registered members. Of these 5% have never posted, 25% have only posted a few times, leaving 70% who are major posters. 85% are from Australia.
The top users are: mikllaw, harold, JamesMc, Miguel75, shortman, sbm, hipdos, Sabu, kieranl, Macciza, oweng, ambyeok, skegly, Wendy, ajfclark, Dalai, egosan, MonkeyBoy, daave, patto, Eduardo Slabofvic, maxdacat, The good Dr, climberman, dave, phillipivan, ado_m, grangrump, vwills, shiltz, lacto, Hawkman, tnd, Garrath, Dr Nick, kuu, martym, prb, gfdonc, Superstu, Olbert, brendan, billk, wallwombat, rodw, jrc, BA, MisterGribble, Will_P, Dave J, ademmert, JohnK, Cam McKenzie, phil_nev, Andrew_M, rightarmbad, salty crag, bones
The average user is 40 years old.
Home | Guide | Gallery | Tech Tips | Articles | Reviews | Dictionary | Forum | Links | About | Search
Chockstone Photography | Landscape Photography Australia | Australian Landscape Photography

Please read the full disclaimer before using any information contained on these pages.
Australian Panoramic | Australian Coast | Australian Mountains | Australian Countryside | Australian Waterfalls | Australian Lakes | Australian Cities | Australian Macro | Australian Wildlife
Landscape Photo | Landscape Photography | Landscape Photography Australia | Fine Art Photography | Wilderness Photography | Nature Photo | Australian Landscape Photo | Stock Photography Australia | Landscape Photos | Panoramic Photos | Panoramic Photography Australia | Australian Landscape Photography | Mothers Day Gifts | Gifts for Mothers Day | Mothers Day Gift Ideas | Ideas for Mothers Day | Wedding Gift Ideas | Christmas Gift Ideas | Fathers Day Gifts | Gifts for Fathers Day | Fathers Day Gift Ideas | Ideas for Fathers Day | Landscape Prints | Landscape Poster | Limited Edition Prints | Panoramic Photo | Buy Posters | Poster Prints