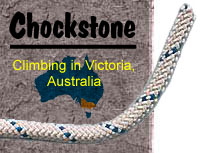 Sponsored By
ROCK
HARDWARE


Black Diamond: Camalot X4 - Size 0.2 (Yellow) Strength: 6kN Range: 9.9 to 16.5mm. NB Only 1 at this price... $119.00
21% Off

Chockstone Forum

A place for Victorian climbers to hang out and chat about climbing. Anyone can register and post messages.

Limit To: All A B C D E F G H I J K L M N O P Q R S T U V W X Y Z
| | | | | | | |
| --- | --- | --- | --- | --- | --- | --- |
| Icon | User | Location | Joined | # Posts | Last Posted | Last Logon |
| | Jimmy39 | Adelaide Australia | 3/06/2016 | 0 | | 25/10/2016 |
| | Zarb | Sydney, Australia | 17/07/2009 | 249 | 23/10/2016 | 25/10/2016 |
| | Tek | Blackheath | 14/02/2013 | 0 | | 25/10/2016 |
| | lfranklin | Victoria, Australia | 18/01/2009 | 24 | 23/12/2015 | 25/10/2016 |
| | Superstu | Ashfield, Sydney | 10/06/2003 | 1353 | 3/10/2016 | 25/10/2016 |
| | armstp | Victoria, Australia | 28/12/2005 | 48 | 26/08/2016 | 25/10/2016 |
| | Damo666 | Australia | 26/02/2009 | 279 | 16/10/2016 | 25/10/2016 |
| | pharmamatt | Victoria, Australia | 24/12/2005 | 175 | 15/11/2014 | 25/10/2016 |
| | hwilliams | Melbourne, Victoria, Australia | 20/06/2004 | 5 | 4/03/2011 | 25/10/2016 |
| | mitch46and2 | adelaide | 26/08/2013 | 16 | 18/06/2016 | 25/10/2016 |
| | semi.ivan | Victoria, Australia | 18/08/2014 | 33 | 25/10/2016 | 25/10/2016 |
| | GlebeChris | NSW, Australia | 19/07/2007 | 14 | 24/09/2016 | 25/10/2016 |
| | dave1962 | south australia, Australia | 12/09/2010 | 38 | 2/10/2016 | 25/10/2016 |
| | latch | NSW, Australia | 24/05/2010 | 36 | 25/08/2014 | 25/10/2016 |
| | timfreddo | blue mountains, NSW | 21/03/2008 | 160 | 23/10/2016 | 25/10/2016 |
| | harold | geelong,Victoria, Australia | 1/05/2004 | 212 | 3/06/2016 | 25/10/2016 |
| | ajfclark | Horsham, Victoria | 18/01/2008 | 5547 | 23/10/2016 | 25/10/2016 |
| | HVclimber | Hunter Valley, Australia | 17/09/2015 | 2 | 25/10/2016 | 25/10/2016 |
| | Cams | Brisbane | 29/11/2012 | 29 | 14/07/2016 | 25/10/2016 |
| | martym | Sydney | 3/04/2009 | 1174 | 19/10/2016 | 25/10/2016 |
| | rodw | NSW, Australia | 15/12/2003 | 2627 | 25/10/2016 | 25/10/2016 |
| | MisterGribble | Victoria, Australia | 6/04/2007 | 460 | 19/10/2016 | 25/10/2016 |
| | Drake | Blue Mountains, Australia | 4/01/2013 | 126 | 9/10/2016 | 25/10/2016 |
| | SteveC | Blueys, Australia | 29/08/2006 | 135 | 23/07/2016 | 25/10/2016 |
| | lightfoot | Victoria, Australia | 28/01/2015 | 84 | 25/10/2016 | 25/10/2016 |
| | DJ Biggs | ACT, Australia | 22/04/2005 | 96 | 25/09/2016 | 25/10/2016 |
| | Cam McKenzie | Victoria, Australia | 17/01/2006 | 267 | 4/11/2015 | 25/10/2016 |
| | plugngo | Sydney | 11/02/2009 | 55 | 8/06/2016 | 25/10/2016 |
| | lost tazmaniac | Victoria, Australia | 14/05/2009 | 47 | 16/11/2015 | 25/10/2016 |
| | Sabu | Melbourne, Australia | 20/09/2004 | 2779 | 7/10/2016 | 25/10/2016 |
| | patto | Victoria, Australia | 10/06/2005 | 1278 | 23/10/2016 | 25/10/2016 |
| | kuu | Sydney, Australia | 10/01/2005 | 609 | 10/08/2016 | 25/10/2016 |
| | IronCheff | Victoria, Australia | 12/03/2011 | 48 | 18/08/2016 | 25/10/2016 |
| | grangrump | Victoria, Australia | 22/06/2007 | 397 | 18/05/2016 | 25/10/2016 |
| | Sandym | NSW | 31/10/2012 | 10 | 21/09/2016 | 25/10/2016 |
| | jubs | Victoria, Australia | 11/05/2015 | 0 | | 25/10/2016 |
| | mattjr | Carlton, Victoria, Australia | 26/05/2008 | 412 | 21/03/2013 | 25/10/2016 |
| | Dalai | Victoria, Australia | | 4567 | 16/10/2016 | 25/10/2016 |
| | bradc | blackheath, NSW | 23/10/2003 | 75 | 22/03/2016 | 25/10/2016 |
| | PhilC | Stawell, Victoria, Australia | 14/10/2016 | 2 | 25/10/2016 | 25/10/2016 |
| | FatBoy | Victoria, Australia | | 313 | 27/09/2016 | 25/10/2016 |
| | bz | canberra | 12/10/2015 | 3 | 24/08/2016 | 25/10/2016 |
| | kady | Victoria, Australia | 27/06/2007 | 27 | 29/09/2016 | 25/10/2016 |
| | Pandanifolia | Tasmania, Australia | 13/05/2016 | 1 | 13/05/2016 | 25/10/2016 |
| | Hawkman | Coffs Harbour, Australia | | 737 | 2/02/2016 | 25/10/2016 |
| | woody85 | Victoria, Australia | 21/05/2011 | 14 | 10/03/2015 | 25/10/2016 |
| | alrob | Nomad | | 1117 | 17/11/2013 | 25/10/2016 |
| | Sturge | Sydney, Australia | 18/09/2010 | 45 | 19/10/2016 | 25/10/2016 |
| | danielct | Canberra, Australia | 19/10/2016 | 1 | 19/10/2016 | 25/10/2016 |
| | Olbert | Wollongong, Australia | 6/07/2008 | 1067 | 23/09/2016 | 25/10/2016 |
| | uwhp510 | Victoria, Australia | 10/06/2005 | 334 | 27/05/2016 | 25/10/2016 |
| | phillipivan | | 17/10/2009 | 656 | 19/10/2016 | 25/10/2016 |
| | peteclimbs | Victoria, Australia | 4/09/2012 | 77 | 25/10/2016 | 25/10/2016 |
| | bones | Victoria, Australia | 21/12/2006 | 544 | 3/08/2016 | 25/10/2016 |
| | TimP | Castlemaine | 28/09/2013 | 218 | 24/10/2016 | 25/10/2016 |
| | gfdonc | Victoria, Australia | 22/10/2003 | 3174 | 23/10/2016 | 25/10/2016 |
| | DL | Victoria, Australia | 25/07/2003 | 12 | 25/05/2014 | 25/10/2016 |
| | Dworx1 | Victoria, Australia | 8/02/2007 | 13 | 25/10/2016 | 25/10/2016 |
| | shortman | Victoria, Australia | 5/11/2010 | 2393 | 19/10/2016 | 25/10/2016 |
| | climberman | Corrimal, Australia | 25/07/2004 | 817 | 12/08/2016 | 25/10/2016 |
| | voodoo | Sydney, Australia | 7/12/2009 | 150 | 16/06/2016 | 25/10/2016 |
| | f_abe | Mount Gambier, Australia | 13/04/2007 | 143 | 7/09/2016 | 25/10/2016 |
| | Dr Nick | Sydney, Australia | 6/03/2011 | 236 | 22/08/2016 | 25/10/2016 |
| | deadbudgy | Sydney, Australia | 26/10/2007 | 162 | 13/10/2016 | 25/10/2016 |
| | molsen | Victoria, Australia | 18/10/2016 | 0 | | 25/10/2016 |
| | JAG | Victoria, Australia | 19/02/2015 | 1 | 25/10/2015 | 25/10/2016 |
| | ClusterFck | Singapore | 9/04/2014 | 13 | 24/10/2016 | 25/10/2016 |
| | Andy Parker | Victoria, Australia | 6/09/2004 | 12 | 23/10/2016 | 25/10/2016 |
| | davepalethorpe | Sydney, Australia | 2/12/2009 | 127 | 14/06/2016 | 25/10/2016 |
| | regdog55 | NSW Australia | 12/12/2006 | 23 | 7/05/2016 | 25/10/2016 |
| | Eduardo Slabofvic | Victoria, Australia | 2/02/2005 | 3053 | 24/10/2016 | 25/10/2016 |
| | Clancy | Canberra, Australia | 19/08/2003 | 82 | 13/05/2016 | 25/10/2016 |
| | Macciza | Blue Mountains, Australia | 12/02/2007 | 1759 | 19/10/2016 | 25/10/2016 |
| | SgtLemur | Sydney, New South Wales, Australia | 20/02/2015 | 4 | 18/07/2016 | 25/10/2016 |
| | Andrew_M | Sydney, Australia | 13/12/2003 | 257 | 13/07/2016 | 25/10/2016 |
| | richb | Central Victoria, Australia | 12/08/2004 | 25 | 16/10/2016 | 25/10/2016 |
| | Glen | Victoria, Australia | 18/06/2003 | 10 | 13/09/2016 | 25/10/2016 |
| | Garrath | Victoria, Australia | | 237 | 3/09/2014 | 25/10/2016 |
| | Keenas | NSW, Australia | 5/01/2016 | 9 | 23/08/2016 | 25/10/2016 |
| | prb | Adelaide, Australia | 19/04/2004 | 463 | 6/09/2016 | 25/10/2016 |
| | timbigot | Victoria, Australia | 13/08/2012 | 92 | 16/10/2016 | 25/10/2016 |
| | MonkeyBoy | Melbourne, Australia | 4/01/2009 | 353 | 25/10/2016 | 25/10/2016 |
| | JimmyS | Dunkeld | 3/10/2011 | 146 | 26/08/2016 | 25/10/2016 |
| | bagotup | Coffs | 15/06/2009 | 17 | 12/04/2015 | 25/10/2016 |
| | antforknee | Victoria, Australia | 5/01/2010 | 7 | 26/04/2016 | 25/10/2016 |
| | Miguel75 | Victoria, Australia | 11/07/2009 | 2849 | 19/10/2016 | 25/10/2016 |
| | lacto | Victoria, Australia | 14/05/2005 | 357 | 19/09/2016 | 25/10/2016 |
| | mikllaw | Victoria, Australia | 14/01/2010 | 1690 | 24/10/2016 | 25/10/2016 |
| | SBW | Victoria, Australia | 17/01/2005 | 42 | 3/08/2016 | 25/10/2016 |
| | Karl Bromelow | Victoria, Australia | 20/10/2006 | 232 | 22/10/2016 | 25/10/2016 |
| | gtempest | Victoria, Australia | 28/01/2004 | 69 | 18/10/2016 | 25/10/2016 |
| | melto1664 | Australia | 27/07/2016 | 2 | 24/10/2016 | 25/10/2016 |
| | shiltz | Victoria, Australia | | 509 | 7/10/2016 | 25/10/2016 |
| | Will_P | Victoria, Australia | 28/04/2011 | 215 | 23/09/2016 | 25/10/2016 |
| | hero | Victoria, Australia | 2/04/2006 | 670 | 19/10/2016 | 25/10/2016 |
| | PeterW | Melbourne, Victoria, Australia | 22/11/2013 | 39 | 17/10/2016 | 25/10/2016 |
| | Neil | WA | 4/07/2003 | 83 | 17/10/2016 | 25/10/2016 |
| | OozeDumbHopeless | Victoria, Australia | 5/04/2014 | 28 | 21/10/2016 | 25/10/2016 |
| | kieranl | Victoria, Australia | | 4298 | 3/10/2016 | 25/10/2016 |
| | technogeekery | Sydney | 14/10/2009 | 489 | 25/10/2016 | 25/10/2016 |
| | Bob Saki | Victoria, Australia | 11/04/2005 | 594 | 13/09/2016 | 25/10/2016 |
| | BA | Victoria, Australia | | 922 | 18/10/2016 | 25/10/2016 |
| | Rossnm | Northern Territory, Australia | 11/10/2016 | 14 | 19/10/2016 | 25/10/2016 |
| | CanClimber | Canberra, Australia | 16/05/2016 | 2 | 16/05/2016 | 25/10/2016 |
| | pmonks | U.S.A. | 29/07/2008 | 1288 | 16/10/2016 | 25/10/2016 |
| | hpt | Victoria, Australia | 9/11/2015 | 4 | 17/10/2016 | 25/10/2016 |
| | Jacques Shurmer | Victoria, Australia | 26/06/2013 | 29 | 5/10/2016 | 25/10/2016 |
| | TooFatToClimb | Victoria, Australia | 15/11/2006 | 19 | 25/10/2016 | 25/10/2016 |
| | pedro.c | Sydney, Australia | 27/11/2012 | 67 | 21/09/2016 | 25/10/2016 |
| | TRADgic | Victoria, Australia | 15/04/2008 | 8 | 18/10/2016 | 25/10/2016 |
| | ldshield | Victoria, Australia | 4/10/2014 | 35 | 17/08/2016 | 25/10/2016 |
| | Doug | Hobart | | 361 | 12/09/2016 | 25/10/2016 |
| | Ben_E | Victoria, Australia | 30/08/2010 | 281 | 20/10/2016 | 25/10/2016 |
| | trog | Vancouver, BC | 3/09/2009 | 67 | 22/10/2016 | 25/10/2016 |
| | tay | Victoria, Australia | 15/07/2015 | 16 | 22/09/2016 | 25/10/2016 |
| | daave | Wollongong, Australia | 11/09/2005 | 349 | 26/06/2016 | 25/10/2016 |
| | DSPIES | Victoria, Australia | 14/04/2008 | 44 | 25/05/2016 | 25/10/2016 |
| | Esteban77 | Victoria, Australia | 5/06/2011 | 8 | 26/10/2014 | 25/10/2016 |
| | Tastrad | Launceston, Tasmania | 16/07/2007 | 160 | 23/09/2016 | 25/10/2016 |
| | matthewp | Sydney, Australia | 16/01/2009 | 56 | 21/09/2015 | 25/10/2016 |
| | SimMad | Victoria, Australia | 17/05/2006 | 46 | 5/11/2015 | 25/10/2016 |
| | argos44 | Darwin, Australia | 8/10/2012 | 118 | 22/10/2016 | 25/10/2016 |
| | JES5 | Sydney, Australia | 24/03/2011 | 0 | | 25/10/2016 |
| | Lingy | NSW, Australia | 8/04/2014 | 15 | 17/10/2016 | 25/10/2016 |
| | Crones | NSW | 16/08/2013 | 4 | 14/09/2016 | 25/10/2016 |
| | johnpitcairn | Auckland, New Zealand | 21/08/2012 | 118 | 1/10/2016 | 25/10/2016 |
| | rowan | blue mountains Australia | 30/05/2006 | 34 | 12/09/2016 | 25/10/2016 |
| | egosan | Melbourne | 16/04/2008 | 1071 | 22/09/2016 | 25/10/2016 |
| | kilbz | wollongong, Australia | 10/03/2014 | 6 | 2/05/2015 | 25/10/2016 |
| | D_heritage | Victoria, Australia | 6/09/2016 | 2 | 13/09/2016 | 25/10/2016 |
Member Statistics

Activity Percentage Graph
| | |
| --- | --- |
| Gym | |
| Boulder | |
| Top Rope | |
| Sport | |
| Trad Single | |
| Trad Multi | |
| Aid/Big Wall | |
| Ice | |
| Mountain | |
| Not Applicable | |
There are 130 registered members. Of these 4% have never posted, 15% have only posted a few times, leaving 81% who are major posters. 80% are from Australia.
The top users are: Zarb, Superstu, Damo666, pharmamatt, timfreddo, harold, ajfclark, martym, rodw, MisterGribble, Cam McKenzie, Sabu, patto, kuu, grangrump, mattjr, Dalai, FatBoy, Hawkman, alrob, Olbert, uwhp510, phillipivan, bones, TimP, gfdonc, shortman, climberman, Dr Nick, deadbudgy, Eduardo Slabofvic, Macciza, Andrew_M, Garrath, prb, MonkeyBoy, Miguel75, lacto, mikllaw, Karl Bromelow, shiltz, Will_P, hero, kieranl, technogeekery, Bob Saki, BA, pmonks, Doug, Ben_E, daave, Tastrad, egosan
The average user is 41 years old.
Home | Guide | Gallery | Tech Tips | Articles | Reviews | Dictionary | Forum | Links | About | Search
Chockstone Photography | Landscape Photography Australia | Australian Landscape Photography | Landscape Photos Australia

Please read the full disclaimer before using any information contained on these pages.
Australian Panoramic | Australian Coast | Australian Mountains | Australian Countryside | Australian Waterfalls | Australian Lakes | Australian Cities | Australian Macro | Australian Wildlife
Landscape Photo | Landscape Photography | Landscape Photography Australia | Fine Art Photography | Wilderness Photography | Nature Photo | Australian Landscape Photo | Stock Photography Australia | Landscape Photos | Panoramic Photos | Panoramic Photography Australia | Australian Landscape Photography | High Country Mountain Huts | Mothers Day Gifts | Gifts for Mothers Day | Mothers Day Gift Ideas | Ideas for Mothers Day | Wedding Gift Ideas | Christmas Gift Ideas | Fathers Day Gifts | Gifts for Fathers Day | Fathers Day Gift Ideas | Ideas for Fathers Day | Landscape Prints | Landscape Poster | Limited Edition Prints | Panoramic Photo | Buy Posters | Poster Prints