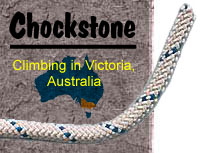 Sponsored By
ROCK
HARDWARE


17 Down Under: 17 DOWN UNDER. "A celebration of moderate grade climbing in Victoria". 184 pages. 285 images. Father & son team, Steve & John Morris, embark on a journey to climb and photograph 50 of the best rock climbs in Victoria, grade 17 & under. Inc bookmark $50.00
9% Off

Chockstone Forum

A place for Victorian climbers to hang out and chat about climbing. Anyone can register and post messages.

Limit To: All A B C D E F G H I J K L M N O P Q R S T U V W X Y Z
| | | | | | | |
| --- | --- | --- | --- | --- | --- | --- |
| Icon | User | Location | Joined | # Posts | Last Posted | Last Logon |
| | ima.seriousyoungliza | Victoria, Australia | 5/09/2015 | 267 | 24/05/2017 | 24/05/2017 |
| | Jacques Shurmer | Victoria, Australia | 26/06/2013 | 29 | 5/10/2016 | 24/05/2017 |
| | barney800 | Victoria, Australia | 31/10/2011 | 66 | 10/07/2016 | 24/05/2017 |
| | bones | Victoria, Australia | 21/12/2006 | 552 | 18/04/2017 | 24/05/2017 |
| | Rock Weasel | Victoria, Australia | 29/10/2003 | 80 | 23/05/2017 | 24/05/2017 |
| | Lee C | The Mountains | 17/03/2007 | 152 | 23/03/2017 | 24/05/2017 |
| | rodw | NSW, Australia | 15/12/2003 | 2673 | 19/05/2017 | 24/05/2017 |
| | Lingy | NSW, Australia | 8/04/2014 | 32 | 22/05/2017 | 24/05/2017 |
| | bradc | blackheath, NSW | 23/10/2003 | 75 | 22/03/2016 | 24/05/2017 |
| | garbie | Sydney, Australia | 14/11/2004 | 242 | 9/01/2017 | 24/05/2017 |
| | Paul | Victoria, Australia | 24/10/2005 | 553 | 10/05/2017 | 24/05/2017 |
| | Eduardo Slabofvic | Victoria, Australia | 2/02/2005 | 3089 | 22/05/2017 | 24/05/2017 |
| | AndreasAachen | Victoria, Australia | 16/05/2014 | 11 | 24/05/2017 | 24/05/2017 |
| | J4 | NSW, Australia | 19/05/2017 | 0 | | 24/05/2017 |
| | PeterW | Melbourne, Victoria, Australia | 22/11/2013 | 55 | 9/05/2017 | 24/05/2017 |
| | deep Van Winkle | Sydney, Australia | 13/12/2014 | 12 | 18/03/2017 | 24/05/2017 |
| | NeilK | Victoria, Australia | 6/05/2017 | 0 | | 24/05/2017 |
| | kieranl | Victoria, Australia | | 4363 | 12/05/2017 | 24/05/2017 |
| | Dave_S | Victoria, Australia | 10/10/2012 | 222 | 12/05/2017 | 24/05/2017 |
| | Dr Nick | Sydney, Australia | 6/03/2011 | 240 | 9/05/2017 | 24/05/2017 |
| | IronCheff | Victoria, Australia | 12/03/2011 | 49 | 16/03/2017 | 24/05/2017 |
| | MisterGribble | Victoria, Australia | 6/04/2007 | 493 | 22/05/2017 | 24/05/2017 |
| | phillipivan | | 17/10/2009 | 679 | 22/05/2017 | 24/05/2017 |
| | Ladiges | Victoria, Australia | 22/07/2013 | 1 | 18/09/2013 | 24/05/2017 |
| | johnpitcairn | Auckland, New Zealand | 21/08/2012 | 133 | 21/05/2017 | 24/05/2017 |
| | tnd | Sydney, Australia | 2/02/2005 | 1218 | 19/05/2017 | 24/05/2017 |
| | ldshield | Victoria, Australia | 4/10/2014 | 41 | 19/05/2017 | 24/05/2017 |
| | pedro.c | Sydney, Australia | 27/11/2012 | 73 | 23/05/2017 | 24/05/2017 |
| | J..D | Victoria, Australia | 28/04/2014 | 4 | 14/06/2016 | 24/05/2017 |
| | Pommy | Gosford, Australia | 18/11/2003 | 138 | 4/05/2017 | 24/05/2017 |
| | ben_R | Victoria, Australia | 7/11/2013 | 3 | 15/11/2013 | 24/05/2017 |
| | SimMad | Victoria, Australia | 17/05/2006 | 47 | 31/10/2016 | 24/05/2017 |
| | egosan | Melbourne | 16/04/2008 | 1071 | 22/09/2016 | 24/05/2017 |
| | Rossco | Victoria, Australia | 29/01/2006 | 22 | 24/06/2015 | 24/05/2017 |
| | Bob Saki | Victoria, Australia | 11/04/2005 | 597 | 12/04/2017 | 24/05/2017 |
| | lfranklin | Victoria, Australia | 18/01/2009 | 24 | 23/12/2015 | 24/05/2017 |
| | deadbudgy | Sydney, Australia | 26/10/2007 | 164 | 27/03/2017 | 24/05/2017 |
| | Dalai | Victoria, Australia | | 4644 | 22/05/2017 | 24/05/2017 |
| | Karl Bromelow | | 20/10/2006 | 239 | 11/03/2017 | 24/05/2017 |
| | lacto | Victoria, Australia | 14/05/2005 | 358 | 25/04/2017 | 24/05/2017 |
| | TimP | Castlemaine | 28/09/2013 | 227 | 23/03/2017 | 24/05/2017 |
| | ampedandwired | Sydney | 17/09/2004 | 31 | 13/03/2011 | 24/05/2017 |
| | bz | canberra | 12/10/2015 | 3 | 24/08/2016 | 24/05/2017 |
| | Esteban77 | Victoria, Australia | 5/06/2011 | 9 | 12/11/2016 | 24/05/2017 |
| | dmcg | ACT, Australia | 3/09/2007 | 42 | 15/03/2017 | 24/05/2017 |
| | PDRM | Victoria, Australia | 22/11/2007 | 419 | 9/12/2016 | 24/05/2017 |
| | dave1962 | south australia, Australia | 12/09/2010 | 39 | 27/02/2017 | 24/05/2017 |
| | mitch46and2 | adelaide | 26/08/2013 | 18 | 8/01/2017 | 24/05/2017 |
| | Daglar | Victoria, Australia | 27/04/2015 | 8 | 23/02/2017 | 24/05/2017 |
| | Mike | Bendigo, Victoria, Australia. | | 649 | 3/02/2016 | 24/05/2017 |
| | IdratherbeclimbingM9 | Mt Buffalo (near enough) Victoria, Australia. | | 10598 | 24/05/2017 | 24/05/2017 |
| | shortman | Victoria, Australia | 5/11/2010 | 2411 | 4/05/2017 | 24/05/2017 |
| | Kenton | Wollongong, NSW | 14/09/2015 | 2 | 20/12/2015 | 24/05/2017 |
| | Stu~ | Sydney, Australia | 1/04/2014 | 2 | 30/04/2017 | 24/05/2017 |
| | gaetanr | Victoria, Australia | 5/12/2012 | 35 | 7/02/2017 | 24/05/2017 |
| | Nick M | Victoria, Australia | 13/11/2004 | 11 | 21/11/2014 | 24/05/2017 |
| | thompson1000 | Victoria, Australia | 13/05/2017 | 1 | 13/05/2017 | 24/05/2017 |
| | Cams | Brisbane | 29/11/2012 | 35 | 20/04/2017 | 24/05/2017 |
| | Pat | Victoria, Australia | 16/03/2007 | 910 | 24/04/2017 | 24/05/2017 |
| | sirdogalot | brisbane, Australia | 8/06/2011 | 8 | 15/06/2015 | 24/05/2017 |
| | JES5 | Sydney, Australia | 24/03/2011 | 0 | | 24/05/2017 |
| | widewetandslippery | Victoria, Australia | 20/12/2006 | 3619 | 22/05/2017 | 24/05/2017 |
| | Dtb | Sydney, Australia | 8/03/2012 | 13 | 4/06/2015 | 24/05/2017 |
| | BBSR | NSW, Australia | 2/10/2012 | 54 | 19/05/2017 | 24/05/2017 |
| | Glen | Victoria, Australia | 18/06/2003 | 10 | 13/09/2016 | 24/05/2017 |
| | ClintR | Sydney, Australia | 17/06/2010 | 10 | 6/05/2015 | 24/05/2017 |
| | hwilliams | Melbourne, Victoria, Australia | 20/06/2004 | 5 | 4/03/2011 | 24/05/2017 |
| | DSPIES | Victoria, Australia | 14/04/2008 | 47 | 13/04/2017 | 24/05/2017 |
| | grantoss | Sydney, Australia | 28/07/2010 | 142 | 1/12/2015 | 24/05/2017 |
| | Nut Tool | Blue Mountains, Australia | 14/07/2014 | 8 | 15/02/2017 | 24/05/2017 |
| | davepalethorpe | Sydney, Australia | 2/12/2009 | 128 | 2/01/2017 | 24/05/2017 |
| | PThomson | Blue Mountains, Australia | 19/01/2011 | 237 | 17/05/2017 | 24/05/2017 |
| | mikllaw | Victoria, Australia | 14/01/2010 | 1739 | 23/05/2017 | 24/05/2017 |
| | cruze | Christchurch, New Zealand | 22/11/2004 | 1459 | 18/05/2017 | 24/05/2017 |
| | climberman | Corrimal, Australia | 25/07/2004 | 822 | 25/04/2017 | 24/05/2017 |
| | BA | Victoria, Australia | | 926 | 11/05/2017 | 24/05/2017 |
| | Ball_Bagg | South Australia | 23/01/2010 | 19 | 14/04/2017 | 24/05/2017 |
| | ohh | Victoria, Australia | 3/02/2016 | 3 | 30/12/2016 | 24/05/2017 |
| | bne | Victoria, Australia | 7/08/2003 | 137 | 17/05/2017 | 24/05/2017 |
| | kuu | Sydney, Australia | 10/01/2005 | 613 | 17/03/2017 | 24/05/2017 |
| | pmonks | U.S.A. | 29/07/2008 | 1323 | 5/05/2017 | 24/05/2017 |
| | daave | Wollongong, Australia | 11/09/2005 | 350 | 20/11/2016 | 24/05/2017 |
| | TobyB | Victoria, Australia | 18/02/2011 | 12 | 16/03/2017 | 24/05/2017 |
| | technogeekery | Sydney | 14/10/2009 | 574 | 19/05/2017 | 24/05/2017 |
| | Nick SA | Victoria, Australia | 7/11/2011 | 6 | 12/06/2012 | 24/05/2017 |
| | theandrewglover | Victoria, Australia | 22/11/2013 | 9 | 12/02/2017 | 24/05/2017 |
| | f_abe | Mount Gambier, Australia | 13/04/2007 | 154 | 19/05/2017 | 24/05/2017 |
| | frqnt | Victoria, Australia | 5/02/2016 | 18 | 22/05/2017 | 24/05/2017 |
| | Goshen | Geelong, VIC, Australia | 29/04/2004 | 100 | 23/05/2017 | 24/05/2017 |
| | Mark R | Victoria, Australia | 27/02/2007 | 76 | 7/05/2017 | 24/05/2017 |
| | armstp | Victoria, Australia | 28/12/2005 | 50 | 11/03/2017 | 24/05/2017 |
| | harold | geelong,Victoria, Australia | 1/05/2004 | 213 | 14/02/2017 | 24/05/2017 |
| | phil_nev | Victoria, Australia | | 1153 | 1/03/2017 | 24/05/2017 |
| | gfdonc | Victoria, Australia | 22/10/2003 | 3232 | 18/05/2017 | 24/05/2017 |
| | thylaxene | Victoria, Australia | 25/08/2009 | 40 | 25/08/2015 | 24/05/2017 |
| | Wendy | Natimuk | 23/11/2004 | 3289 | 19/05/2017 | 24/05/2017 |
| | ajfclark | Horsham, Victoria | 18/01/2008 | 5675 | 22/05/2017 | 24/05/2017 |
| | Andy P | Victoria, Australia | 2/07/2015 | 181 | 22/05/2017 | 24/05/2017 |
| | The good Dr | Victoria, Australia | 19/04/2005 | 603 | 13/10/2016 | 24/05/2017 |
| | nikolisper | Victoria, Australia | | 39 | 5/07/2012 | 24/05/2017 |
| | bigfish | Blackheath | 10/06/2011 | 71 | 27/04/2017 | 24/05/2017 |
| | SBW | Victoria, Australia | 17/01/2005 | 44 | 19/04/2017 | 24/05/2017 |
| | Miguel75 | Victoria, Australia | 11/07/2009 | 2869 | 21/05/2017 | 24/05/2017 |
| | Fiona | Victoria, Australia | 25/12/2013 | 12 | 18/05/2017 | 24/05/2017 |
| | jrc | Lindfield, NSW Australia | 6/02/2006 | 212 | 11/05/2017 | 24/05/2017 |
| | marky | Victoria, Australia | 4/12/2008 | 150 | 28/04/2017 | 24/05/2017 |
| | JimmyS | Dunkeld | 3/10/2011 | 153 | 13/05/2017 | 24/05/2017 |
Member Statistics

Activity Percentage Graph
| | |
| --- | --- |
| Gym | |
| Boulder | |
| Top Rope | |
| Sport | |
| Trad Single | |
| Trad Multi | |
| Aid/Big Wall | |
| Ice | |
| Mountain | |
| Not Applicable | |
There are 107 registered members. Of these 3% have never posted, 16% have only posted a few times, leaving 81% who are major posters. 82% are from Australia.
The top users are: ima.seriousyoungliza, bones, Lee C, rodw, garbie, Paul, Eduardo Slabofvic, kieranl, Dave_S, Dr Nick, MisterGribble, phillipivan, tnd, egosan, Bob Saki, deadbudgy, Dalai, Karl Bromelow, lacto, TimP, PDRM, Mike, IdratherbeclimbingM9, shortman, Pat, widewetandslippery, PThomson, mikllaw, cruze, climberman, BA, kuu, pmonks, daave, technogeekery, f_abe, harold, phil_nev, gfdonc, Wendy, ajfclark, Andy P, The good Dr, Miguel75, jrc, JimmyS
The average user is 44 years old.
Home | Guide | Gallery | Tech Tips | Articles | Reviews | Dictionary | Forum | Links | About | Search
Chockstone Photography | Landscape Photography Australia | Australian Landscape Photography | Landscape Photos Australia

Please read the full disclaimer before using any information contained on these pages.
Australian Panoramic | Australian Coast | Australian Mountains | Australian Countryside | Australian Waterfalls | Australian Lakes | Australian Cities | Australian Macro | Australian Wildlife
Landscape Photo | Landscape Photography | Landscape Photography Australia | Fine Art Photography | Wilderness Photography | Nature Photo | Australian Landscape Photo | Stock Photography Australia | Landscape Photos | Panoramic Photos | Panoramic Photography Australia | Australian Landscape Photography | High Country Mountain Huts | Mothers Day Gifts | Gifts for Mothers Day | Mothers Day Gift Ideas | Ideas for Mothers Day | Wedding Gift Ideas | Christmas Gift Ideas | Fathers Day Gifts | Gifts for Fathers Day | Fathers Day Gift Ideas | Ideas for Fathers Day | Landscape Prints | Landscape Poster | Limited Edition Prints | Panoramic Photo | Buy Posters | Poster Prints