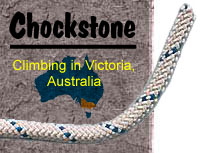 Sponsored By
ROCK
HARDWARE


DMM: Viper Size L (2013 model)- Dark Blue piping... Padded Adjustable Harness, 5 Gear Loops Fits: Waist 87-104cm Legs: 55-70cm $89.00
36% Off

Chockstone Forum

A place for Victorian climbers to hang out and chat about climbing. Anyone can register and post messages.

Limit To: All A B C D E F G H I J K L M N O P Q R S T U V W X Y Z
| | | | | | | |
| --- | --- | --- | --- | --- | --- | --- |
| Icon | User | Location | Joined | # Posts | Last Posted | Last Logon |
| | rowan | blue mountains Australia | 30/05/2006 | 29 | 12/05/2015 | 24/05/2015 |
| | rodeo | Victoria, Australia | 10/08/2006 | 3 | 8/03/2007 | 24/05/2015 |
| | SBW | Victoria, Australia | 17/01/2005 | 31 | 12/03/2015 | 24/05/2015 |
| | JonSnow9 | Wollongong, Australia | 12/05/2013 | 14 | 4/04/2015 | 24/05/2015 |
| | Notime to climb | Victoria, Australia | 8/02/2012 | 13 | 30/04/2015 | 24/05/2015 |
| | lightfoot | Victoria, Australia | 28/01/2015 | 33 | 22/05/2015 | 24/05/2015 |
| | pedro.c | Sydney, Australia | 27/11/2012 | 60 | 22/04/2015 | 24/05/2015 |
| | Andrew_M | Sydney, Australia | 13/12/2003 | 254 | 19/05/2015 | 24/05/2015 |
| | a_stevo | Sydney, Australia | 23/05/2012 | 15 | 4/05/2015 | 24/05/2015 |
| | Paul | Victoria, Australia | 24/10/2005 | 543 | 13/04/2015 | 24/05/2015 |
| | nleong | Victoria, Australia | 31/03/2011 | 0 | | 24/05/2015 |
| | El hefe | Maydena, Tasmania | 26/08/2013 | 8 | 12/05/2015 | 24/05/2015 |
| | davepalethorpe | Sydney, Australia | 2/12/2009 | 126 | 14/05/2014 | 24/05/2015 |
| | kuu | Sydney, Australia | 10/01/2005 | 597 | 16/05/2015 | 24/05/2015 |
| | Superstu | Ashfield, Sydney | 10/06/2003 | 1301 | 15/05/2015 | 24/05/2015 |
| | peteclimbs | Victoria, Australia | 4/09/2012 | 58 | 31/03/2015 | 24/05/2015 |
| | JES5 | Sydney, Australia | 24/03/2011 | 0 | | 24/05/2015 |
| | timbigot | Victoria, Australia | 13/08/2012 | 52 | 5/03/2015 | 24/05/2015 |
| | lfranklin | Victoria, Australia | 18/01/2009 | 23 | 23/11/2013 | 24/05/2015 |
| | daave | Wollongong, Australia | 11/09/2005 | 340 | 18/03/2015 | 24/05/2015 |
| | allensaurusrex | Sydney, Australia | 25/05/2014 | 25 | 21/05/2015 | 24/05/2015 |
| | Garrath | Victoria, Australia | | 237 | 3/09/2014 | 24/05/2015 |
| | Olbert | Wollongong, Australia | 6/07/2008 | 1041 | 5/05/2015 | 24/05/2015 |
| | whippet | Mt Victoria & Dargan , Blue Mtns | 28/04/2015 | 1 | 28/04/2015 | 24/05/2015 |
| | Snacks | Sydney, Australia | 20/09/2012 | 158 | 24/05/2015 | 24/05/2015 |
| | strerror | Sydney, Australia | 17/05/2011 | 85 | 20/01/2015 | 24/05/2015 |
| | Rossco | Victoria, Australia | 29/01/2006 | 21 | 24/05/2014 | 24/05/2015 |
| | Karl Bromelow | Victoria, Australia | 20/10/2006 | 200 | 19/05/2015 | 24/05/2015 |
| | ajfclark | Horsham, Victoria | 18/01/2008 | 5241 | 24/05/2015 | 24/05/2015 |
| | ecowain | Mt Victoria, Australia | 3/11/2003 | 115 | 13/05/2015 | 24/05/2015 |
| | Eduardo Slabofvic | Victoria, Australia | 2/02/2005 | 2908 | 19/05/2015 | 24/05/2015 |
| | dan_b | Victoria, Australia | 4/06/2011 | 77 | 12/05/2015 | 24/05/2015 |
| | tomatessechees | Sydney Northern Beaches | 24/01/2014 | 9 | 29/04/2015 | 24/05/2015 |
| | climberman | Corrimal, Australia | 25/07/2004 | 773 | 14/05/2015 | 24/05/2015 |
| | arniearms | Sydney, Australia | 21/07/2009 | 91 | 13/03/2015 | 24/05/2015 |
| | Sanka | Sydney, Australia | 23/11/2014 | 11 | 23/05/2015 | 24/05/2015 |
| | gfdonc | Victoria, Australia | 22/10/2003 | 3026 | 15/05/2015 | 24/05/2015 |
| | Doug | Hobart | | 340 | 22/05/2015 | 24/05/2015 |
| | billk | Victoria, Australia | 7/02/2005 | 656 | 21/05/2015 | 24/05/2015 |
| | woody85 | Victoria, Australia | 21/05/2011 | 14 | 10/03/2015 | 24/05/2015 |
| | MonkeyBoy | Melbourne, Australia | 4/01/2009 | 323 | 25/04/2015 | 24/05/2015 |
| | J..D | Victoria, Australia | 28/04/2014 | 2 | 25/03/2015 | 24/05/2015 |
| | leeman | Bondi, Australia | 27/08/2011 | 19 | 10/03/2015 | 24/05/2015 |
| | kilbz | wollongong, Australia | 10/03/2014 | 6 | 2/05/2015 | 24/05/2015 |
| | NewtonNeto | Victoria, Australia | 26/03/2015 | 1 | 26/03/2015 | 24/05/2015 |
| | johnpitcairn | Auckland, New Zealand | 21/08/2012 | 66 | 1/05/2015 | 24/05/2015 |
| | Pommy | Gosford, Australia | 18/11/2003 | 127 | 23/05/2015 | 24/05/2015 |
| | Freemo | Castlemaine, Vic | 23/07/2009 | 11 | 26/04/2015 | 24/05/2015 |
| | Ben_E | Victoria, Australia | 30/08/2010 | 274 | 18/03/2015 | 24/05/2015 |
| | sholloway | Victoria, Australia | 27/04/2014 | 1 | 27/04/2014 | 24/05/2015 |
| | Dave_S | Victoria, Australia | 10/10/2012 | 105 | 20/05/2015 | 24/05/2015 |
| | BA | Victoria, Australia | | 896 | 24/05/2015 | 24/05/2015 |
| | dmc | Sydney, Australia | 16/12/2009 | 29 | 24/04/2015 | 24/05/2015 |
| | patto | Victoria, Australia | 10/06/2005 | 1173 | 22/05/2015 | 24/05/2015 |
| | garbie | Sydney, Australia | 14/11/2004 | 236 | 13/05/2015 | 24/05/2015 |
| | PeterW | Melbourne, Victoria, Australia | 22/11/2013 | 3 | 24/05/2015 | 24/05/2015 |
| | oweng | Hobart | | 502 | 30/01/2015 | 24/05/2015 |
| | Imaclawfan | Victoria, Australia | 24/08/2014 | 155 | 24/05/2015 | 24/05/2015 |
| | DL | Victoria, Australia | 25/07/2003 | 12 | 25/05/2014 | 24/05/2015 |
| | Sabu | Melbourne, Australia | 20/09/2004 | 2730 | 15/05/2015 | 24/05/2015 |
| | plugngo | Sydney | 11/02/2009 | 52 | 28/04/2015 | 24/05/2015 |
| | antforknee | Victoria, Australia | 5/01/2010 | 5 | 11/03/2015 | 24/05/2015 |
| | OzMamba | Victoria, Australia | 10/11/2014 | 7 | 23/05/2015 | 24/05/2015 |
| | Duang Daunk | Victoria, Australia | 17/12/2010 | 538 | 24/05/2015 | 24/05/2015 |
| | Tek | Blackheath | 14/02/2013 | 0 | | 24/05/2015 |
| | dave1962 | south australia, Australia | 12/09/2010 | 23 | 19/05/2015 | 24/05/2015 |
| | nmonteith | Sydney, Australia | | 11109 | 17/05/2015 | 24/05/2015 |
| | shortman | Victoria, Australia | 5/11/2010 | 2260 | 20/05/2015 | 24/05/2015 |
| | grangrump | Victoria, Australia | 22/06/2007 | 382 | 24/05/2015 | 24/05/2015 |
| | Stuartt | Sydney, Australia | 6/01/2012 | 11 | 6/05/2015 | 24/05/2015 |
| | ademmert | Victoria, Australia | 12/12/2004 | 385 | 18/03/2015 | 24/05/2015 |
| | marky | Victoria, Australia | 4/12/2008 | 129 | 27/02/2015 | 24/05/2015 |
| | trog | Vancouver, BC | 3/09/2009 | 57 | 20/05/2015 | 24/05/2015 |
| | cami | Victoria, Australia | 11/06/2014 | 0 | | 24/05/2015 |
| | Wendy | Natimuk | 23/11/2004 | 3117 | 24/05/2015 | 24/05/2015 |
| | rodw | NSW, Australia | 15/12/2003 | 2527 | 22/05/2015 | 24/05/2015 |
| | mitch46and2 | adelaide | 26/08/2013 | 6 | 21/02/2015 | 24/05/2015 |
| | apaul | Victoria, Australia | 30/10/2011 | 2 | 9/06/2012 | 24/05/2015 |
| | phillipivan | | 17/10/2009 | 489 | 20/05/2015 | 24/05/2015 |
| | Clancy | Canberra, Australia | 19/08/2003 | 76 | 31/03/2010 | 24/05/2015 |
| | Groveller | Ballarat, Australia | 19/04/2012 | 130 | 29/04/2015 | 24/05/2015 |
| | Loz and Tim | Newcastle, Australia | 7/01/2009 | 32 | 23/12/2014 | 24/05/2015 |
| | torque | Victoria, Australia | 7/05/2007 | 32 | 19/07/2013 | 24/05/2015 |
| | jared | Melbourne, Victoria, Australia | 8/01/2011 | 4 | 14/08/2014 | 24/05/2015 |
| | JimmyS | Dunkeld | 3/10/2011 | 127 | 10/04/2015 | 24/05/2015 |
| | Esteban77 | Victoria, Australia | 5/06/2011 | 8 | 26/10/2014 | 24/05/2015 |
| | mikllaw | Victoria, Australia | 14/01/2010 | 1546 | 23/05/2015 | 24/05/2015 |
| | Matt451 | Alphington, Victoria, Australia | 10/05/2012 | 1 | 10/05/2012 | 24/05/2015 |
| | microfe | New South Wales, Australia | 20/08/2006 | 8 | 22/01/2013 | 24/05/2015 |
| | eosn | Victoria, Australia | 2/03/2014 | 25 | 14/05/2015 | 24/05/2015 |
| | RealsaZ | Victoria, Australia | 20/01/2009 | 13 | 2/03/2015 | 24/05/2015 |
| | JohnK | Victoria, Australia | | 412 | 19/05/2015 | 24/05/2015 |
Member Statistics

Activity Percentage Graph
| | |
| --- | --- |
| Gym | |
| Boulder | |
| Top Rope | |
| Sport | |
| Trad Single | |
| Trad Multi | |
| Aid/Big Wall | |
| Ice | |
| Mountain | |
| Not Applicable | |
There are 92 registered members. Of these 4% have never posted, 18% have only posted a few times, leaving 77% who are major posters. 83% are from Australia.
The top users are: Andrew_M, Paul, kuu, Superstu, daave, Garrath, Olbert, Snacks, Karl Bromelow, ajfclark, Eduardo Slabofvic, climberman, gfdonc, Doug, billk, MonkeyBoy, Ben_E, BA, patto, garbie, oweng, Imaclawfan, Sabu, Duang Daunk, nmonteith, shortman, grangrump, ademmert, Wendy, rodw, phillipivan, mikllaw, JohnK
The average user is 41 years old.
Home | Guide | Gallery | Tech Tips | Articles | Reviews | Dictionary | Forum | Links | About | Search
Chockstone Photography | Landscape Photography Australia | Australian Landscape Photography

Please read the full disclaimer before using any information contained on these pages.
Australian Panoramic | Australian Coast | Australian Mountains | Australian Countryside | Australian Waterfalls | Australian Lakes | Australian Cities | Australian Macro | Australian Wildlife
Landscape Photo | Landscape Photography | Landscape Photography Australia | Fine Art Photography | Wilderness Photography | Nature Photo | Australian Landscape Photo | Stock Photography Australia | Landscape Photos | Panoramic Photos | Panoramic Photography Australia | Australian Landscape Photography | Mothers Day Gifts | Gifts for Mothers Day | Mothers Day Gift Ideas | Ideas for Mothers Day | Wedding Gift Ideas | Christmas Gift Ideas | Fathers Day Gifts | Gifts for Fathers Day | Fathers Day Gift Ideas | Ideas for Fathers Day | Landscape Prints | Landscape Poster | Limited Edition Prints | Panoramic Photo | Buy Posters | Poster Prints