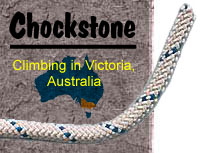 Sponsored By
ROCK
HARDWARE


Petzl: D11 "Rappel Rack". For use with 1 or 2 ropes. Diameters from 9mm to 13mm. Two red fixed bars make for easy threading. SUPER Special! $119.00
21% Off

Chockstone Forum

A place for Victorian climbers to hang out and chat about climbing. Anyone can register and post messages.

Limit To: All A B C D E F G H I J K L M N O P Q R S T U V W X Y Z
| | | | | | | |
| --- | --- | --- | --- | --- | --- | --- |
| Icon | User | Location | Joined | # Posts | Last Posted | Last Logon |
| | lfranklin | Victoria, Australia | 18-Jan-2009 | 24 | 23-Dec-2015 | 22-Feb-2018 |
| | f_abe | Mount Gambier, Australia | 13-Apr-2007 | 155 | 9-Feb-2018 | 22-Feb-2018 |
| | Karl Bromelow | | 20-Oct-2006 | 267 | 1-Feb-2018 | 22-Feb-2018 |
| | Cam McKenzie | Victoria, Australia | 17-Jan-2006 | 267 | 4-Nov-2015 | 22-Feb-2018 |
| | baloydi | Victoria, Australia | 31-Jan-2018 | 9 | 19-Feb-2018 | 22-Feb-2018 |
| | jbridgeman | Sydney, Australia | 1-May-2017 | 3 | 1-Feb-2018 | 22-Feb-2018 |
| | JamesMc | Victoria, Australia | 31-Oct-2003 | 856 | 22-Feb-2018 | 22-Feb-2018 |
| | Andrew_M | Melbourne, Australia | 13-Dec-2003 | 273 | 2-Dec-2017 | 22-Feb-2018 |
| | kuu | Sydney, Australia | 10-Jan-2005 | 615 | 25-May-2017 | 22-Feb-2018 |
| | Drifting Soul | Victoria, Australia | 16-Sep-2015 | 3 | 18-Feb-2018 | 22-Feb-2018 |
| | ademmert | Victoria, Australia | 12-Dec-2004 | 404 | 5-Sep-2017 | 22-Feb-2018 |
| | Dr Nick | Sydney, Australia | 6-Mar-2011 | 253 | 28-Dec-2017 | 22-Feb-2018 |
| | mikllaw | Victoria, Australia | 14-Jan-2010 | 1784 | 16-Feb-2018 | 22-Feb-2018 |
| | sirdogalot | brisbane, Australia | 8-Jun-2011 | 8 | 15-Jun-2015 | 22-Feb-2018 |
| | dave1962 | south australia, Australia | 12-Sep-2010 | 39 | 27-Feb-2017 | 22-Feb-2018 |
| | Markg | Brisbane, Australia | 27-Feb-2015 | 12 | 16-Feb-2018 | 22-Feb-2018 |
| | gfdonc | Victoria, Australia | 22-Oct-2003 | 3301 | 20-Feb-2018 | 22-Feb-2018 |
| | Stu~ | Sydney, Australia | 1-Apr-2014 | 7 | 18-Feb-2018 | 22-Feb-2018 |
| | Rupert | Victoria, Bitter | | 741 | 17-Feb-2018 | 22-Feb-2018 |
| | bones | Victoria, Australia | 21-Dec-2006 | 559 | 20-Feb-2018 | 22-Feb-2018 |
| | Will_P | Victoria, Australia | 28-Apr-2011 | 220 | 5-Jan-2018 | 22-Feb-2018 |
| | bz | canberra | 12-Oct-2015 | 5 | 29-Jun-2017 | 22-Feb-2018 |
| | tristosterone | Tasmania, Australia | 8-Feb-2011 | 20 | 15-Feb-2018 | 22-Feb-2018 |
| | johnpitcairn | Auckland, New Zealand | 21-Aug-2012 | 147 | 18-Feb-2018 | 22-Feb-2018 |
| | deep Van Winkle | Sydney, Australia | 13-Dec-2014 | 13 | 27-Jul-2017 | 22-Feb-2018 |
| | lightfoot | Victoria, Australia | 28-Jan-2015 | 96 | 15-Feb-2018 | 22-Feb-2018 |
| | mallion | ACT, Australia | 20-May-2011 | 32 | 7-Jun-2017 | 22-Feb-2018 |
| | whippet | Mt Victoria & Dargan , Blue Mtns | 28-Apr-2015 | 2 | 24-Dec-2017 | 22-Feb-2018 |
| | Ben_E | Victoria, Australia | 30-Aug-2010 | 284 | 19-Feb-2018 | 22-Feb-2018 |
| | gonesurfing | Sydney, New South Wales | 3-Jan-2013 | 30 | 22-Feb-2018 | 22-Feb-2018 |
| | JelleO | West Footscray | 18-Feb-2018 | 2 | 20-Feb-2018 | 22-Feb-2018 |
| | mitch46and2 | adelaide | 26-Aug-2013 | 23 | 6-Jan-2018 | 22-Feb-2018 |
| | uwhp510 | Victoria, Australia | 10-Jun-2005 | 340 | 11-Oct-2017 | 22-Feb-2018 |
| | Nick SA | Victoria, Australia | 7-Nov-2011 | 9 | 20-Nov-2017 | 22-Feb-2018 |
| | bradc | blackheath, NSW | 23-Oct-2003 | 75 | 22-Mar-2016 | 22-Feb-2018 |
| | Damo666 | Australia | 26-Feb-2009 | 288 | 26-Dec-2017 | 22-Feb-2018 |
| | shortman | Victoria, Australia | 5-Nov-2010 | 2422 | 5-Feb-2018 | 22-Feb-2018 |
| | Dalai | Victoria, Australia | | 4702 | 15-Feb-2018 | 22-Feb-2018 |
| | hero | Victoria, Australia | 2-Apr-2006 | 680 | 22-Feb-2018 | 22-Feb-2018 |
| | peteclimbs | Victoria, Australia | 4-Sep-2012 | 86 | 21-Jan-2018 | 22-Feb-2018 |
| | The good Dr | Victoria, Australia | 19-Apr-2005 | 614 | 4-Feb-2018 | 22-Feb-2018 |
| | TooFatToClimb | Victoria, Australia | 15-Nov-2006 | 23 | 11-Nov-2017 | 22-Feb-2018 |
| | Mr Poopypants | The Gong | 19-Dec-2009 | 252 | 16-Jan-2018 | 22-Feb-2018 |
| | Dave_S | Victoria, Australia | 10-Oct-2012 | 240 | 1-Feb-2018 | 22-Feb-2018 |
| | dmcg | ACT, Australia | 3-Sep-2007 | 43 | 26-Dec-2017 | 22-Feb-2018 |
| | gordoste | Albury, NSW, Australia | 27-Oct-2004 | 1145 | 18-Jan-2018 | 22-Feb-2018 |
| | tshaw | Porepunkah, Victoria, Australia | 14-Dec-2010 | 63 | 21-Nov-2017 | 22-Feb-2018 |
| | BBSR | NSW, Australia | 2-Oct-2012 | 55 | 15-Dec-2017 | 22-Feb-2018 |
| | AndreasAachen | Victoria, Australia | 16-May-2014 | 13 | 25-Jul-2017 | 22-Feb-2018 |
| | Mike | Bendigo, Victoria, Australia. | | 655 | 13-Oct-2017 | 22-Feb-2018 |
| | lacto | Victoria, Australia | 14-May-2005 | 363 | 9-Feb-2018 | 22-Feb-2018 |
| | shiltz | Victoria, Australia | | 516 | 10-Dec-2016 | 22-Feb-2018 |
| | gaetanr | Victoria, Australia | 5-Dec-2012 | 35 | 7-Feb-2017 | 22-Feb-2018 |
| | Pommy | Gosford, Australia | 18-Nov-2003 | 140 | 5-Jun-2017 | 22-Feb-2018 |
| | Anna-Veronique | Victoria, Australia | 15-Feb-2018 | 0 | | 22-Feb-2018 |
| | bigfish | Blackheath | 10-Jun-2011 | 77 | 24-Sep-2017 | 22-Feb-2018 |
| | The Rock Robster | Arapiles, Victoria, Australia | 28-Jul-2017 | 8 | 7-Feb-2018 | 22-Feb-2018 |
| | Glen | Victoria, Australia | 18-Jun-2003 | 10 | 13-Sep-2016 | 22-Feb-2018 |
| | Danis | Victoria, Australia | 4-Apr-2010 | 3 | 2-Dec-2016 | 22-Feb-2018 |
| | Sabu | Melbourne, Australia | 20-Sep-2004 | 2796 | 13-Feb-2018 | 22-Feb-2018 |
| | rodw | NSW, Australia | 15-Dec-2003 | 2703 | 3-Jan-2018 | 22-Feb-2018 |
| | PeterW | Melbourne, Victoria, Australia | 22-Nov-2013 | 70 | 2-Jan-2018 | 22-Feb-2018 |
| | jkane | Victoria, Australia | 25-Mar-2006 | 265 | 10-Nov-2017 | 22-Feb-2018 |
| | SBW | Victoria, Australia | 17-Jan-2005 | 45 | 22-Nov-2017 | 22-Feb-2018 |
| | Rawpowa! | Syndey, NSW | 8-Jun-2014 | 97 | 2-Jan-2018 | 22-Feb-2018 |
| | Estey | ACT, Australia | | 135 | 13-Jun-2017 | 22-Feb-2018 |
| | SgtLemur | Sydney, New South Wales, Australia | 20-Feb-2015 | 5 | 28-Jul-2017 | 22-Feb-2018 |
| | anthonycuskelly | Victoria, Australia | 9-Sep-2005 | 216 | 16-Jan-2018 | 22-Feb-2018 |
| | FatBoy | Victoria, Australia | | 330 | 17-Jan-2018 | 22-Feb-2018 |
| | BA | Victoria, Australia | | 934 | 8-Dec-2017 | 22-Feb-2018 |
| | Whowes | Victoria, Australia | 7-Feb-2018 | 4 | 19-Feb-2018 | 22-Feb-2018 |
| | phil_nev | Victoria, Australia | | 1155 | 7-Feb-2018 | 22-Feb-2018 |
| | Liam_aar | Victoria, Australia | 7-Feb-2018 | 2 | 12-Feb-2018 | 22-Feb-2018 |
| | Dane | Canberra, Australia | 3-May-2009 | 38 | 30-Jun-2017 | 22-Feb-2018 |
| | JPduPlessis | Rocklands, South Africa | 22-Feb-2018 | 1 | 22-Feb-2018 | 22-Feb-2018 |
| | deadbudgy | Sydney, Australia | 26-Oct-2007 | 166 | 30-Nov-2017 | 22-Feb-2018 |
| | PThomson | Blue Mountains, Australia | 19-Jan-2011 | 246 | 4-Oct-2017 | 22-Feb-2018 |
| | Daglar | Victoria, Australia | 27-Apr-2015 | 12 | 28-Sep-2017 | 22-Feb-2018 |
| | Cams | Brisbane | 29-Nov-2012 | 38 | 31-Jul-2017 | 22-Feb-2018 |
| | MisterGribble | Victoria, Australia | 6-Apr-2007 | 514 | 22-Jan-2018 | 22-Feb-2018 |
| | JonesyAu | Victoria, Australia | 18-May-2016 | 2 | 17-Feb-2018 | 22-Feb-2018 |
| | Miguel75 | Victoria, Australia | 11-Jul-2009 | 2895 | 19-Feb-2018 | 22-Feb-2018 |
| | plugngo | Sydney | 11-Feb-2009 | 55 | 8-Jun-2016 | 22-Feb-2018 |
| | skink | near Wanaka, NZ | 16-Sep-2005 | 347 | 18-Dec-2017 | 22-Feb-2018 |
| | DSPIES | Victoria, Australia | 14-Apr-2008 | 47 | 13-Apr-2017 | 22-Feb-2018 |
| | patto | Victoria, Australia | 10-Jun-2005 | 1306 | 14-Feb-2018 | 22-Feb-2018 |
| | woody85 | Victoria, Australia | 21-May-2011 | 14 | 10-Mar-2015 | 22-Feb-2018 |
| | tiredarmsnoskills | Victoria, Australia | 9-Feb-2018 | 1 | 9-Feb-2018 | 22-Feb-2018 |
Member Statistics

Activity Percentage Graph
| | |
| --- | --- |
| Gym | |
| Boulder | |
| Top Rope | |
| Sport | |
| Trad Single | |
| Trad Multi | |
| Aid/Big Wall | |
| Ice | |
| Mountain | |
| Not Applicable | |
There are 88 registered members. Of these 1% have never posted, 20% have only posted a few times, leaving 78% who are major posters. 82% are from Australia.
The top users are: f_abe, Karl Bromelow, Cam McKenzie, JamesMc, Andrew_M, kuu, ademmert, Dr Nick, mikllaw, gfdonc, Rupert, bones, Will_P, Ben_E, uwhp510, Damo666, shortman, Dalai, hero, The good Dr, Mr Poopypants, Dave_S, gordoste, Mike, lacto, shiltz, Sabu, rodw, jkane, anthonycuskelly, FatBoy, BA, phil_nev, deadbudgy, PThomson, MisterGribble, Miguel75, skink, patto
The average user is 44 years old.
Home | Guide | Gallery | Tech Tips | Articles | Reviews | Dictionary | Forum | Links | About | Search
Chockstone Photography | Landscape Photography Australia | Australian Landscape Photography | Landscape Photos Australia

Please read the full disclaimer before using any information contained on these pages.
Australian Panoramic | Australian Coast | Australian Mountains | Australian Countryside | Australian Waterfalls | Australian Lakes | Australian Cities | Australian Macro | Australian Wildlife
Landscape Photo | Landscape Photography | Landscape Photography Australia | Fine Art Photography | Wilderness Photography | Nature Photo | Australian Landscape Photo | Stock Photography Australia | Landscape Photos | Panoramic Photos | Panoramic Photography Australia | Australian Landscape Photography | High Country Mountain Huts | Mothers Day Gifts | Gifts for Mothers Day | Mothers Day Gift Ideas | Ideas for Mothers Day | Wedding Gift Ideas | Christmas Gift Ideas | Fathers Day Gifts | Gifts for Fathers Day | Fathers Day Gift Ideas | Ideas for Fathers Day | Landscape Prints | Landscape Poster | Limited Edition Prints | Panoramic Photo | Buy Posters | Poster Prints