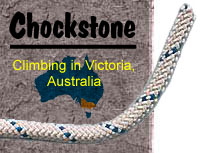 Sponsored By
ROCK
HARDWARE

FREIGHT FREE
in Australia


Omega Pacific: "Jake" HMS 3S TriLock 12mm - 23 8 10 kN (Triple action!) N/B Only 2 left! $20.00
43% Off

Chockstone Forum

A place for Victorian climbers to hang out and chat about climbing. Anyone can register and post messages.

Limit To: All A B C D E F G H I J K L M N O P Q R S T U V W X Y Z
| | | | | | | |
| --- | --- | --- | --- | --- | --- | --- |
| Icon | User | Location | Joined | # Posts | Last Posted | Last Logon |
| | RREV | Victoria, Australia | 9/08/2013 | 1 | 9/08/2013 | 21/04/2014 |
| | hotgemini | Brisbane, Queensland, Australia | 1/08/2005 | 219 | 26/02/2014 | 21/04/2014 |
| | CraigB | Sydney, Australia | 7/11/2011 | 18 | 16/03/2014 | 21/04/2014 |
| | dave1962 | south australia, Australia | 12/09/2010 | 14 | 17/12/2013 | 21/04/2014 |
| | davepalethorpe | Sydney, Australia | 2/12/2009 | 125 | 21/04/2014 | 21/04/2014 |
| | martym | Sydney | 3/04/2009 | 664 | 20/04/2014 | 21/04/2014 |
| | Mark R | Victoria, Australia | 27/02/2007 | 58 | 4/04/2014 | 21/04/2014 |
| | Superstu | Ashfield, Sydney | 10/06/2003 | 1222 | 8/04/2014 | 21/04/2014 |
| | newbiekid | sydney, Australia | 20/02/2011 | 8 | 3/06/2011 | 21/04/2014 |
| | Garrath | Victoria, Australia | | 233 | 4/10/2013 | 21/04/2014 |
| | yosemite05 | Sydney, Australia | 22/09/2004 | 56 | 6/11/2013 | 21/04/2014 |
| | billby | Victoria, Australia | 13/11/2011 | 37 | 20/04/2014 | 21/04/2014 |
| | kieranl | Victoria, Australia | | 3751 | 21/04/2014 | 21/04/2014 |
| | DL | Victoria, Australia | 25/07/2003 | 11 | 4/08/2013 | 21/04/2014 |
| | stuart h | Victoria, Australia | 20/11/2006 | 32 | 3/04/2014 | 21/04/2014 |
| | freepete | Adelaide, Australia | 21/03/2010 | 98 | 16/09/2013 | 21/04/2014 |
| | simey | Victoria, Australia | 5/02/2005 | 2236 | 21/04/2014 | 21/04/2014 |
| | Doolie | Leura, Australia | 14/11/2012 | 16 | 8/02/2014 | 21/04/2014 |
| | Dr Nick | Sydney, Australia | 6/03/2011 | 195 | 10/04/2014 | 21/04/2014 |
| | Andrew_M | Sydney, Australia | 13/12/2003 | 250 | 13/12/2013 | 21/04/2014 |
| | freesolo | Victoria, Australia | 11/05/2005 | 214 | 21/04/2014 | 21/04/2014 |
| | Dr Box | Melbourne | 5/11/2004 | 106 | 6/04/2014 | 21/04/2014 |
| | Penny | Canberra, Australia | 29/01/2011 | 16 | 7/02/2013 | 21/04/2014 |
| | LMo | NE Victoria, Australia | 3/01/2014 | 5 | 23/03/2014 | 21/04/2014 |
| | Eduardo Slabofvic | Victoria, Australia | 2/02/2005 | 2757 | 21/04/2014 | 21/04/2014 |
| | oweng | Hobart | | 501 | 20/06/2012 | 21/04/2014 |
| | phillipivan | | 17/10/2009 | 294 | 17/04/2014 | 21/04/2014 |
| | Sabu | Melbourne, Australia | 20/09/2004 | 2623 | 21/04/2014 | 21/04/2014 |
| | plugngo | Sydney | 11/02/2009 | 47 | 10/04/2014 | 21/04/2014 |
| | barney800 | Victoria, Australia | 31/10/2011 | 53 | 14/09/2013 | 21/04/2014 |
| | GroundFall | Victoria, Australia | 9/03/2014 | 14 | 19/04/2014 | 21/04/2014 |
| | Doug | Hobart | | 280 | 21/04/2014 | 21/04/2014 |
| | patto | Victoria, Australia | 10/06/2005 | 1033 | 15/04/2014 | 21/04/2014 |
| | Macciza | Blue Mountains, Australia | 12/02/2007 | 1474 | 21/04/2014 | 21/04/2014 |
| | justanotheraccount | Victoria, Australia | 1/03/2012 | 1 | 31/03/2012 | 21/04/2014 |
| | eddym | Victoria, Australia | | 29 | 6/04/2014 | 21/04/2014 |
| | Cam McKenzie | Victoria, Australia | 17/01/2006 | 248 | 14/04/2014 | 21/04/2014 |
| | daave | Wollongong, Australia | 11/09/2005 | 326 | 21/04/2014 | 21/04/2014 |
| | Steggles | Blue Mountains | 26/08/2013 | 2 | 27/08/2013 | 21/04/2014 |
| | Loz and Tim | Newcastle, Australia | 7/01/2009 | 28 | 6/03/2014 | 21/04/2014 |
| | Paul | Victoria, Australia | 24/10/2005 | 537 | 6/04/2014 | 21/04/2014 |
| | Mr Poopypants | The Gong | 19/12/2009 | 209 | 24/02/2014 | 21/04/2014 |
| | beean | Townsville, Australia | 24/07/2013 | 1 | 24/07/2013 | 21/04/2014 |
| | Mrdougie | Melbourne, Victoria, Australia | 27/11/2011 | 2 | 8/02/2013 | 21/04/2014 |
| | climber72 | Victoria, Australia | 2/02/2005 | 72 | 24/09/2011 | 21/04/2014 |
| | crowman | Victoria, Australia | 6/03/2013 | 1 | 6/03/2013 | 21/04/2014 |
| | Doro | Victoria, Australia | 31/05/2009 | 51 | 12/01/2014 | 21/04/2014 |
| | matthewp | Sydney, Australia | 16/01/2009 | 42 | 10/11/2012 | 21/04/2014 |
| | Chillisalt | Victoria, Australia | 1/06/2013 | 6 | 21/04/2014 | 21/04/2014 |
| | pecheur | Victoria, Australia | 10/01/2011 | 421 | 21/04/2014 | 21/04/2014 |
| | Rocker | Victoria, Australia | 5/11/2009 | 33 | 3/02/2014 | 21/04/2014 |
| | tjh | Victoria, Australia | 6/05/2013 | 3 | 21/04/2014 | 21/04/2014 |
| | kuu | Sydney, Australia | 10/01/2005 | 575 | 25/02/2014 | 21/04/2014 |
| | dicky | Victoria, Australia | 4/07/2010 | 24 | 10/03/2014 | 21/04/2014 |
| | Esteban77 | Victoria, Australia | 5/06/2011 | 6 | 2/04/2013 | 21/04/2014 |
| | Dave J | Victoria, Australia | 11/02/2005 | 247 | 21/04/2014 | 21/04/2014 |
| | Sonic | Wollongong, NSW, Australia | 9/07/2008 | 213 | 6/04/2014 | 21/04/2014 |
| | jh | Grampians | | 35 | 8/02/2012 | 21/04/2014 |
| | crackalackin! | NSW Australia | 21/09/2012 | 18 | 5/03/2014 | 21/04/2014 |
| | JamesMc | Victoria, Australia | 31/10/2003 | 704 | 15/04/2014 | 21/04/2014 |
| | Dargav | Victoria, Australia | 23/03/2014 | 6 | 18/04/2014 | 21/04/2014 |
| | IronCheff | Victoria, Australia | 12/03/2011 | 29 | 11/03/2014 | 21/04/2014 |
| | Dalai | Victoria, Australia | | 4312 | 19/04/2014 | 21/04/2014 |
| | Notime to climb | Victoria, Australia | 8/02/2012 | 5 | 2/01/2014 | 21/04/2014 |
| | Drake | Blue Mountains, Australia | 4/01/2013 | 67 | 15/04/2014 | 21/04/2014 |
| | Robin | Victoria, Australia | | 292 | 6/03/2014 | 21/04/2014 |
| | Zarb | Sydney, Australia | 17/07/2009 | 137 | 16/02/2014 | 21/04/2014 |
| | ratt07 | wollongong Australia | 18/07/2010 | 9 | 12/06/2013 | 21/04/2014 |
| | ajfclark | Horsham, Victoria | 18/01/2008 | 4788 | 20/04/2014 | 21/04/2014 |
| | Estey | ACT, Australia | | 122 | 3/04/2013 | 21/04/2014 |
| | Roast_chook | Victoria, Australia | 9/02/2014 | 21 | 13/04/2014 | 21/04/2014 |
| | lacto | Victoria, Australia | 14/05/2005 | 317 | 21/04/2014 | 21/04/2014 |
| | Wendy | Natimuk | 23/11/2004 | 2890 | 15/04/2014 | 21/04/2014 |
| | E. Wells | MtVictoria | 4/06/2010 | 523 | 21/04/2014 | 21/04/2014 |
| | Hawkman | Coffs Harbour, Australia | | 734 | 17/01/2014 | 21/04/2014 |
| | rodw | NSW, Australia | 15/12/2003 | 2429 | 21/04/2014 | 21/04/2014 |
| | Ben_E | Victoria, Australia | 30/08/2010 | 244 | 15/03/2014 | 21/04/2014 |
| | frankvdp | Victoria, Australia | 31/07/2006 | 0 | | 21/04/2014 |
| | anthonycuskelly | Victoria, Australia | 9/09/2005 | 206 | 1/04/2014 | 21/04/2014 |
| | Damo666 | Australia | 26/02/2009 | 222 | 19/04/2014 | 21/04/2014 |
| | Big G | NSW, Australia | 13/08/2010 | 345 | 27/03/2014 | 21/04/2014 |
| | Neil | WA | 4/07/2003 | 75 | 18/02/2014 | 21/04/2014 |
| | craigd | Kyneton Victoria, Australia | 3/05/2008 | 5 | 25/08/2009 | 21/04/2014 |
| | miketg | Sydney, Australia | 23/01/2012 | 19 | 19/04/2014 | 21/04/2014 |
| | rowan | blue mountains Australia | 30/05/2006 | 27 | 17/11/2013 | 21/04/2014 |
| | ambyeok | Victoria, Australia | 22/08/2008 | 591 | 16/04/2014 | 21/04/2014 |
| | Miguel75 | Victoria, Australia | 11/07/2009 | 2499 | 21/04/2014 | 21/04/2014 |
| | IdratherbeclimbingM9 | Mt Buffalo (near enough) Victoria, Australia. | | 9476 | 20/04/2014 | 21/04/2014 |
| | dave | Victoria, Australia | 13/09/2003 | 305 | 10/03/2014 | 21/04/2014 |
| | garbie | Sydney, Australia | 14/11/2004 | 234 | 1/02/2014 | 21/04/2014 |
| | Fiona | Victoria, Australia | 25/12/2013 | 4 | 12/04/2014 | 21/04/2014 |
| | rod | switzerland | 22/08/2005 | 548 | 9/04/2014 | 21/04/2014 |
| | Jim Titt | Munich, Germany | 29/01/2009 | 43 | 20/12/2013 | 21/04/2014 |
| | OozeDumbHopeless | Victoria, Australia | 5/04/2014 | 0 | | 21/04/2014 |
| | earwig | out bush | 22/10/2003 | 262 | 16/04/2014 | 21/04/2014 |
| | egosan | Melbourne | 16/04/2008 | 1055 | 5/12/2013 | 21/04/2014 |
| | Scobs | Victoria, Australia | 8/09/2013 | 3 | 11/04/2014 | 21/04/2014 |
| | maxdacat | London | 14/09/2004 | 802 | 17/04/2014 | 21/04/2014 |
| | dan_b | Victoria, Australia | 4/06/2011 | 57 | 6/02/2014 | 21/04/2014 |
| | dfinnecy | sydney, Australia | 18/11/2008 | 76 | 11/09/2012 | 21/04/2014 |
| | Dribble | Victoria, Australia | 19/04/2014 | 11 | 21/04/2014 | 21/04/2014 |
| | Freemo | Castlemaine, Vic | 23/07/2009 | 10 | 8/02/2014 | 21/04/2014 |
| | tristan | Victoria, Australia | 31/10/2013 | 2 | 4/11/2013 | 21/04/2014 |
| | Jules Truong | NSW, Australia | 24/07/2013 | 36 | 5/04/2014 | 21/04/2014 |
| | Rossco | Victoria, Australia | 29/01/2006 | 19 | 30/01/2014 | 21/04/2014 |
| | jared | Melbourne, Victoria, Australia | 8/01/2011 | 3 | 17/10/2013 | 21/04/2014 |
| | figs | Sydney, Australia | 7/11/2011 | 25 | 6/03/2014 | 21/04/2014 |
| | steven86 | Townsville, Queensland, Australia | 25/08/2004 | 0 | | 21/04/2014 |
| | Rocketeh | Victoria, Australia | 12/12/2012 | 5 | 21/04/2014 | 21/04/2014 |
| | SimMad | Victoria, Australia | 17/05/2006 | 41 | 6/12/2012 | 21/04/2014 |
| | brendan | | 4/03/2006 | 396 | 21/04/2014 | 21/04/2014 |
| | skegly | Castlemaine, Victoria, Australia | 23/04/2011 | 272 | 16/04/2014 | 21/04/2014 |
| | rightwall1 | Victoria, Australia | 30/03/2014 | 0 | | 21/04/2014 |
| | dhunchak | Victoria, Australia | 2/08/2009 | 18 | 4/03/2014 | 21/04/2014 |
| | Zebedee | Victoria, Australia | 27/03/2005 | 297 | 1/12/2013 | 21/04/2014 |
| | Pat | Victoria, Australia | 16/03/2007 | 823 | 21/04/2014 | 21/04/2014 |
| | rightarmbad | queensland, Australia | 5/08/2004 | 469 | 21/04/2014 | 21/04/2014 |
| | lfranklin | Victoria, Australia | 18/01/2009 | 23 | 23/11/2013 | 21/04/2014 |
| | Hayds13 | Sydney, Australia | 21/12/2010 | 1 | 21/12/2010 | 21/04/2014 |
| | BeccaG | Blackheath, NSW | 20/04/2014 | 1 | 20/04/2014 | 21/04/2014 |
| | apaul | Victoria, Australia | 30/10/2011 | 2 | 9/06/2012 | 21/04/2014 |
| | Capt_mulch | Lismore, NSW | 23/07/2007 | 1250 | 21/04/2014 | 21/04/2014 |
| | Olbert | Wollongong, Australia | 6/07/2008 | 985 | 7/04/2014 | 21/04/2014 |
| | bradc | blackheath, NSW | 23/10/2003 | 69 | 20/08/2013 | 21/04/2014 |
| | BA | Victoria, Australia | | 797 | 20/03/2014 | 21/04/2014 |
| | phil_nev | Victoria, Australia | | 1120 | 24/01/2014 | 21/04/2014 |
| | MichaelOR | Victoria, Australia | 3/07/2004 | 166 | 23/12/2013 | 21/04/2014 |
| | Reg | Sydney, Australia | 2/04/2013 | 8 | 19/11/2013 | 21/04/2014 |
| | gfdonc | Victoria, Australia | 22/10/2003 | 2872 | 16/04/2014 | 21/04/2014 |
| | Goshen | Geelong, VIC, Australia | 29/04/2004 | 53 | 9/04/2014 | 21/04/2014 |
| | tshaw | Victoria, Australia | 14/12/2010 | 34 | 31/03/2014 | 21/04/2014 |
| | jono_1 | Canberra, Australia | 10/08/2004 | 90 | 6/04/2014 | 21/04/2014 |
| | antman | Victoria, Australia | 25/09/2013 | 3 | 20/04/2014 | 21/04/2014 |
| | TimP | Castlemaine | 28/09/2013 | 17 | 19/04/2014 | 21/04/2014 |
| | mikllaw | Victoria, Australia | 14/01/2010 | 1411 | 21/04/2014 | 21/04/2014 |
| | DaveW | Victoria, Australia | 29/08/2005 | 12 | 20/12/2011 | 21/04/2014 |
| | Snappy | Queensland, Australia | 5/09/2008 | 53 | 14/04/2014 | 21/04/2014 |
| | deadbudgy | Sydney, Australia | 26/10/2007 | 132 | 5/04/2014 | 21/04/2014 |
| | johny | Hobart, Tasmania | 14/09/2004 | 7 | 20/04/2014 | 21/04/2014 |
| | JimmyS | Victoria, Australia | 3/10/2011 | 100 | 21/04/2014 | 21/04/2014 |
| | NeverRest | Mill Park, Victoria, Australia | 31/03/2013 | 3 | 10/12/2013 | 21/04/2014 |
| | salty crag | Victoria, Australia | 21/08/2009 | 283 | 18/04/2014 | 21/04/2014 |
| | J.C. | Sydney, Australia | 20/09/2008 | 465 | 25/03/2014 | 21/04/2014 |
| | TonyB | | 10/03/2007 | 402 | 10/04/2013 | 21/04/2014 |
| | alrob | Nomad | | 1117 | 17/11/2013 | 21/04/2014 |
| | vwills | Newcastle, Australia | 23/09/2003 | 519 | 28/03/2014 | 21/04/2014 |
| | Augustine | Victoria, Australia | 14/04/2014 | 1 | 21/04/2014 | 21/04/2014 |
Member Statistics

Activity Percentage Graph
| | |
| --- | --- |
| Gym | |
| Boulder | |
| Top Rope | |
| Sport | |
| Trad Single | |
| Trad Multi | |
| Aid/Big Wall | |
| Ice | |
| Mountain | |
| Not Applicable | |
There are 147 registered members. Of these 3% have never posted, 20% have only posted a few times, leaving 78% who are major posters. 81% are from Australia.
The top users are: hotgemini, martym, Superstu, Garrath, kieranl, simey, Dr Nick, Andrew_M, freesolo, Eduardo Slabofvic, oweng, phillipivan, Sabu, Doug, patto, Macciza, Cam McKenzie, daave, Paul, Mr Poopypants, pecheur, kuu, Dave J, Sonic, JamesMc, Dalai, Robin, ajfclark, lacto, Wendy, E. Wells, Hawkman, rodw, Ben_E, anthonycuskelly, Damo666, Big G, ambyeok, Miguel75, IdratherbeclimbingM9, dave, garbie, rod, earwig, egosan, maxdacat, brendan, skegly, Zebedee, Pat, rightarmbad, Capt_mulch, Olbert, BA, phil_nev, MichaelOR, gfdonc, mikllaw, salty crag, J.C., TonyB, alrob, vwills
The average user is 40 years old.
Home | Guide | Gallery | Tech Tips | Articles | Reviews | Dictionary | Forum | Links | About | Search
Chockstone Photography | Landscape Photography Australia | Australian Landscape Photography

Please read the full disclaimer before using any information contained on these pages.
Australian Panoramic | Australian Coast | Australian Mountains | Australian Countryside | Australian Waterfalls | Australian Lakes | Australian Cities | Australian Macro | Australian Wildlife
Landscape Photo | Landscape Photography | Landscape Photography Australia | Fine Art Photography | Wilderness Photography | Nature Photo | Australian Landscape Photo | Stock Photography Australia | Landscape Photos | Panoramic Photos | Panoramic Photography Australia | Australian Landscape Photography | Mothers Day Gifts | Gifts for Mothers Day | Mothers Day Gift Ideas | Ideas for Mothers Day | Wedding Gift Ideas | Christmas Gift Ideas | Fathers Day Gifts | Gifts for Fathers Day | Fathers Day Gift Ideas | Ideas for Fathers Day | Landscape Prints | Landscape Poster | Limited Edition Prints | Panoramic Photo | Buy Posters | Poster Prints