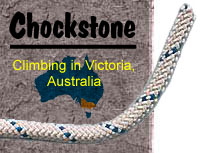 Sponsored By
ROCK
HARDWARE


Edelrid: "Ultralight Helmet" (Red) Fits 54 - 60cm Great heavy duty all-rounder. SUPER SPECIAL for a short time only! $79.00
21% Off

Chockstone Forum

A place for Victorian climbers to hang out and chat about climbing. Anyone can register and post messages.

Limit To: All A B C D E F G H I J K L M N O P Q R S T U V W X Y Z
| | | | | | | |
| --- | --- | --- | --- | --- | --- | --- |
| Icon | User | Location | Joined | # Posts | Last Posted | Last Logon |
| | MonkeyBoy | Melbourne, Australia | 4/01/2009 | 297 | 24/10/2014 | 25/10/2014 |
| | Karl Bromelow | Victoria, Australia | 20/10/2006 | 190 | 19/10/2014 | 25/10/2014 |
| | kilbz | wollongong, Australia | 10/03/2014 | 5 | 26/06/2014 | 25/10/2014 |
| | shortman | Victoria, Australia | 5/11/2010 | 2063 | 24/10/2014 | 25/10/2014 |
| | JMK | Newcastle NSW, Australia | 7/01/2009 | 76 | 25/10/2014 | 25/10/2014 |
| | tomatessechees | Sydney Northern Beaches | 24/01/2014 | 4 | 2/10/2014 | 25/10/2014 |
| | oweng | Hobart | | 501 | 20/06/2012 | 25/10/2014 |
| | Macciza | Blue Mountains, Australia | 12/02/2007 | 1531 | 17/10/2014 | 25/10/2014 |
| | meinmuk | Brisbane, Australia | | 98 | 18/06/2014 | 25/10/2014 |
| | TonyB | | 10/03/2007 | 404 | 11/10/2014 | 25/10/2014 |
| | Sabu | Melbourne, Australia | 20/09/2004 | 2664 | 24/10/2014 | 25/10/2014 |
| | stuart h | Victoria, Australia | 20/11/2006 | 39 | 14/08/2014 | 25/10/2014 |
| | Hawkman | Coffs Harbour, Australia | | 735 | 3/05/2014 | 25/10/2014 |
| | Andrew_M | Sydney, Australia | 13/12/2003 | 253 | 17/08/2014 | 25/10/2014 |
| | Wendy | Natimuk | 23/11/2004 | 2970 | 23/10/2014 | 25/10/2014 |
| | Ball_Bagg | South Australia | 23/01/2010 | 7 | 7/01/2014 | 25/10/2014 |
| | Ollie1 | Victoria, Australia | 24/08/2014 | 4 | 17/10/2014 | 25/10/2014 |
| | cogsy | Blackheath, Australia | 21/12/2008 | 123 | 18/05/2014 | 25/10/2014 |
| | phillipivan | | 17/10/2009 | 385 | 24/10/2014 | 25/10/2014 |
| | vwills | Newcastle, Australia | 23/09/2003 | 542 | 3/09/2014 | 25/10/2014 |
| | lfranklin | Victoria, Australia | 18/01/2009 | 23 | 23/11/2013 | 25/10/2014 |
| | Doug | Hobart | | 316 | 25/10/2014 | 25/10/2014 |
| | Damo666 | Australia | 26/02/2009 | 239 | 20/10/2014 | 25/10/2014 |
| | dan_b | Victoria, Australia | 4/06/2011 | 60 | 23/10/2014 | 25/10/2014 |
| | dave | Victoria, Australia | 13/09/2003 | 308 | 8/07/2014 | 25/10/2014 |
| | woody85 | Victoria, Australia | 21/05/2011 | 10 | 25/08/2014 | 25/10/2014 |
| | matthewp | Sydney, Australia | 16/01/2009 | 49 | 21/08/2014 | 25/10/2014 |
| | eric80 | WA | 30/08/2013 | 6 | 26/09/2014 | 25/10/2014 |
| | Groveller | Ballarat, Australia | 19/04/2012 | 125 | 15/10/2014 | 25/10/2014 |
| | rightarmbad | queensland, Australia | 5/08/2004 | 474 | 7/08/2014 | 25/10/2014 |
| | dave1962 | south australia, Australia | 12/09/2010 | 17 | 16/07/2014 | 25/10/2014 |
| | MichaelOR | Victoria, Australia | 3/07/2004 | 173 | 24/10/2014 | 25/10/2014 |
| | Dalai | Victoria, Australia | | 4380 | 24/10/2014 | 25/10/2014 |
| | daave | Wollongong, Australia | 11/09/2005 | 338 | 13/10/2014 | 25/10/2014 |
| | kuu | Sydney, Australia | 10/01/2005 | 590 | 6/10/2014 | 25/10/2014 |
| | ecowain | Mt Victoria, Australia | 3/11/2003 | 108 | 20/07/2014 | 25/10/2014 |
| | lacto | Victoria, Australia | 14/05/2005 | 326 | 10/10/2014 | 25/10/2014 |
| | pmonks | U.S.A. | 29/07/2008 | 1250 | 16/09/2014 | 25/10/2014 |
| | Rossco | Victoria, Australia | 29/01/2006 | 21 | 24/05/2014 | 25/10/2014 |
| | jkane | Victoria, Australia | 25/03/2006 | 258 | 30/09/2014 | 25/10/2014 |
| | gordoste | Albury, NSW, Australia | 27/10/2004 | 1096 | 21/10/2014 | 25/10/2014 |
| | Dr Nick | Sydney, Australia | 6/03/2011 | 213 | 24/10/2014 | 25/10/2014 |
| | Zebedee | Victoria, Australia | 27/03/2005 | 298 | 22/04/2014 | 25/10/2014 |
| | patto | Victoria, Australia | 10/06/2005 | 1096 | 23/10/2014 | 25/10/2014 |
| | adventure1545 | Victoria, Australia | 20/05/2014 | 2 | 17/09/2014 | 25/10/2014 |
| | climberman | Corrimal, Australia | 25/07/2004 | 748 | 23/10/2014 | 25/10/2014 |
| | ithomas | Victoria, Australia | 3/02/2006 | 130 | 25/10/2014 | 25/10/2014 |
| | timbigot | Victoria, Australia | 13/08/2012 | 25 | 14/10/2014 | 25/10/2014 |
| | Rawpowa! | Syndey, NSW | 8/06/2014 | 1 | 12/10/2014 | 25/10/2014 |
| | rolsen1 | Victoria, Australia | 1/01/2008 | 343 | 16/08/2014 | 25/10/2014 |
| | sbm | Sydney, NSW, Australia | 25/08/2010 | 388 | 12/10/2014 | 25/10/2014 |
| | Robb | Adelaide, Australia | 13/01/2004 | 562 | 19/10/2014 | 25/10/2014 |
| | billk | Victoria, Australia | 7/02/2005 | 646 | 9/05/2013 | 25/10/2014 |
| | Eduardo Slabofvic | Victoria, Australia | 2/02/2005 | 2817 | 23/10/2014 | 25/10/2014 |
| | JohnK | Victoria, Australia | | 374 | 22/10/2014 | 25/10/2014 |
| | Aidan | Australia | 4/08/2010 | 20 | 15/09/2014 | 25/10/2014 |
| | PThomson | Blue Mountains, Australia | 19/01/2011 | 174 | 2/10/2014 | 25/10/2014 |
| | microfe | New South Wales, Australia | 20/08/2006 | 8 | 22/01/2013 | 25/10/2014 |
| | mikllaw | Victoria, Australia | 14/01/2010 | 1481 | 20/10/2014 | 25/10/2014 |
| | BA | Victoria, Australia | | 877 | 17/10/2014 | 25/10/2014 |
| | brendan | | 4/03/2006 | 406 | 23/10/2014 | 25/10/2014 |
| | TimP | Castlemaine | 28/09/2013 | 52 | 25/10/2014 | 25/10/2014 |
| | Garrath | Victoria, Australia | | 237 | 3/09/2014 | 25/10/2014 |
| | pharmamatt | Victoria, Australia | 24/12/2005 | 173 | 14/09/2013 | 25/10/2014 |
| | JamesMc | Victoria, Australia | 31/10/2003 | 726 | 20/10/2014 | 25/10/2014 |
| | rodw | NSW, Australia | 15/12/2003 | 2471 | 25/10/2014 | 25/10/2014 |
| | Will115 | Victoria, Australia | 21/10/2014 | 0 | | 25/10/2014 |
| | skegly | Castlemaine, Victoria, Australia | 23/04/2011 | 292 | 18/10/2014 | 25/10/2014 |
| | ademmert | Victoria, Australia | 12/12/2004 | 381 | 15/10/2014 | 25/10/2014 |
| | barney800 | Victoria, Australia | 31/10/2011 | 55 | 13/10/2014 | 25/10/2014 |
| | DL | Victoria, Australia | 25/07/2003 | 12 | 25/05/2014 | 25/10/2014 |
| | lost tazmaniac | Victoria, Australia | 14/05/2009 | 40 | 24/09/2014 | 25/10/2014 |
| | spicelab | Sydney, Australia | 14/10/2005 | 225 | 14/07/2014 | 25/10/2014 |
| | JES5 | Sydney, Australia | 24/03/2011 | 0 | | 25/10/2014 |
| | IronCheff | Victoria, Australia | 12/03/2011 | 36 | 19/10/2014 | 25/10/2014 |
| | JimmyS | Dunkeld | 3/10/2011 | 115 | 24/10/2014 | 25/10/2014 |
| | Matt Callaghan | Victoria, Australia | 18/09/2014 | 2 | 8/10/2014 | 25/10/2014 |
| | egosan | Melbourne | 16/04/2008 | 1058 | 13/10/2014 | 25/10/2014 |
| | Grecko21 | Victoria, Australia | 12/03/2011 | 23 | 22/10/2014 | 25/10/2014 |
| | Big G | NSW, Australia | 13/08/2010 | 366 | 21/10/2014 | 25/10/2014 |
| | Cam McKenzie | Victoria, Australia | 17/01/2006 | 260 | 24/09/2014 | 25/10/2014 |
| | Dave_S | Victoria, Australia | 10/10/2012 | 54 | 15/08/2014 | 25/10/2014 |
| | pedro.c | Sydney, Australia | 27/11/2012 | 50 | 22/10/2014 | 25/10/2014 |
| | Mr Poopypants | The Gong | 19/12/2009 | 222 | 12/10/2014 | 25/10/2014 |
| | frankvdp | Victoria, Australia | 31/07/2006 | 0 | | 25/10/2014 |
| | Steggles | Blue Mountains | 26/08/2013 | 4 | 6/10/2014 | 25/10/2014 |
| | trog | Vancouver, BC | 3/09/2009 | 51 | 23/10/2014 | 25/10/2014 |
| | OodlesDownHere | Victoria, Australia | 21/06/2014 | 4 | 23/10/2014 | 25/10/2014 |
| | jared | Melbourne, Victoria, Australia | 8/01/2011 | 4 | 14/08/2014 | 25/10/2014 |
| | Hipster | Blackheath, Australia | 17/01/2006 | 242 | 21/10/2014 | 25/10/2014 |
| | ajfclark | Horsham, Victoria | 18/01/2008 | 4941 | 23/10/2014 | 25/10/2014 |
| | mitch46and2 | adelaide | 26/08/2013 | 5 | 10/06/2014 | 25/10/2014 |
| | Estey | ACT, Australia | | 123 | 30/09/2014 | 25/10/2014 |
| | crackalackin! | NSW Australia | 21/09/2012 | 23 | 4/09/2014 | 25/10/2014 |
| | cruze | Christchurch, New Zealand | 22/11/2004 | 1450 | 15/08/2014 | 25/10/2014 |
| | Doolie | Leura, Australia | 14/11/2012 | 18 | 16/09/2014 | 25/10/2014 |
| | Miguel75 | Victoria, Australia | 11/07/2009 | 2638 | 24/10/2014 | 25/10/2014 |
| | Marssan | NSW, Australia | 16/07/2006 | 73 | 3/10/2014 | 25/10/2014 |
| | Flailing | Blackheath, Australia | 12/08/2014 | 1 | 7/10/2014 | 25/10/2014 |
| | argos44 | Darwin, Australia | 8/10/2012 | 74 | 20/10/2014 | 25/10/2014 |
| | Superstu | Ashfield, Sydney | 10/06/2003 | 1255 | 22/10/2014 | 25/10/2014 |
| | nomadiclimber | Victoria, Australia | 17/02/2014 | 8 | 24/10/2014 | 25/10/2014 |
| | KP | Bendigo, Australia | 21/02/2005 | 580 | 20/10/2014 | 25/10/2014 |
| | Snappy | Queensland, Australia | 5/09/2008 | 57 | 26/09/2014 | 25/10/2014 |
| | DJ Biggs | ACT, Australia | 22/04/2005 | 89 | 7/10/2014 | 25/10/2014 |
| | dhunchak | Victoria, Australia | 2/08/2009 | 18 | 4/03/2014 | 25/10/2014 |
| | Access T CliffCare | Victoria, Australia | 25/01/2007 | 599 | 17/09/2014 | 25/10/2014 |
| | radson | Sydney, Australia | 3/01/2011 | 29 | 3/09/2014 | 25/10/2014 |
| | jrc | Lindfield, NSW Australia | 6/02/2006 | 179 | 10/10/2014 | 25/10/2014 |
| | simey | Victoria, Australia | 5/02/2005 | 2267 | 23/10/2014 | 25/10/2014 |
| | harold | geelong,Victoria, Australia | 1/05/2004 | 167 | 22/10/2014 | 25/10/2014 |
Member Statistics

Activity Percentage Graph
| | |
| --- | --- |
| Gym | |
| Boulder | |
| Top Rope | |
| Sport | |
| Trad Single | |
| Trad Multi | |
| Aid/Big Wall | |
| Ice | |
| Mountain | |
| Not Applicable | |
There are 111 registered members. Of these 3% have never posted, 14% have only posted a few times, leaving 83% who are major posters. 82% are from Australia.
The top users are: MonkeyBoy, Karl Bromelow, shortman, oweng, Macciza, TonyB, Sabu, Hawkman, Andrew_M, Wendy, phillipivan, vwills, Doug, Damo666, dave, rightarmbad, MichaelOR, Dalai, daave, kuu, lacto, pmonks, jkane, gordoste, Dr Nick, Zebedee, patto, climberman, rolsen1, sbm, Robb, billk, Eduardo Slabofvic, JohnK, PThomson, mikllaw, BA, brendan, Garrath, pharmamatt, JamesMc, rodw, skegly, ademmert, spicelab, egosan, Big G, Cam McKenzie, Mr Poopypants, Hipster, ajfclark, cruze, Miguel75, Superstu, KP, Access T CliffCare, jrc, simey, harold
The average user is 43 years old.
Home | Guide | Gallery | Tech Tips | Articles | Reviews | Dictionary | Forum | Links | About | Search
Chockstone Photography | Landscape Photography Australia | Australian Landscape Photography

Please read the full disclaimer before using any information contained on these pages.
Australian Panoramic | Australian Coast | Australian Mountains | Australian Countryside | Australian Waterfalls | Australian Lakes | Australian Cities | Australian Macro | Australian Wildlife
Landscape Photo | Landscape Photography | Landscape Photography Australia | Fine Art Photography | Wilderness Photography | Nature Photo | Australian Landscape Photo | Stock Photography Australia | Landscape Photos | Panoramic Photos | Panoramic Photography Australia | Australian Landscape Photography | Mothers Day Gifts | Gifts for Mothers Day | Mothers Day Gift Ideas | Ideas for Mothers Day | Wedding Gift Ideas | Christmas Gift Ideas | Fathers Day Gifts | Gifts for Fathers Day | Fathers Day Gift Ideas | Ideas for Fathers Day | Landscape Prints | Landscape Poster | Limited Edition Prints | Panoramic Photo | Buy Posters | Poster Prints