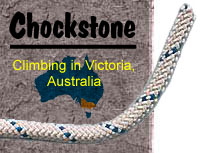 Sponsored By
ROCK
HARDWARE


Chockstone Forum

A place for Victorian climbers to hang out and chat about climbing. Anyone can register and post messages.

Limit To: All A B C D E F G H I J K L M N O P Q R S T U V W X Y Z
| | | | | | | |
| --- | --- | --- | --- | --- | --- | --- |
| Icon | User | Location | Joined | # Posts | Last Posted | Last Logon |
| | Macciza | Blue Mountains, Australia | 12-Feb-2007 | 1792 | 22-May-2018 | 25-May-2018 |
| | Dalai | Victoria, Australia | | 4744 | 22-May-2018 | 25-May-2018 |
| | Andrew_M | Melbourne, Australia | 13-Dec-2003 | 274 | 22-Mar-2018 | 25-May-2018 |
| | Dave_S | Victoria, Australia | 10-Oct-2012 | 250 | 24-May-2018 | 25-May-2018 |
| | uwhp510 | Victoria, Australia | 10-Jun-2005 | 342 | 12-May-2018 | 25-May-2018 |
| | Olbert | Wollongong, Australia | 6-Jul-2008 | 1102 | 25-May-2018 | 25-May-2018 |
| | jimfalla | Victoria, Australia | 23-Feb-2007 | 54 | 25-May-2018 | 25-May-2018 |
| | arniearms | Sydney, Australia | 21-Jul-2009 | 102 | 13-May-2018 | 25-May-2018 |
| | JES5 | Sydney, Australia | 24-Mar-2011 | 0 | | 25-May-2018 |
| | ademmert | Victoria, Australia | 12-Dec-2004 | 405 | 8-May-2018 | 25-May-2018 |
| | rightarmbad | queensland, Australia | 5-Aug-2004 | 561 | 21-May-2018 | 25-May-2018 |
| | JamesMc | Victoria, Australia | 31-Oct-2003 | 870 | 19-May-2018 | 25-May-2018 |
| | Doolie | Leura, Australia | 14-Nov-2012 | 22 | 22-Jun-2017 | 25-May-2018 |
| | armstp | Victoria, Australia | 28-Dec-2005 | 61 | 17-May-2018 | 25-May-2018 |
| | Dane | Canberra, Australia | 3-May-2009 | 40 | 24-May-2018 | 25-May-2018 |
| | lfranklin | Victoria, Australia | 18-Jan-2009 | 24 | 23-Dec-2015 | 25-May-2018 |
| | BenHev | Victoria, Australia | 14-Jun-2003 | 76 | 25-May-2018 | 25-May-2018 |
| | sirdogalot | brisbane, Australia | 8-Jun-2011 | 8 | 15-Jun-2015 | 25-May-2018 |
| | The good Dr | Victoria, Australia | 19-Apr-2005 | 617 | 7-May-2018 | 25-May-2018 |
| | rodw | NSW, Australia | 15-Dec-2003 | 2708 | 19-Apr-2018 | 25-May-2018 |
| | Miguel75 | Victoria, Australia | 11-Jul-2009 | 2908 | 6-May-2018 | 25-May-2018 |
| | bigchris | Victoria, Australia | 3-Oct-2011 | 174 | 19-May-2018 | 25-May-2018 |
| | Estey | ACT, Australia | | 139 | 22-May-2018 | 25-May-2018 |
| | deep Van Winkle | Sydney, Australia | 13-Dec-2014 | 13 | 27-Jul-2017 | 25-May-2018 |
| | dave1962 | south australia, Australia | 12-Sep-2010 | 39 | 27-Feb-2017 | 25-May-2018 |
| | Ashy | NSW, Australia | 13-Jul-2005 | 6 | 21-Dec-2006 | 25-May-2018 |
| | FatBoy | Victoria, Australia | | 362 | 24-May-2018 | 25-May-2018 |
| | harold | geelong,Victoria, Australia | 1-May-2004 | 215 | 17-Apr-2018 | 25-May-2018 |
| | MisterGribble | Victoria, Australia | 6-Apr-2007 | 522 | 19-May-2018 | 25-May-2018 |
| | tshaw | Porepunkah, Victoria, Australia | 14-Dec-2010 | 64 | 6-Mar-2018 | 25-May-2018 |
| | nmonteith | Sydney, Australia | | 11154 | 17-May-2018 | 25-May-2018 |
| | Sandym | NSW | 31-Oct-2012 | 21 | 16-Apr-2018 | 25-May-2018 |
| | Camjammer | Sydney, Australia | 3-Oct-2007 | 11 | 16-Dec-2016 | 25-May-2018 |
| | trogster | Gardenvale, Melbourne | 21-Oct-2006 | 14 | 25-May-2018 | 25-May-2018 |
| | Mr Poopypants | The Gong | 19-Dec-2009 | 257 | 24-May-2018 | 25-May-2018 |
| | Mark R | Victoria, Australia | 27-Feb-2007 | 76 | 7-May-2017 | 25-May-2018 |
| | ajfclark | Horsham, Victoria | 18-Jan-2008 | 5776 | 24-May-2018 | 25-May-2018 |
| | whippet | Mt Victoria & Dargan , Blue Mtns | 28-Apr-2015 | 2 | 24-Dec-2017 | 25-May-2018 |
| | steve86 | Queensland, Australia | 12-Jul-2005 | 0 | | 25-May-2018 |
| | Chockstone Moderator | Victoria, Australia | 8-Oct-2007 | 246 | 22-May-2018 | 25-May-2018 |
| | Access T CliffCare | Victoria, Australia | 25-Jan-2007 | 672 | 25-May-2018 | 25-May-2018 |
| | Ben_E | Victoria, Australia | 30-Aug-2010 | 284 | 19-Feb-2018 | 25-May-2018 |
| | Jacques Shurmer | Victoria, Australia | 26-Jun-2013 | 32 | 4-Apr-2018 | 25-May-2018 |
| | The Rock Robster | Arapiles, Victoria, Australia | 28-Jul-2017 | 15 | 16-May-2018 | 25-May-2018 |
| | kady | Victoria, Australia | 27-Jun-2007 | 34 | 27-Jun-2017 | 25-May-2018 |
| | GoUp! | ACT, Australia | 18-Jun-2007 | 89 | 12-May-2018 | 25-May-2018 |
| | Karl Bromelow | | 20-Oct-2006 | 271 | 21-May-2018 | 25-May-2018 |
| | mallion | ACT, Australia | 20-May-2011 | 32 | 7-Jun-2017 | 25-May-2018 |
| | gaetanr | Victoria, Australia | 5-Dec-2012 | 36 | 21-Mar-2018 | 25-May-2018 |
| | argos44 | Darwin, Australia | 8-Oct-2012 | 118 | 22-Oct-2016 | 25-May-2018 |
| | kuu | Sydney, Australia | 10-Jan-2005 | 615 | 25-May-2017 | 25-May-2018 |
| | Markg | Brisbane, Australia | 27-Feb-2015 | 18 | 3-May-2018 | 25-May-2018 |
| | DSPIES | Victoria, Australia | 14-Apr-2008 | 47 | 13-Apr-2017 | 25-May-2018 |
| | BBSR | NSW, Australia | 2-Oct-2012 | 55 | 15-Dec-2017 | 25-May-2018 |
| | SimMad | Victoria, Australia | 17-May-2006 | 48 | 1-Jun-2017 | 25-May-2018 |
| | Stu~ | Sydney, Australia | 1-Apr-2014 | 10 | 15-Mar-2018 | 25-May-2018 |
| | JimmyS | Dunkeld | 3-Oct-2011 | 164 | 7-May-2018 | 25-May-2018 |
| | daave | Wollongong, Australia | 11-Sep-2005 | 352 | 18-Jul-2017 | 25-May-2018 |
| | SBW | Victoria, Australia | 17-Jan-2005 | 45 | 22-Nov-2017 | 25-May-2018 |
| | cruze | Christchurch, New Zealand | 22-Nov-2004 | 1459 | 18-May-2017 | 25-May-2018 |
| | climber.joel | Victoria, Australia | 31-May-2017 | 3 | 19-May-2018 | 25-May-2018 |
| | Pommy | Gosford, Australia | 18-Nov-2003 | 140 | 5-Jun-2017 | 25-May-2018 |
| | Daglar | Victoria, Australia | 27-Apr-2015 | 12 | 28-Sep-2017 | 25-May-2018 |
| | climberman | Corrimal, Australia | 25-Jul-2004 | 830 | 8-May-2018 | 25-May-2018 |
| | Sasquatch912 | Sydney, Australia | 13-Mar-2018 | 1 | 13-Mar-2018 | 25-May-2018 |
| | TimP | Castlemaine | 28-Sep-2013 | 238 | 12-May-2018 | 25-May-2018 |
| | jkane | Victoria, Australia | 25-Mar-2006 | 268 | 16-May-2018 | 25-May-2018 |
| | rudi | Melbourne | 20-Mar-2007 | 70 | 31-Mar-2018 | 25-May-2018 |
| | Decoy | Sydney, Australia | 4-Jun-2010 | 34 | 20-May-2018 | 25-May-2018 |
| | BA | Victoria, Australia | | 938 | 12-Apr-2018 | 25-May-2018 |
| | Freemo | Castlemaine, Vic | 23-Jul-2009 | 11 | 26-Apr-2015 | 25-May-2018 |
| | jbridgeman | Sydney, Australia | 1-May-2017 | 4 | 17-Apr-2018 | 25-May-2018 |
| | FatCanyoner | Sydney, NSW, Australia | 14-Oct-2012 | 42 | 24-May-2018 | 25-May-2018 |
| | ieltschannel020 | Victoria, Australia | 25-May-2018 | 0 | | 25-May-2018 |
| | cgil5 | Victoria, Australia | 29-Apr-2018 | 0 | | 25-May-2018 |
| | f_abe | Mount Gambier, Australia | 13-Apr-2007 | 157 | 11-May-2018 | 25-May-2018 |
| | phil_nev | Victoria, Australia | | 1155 | 7-Feb-2018 | 25-May-2018 |
| | anthonycuskelly | Victoria, Australia | 9-Sep-2005 | 217 | 7-May-2018 | 25-May-2018 |
| | ClintR | Sydney, Australia | 17-Jun-2010 | 10 | 6-May-2015 | 25-May-2018 |
| | sbright | Victoria, Australia | 22-Feb-2006 | 52 | 18-Oct-2013 | 25-May-2018 |
| | Mike | Bendigo, Victoria, Australia. | | 655 | 13-Oct-2017 | 25-May-2018 |
| | widewetandslippery | Victoria, Australia | 20-Dec-2006 | 3726 | 24-May-2018 | 25-May-2018 |
| | Dan_ | Wallan | 30-Jan-2018 | 0 | | 25-May-2018 |
| | gtempest | Victoria, Australia | 28-Jan-2004 | 71 | 27-Mar-2017 | 25-May-2018 |
| | gfdonc | Victoria, Australia | 22-Oct-2003 | 3335 | 24-May-2018 | 25-May-2018 |
| | salty crag | Victoria, Australia | 21-Aug-2009 | 335 | 14-May-2018 | 25-May-2018 |
| | Tastrad | Launceston, Tasmania | 16-Jul-2007 | 179 | 21-May-2018 | 25-May-2018 |
| | barney800 | Victoria, Australia | 31-Oct-2011 | 69 | 14-Mar-2018 | 25-May-2018 |
| | shortman | Victoria, Australia | 5-Nov-2010 | 2425 | 19-Apr-2018 | 25-May-2018 |
| | phillipivan | | 17-Oct-2009 | 694 | 8-Apr-2018 | 25-May-2018 |
| | Dr Nick | Sydney, Australia | 6-Mar-2011 | 257 | 18-May-2018 | 25-May-2018 |
| | marky | Victoria, Australia | 4-Dec-2008 | 152 | 12-Mar-2018 | 25-May-2018 |
| | dhunchak | Victoria, Australia | 2-Aug-2009 | 28 | 26-Apr-2018 | 25-May-2018 |
Member Statistics

Activity Percentage Graph
| | |
| --- | --- |
| Gym | |
| Boulder | |
| Top Rope | |
| Sport | |
| Trad Single | |
| Trad Multi | |
| Aid/Big Wall | |
| Ice | |
| Mountain | |
| Not Applicable | |
There are 93 registered members. Of these 5% have never posted, 9% have only posted a few times, leaving 86% who are major posters. 85% are from Australia.
The top users are: Macciza, Dalai, Andrew_M, Dave_S, uwhp510, Olbert, ademmert, rightarmbad, JamesMc, The good Dr, rodw, Miguel75, bigchris, FatBoy, harold, MisterGribble, nmonteith, Mr Poopypants, ajfclark, Chockstone Moderator, Access T CliffCare, Ben_E, Karl Bromelow, kuu, JimmyS, daave, cruze, climberman, TimP, jkane, BA, f_abe, phil_nev, anthonycuskelly, Mike, widewetandslippery, gfdonc, salty crag, Tastrad, shortman, phillipivan, Dr Nick, marky
The average user is 46 years old.
Home | Guide | Gallery | Tech Tips | Articles | Reviews | Dictionary | Forum | Links | About | Search
Chockstone Photography | Landscape Photography Australia | Australian Landscape Photography | Landscape Photos Australia

Please read the full disclaimer before using any information contained on these pages.
Australian Panoramic | Australian Coast | Australian Mountains | Australian Countryside | Australian Waterfalls | Australian Lakes | Australian Cities | Australian Macro | Australian Wildlife
Landscape Photo | Landscape Photography | Landscape Photography Australia | Fine Art Photography | Wilderness Photography | Nature Photo | Australian Landscape Photo | Stock Photography Australia | Landscape Photos | Panoramic Photos | Panoramic Photography Australia | Australian Landscape Photography | High Country Mountain Huts | Mothers Day Gifts | Gifts for Mothers Day | Mothers Day Gift Ideas | Ideas for Mothers Day | Wedding Gift Ideas | Christmas Gift Ideas | Fathers Day Gifts | Gifts for Fathers Day | Fathers Day Gift Ideas | Ideas for Fathers Day | Landscape Prints | Landscape Poster | Limited Edition Prints | Panoramic Photo | Buy Posters | Poster Prints