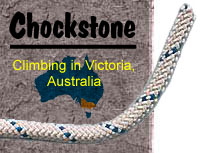 Sponsored By
ROCK
HARDWARE


17 Down Under: 17 DOWN UNDER. "A celebration of moderate grade climbing in Victoria". 184 pages. 285 images. Father & son team, Steve & John Morris, embark on a journey to climb and photograph 50 of the best rock climbs in Victoria, grade 17 & under. Inc bookmark $50.00
9% Off

Chockstone Forum

A place for Victorian climbers to hang out and chat about climbing. Anyone can register and post messages.

Limit To: All A B C D E F G H I J K L M N O P Q R S T U V W X Y Z
| | | | | | | |
| --- | --- | --- | --- | --- | --- | --- |
| Icon | User | Location | Joined | # Posts | Last Posted | Last Logon |
| | DSPIES | Victoria, Australia | 14/04/2008 | 47 | 13/04/2017 | 24/04/2017 |
| | semi.ivan | Victoria, Australia | 18/08/2014 | 39 | 13/04/2017 | 24/04/2017 |
| | lbeclimb | Victoria, Australia | 9/12/2015 | 1 | 27/03/2017 | 24/04/2017 |
| | f_abe | Mount Gambier, Australia | 13/04/2007 | 153 | 13/04/2017 | 24/04/2017 |
| | rodw | NSW, Australia | 15/12/2003 | 2668 | 19/04/2017 | 24/04/2017 |
| | Miguel75 | Victoria, Australia | 11/07/2009 | 2865 | 23/04/2017 | 24/04/2017 |
| | Paul | Victoria, Australia | 24/10/2005 | 548 | 5/01/2017 | 24/04/2017 |
| | dkenn10 | Victoria, Australia | 3/01/2017 | 0 | | 24/04/2017 |
| | J..D | Victoria, Australia | 28/04/2014 | 4 | 14/06/2016 | 24/04/2017 |
| | rileywalker10 | Victoria, Australia | 5/04/2017 | 2 | 16/04/2017 | 24/04/2017 |
| | shortman | Victoria, Australia | 5/11/2010 | 2410 | 21/04/2017 | 24/04/2017 |
| | Lingy | NSW, Australia | 8/04/2014 | 27 | 20/03/2017 | 24/04/2017 |
| | trog | Vancouver, BC | 3/09/2009 | 68 | 25/01/2017 | 24/04/2017 |
| | deep Van Winkle | Sydney, Australia | 13/12/2014 | 12 | 18/03/2017 | 24/04/2017 |
| | Eduardo Slabofvic | Victoria, Australia | 2/02/2005 | 3073 | 24/04/2017 | 24/04/2017 |
| | Rossco | Victoria, Australia | 29/01/2006 | 22 | 24/06/2015 | 24/04/2017 |
| | widewetandslippery | Victoria, Australia | 20/12/2006 | 3613 | 21/04/2017 | 24/04/2017 |
| | dave | Victoria, Australia | 13/09/2003 | 323 | 8/04/2017 | 24/04/2017 |
| | FatBoy | Victoria, Australia | | 322 | 20/04/2017 | 24/04/2017 |
| | Superstu | Ashfield, Sydney | 10/06/2003 | 1365 | 23/04/2017 | 24/04/2017 |
| | PDRM | Victoria, Australia | 22/11/2007 | 419 | 9/12/2016 | 24/04/2017 |
| | joejoejoeken | Victoria, Australia | 4/05/2016 | 7 | 22/03/2017 | 24/04/2017 |
| | gaetanr | Victoria, Australia | 5/12/2012 | 35 | 7/02/2017 | 24/04/2017 |
| | Goshen | Geelong, VIC, Australia | 29/04/2004 | 93 | 23/04/2017 | 24/04/2017 |
| | Sabu | Melbourne, Australia | 20/09/2004 | 2786 | 17/04/2017 | 24/04/2017 |
| | vwills | Newcastle, Australia | 23/09/2003 | 608 | 24/04/2017 | 24/04/2017 |
| | gfdonc | Victoria, Australia | 22/10/2003 | 3219 | 17/04/2017 | 24/04/2017 |
| | hipdos | Canberra, Australia | 6/05/2005 | 160 | 13/01/2015 | 24/04/2017 |
| | JohnK | Victoria, Australia | | 431 | 24/11/2016 | 24/04/2017 |
| | JamesMc | Victoria, Australia | 31/10/2003 | 819 | 19/04/2017 | 24/04/2017 |
| | AndreasAachen | Victoria, Australia | 16/05/2014 | 4 | 18/11/2016 | 24/04/2017 |
| | daave | Wollongong, Australia | 11/09/2005 | 350 | 20/11/2016 | 24/04/2017 |
| | kg | Victoria, Australia | 28/04/2010 | 14 | 11/03/2017 | 24/04/2017 |
| | SBW | Victoria, Australia | 17/01/2005 | 44 | 19/04/2017 | 24/04/2017 |
| | Dave J | Victoria, Australia | 11/02/2005 | 284 | 5/04/2017 | 24/04/2017 |
| | jkane | Victoria, Australia | 25/03/2006 | 262 | 26/10/2016 | 24/04/2017 |
| | MisterGribble | Victoria, Australia | 6/04/2007 | 488 | 21/04/2017 | 24/04/2017 |
| | Cam McKenzie | Victoria, Australia | 17/01/2006 | 267 | 4/11/2015 | 24/04/2017 |
| | Llewg | Sydney, Australia | 8/02/2012 | 16 | 20/04/2017 | 24/04/2017 |
| | Wendy | Natimuk | 23/11/2004 | 3277 | 22/04/2017 | 24/04/2017 |
| | garbie | Sydney, Australia | 14/11/2004 | 242 | 9/01/2017 | 24/04/2017 |
| | PeterW | Melbourne, Victoria, Australia | 22/11/2013 | 53 | 19/04/2017 | 24/04/2017 |
| | mitch46and2 | adelaide | 26/08/2013 | 18 | 8/01/2017 | 24/04/2017 |
| | BA | Victoria, Australia | | 925 | 21/04/2017 | 24/04/2017 |
| | aztecx | Sydney, Australia | 16/03/2015 | 8 | 14/03/2017 | 24/04/2017 |
| | Esteban77 | Victoria, Australia | 5/06/2011 | 9 | 12/11/2016 | 24/04/2017 |
| | deadbudgy | Sydney, Australia | 26/10/2007 | 164 | 27/03/2017 | 24/04/2017 |
| | SimMad | Victoria, Australia | 17/05/2006 | 47 | 31/10/2016 | 24/04/2017 |
| | Bob Saki | Victoria, Australia | 11/04/2005 | 597 | 12/04/2017 | 24/04/2017 |
| | ohh | Victoria, Australia | 3/02/2016 | 3 | 30/12/2016 | 24/04/2017 |
| | Nut Tool | Blue Mountains, Australia | 14/07/2014 | 8 | 15/02/2017 | 24/04/2017 |
| | matthewp | Sydney, Australia | 16/01/2009 | 56 | 21/09/2015 | 24/04/2017 |
| | lacto | Victoria, Australia | 14/05/2005 | 357 | 19/09/2016 | 24/04/2017 |
| | PThomson | Blue Mountains, Australia | 19/01/2011 | 236 | 21/04/2017 | 24/04/2017 |
| | frasero | Victoria, Australia | 16/09/2007 | 28 | 12/06/2014 | 24/04/2017 |
| | cindyw | Sydney, Australia | 6/03/2017 | 0 | | 24/04/2017 |
| | Will_P | Victoria, Australia | 28/04/2011 | 217 | 31/03/2017 | 24/04/2017 |
| | Dalai | Victoria, Australia | | 4636 | 24/04/2017 | 24/04/2017 |
| | j_ames | Victoria, Australia | 23/02/2017 | 0 | | 24/04/2017 |
| | kady | Victoria, Australia | 27/06/2007 | 32 | 19/04/2017 | 24/04/2017 |
| | kuu | Sydney, Australia | 10/01/2005 | 613 | 17/03/2017 | 24/04/2017 |
| | Dr Nick | Sydney, Australia | 6/03/2011 | 239 | 1/01/2017 | 24/04/2017 |
| | whippet | Mt Victoria & Dargan , Blue Mtns | 28/04/2015 | 1 | 28/04/2015 | 24/04/2017 |
| | egosan | Melbourne | 16/04/2008 | 1071 | 22/09/2016 | 24/04/2017 |
| | timothy | New South Wales, Australia | 10/09/2008 | 6 | 4/04/2017 | 24/04/2017 |
| | simonu | Victoria, Australia | 8/12/2005 | 72 | 24/04/2017 | 24/04/2017 |
| | lightfoot | Victoria, Australia | 28/01/2015 | 91 | 19/03/2017 | 24/04/2017 |
| | ChossDog | Blue Mountains, NSW Australia | 3/02/2009 | 3 | 20/05/2015 | 24/04/2017 |
| | armstp | Victoria, Australia | 28/12/2005 | 50 | 11/03/2017 | 24/04/2017 |
| | latch | NSW, Australia | 24/05/2010 | 37 | 6/04/2017 | 24/04/2017 |
| | tomatessechees | Sydney Northern Beaches | 24/01/2014 | 15 | 1/03/2017 | 24/04/2017 |
| | tay | Victoria, Australia | 15/07/2015 | 16 | 22/09/2016 | 24/04/2017 |
| | Jenny | Victoria, Australia | 3/06/2011 | 2 | 15/10/2015 | 24/04/2017 |
| | mikllaw | Victoria, Australia | 14/01/2010 | 1732 | 23/04/2017 | 24/04/2017 |
| | JES5 | Sydney, Australia | 24/03/2011 | 0 | | 24/04/2017 |
| | Ball_Bagg | South Australia | 23/01/2010 | 19 | 14/04/2017 | 24/04/2017 |
| | TimP | Castlemaine | 28/09/2013 | 227 | 23/03/2017 | 24/04/2017 |
| | marky | Victoria, Australia | 4/12/2008 | 148 | 2/03/2017 | 24/04/2017 |
| | DL | Victoria, Australia | 25/07/2003 | 12 | 25/05/2014 | 24/04/2017 |
| | nerm | Tasmania, Australia | 25/09/2006 | 87 | 15/12/2015 | 24/04/2017 |
| | sirdogalot | brisbane, Australia | 8/06/2011 | 8 | 15/06/2015 | 24/04/2017 |
| | ajfclark | Horsham, Victoria | 18/01/2008 | 5661 | 21/04/2017 | 24/04/2017 |
| | flawrence | Sydney, Australia | 13/03/2017 | 0 | | 24/04/2017 |
| | Mr Curly | New South Wals, Australia | 28/09/2014 | 6 | 1/01/2017 | 24/04/2017 |
| | frqnt | Victoria, Australia | 5/02/2016 | 17 | 20/04/2017 | 24/04/2017 |
| | meinmuk | Brisbane, Australia | | 100 | 11/04/2017 | 24/04/2017 |
| | Drake | Blue Mountains, Australia | 4/01/2013 | 136 | 19/03/2017 | 24/04/2017 |
| | salty crag | Victoria, Australia | 21/08/2009 | 322 | 9/04/2017 | 24/04/2017 |
| | dave1962 | south australia, Australia | 12/09/2010 | 39 | 27/02/2017 | 24/04/2017 |
| | oweng | Hobart | | 502 | 30/01/2015 | 24/04/2017 |
| | rightarmbad | queensland, Australia | 5/08/2004 | 532 | 27/03/2017 | 24/04/2017 |
| | patto | Victoria, Australia | 10/06/2005 | 1292 | 24/04/2017 | 24/04/2017 |
Member Statistics

Activity Percentage Graph
| | |
| --- | --- |
| Gym | |
| Boulder | |
| Top Rope | |
| Sport | |
| Trad Single | |
| Trad Multi | |
| Aid/Big Wall | |
| Ice | |
| Mountain | |
| Not Applicable | |
There are 92 registered members. Of these 5% have never posted, 16% have only posted a few times, leaving 78% who are major posters. 89% are from Australia.
The top users are: f_abe, rodw, Miguel75, Paul, shortman, Eduardo Slabofvic, widewetandslippery, dave, FatBoy, Superstu, PDRM, Sabu, vwills, gfdonc, hipdos, JohnK, JamesMc, daave, Dave J, jkane, MisterGribble, Cam McKenzie, Wendy, garbie, BA, deadbudgy, Bob Saki, lacto, PThomson, Will_P, Dalai, kuu, Dr Nick, egosan, mikllaw, TimP, ajfclark, salty crag, oweng, rightarmbad, patto
The average user is 45 years old.
Home | Guide | Gallery | Tech Tips | Articles | Reviews | Dictionary | Forum | Links | About | Search
Chockstone Photography | Landscape Photography Australia | Australian Landscape Photography | Landscape Photos Australia

Please read the full disclaimer before using any information contained on these pages.
Australian Panoramic | Australian Coast | Australian Mountains | Australian Countryside | Australian Waterfalls | Australian Lakes | Australian Cities | Australian Macro | Australian Wildlife
Landscape Photo | Landscape Photography | Landscape Photography Australia | Fine Art Photography | Wilderness Photography | Nature Photo | Australian Landscape Photo | Stock Photography Australia | Landscape Photos | Panoramic Photos | Panoramic Photography Australia | Australian Landscape Photography | High Country Mountain Huts | Mothers Day Gifts | Gifts for Mothers Day | Mothers Day Gift Ideas | Ideas for Mothers Day | Wedding Gift Ideas | Christmas Gift Ideas | Fathers Day Gifts | Gifts for Fathers Day | Fathers Day Gift Ideas | Ideas for Fathers Day | Landscape Prints | Landscape Poster | Limited Edition Prints | Panoramic Photo | Buy Posters | Poster Prints