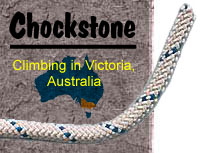 Sponsored By
ROCK
HARDWARE

The Grampians quite possibly offers more climbs in the one general location than any other place in the country. There are literally thousands of routes to tick. They are spread out over a vast, mountainous and forested park, with some areas requiring lengthy approaches into remote wilderness along rough dirt roads and faint walking tracks. (See: approach map). If you're on a lightening tour of Victorian climbing, you'll probably get more bang for your buck at Mt Arapiles, where almost all the routes are within walking distance of the one camp site. In the Grampians you'll defiantly need a car to move between areas. Never-the-less, the Grampians does provide places such as the ever popular "Summer Day Valley", where access is a breeze. And it has to be said, compared to Arapiles, the Grampians is stunningly beautiful, containing wild and ragged crags, enjoyable hiking, picturesque water falls, and amazing rock formations. It also has a wealth of up market accommodation and tourist facilities. So if your lightening tour requires activities for non-climbers then the Gramps is probably the better choice.
Right: Will Monks Tags The Dyno, Mirage (27), Taipan Wall. Photo by Michael Boniwell. To purchase a print, click here, then select "Buy Photo".
Some areas are a full on sport climber's paradise, like "The Gallery", or "Van Diemen's Land", with way hard, steep bolted lines (See: Sport Climber's Guide). However, the majority of areas are traditionally protected with only the occasional bolt where natural gear won't suffice. There are tall, wandering, multi-pitch lines that will give you captivating views and a chance to experience adventure climbing at it's best. There are also shorter and easier lines for all skill levels. Basically something for everyone.
There are fourteen official camping grounds within the park, where fees apply. You can easily pick up a map of these sites from the visitor centres, at Halls Gap, or outlying townships. Generally you'll find toilets, picnic tables, and fireplaces, but often there will not be tap water. There's a shop in Halls Gap where you can hire gear and a climbing guide if necessary.
For A First Visit:
If this is your first visit, it's probably easiest to follow the crowds and head to "Summer Day Valley". Park at Hollow Mountain carpark and walk in. You can camp at the nearby Mt Stapylton camping ground which boasts running water and new, clean toilets. Make sure you get up "Flake Of Fear", grade 15, and "Soweto" grade 21 on the "Wall Of Fools". "Milupa" the grade 28 that goes up the centre of the overhang is quite well known, and often attracts a crowd of on-lookers when someone is working it. Mt Stapylton, is also home to the infamous, and inspiring Taipan Wall, where the big boys play. If you get sick of Mt Stapylton, head on over to Mt Rosea, for some tall multi-pitch routes. Or perhaps look at Mt Difficult, though the walk-in can be a turn off for some. And of course, there's the aforementioned Bundaleer. If you've only an afternoon to spare, try the Watch Tower, best climbing within walking distance of Halls Gap. If you have a large group of top ropers, something like Black Ian's Rocks would be the go. Then there's a wealth of stuff in the Victoria Range for those that don't mind a walk-in. Basically the list is endless.
Rainy Day Climbing:
If it's totally pouring rain, you can still tick some dry climbs at the Gallery, Millennium Caves, or Muline Cave in the Victoria Range, Bundaleer, Neil's new Sentinel Cave or Taipan's baby cousin "Spurt Wall" provided you're up for hard sport leads on super overhanging terrain. Spurt, also has fantastic rainy day bouldering at it's base - dry even during a thunderstorm. If it's just a summer shower, wait a few minutes and rock will dry out pretty quick. For winter climbing you've got to take up bolt clipping in caves.
Sport Climbing:
See the on-line guide Grampians Sport Climbing - Grade 25 and Under.
There are simply far too many area's and routes to mention here. I suggest you get yourself a copy of "Grampians Selected Climbs", the guide book authored by Simon Mentz and Glenn Tempest and available from local climbing shops or the VCC, and take it from there. There are about half a dozen other guide books for the Grampians region, covering specific areas in detail, but the aforementioned guide gives you the cream of the crop from all of them. Have fun, and climb safe!

Selected Grampians Climbing Areas

Just the particularly worthwhile crags (mostly as mentioned in Mentz and Tempest's "Grampians Selected Climbs"). There are a huge number of areas absent from the table shown below. The approximate number of climbs shown comes from TheCrag.com's index.

Area Description
Climbs
Access

Northern Grampians

~1466
*
Mt Stapylton Ampitheatre (See Also: ACA Grampians Guide)
Tall multi-pitch adventure climbing, including the infamous Taipan Wall with exposed, hard climbing in the mid to high twenties and beyond. Taipan is very popular among the stronger climbers. This is where the big boys play. The huge, overhanging orange wall dominants the whole valley offering a stunning view from Flat Rock (pictured right). Even the easiest route up requires aiding. Easier, multi-pitch trad lines head up the grey cliffs to it's left, and the little sport crag "Spurt Wall" is nestled below it. Far right of Taipan is The Plaza Strip. But Taipan remains the icon, the proving ground of would be hard climber types. If you're ticking lines at Taipan you've "made it". There's also Neil's "Sentinel Cave" to look at, and the new Guardhouse area, both within an easy walk from Stapylton camp ground.
158
20 mins
*
Summer Day Valley
The most popular area in the Grampians? Great for beginners, top ropers and guided groups. Also has some harder lines on the Wall Of Fools. Nearby Mt Stapylton camping area is new and has running water and nice toilets. If you haven't climbed in the Gramps before this is a good place to start with easy access and nothing very tall or exposed. Beware the crowds though. Expect to find queues at the base of popular routes, and gang top ropers on sunny long weekends. Also, sometimes the army dudes Aussie rappel down the wall of fools and rig flying foxes across the valley. If it gets too crowded just walk deeper into Hollow Mountain.
316
5 mins
*
Hollow Mountain & Surrounds (See Also: ACA Grampians Guide)
Including Van Diemen's Land, which is a sport climbers area in which the easiest line (apart from one 18), is the wickedly fun Terminal Insomnia, a grade 22 clip up. There's also Neil's "Cut Lunch Wall" and Bad Moon Rising Wall on the way to Van Diemans. Sandinista Cliffs has that wild looking right trending crack going up the centre of it, "Sandinista" grade 23 - a lead to aspire to! Around the corner is Amnesty Wall with some steep stuff. Clicke Wall is not far off. "Golden Showers and Group Sex", 21m grade 20 at Hollow Mountain block is a fun mixed bolt and trad line. Arguably the "best hike in Victoria", starts from the top of Hollow Mt Block (up through the caves), and continues in a huge circle around the ridgeline of Mt Stapylton, coming down next to Taipan Wall and along the tourist track to Flat Rock. Navigating the dangerous ridgeline above Hollow Mountain is tricky and exposed. Occasional cairns mark the way, but really there is no track until you get down near Taipan and some sections are almost worth roping up for. A memorable walk.
229
20 mins
Mt Difficult
Quite a strenuous walk-in with a pack full of climbing gear. Lots very trad multi-pitch stuff in the easier grades. I.e., expect to be slinging loose blocks, wandering off route and fighting chimney's. Not as popular as it could be, probably due to the walk-in.
127
25 mins
Asses Ears
Generally two or three pitch routes over a wide range of grades. Great views from the top of some of the bigger climbs which provide an adventure. Nearby there is also Schroeder's Cliff.
238
30 mins
Centurion Walls
This is a new semi-sport crag located in the Northern Grampians. The rock is steep orange sandstone walls with the occasional cave thrown in for good measure. Most of the better routes are grade 20+ and protected mainly by bolts.
25
15 mins

The Black Range

~235
*
Black Ian's Rocks
This spot is pretty cool. A long cliff that isn't very tall (like maybe 15m), but with one quality line after another, especially in the 17 to 18 grade range. There-fore it makes a great place to tick numerous lines, set up top ropes, etc. With access a breeze, a small camping cave, it's got all the fun but without the exposure of multi-pitching.
109
5 mins
Mt Talbot
Just down the road from Black Ian's Rocks, this little area offers about three outstanding lines among an assortment of lesser quality stuff.
22
5 mins

Central Grampians

~606
*
Bundaleer
Gotta love Bundaleer! With a great camping cave so tall and wide you can see the stars! Wicked, way hard overhanging routes. Plus popular sport lines like "Manic Depressive", Grade 25, that draw a lot of attention. One of my most memorable and enjoyable on-sights was Blimp, grade 20, a well protected trad crack climb. If it rains, you can boulder and climb in the caves!
197
10 mins
*
Mt Rosea
Well known for its superb multi-pitch classic adventure routes, the cliffs average about 100m high. You don't have to be a hardman to lead a mega classic, for example the three star routes: "Mixed Climb" 120m goes at grade 12, "Debutante" 117m grade 15, "Herectic" 117m grade 17, and a wealth of tall stuff moving progressivly up into the mid-twenties. You can camp at Rosea Campground and take the uphill foot track to the base. Take two ropes and a diverse trad rack.
171
25 mins
Western Bloc
No mega classics, just a good selection of shorter climbs in peaceful surrounds. A compact crag.
19
10 mins

Halls Gap

~648
Mackey's Peak
Lots of loose stuff. Lots of tourists. Steep access on an established track. It looks impressive though. The crag is clearly visible from Hall Gap, rising above it on the south side.
21
20 mins
The Elephants Hide
Bolted slab climbing on the aptly named outcrop easily visible from the sealed road. Access is a pleasant stroll from Halls Gap. The grade 17 and grade 21 routes are worth a look. Grab some draws and go!
5
10 mins
Wall Of China
Mediocre short routes near a very popular tourist track. Beware the camera wielding gawkers.
44
15 mins
Pastoral Buttress / Rural Rocks
A couple of tiny, but fun little crags. Pastoral for crack lines, Rural for face.
22
8 mins
The Radiator
Not many routes, but they are quality. Bring the big cams. Nothing taller than 25m.
8
10 mins
The Watchtower
The best climbing within walking distance of Halls Gap? Slabby to vertical climbing in the 14 to 27 grades. A few bolts, but mainly trad. The crag is not big but has some quality lines and is almost within spitting distance of the car park. Only a very short drive from Halls Gap. A good place to fill in the afternoon.
42
3 mins
Weathered Wall
38
20 mins
Lunar Crag
21
25 mins

South-Eastern Grampians

~701
Barbican Wall
Easy to intermediate trad area not far out of Hall Gap, with some routes tall enough to need multi-pitches. Some of the best lines here are around the area including Stormbringer, 42m grade 21 and it's neighbouring route Rapier, 56m grade 17 that takes a distinctive layback crack with an optional grade 20 roof finish. Mutinous Dog, the 63m grade 18 also looks good.
33
5 mins
Barbican Rocks
Bring the hexes! Similar to Barbican Wall, just a short walk further up the road, with easy to intermediate trad routes up to 100m, though many shorter. The best line here is the three star route Lonely Race, 45m Grade 19 that takes the centre of the big orange wall.
36
10 mins
The First Dial
A 50m crag offering surprisingly sustained climbing around the 16 to 21 grades, though a three star 40m grade 25 "Intermission" beckons. Stick to the left side of the cliff for the quality lines. Evidence of brittle rock exists. Not far from Halls Gap. Do not drive your family sedan in here if it's been raining.
36
20 mins
Mt Abrupt
Tall exposed routes, the most popular of which is Power Drive 175m, grade 14.
45
25 mins

Victoria Range

~1138
Eureka Wall
Poor access (read crippling walk-in) leads to a very photogenic and inspiring wall containing some of the best climbing in the Grampians assuming you're cranking mid-twenty grades.
38
35 mins
Mt Fox
Climbers come here primarily do to the impressive three star route "Twentieth Century Fox" 50m grade 20, though there are enough other lines to fill in the day. The route is mixed trad and bolts and includes a crux jam crack followed by exposed face climbing. See Also: Hollywood Bowl (PDF)
85
25 mins
The Gallery
Full on sport climber's paradise. Steep, very hard pocketed wall. Bolts galore. The crag itself is not so easy to find. We once spent hours of a rainy day looking for it. Stick to the cairned trail, and you'll be right. Chain Of Fools, grade 23 is the easiest line. Pumpy, but otherwise quite achievable on huge jugs.
15
30 mins
Red Cave
A scrubby and lengthy approach for one outstanding wild roof climb "Welcome To Barbados" 50m grade 29 all on trad gear! You can camp in the cave. No bolting is allowed.
3
75 mins
Millennium Caves
Way steep sport climbing. A lot of the routes end mid-way up the cliff. Nothing easier than grade 26, with plenty around grade 29. Only for the truly buffed sport climbing masters. A 4wd is required on the approach tracks.
13
10 mins
Crystal Palace
Quality adventure climbing up to 70m or so on the main wall, though there is also plenty of shorter routes. Beware the occasional loose stuff. Bring the full trad rack. Cool in summer. Freezing in winter.
32
15 mins
The Fortress
A wild approach requiring a 4wd on the tracks, and good navigation skills on the walk-in. The area is famous for the line "Passport To Insanity" 135m grade 27, which involves a jam crack roof with a downhill angle, which resides 60m off the deck! Aiding the roof drops the free climbing grade to 20. The line has been photographed countless times and labelled the "best climb in Australia" by many.
39
50 mins
Slander Gully
It's a longish drive and walk-in to Slander Gully just to get up one three star 18 "Twentieth Century Black Feral Cat" 40m. However, I can recommend the line. Classic face climbing leads to the last few metres being run out above small gear. There are a few other good lines out there, but this one is the draw card, worth the distance if you've got time to kill. If you have a studly car you can sneak to within 2 mins of the crag. Greased Nipples is one of the best 20's in the gramps. Mt Pox is located directly above Slander Gully and contains several very nice routes as well.
31
25 mins
Curiosity Crag
Curiosity Crag is situated in an amphitheatre 100m before crossing the creek at Slander Gully.
18
25 mins
Tortoise Wall
Some good routes, reasonable but lengthy walk-in. Mainly single pitch trad though there are a few lines as high as 50m. Grades hover around 20-ish.
24
35 mins
Gilham's Crags
Akin to Summerday Valley, but smaller and without the connivent camping and approach. Lots of single pitch routes covering all variety of grades and styles.
78
20 mins
The Breach
Good variety of middle to harder grade single pitch climbs.
28
35 mins
Death March Wall
Viciously hard and lengthy walk-in leads to a good selection of medium grade climbs
39
55 mins
Red Rocks
Park on Red Rock Road immediately opposite the large pinnacle with distinctive steep orange west face about 1km south of Mt Fox car park. Hop over the fence and stroll across the paddocks and enter some light scrub hopefully spotting the local emus and grey kangaroos.
32
12 mins
Gondwanaland
13
15 mins
Muline Cave
A small but amazing area tucked away in a couple of caves on Muline Creek. The easist line is Pocket Full Of Dreams (23), a semi-trad line up immaculate pockets then some very spaced flakes. The hardest is Nathan Hoette's sport climb masterpiece 'Flower Power' (33).
13
25 mins
Get yourself a copy of "Grampians Selected Climbs", the guide book authored by Simon Mentz and Glenn Tempest. It gives you the cream of the crop from all Grampians areas. Alternatively consider the following, most of which are available from local climbing shops or the VCC....
Grampians Selected Climbs (Version 2)
Simon Mentz & Glenn Tempest (2002)

A Grampians Rock Climbing Guide
The Mount Difficult Range
James McIntosh & Bill Andrews (1999)
The Asses Ears Area
Glen Donohue
The Victoria Range
Keiran Loughran (1986)
South Eastern Grampians
A Rockclimbing Guide
Chris Baxter (1991)
A Rock Climbers Guide
to the North Grampians
Bill Andrews

Rock Climbs of Halls Gap
and The Wonderland Range
Bill Andrews
The Black Guide
Bill Andrews (1997)
South Western Grampians:
Interim Climbing Guide
Gordon Talbett & James Mcintosh (1994)
Mount Stapylton Amphitheatre
Kieran Loughran (1997)
Pocket RockGuide:
The Wonderland Range
Chris Baxter (1999)
Pocket RockGuide:
New Climbs in the South-Eastern Grampians
Chris Baxter (1993)
---
Further Reading:
*ACA Grampians Guide - Online guide to Hollow Mtn and Stapylton, including bouldering!
*Grampians Selected Climbs - Guide book authored by Simon Mentz and Glenn Tempest and available from local climbing shops or the VCC.
Mount Stapylton Amphitheatre - On-line guide by Kieran Loughran.
Grampians State Park - Park's Victoria's page on the Grampians.
*Grampians Climbing Areas - Interactive maps of Grampians climbing destinations.
Grampians Mountain Adventure - Climbing guides for Grampians & Arapiles.
Neil's Haul Bag - Neil Monteith's site, includes on-line guides to some Grampians areas.
The Boulder Lounge - Includes an on-line bouldering guide to some areas of the Grampians.
The Grampians - A map of the Grampians climbing areas, on "Gator's Australian Climbing Page", a Geocites personal web site.
Grampians Little Desert - Tourist Info for Grampians / Arapiles region.

Home | Guide | Gallery | Tech Tips | Articles | Reviews | Dictionary | Forum | Links | About | Search
Chockstone Photography | Landscape Photography Australia | Australian Landscape Photography

Please read the full disclaimer before using any information contained on these pages.
All text, images and video on this site are copyright. Unauthorised use is strictly prohibited.