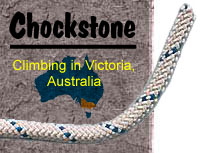 Sponsored By
ROCK
HARDWARE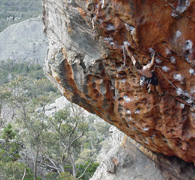 The Gallery, a full on, hardcore sport climber's paradise contains an impressive array of deep, juggy pockets running up a wildly overhanging, orange rock wall, a bit of a hike in from the Buandik camping ground in the Victoria Range. At first glance it's an impressive spectacle, with huge bucket like holds, chalked to the max, leading up ever steepening terrain and framed by the backdrop of a picturesque Grampians gully complete with rolling hills and waterfalls. Apart from the aggressive walk-in and location, it's got all the ingredients of a climbing gym, albeit for those ticking harder grades. Or to quote Mentz & Tempest, "Short steep and pocked wall that's been conveniently machine-gunned with bolts. A sport climber's wank fest. Pay at the door".
Right: Weaveworld (23). Aaron Jones does the most popular route at the crag. (Photo By Lee Skidmore). Below Left: Bouldering the start of "Mr Meat", grade 25. "Chain of Fools" starts just right, and takes the appealing deep, juggy black pockets straight up. Weaveworld, grade 23, starts the same, but heads left on what used to be fixed slings, but are now bolts. A bolt on the arÍte makes topping out possible without trad gear. "Two Tribes" grade 24, starts just right of "Chain Of Fools". Everything right of these lines is considerably harder again.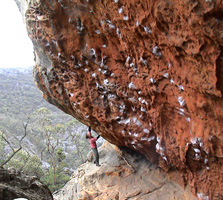 All the best routes are contained within the cave, meaning it's well protected from the rain. On the up side this makes it the perfect location for a rainy day's climbing. On the down side the ugly chalk stains simply get worse each year.
Access is from the Buandik camping ground, not far off the Henty Highway in the Grampian's Victoria Range. It's quite a drive from Halls Gap, even if you take the back roads. Once at the camp ground, hike up to the well sign posted "Billimina Aborignal Shelter" and scout around for a faint walking track heading north uphill. On our last visit we found the track on the left just before reaching Billimina. Follow this path steeply up hill for several minutes, past a low angled slab and on until the terrain levels out somewhat near the crest. Follow the cairns. They should lead into a natural alley between two large, dominate blocks the size of two story buildings. The gallery is on the right, with the cave facing north. In other words, you can't see it until you are standing right in front of it.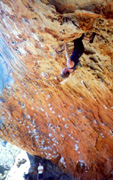 Right: Unknown climber crankin out "Like a Koala in His Eucalyptus", 20m grade 30. The rest he has here allowed him to shake out both hands. This climber actually spent 2-3 minutes resting in this position.
The Gallery contains, among other routes, possibly the Grampian's hardest climb "Nicotine" grade 32, established by Garth Miller. The best line is reportedly "Monkey Puzzle", grade 28 put up by HB. However, for most normal climbers, simply looking to escape the rain and tick something achievable, check out "Chain Of Fools" the 15m grade 23 that takes the most juggy line up to the belay chains above. This is the easiest route here. It requires little in the way of technique, footwork, or thought. All you need is muscle (or more accurately forearms of steel), and a certain degree of boldness to deal with the empty air below. If all else fails, dog your way up (I did), which is perfectly in keeping with the style of the place. You can belay from and rap off the chains above, though it's possible to lead up to the actual summit on trad gear or using the new single bolt on the arÍte. The individual moves on "Chain Of Fools", when taken in isolation feel much easier than grade 23. Some of the jugs are so big they'll accept both hands completely. The forearm pump, however, is the killer. The crux is moving up to and making the last clip before pulling the cave lip.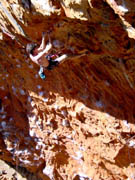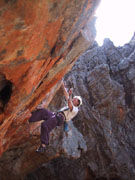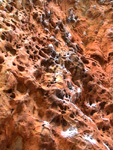 Above Left: Rohan on Monkey Puzzle (28). (Photo By Neil Monteith). Above Middle: Robin Holmes on Hueco Dreaming (25). (Photo By Jill Gara). Above Right: Close up of the "Chain Of Fools" pockets.
The line "Hueco Dreaming" takes the leftmost route up the small lower overhang (pictured above middle and below left), and is basically a one move wonder.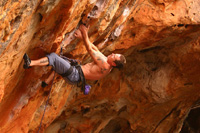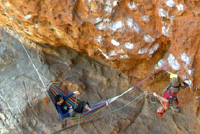 Above Left: Portland boy, Dale Rankin, sizes up the last throw of Hueco Dreaming (25). Photo By Tim Le. Above Right: A relaxed belay below two tribes/weaveworld. Photo By Adam Bramwell.
So stick clip the first bolt, rack your draws (no pre-placing!), take a swig of Gator Aid, clap your hands in a cloud of chalk, rip off your T-shirt, check your photographer is ready, dyno the first hold and campus away!
| | | | |
| --- | --- | --- | --- |
| Name | Height | Grade | Stars |
| Azusi | ? | 21 | |
| Mr Meat | 24 | 25 | 1 |
| Mr Meat - Weaveworld | 20 | 25 | |
| Mr Meat - Weaveworld - Chain Of Fools | 16 | 26 | |
| Weaveworld | 25 | 23 | 3 |
| Chain of Fools | 15 | 23 | 2 |
| Two Tribes | 15 | 24 | 2 |
| Chasin' the Shadow | 15 | 27 | 2 |
| Le Petit Mort | 20 | 29 | 2 |
| Nicotine | 23 | 32 | 2 |
| Monkey Puzzle | 22 | 28 | 3 |
| Like a Koala in His Eucalyptus | 20 | 30 | 1 |
| Gorilla Tactics | 15 | 26 | 2 |
| Hueco Dreaming | 9 | 25 | |
| Texas Nightmare | 12 | 25 | 1 |
---
Further Reading:


Grampians Selected Climbs - Guide book authored by Simon Mentz and Glenn Tempest and available from local climbing shops or the VCC.
Rock Guide: Victoria - 1994 Guide book by Chris Baxter. Covers selected rockclimbs at Mt Arapiles, the Grampians and Mt Buffalo.
The Gallery - Details from Rockclimbing.com web site. Includes a photo of some dude redpointing "Two Tribes".

Home | Guide | Gallery | Tech Tips | Dictionary | Forum | Links | About | Search
Please read the full disclaimer before using any information contained on these pages.
All text, images and video on this site are copyright. Unauthorised use is strictly prohibited.