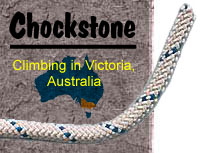 Sponsored By
ROCK
HARDWARE

Wabbit Wocks, Mt Alexander
[ Mt Alexander | Climbs | Images | Map | Forum ]

Quick Stats
Climbs
***
**
*
Hardest
Longest
Rock
Access
41
1
1
6
24
35m
Granite
15 Mins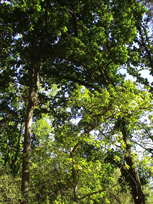 After Dog Rocks, Wabbit Wocks is perhaps the next most popular Mt Alexander climbing destination. It contains many a bolted line, though a trad rack is necessary to tick some of the better routes, including the pick of the bunch, Inquisition, 18m grade 14. No-one expects the Spanish Inquisition! Well you can expect an absolute hoot of a climb, well worth the steep hike up to its base. The area also boasts some delightful bolted slabbing and one or two wicked gems like the scary Tail Feather traverse, or the hard but rewarding Instant Justice.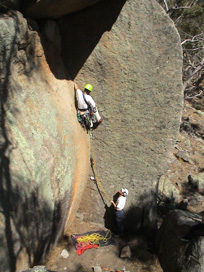 Park at the small, secluded oak forest picnic area at the foothills of Mt Alex, a short drive in from the Harcourt shops. (See: map and consult VCC guide for details). Note the intriguing cork bark trees, the way the backlit oak leaves creates a splendour of greenery (pictured right), the delightful smell of pine cones, and the pleasant bubbling brook. Then, ignoring all such things, shoulder your packs and start the steep ascent along the four wheel drive track up to Wabbit Wocks. After-all we're here to climb not romanticise god dammit! (hehehe).
The four wheel drive track can be driven if you posses a sufficiently studly vehicle. However, those of us cursed with the family sedan should leave it at the base. Evidence of once bogged cars that attempted to bail on the approach can be found as you trudge up the hill. If you've taken the high side track you'll pass the remains of a quarry where climbers who forgot to pack lunch may forage for sustenance among the delicious black berries. Gaining the crest, take the unmarked footpad leading up and to the left of the ridge line, and you'll shortly come to Wabbit Wocks.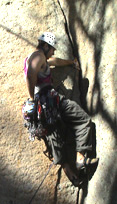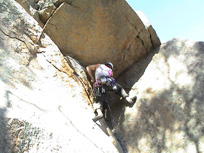 Above Left: Fellow climbers assault Inquisition, 18m grade 14. Right: Myself, also leading Inquisition.
The first area you'll see is Inquisition Boulders. At it's heart is the wonderfully charismatic "Inquisition", 18m grade 14, the layback crack that leads to a left traverse under a roof, then straight up to top out. It's a delight to lead, and I must have done so at least half a dozen times. It never gets dull despite the easy tick. The layback is so secure, and the feet so bomber you could almost sit down and let go. The perfect intro to lay-backing for any beginner climber. The line does not lend itself to top roping, so bring your trad rack and enjoy the rewarding lead. If you have a big cam (3.5 camalot size) it'll be handy to protect the traverse, though there are other, less obvious options. Watch the

video clip (2.7 Meg, 43 seconds) of me leading Inquisition.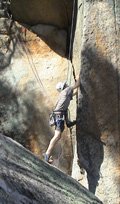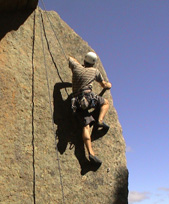 If you're worried about the rope shaving along that roof edge you can place a directional out to the far left. The direct finish (goes right at the roof), I've only seen led successfully once, and that dude had a long reach and a super composed style.
To the right of Inquisition you'll notice a route, Hendo's Arête 15m grade 21, that follows the arête to the summit. The first bolt can be clipped by standing on the nearby block and possessing the wing span of a condor. The line is by no means a give-away, but certainly worth a look. The original start was off the ground, but so many of the micro flakes have peeled off, the start is now generally performed with a high step off the nearby block (pictured left), then a bear hug of the arête utilising a good crimper, followed by a desperate move to swing back into layback position. A fun route, easily top roped if the lead is not appealing. Watch the

video clip (2.5 Meg, 40 seconds) of me top roping it, while another climber takes on Inquisition in the background.
Above Left: Ben top roping Hendo's Arête, 15m grade 21. The first image shows the step up start (crux) off the nearby block, the second image the classic, and enjoyable arête hauling finish.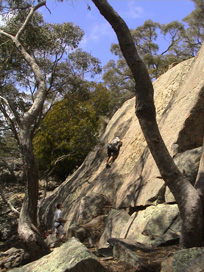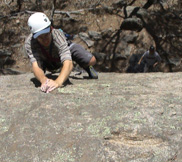 Moving on to the Main Slab area, you'll find a wealth of enjoyable routes. The pick of the slab lines is "The Thin Edge Of The Wedgie" a 12m grade 16 bolted route. It heads up the right of the main slab past three bolts. Try not to cheat the start by launching off the nearby block. Delicate slabbing brings you to a top out, where trees and large boulders can be lassoed for a belay. You might need a length of static rope to aid in this set up.
Above Right: Ben leading "The Thin Edge Of The Wedgie" a 12m grade 16. The first bolt is a rusted carrot, and the other two aren't much better. There's also a few hollow flakes. Despite this, it's a very fun lead, probably the pick of the slab routes.
A few feet left and you'll come to "The Wabbit Kicked The Bucket", a 10m grade 20 that requires some dubious bridging off the tree to gain the first good hold. Its a great climb and I've no idea why it doesn't get a star. Perhaps the tree start turned them off. Just bridge up the tree until you gain the good crimper (pictured below left), then picking your feet carefully commit to the face and launch for the high right nose-like hold. This is the crux, the rest, apart from a delicate top out, is a cruise. There are only two bolts, one low (clip-able from the tree stance), and one high on the route.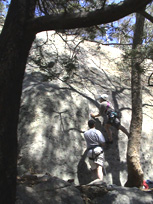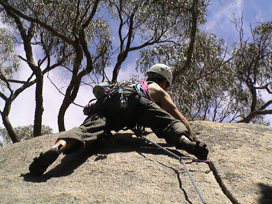 Far Left: The infamous tree start to "The Wabbit Kicked The Bucket", a 10m grade 20. Left: Me leading the very short, but fun "Sandman", 15m grade 14. The top out jamming is delightful. "Spit The Dummy" the 15m grade 17 utilises my left foot hold.
Whilst you're in fine slabbing form, a few more feet left along the main slab, just past the cherry tree, you'll find a short route called "Sandman", 15m grade 14. It's a fun climb as is "Spit The Dummy" the 15m grade 17, just to it's left that starts in the crack. Sandman has a tricky direct start that I've seen spit off it's share of leaders not tall enough to gain the good slot, so perhaps the names of these two climbs should have been swapped. The left hand line, with a bolt on the crux, is certainly easy for a 17.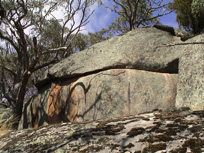 Left: Tail Feather, 30m grade 19.
Moving left again, and you'll come to Tail Feather, 30m grade 19, the super scary left trending dog leg traverse, with a bolt to protect the slab top out. It's grade 19 for a reason. You'll need to pre-plan your protection. Camming up the traverse is easy to say but harder to do when you're under-clinging the beast and placing gear blindly. The ground is close - too close when a pendulum fall parades across your imagination. That bolt, once clipped, is a life saver, and the slab finish is no easy scramble either. It's a serious outing, but it definitely delivers on excitement and sense of achievement.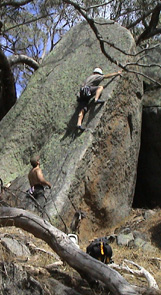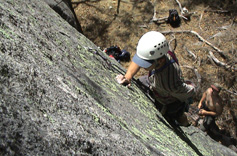 Two more routes worth investigating are "Instant Justice" 12m grade 22, and "Bunny Twouble" the bolted 10m grade 19 slightly down and left of the main area. The later is self explanatory once you set eyes on it. Instance Justice, the steep thin crack line leading to a lower angle top out, on the other hand, is less obvious. The crux is the first few metres, and the protection is poor to say the least. Not an inspiring combination when considering a lead. If fiddling around with RPs and micro nuts during the crux, whilst looking at a deck-out fall is your idea of fun, then I'd suggest you grab the lead pronto. Otherwise a top rope might be in order. Not that this should put you off, because the climb is well worth doing.
Above Right: Ben leading, me belaying "Bunny Twouble" 10m grade 19. Two bolts, plus one for the belay. The first bolt can be clipped in relative comfort. The crux is moving up to, and clipping, the 2nd bolt. A short, but really rewarding climb.
That's about it for my recommendations for Wabbit Wocks. There are plenty of other lines to do. You can easily fill in the day just in this one area, and not go home disappointed.

The Iain Sedgeman Outdoor Climbing Gym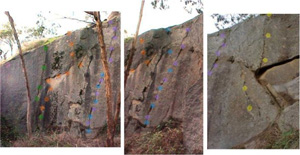 The Iain Sedgeman Outdoor Climbing Gym is in an old quarry. On the track from the Oak Forest to Wabbit Wocks there's a big pile of quarried blocks. Continue a little further and there's a 'carpark'. Not only can you park there, but you can turn your car around. Walk straight up 20m then right 40m. Big two trunked gum to your left indicates that if you keep walking, you'll suddenly drop 8m. There's a big boulder 5 or 6 m back from climbs to lower and belay from, and another smaller one and said tree. If toproping, it's probably best to use the big boulder & set up top belay which should cover all the climbs except Yiellow, where I'd add the tree into the system.
The rock is a bit crumbly. Holds and climbs will change with use.(Yiellow now has a useable crack, that used to be (small) pro only). Bring wire brush for face, and dustpan brush for top. Top outs are fine, if encroaching earth is removed. Relax it's only a quarry.

From left to right, facing wall:

Ascent Route 4m 10
Corner layback.

Greein 8.5m 13
3m right of the ascent route. Flakes then nice solid (parallel) layback crack. Cam or hex
26/12/04 Ross Hinckley, SUTF.

(Oriange 10m 20?
Start as for 'Green', then undercling traverse, with bugger all for feet. When undercling closes down,
either launch across to just out of reach flake, then up to slightly crumbling jug or just dyno to said jug (crux), then up easy face.
FFA could be you)

Bliack 8m 12
3m right of 'Greein'. Slightly flexy flakes with some crumbly bits, (dodgy pro)
16/11/2004 Ross Hinckley, self belay.

Bliue 8.5m 14
1.5m right of 'Bliack'. Follow 'Bliue' crack until it gets difficult, then straight up, using Bliack flakes for pro. (easy escape from SitG)
16/11/2004 Ross Hinckley, self belay.

Piurple 8.5m 15
Same start as 'Bliue'.
Follows right tending crack, series of good stances with a couple of solid nut placements. Crux move is easy, but you have to find it.
11/01/05 Ross Hinckley, self belay.

(Yiellow 8.5m 17?
3m to right of Piurple. Up flake, step into chossy (manky?) break w/- undercling. Up face &/or finger crack.
FFA could be you, i haven't been well lately and the invalid stout isn't working)

Inquisition Boulders
Height
Grade
Stars
Wealy
8
24
Sideways Progression
12
19
Paging Piggy Nelson
10
8
Aged P
10
8
Hell's Lum
18
16
Hell's Lum Variant
18
18
Inquisition
18
14
3
Inquisition Direct Finish
16
22
Hendo's Arete
15
21
Talisker
8
5
The Gates Of Tuna Town
10
10
The Main Slab
Sling Shot
8
13
Sperm Bank
8
13
Which Bank
10
13
Bottle Of Smoke
12
18
1
The Thin Edge Of The Wedgie
12
16
2
Dodgy
12
22
The Wabbit Kicked The Bucket
10
20
The Wabbit Kicked The Bucket Direct Start
10
23
Our Black Dog
10
No Right Turn
15
11
Abandon Ship
15
11
Calais VN
10
17
It's Your Money Ralph
12
14
Bedbug
16
13
1
Nappy Rash
18
18
1
Nappy Rash Direct
14
17
Link Up
16
12
Sandman
15
14
1
Spit The Dummy
15
17
Don't Slip
15
21
Spartans
35
20
Tail Feather
30
19
Reckless
25
17
Instant Justice
12
22
1
Wound The Wugged Wocks
12
18
Mr Bignose
12
14
Suzie Nose Best
12
14
An Eye For An Eye
12
12
Bunny Twouble
10
19
1
Rum Doodle
6
10
---
Further Reading:
Northwest Victoria, A Rockclimbers Guide - A climbing guide book, edited by Chris Watson, Bill Andrews and Michael Hampton and available from local climbing shops, or the VCC.

Home | Guide | Gallery | Tech Tips | Articles | Reviews | Dictionary | Forum | Links | About | Search
Chockstone Photography | Landscape Photography Australia | Australian Landscape Photography

Please read the full disclaimer before using any information contained on these pages.
All text, images and video on this site are copyright. Unauthorised use is strictly prohibited.