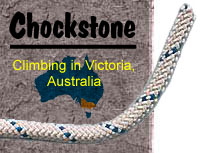 Sponsored By
ROCK
HARDWARE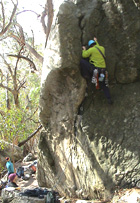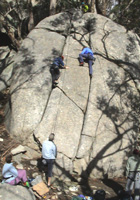 Dog Rocks is Mt Alexander's most frequented climbing area, offering a good selection of routes all within 100 metres of the sealed road down from the summit. (See: map. It's 1.2km from the Koala Park). There are enough bolted lines that you could get away with only a sport climber's rack for your first visit. However, you'll need a trad rack to lead many of the routes, and a good bit of static rope will come in handy for top rope or belay set ups.
If you want a fun warm up, a chance to get a feel for the course granite, or you've got beginners in tow, head for Fido & Rover (pictured right), the low angle 10m slab with twin crack lines. The routes go at grades 14 & 12 respectively, though I've always thought they should be reversed (ie, Fido, the left crack is more like 12, and Rover, the right crack is closer to 14). You can also head up the contrived line in the centre, deliberately avoiding both cracks for a bit of high stepping action. A bomber top rope can be set off the big tree at the top. As I say, a good boulder to take beginners on. A light hearted, low angle intro to granite jamming & smearing, though you can just face climb it.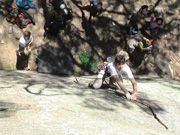 Right: Climbers top roping the beginner routes Fido & Rover. Fido 10m, grade 14 is the left crack and Rover 10m, 12 is the right crack. Far Right: Haggis, the 6m grade 16 is just around the corner. Left: Alistair leading Scottish Reign, the 15m grade 24 test piece, pride of Dog Rocks.
Scottish Reign fires up the thin flake line (pictured left) dominating the secluded amphitheatre in the centre of the Dog Rocks area. This climb is beyond my abilities, but from all accounts I've witnessed it's the pick of the climbs at Dog Rocks. There is a bolt, high up for a first clip, and almost too far left to be reached on lead. Otherwise small nuts and cams are required. Climbers ritualistically gather at its base, like wizards about a cauldron, to attempt bouldering the first moves.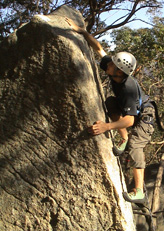 Spurred by dreams of glory they are drawn to its attractively slim line. Their high spirited cries echo about the enclosure as they mimic the imagined moves to one another, goading their tired tendons into holding the finger-tips-only flake, while feet skate and smear on illusionary nubbins.
To the left of Scottish are a couple of routes worth investigation. Mc Dogs 15m, grade 21 & Dick Mc Ginty 15m, grade 19. (Not pictured). They share a wild hand jamming start (only for the HardMan TM) which can be skipped by bridging off the tree. The left-hand line is probably nicer.
Also high on my recommended routes list is "Little Bo Peep", 10m, grade 21 (pictured right). Layback the arÍte, on dicey footholds, and just as the barn door beckons, make the final lunge for glory at the summit. It's well bolted, including belay chains at the top. If you're not up for the lead, the truly inventive will find a way to top rope it. On top rope, the crux is the final couple of metres where layback threatens to dissolve your smears. On lead, the crux is finding a safe stance from which to clip the third bolt.
Above Right: Adrian leading "Little Bo Peep", 10m, grade 21. Below Left: Me leading "My Black Sheep" 8m, grade 15, and me leading "Painless" 10m, grade 20.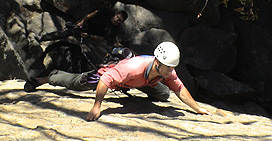 On the boulder just left of "Little Bo Peep", you'll find a short slab climb called "My Black Sheep" 8m, grade 15 (pictured above left), with three ring bolts (staples). It's worth a star in my opinion, despite it's lack of stature. The fallen tree start is oft employed for that extra couple of inches. It's a hoot of a climb and a good intro to slabbing. If you enjoyed it and want more of the same, try the even shorter "Mercy" 6m, grade 17. Again, worth a star despite its dwarfed appearance. The crux is the start so get a spotter or clip the first bolt before heading off.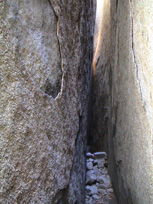 One of my favourite Dog Rocks routes is, without a doubt, Painless 10m, grade 20 (pictured above) - three bolts to glory. I must have lead it half a dozen times, and yet each time it feels different. Work your way up onto the blocks (not pictured), and belay the leader just below the ramp start. The move onto the ramp is probably not a good time to slip, given the drop below directly onto the belay. There's slightly insecure flake crack that could be cammed to protect this opening move, but the placement might well be dodgy. Once on the ramp you can clip the first bolt with a high reach before committing to the face. You'll then need to move up and left a bit - which is the crux. This move used to be facilitated by the infamous under-cling flake. It would flex and bend scaring the living daylights out of climber and belayer alike. Alas this entertainment is no more. The flake has gone. In its stead we have a serviceable feature that perhaps, finally, makes the route live up to its somewhat overly high grade. Belay chains lie atop to reward the valiant. You can rap off these or simply down-climb the blocks at the back.
Above Right: Old Dogs New Tricks 20m, grade 22 follows the strenuous crack dominating the Harcourt side of the main Dog Rocks boulders. Above Left: The entrance to the main chimney. It's generally darker than this photo implies.
Old Dogs New Tricks is well worth the effort. It's beyond my leading abilities, but I can attest to it's value as a second. Send up your boldest trad leader and then reap the rewards of the top rope. It's tall, by Dog Rocks standards but a decent rest stance presents itself just when needed. Kent describes it as "... a death lead. sloppy laybacks on shit feet. From memory you can place one bomber nut at 8m. You then layback carefully for another 4m and place either a number 3 nut or tiny cam. you then burst through the last 4m to a rest and safety. The gear is really shit so consider it before the lead as the laybacks are VERY commiting".
The chimney crack (pictured above left), should suffice for those that pine for a spot of thrutching. It contains a protectable crack in the centre, making a lead possible, not that I've ever attempted it. I mention it purely to illustrate the variety of climbing available at this area. I'll also mention Braveheart (pictured below right), a 10m grade 18, mainly because the guide gives it two stars. Its a powerfully vicious line requiring painful jamming - but hey, if that's your addiction, go for it. If nothing else, it's certainly a workout. And Jack Russel (pictured below left), the 20m grade 22 off width crack just right of Old Dogs New Tricks is awarded two stars in the guide.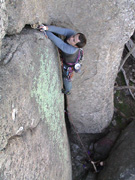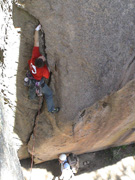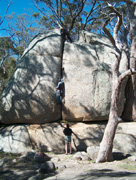 Above Left: Neil leading Jack Russel 20m, grade 22, takes the wide layback / squeeze crack. Big cams required. Above Middle: Neil leading the fun crack start to the roof traverse on Mo Money 20m, grade 25. Above Right: Neil leading Braveheart 10m, grade 18 takes the hand jam crack in the centre of the split boulder perched atop the Scottish Reign block.
I guess I'd better also mention Mo Money the 20m grade 25 (pictured above middle). It shares the fun crack start with Semantics 18m, grade 18 (a much easier tick). Semantics heads left avoiding the roof, while Mo Money goes right under it. Kent speaks of Semantics as "no one really knows if its supposed to take the crack start or chimney. The chimney start and crack finish would be literally unprotected for 15m. Apparently if you start up the fist crack and finish up the very wide crack it's about 19/20. The direct finish is a grade 21 brooksy addition "Modern Logic". Forget them both however and do the bloody brilliant Mo Money. Then you will know fear." Kent further describes Mo Money as "the scariest lead at Mt Alex", and goes on to mention "There's a bolt next to Tam O'Shanter and another slab route directly opposite Scottish on the second tier, at the far right, with 2 bolts on it".
| | | | |
| --- | --- | --- | --- |
| Name | Height | Grade | Stars |
| McDogs | 15 | 21 | |
| Dick McGinty | 15 | 19 | 1 |
| Old Habits | 15 | 22 | 1 |
| Scottish Reign | 15 | 24 | 2 |
| Culloden | 6 | 14 | |
| Ecosse | 6 | 14 | |
| Ecosse Right Hand Variant | 6 | 10 | |
| Elsie | 10 | 16 | |
| Braveheart | 10 | 18 | 2 |
| Tartan | 10 | 17 | |
| Tam O'Shanter | 8 | 22 | |
| Jewellery | 12 | 14 | |
| Chimney Corner | 10 | 10 | |
| The Kennel | 15 | 7 | |
| Finger Food | 15 | 27 | |
| Stone Cold Bush | 15 | 29 | |
| Mobile Phone | 8 | 19 | 1 |
| Semantics | 18 | 18 | |
| Modern Logic | 20 | 21 | |
| Mo Money | 20 | 25 | 2 |
| Rumours | 15 | 25 | |
| Painless | 10 | 20 | 1 |
| Unnamed | 10 | 7 | |
| Mercy | 6 | 17 | |
| Fido | 10 | 14 | 1 |
| Sporran | 10 | 15 | |
| Rover | 10 | 12 | 1 |
| Kilt | 10 | 18 | |
| Spot | 10 | 16 | |
| Haggis | 6 | 16 | |
| Black Pudding | 6 | 12 | |
| Old Dogs, New Tricks | 20 | 22 | 2 |
| Jack Russel | 20 | 22 | 2 |
| Fleece | 6 | 13 | |
| My Black Sheep | 8 | 15 | |
| Waiting For Sam | 8 | 15 | |
| Little Bo Peep | 10 | 21 | 1 |
Further Reading:
Northwest Victoria, A Rockclimbers Guide - A climbing guide book, edited by Chris Watson, Bill Andrews and Michael Hampton and available from local climbing shops, or the VCC.
Home | Guide | Gallery | Tech Tips | Articles | Reviews | Dictionary | Forum | Links | About | Search
Chockstone Photography | Landscape Photography Australia | Australian Landscape Photography

Please read the full disclaimer before using any information contained on these pages.
All text, images and video on this site are copyright. Unauthorised use is strictly prohibited.