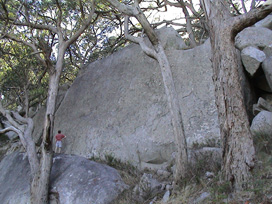 Dec 2005: This is now somewhat out of date. See PDF for latest guide.
This is a new area for climbing at Mt Alexander discovered by Chris Cope and Phil Robertson, who bagged many of the first ascents back 1993. It can be found by following the walking track from Dog Rocks up to the summit of Mt Alexander (or in the reverse direction down from the summit). It's about halfway along this track, and can be identified by the large slab block (pictured right) situated only a few metres from the walking track on the high side. It's in clear view and is the largest block on the track. A considerably faster, but way tougher and less ecologically friendly approach can be obtained by parking at the road (assuming you know where) and busk whacking straight down. (See: map).
Above Right: The dominate main slab block at Scorpion Rocks. All routes are described in relation to standing below this large block.
On the far left of this slab block you'll find a crack climb. If you start at ground level its a horrendous flaring beast requiring sinking double hand-jams, smearing both feet on air and muscling up, whilst your body weight hangs off one jammed hand in the rough granite. I suggest you save yourself the pain & blood and cheat past the start. The remainder of the crack offers fun lay backing until it widens to an easy top out (pictured left).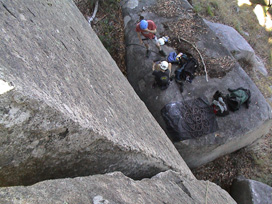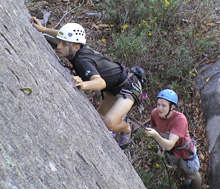 Above Left: The top out for the aforementioned crack climb. Yet to be named, very approximately 10m, grade 16 (skipping the start), or grade 18 (including the start). Above Right: Adrian eyes the bolt, on an FFA attempt of Sustain The Pain (23); centre of the main slab block.
To the right of this, on the main slab block (pictured above), there are three bolted lines with fixed hangers. A sport climber's dream, the crimp fest ranges in grade; left side 24, middle 23, right side 23. The three lines are hard from start to finish, but if you're climbing strong at these grades, should offer excellent climbing on small edges and flakes. The lines were put up by Chockstone team member Kent in 2001/2002.
Below: Kent fires into the crux on an FFA attempt of Territorial Pissings (23) right side of the main slab block. See the

video clip (3.4 Meg, 55 seconds). The is crux making and passing the last clip, to dyno the victory hold which is a flake "jug" that flexes.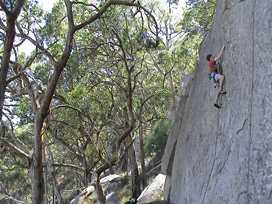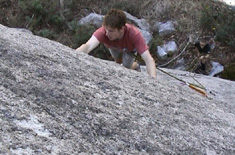 Behind and a bit to the right of the main slab block, you'll find another, smaller slab. On its left side is the bolted line Poised To Strike (21), pictured below left, and worth a crack if your fingers and toes are up to the task of micro edging. On the right of this slab you'll find a left trending under-cling (pictured below middle). Climb it if you dare, but the feet look pretty smooth to me, and the crack is sometimes wet.
Below Left: 6m grade 21 slab "Poised To Strike". Three bolts to glory. Quite painful on the fingers and toes, but never-the-less enjoyable micro-edging. Below Middle: The 7m under-cling flake right of the aforementioned slab. Goes at grade 20, and is a serious lead on trad gear. Below Right: Stay Perfectly Still (15) a 5m hand crack situated below the walking track.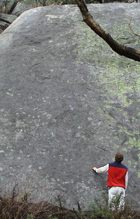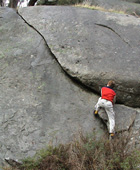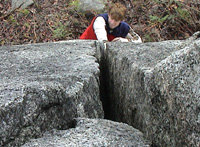 Also scattered about the area are other diverse and interesting boulders, some containing potential routes. On the low side of the track, a few metres towards Dog Rocks from the main slab block, there's a very short but interesting crack climb (pictured above right) with a tricky start. Investigation may reveal other hidden gems and new routes. Good luck!
Below Left: The 6m grade 18 corner crack "A Sting in the Tail" with a tricky exit can be found above and left of the main slab block. Below Right: Steve's slab project, what 13m? maybe grade 22? Follows the right arÍte, then heads left. One bolt at the top.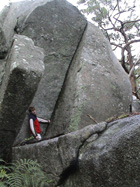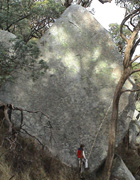 | | | | | |
| --- | --- | --- | --- | --- |
| Name | Description | Height | Grade | Stars |
| A Sting in the Tail | Corner Crack | 6 | 18 | |
| ? | Undercling Flake | 7 | 20 | |
| Poised to Strike | Leftside Slab | 6 | 21 | 1 |
| ? | Little Roof Crack | 6 | 18 | |
| Stay Perfectly Still | Below Track Crack | 5 | 15 | |
| ? | Main Slab Crack | 10 | 18 | 1 |
| I'll Stick Around | Main Slab Left | 15 | 24 | 1 |
| Sustain The Pain | Main Slab Middle | 15 | 23 | 1 |
| Territorial Pissings | Main Slab Right | 13 | 23 | |
| ? | Steve's Slab Project | 12 | 22 | |
---
Further Reading:
Northwest Victoria, A Rockclimbers Guide - A climbing guide book, edited by Chris Watson, Bill Andrews and Michael Hampton and available from local climbing shops, or the VCC.
Home | Guide | Gallery | Tech Tips | Articles | Reviews | Dictionary | Forum | Links | About | Search
Chockstone Photography | Landscape Photography Australia | Australian Landscape Photography

Please read the full disclaimer before using any information contained on these pages.
All text, images and video on this site are copyright. Unauthorised use is strictly prohibited.