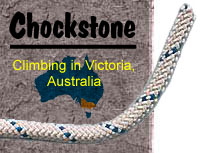 Sponsored By
ROCK
HARDWARE

The first thing of note about Mt Buffalo is that's in an alpine region, so in winter time the place is covered in snow, making climbing very hazardous. The mountain is renowned for drawing bad weather even in the height of summer. Furthermore if this is your first visit be aware that locating the scattered climbing areas and finding routes is quite difficult, even armed with the guide book. I don't suggest heading up there with anything less than a long weekend, and preferably in the company of someone who's climbed there before.
Despite this foreboding introduction, Mt Buffalo is simply an amazing place to climb. With possibly the tallest routes in Australia, breathtaking views, flora & funa, picturesque water falls, and cool inviting lakes, Mt Buffalo is probably one of the finest places to climb in the country. Even if you don't manage to get much climbing done, just being up there is way fun. Hiking around, camping, maybe swimming, caving, skiing in winter of course, and even hang-gliding are all options. Just make sure you pack a raincoat and beanie!
Right: The Cathedral in winter snow. Photo by Michael Boniwell. See: More Mt Buffalo Photos. Print Sales Available.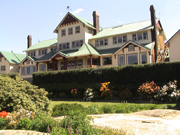 Access & Accomodation
Update 2010:Re accommodation at Mt Buffalo, the Chalet has been closed for over 2 years now and Tatra burnt to the ground in 2006 bushfires. We no longer charge an entry fee to access the park and the entrance station is closed.

Access is via Porepunka, about 4.5 hours drive from Melbourne. I suggest you fuel up here before taking on the steep drive up if you've got a gas guzzling little car loaded down with a tonne of gear. Depending on what time of year you go, you might incur park fees to drive up the mountain. The Mt Buffalo Chalet (pictured left), offers a high standard of accommodation (and guided abseiling/climbing sessions). I've stayed there a few times and found the buildings offered a unique history and feel and the food was excellent. You can always buy a beer at the Chalet bar. There's also the Tatra Inn out near the Hump and the Horn, which has more budget accommodation. From the Chalet: "... people can stay there for a little as $60 a night, bed and breakfast, this also includes National Park entry, and access to all walks etc. We also have $100 p.p a night including bed, breakfast and dinner. The company that have taken over the lease of the Resort are also aiming to do up the Chalet and Lodge and reopen the Tatra Inn, which was closed after the bushfires." (Jan 05)
However the typical climber will likely want to camp instead, in which case the beautiful Lake Catani is the where most stay. Open from the start of November to the end of April the ground has only 60 sites so it pays to book in advance if you have a large group or intend staying during busy times like Christmas. (Phone the Entrance Station on 03 5756 2328 or the Ranger on 03 5755 1466). Toilets and even hot showers are available - a very welcome luxury after a long day's climbing and during summer a swim or canoe of the little lake is just magical. (For complete details see Park's Victoria's page, and this Lake Catani Camping Guide PDF document).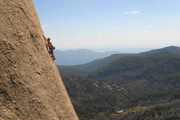 Places To Climb
There are a few short bolted lines if you're a sport climber, and the granite offers legendary smearing potential allowing you to walk up gradients you'd be mad to try on slippery sandstone. However, most of the taller routes follow natural features, predominantly cracks that eat cams (and flesh), so bring plenty of all sizes, including the massive ones. Learn how to make a sports tape glove before you launch into some of the harder cracks. Many of the routes are so tall you need to be on the rock at first light to have any hope of getting off before dark. Some routes, like the infamous "Ozymandias" actually require big-wall tactics, with bivi gear and aid climbing involved. At least some of the areas require abseil access, meaning you might need ascenders (prusiks, whatever), to get back out again.
I guess my point is that Buffalo is not really an area for amateurs. Some of the run outs and painful cracks will likely make many reconsider. Still if you're totally freaked they have a tiny indoor wall for kids at the Tatra Inn that might restore confidence. (Hehe). Seriously though Buffalo is an amazing place, even if you only get up a handful of easier routes.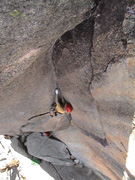 I can recommend the Horn area as a place to start. The shorter routes, some with bolts, should give you an introduction to the sharp granite. See if you can on-sight Peroxide Blonde, the grade 20 arÍte climb which summits at the end of the tourist railing. Bolts all the way, it's more psychological than physical. Bush whacking in to the base of the climbs isn't much fun though. If the Horn looks to short, check out the Cathedral, and head on up the three star route "Maharajah", 42m grade 17 on the main pinnacle. For something a lot taller and more daring, check out "Where Angles Fear To Tread" the 263m grade 17 on the south side of the Gorge at Angles Buttress. You'll need a crack of dawn start, and bring the head torches.
If it's too wet to climb, and you've had enough of hiking about. Consider doing a spot of caving. From the tourist carpark near the Chalet the track to an underground stream/cave system is clearly labelled. You'll need helmets, head torches, thermals and be prepared to be submerged in freezing water up to your waist. I'm not a caver so I can't evaluate the grade or risk involved, but we didn't find anything serious enough to need a rope. Presumably you'd not want to be down there when the water level is high. But even if you only go a little way in you can still spot the glow worms. The system travels up stream not very far under the surface for some distance before you're force to crawl up and out via a hole.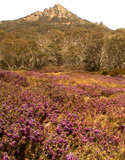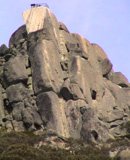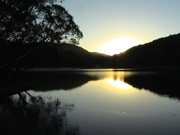 Above Left: The Horn rising in the distance. Above Middle: The Horn close up. That white block is Peroxide Blonde, the grade 20 arÍte. Above Right: Sunset over Lake Catani.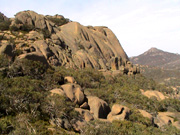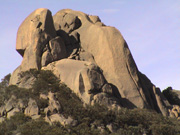 Above Left: "The Hump" as viewed from The Cathedral. You can see the Horn rising in the background. Above Right: The Cathedral as seen from the road. The well recommended, three star route "Maharajah", 42m grade 17 takes the main pinnacle on the left of this shot. When approaching via the tourist track, the route is on the right (see pic).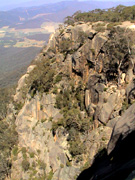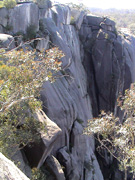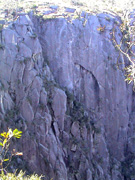 Above Left: The Gorge below the hang gliders ramp. Above Middle: The Gorge below Bent's Lookout. Above Right: The Gorge below Wilkinson's Lookout. "Ozymandias" the infamous 270m grade 29 that is generally aided over a couple of days on the rock heads up this cliff. If you've ticked Ozy, you've made it to "Hardman" status. Only for living legends.
Anyway, I'm sure you'll work it all out, given enough time. There are far too many climbs to mention them all here. Grab yourself a copy of the guide book by Boreham & Breeton, and give yourself plenty of time for route finding. Have fun and climb safe!
---

Selected Mt Buffalo Climbing Areas

Area Description
Climbs
**
The Gorge
The North Wall offering the best Australian big wall aid routes including the penultimate "Ozymandias", and the South side offering lower grades, plenty of exposure, and the odd single pitch rap-in classic.
266
*
The Cathedral
The Cathedral looks single pitch at first sight, until you spot the tiny flyspeck climbers 3 pitches up it. *** Maharajah (17) is the pick of the lines here.
56
*
The Horn Area
A great place to start, and some beginners routes as well. *** Peroxide Blonde (20) is the one to tick here.
117
*
The Hump
50
Lake Catani & Surrounds
Chadwel Galleries is only a few minutes walk from the beautiful lakeside camping and offers some good slab routes.
57
Le Souef Plateau
51
Eurobin Falls
16
Reservoir Environs
26
Buckland Slabs
24
Tatra Inn
24
Mt Mcleod
21
Mackeys Lookout
9
---
There isn't much choice of guides to Buffalo. In fact Boreham & Brereton's 1996 guide is about it, with a downloadable update available from the VCC. Be aware that route finding is not simple, even with the book in hand. Most guide books are available from local climbing shops or the VCC.
Mount Buffalo (Version 5)
A Rockclimber's Guide
Kevin Lindorff & Simon Murray (2006)
---
Further Reading:
Mt Buffalo, A Rockclimbers Guide - A climbing guide book, edited by Jeremy Boreham and David Breeton and available from local climbing shops, or the VCC.
Mt Buffalo - Descriptions for some of the more popular routes, from Will's Climbing Page.
Mt Buffalo - A few routes described from The Sydney Area Climbing Page.
Mount Buffalo National Park - Park's Victoria's page on the area.
Rock Climbing Travel Guide To Mt Buffalo - Brief intro from Arapiles.com web site.
Mount Buffalo - Brief description from rockclimbing.com web site.
Mt Buffalo Resort - The Chalet's web site for upmarket accommodation.
Home | Guide | Gallery | Tech Tips | Articles | Reviews | Dictionary | Forum | Links | About | Search
Chockstone Photography | Landscape Photography Australia | Australian Landscape Photography

Please read the full disclaimer before using any information contained on these pages.
All text, images and video on this site are copyright. Unauthorised use is strictly prohibited.