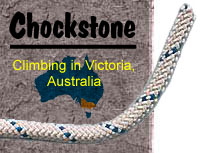 Sponsored By
ROCK
HARDWARE

| | |
| --- | --- |
| | For All Your Climbing Gear! |


Climbing Photo & Video Gallery
[ Photo Sales | Pic Of The Week ]

This page contains selected photos and video clips from recent excursions by the Chockstone team. The better entries have been marked with a star (*). If you've taken some good shots, send them in to be included under "Members Contributions". See Also: Chockstone Photography for photo sales.
[ All photos & video, anywhere on this website, and not otherwise attributed are the copyright of Michael Boniwell. Photos appearing under "Members Contributions" are the copyright of the credited photographer. Unauthorised use is strictly prohibited ]
Video clips are (352 x 288 pixels, 512 Kbits/sec) mpeg movie files, generally without sound (".m1v"). Both Windows Media Player or Real Player, run them fine. Right click the links to video files below and select "Save Target As", or just left click to view in your browser.
Latest Additions
** Invisible Fist (9 Meg, 3 mins OR QuickTime Version 5.1 Meg, 3 mins)
Jacqui Middleton leading The Invisible Fist of Professor Hiddich Smiddich (26) at the jewel of the Grampians, Taipan Wall. The scary traverse out right and back left to tag the finish is well above the last bolt. Video shot from two angles, including above and behind via an overhanging abseil. Video by Michael Boniwell. Superb editing by Neil Monteith.
* Tannin (5.8 Meg, 1 min 34 seconds) Part Two (5.1 Meg, 1 min 22 seconds)
Owen Gervasoni leading the three star classic of the grade, Tannin (19) on the Organ Pipes at Mt Arapiles. Normally a pumpy route, Owen cruises it in good style. Part One takes us to the crux mini-roof, and Part Two completes the line running it out to the top. Shot from an adjacent pinnacle. Video by Michael Boniwell.
King Rat (4.3 Meg, 1 min 10 seconds)
Owen Gervasoni leading the short but steep, multi starred King Rat (18) deep in the well shaded King Rat Gully at Mt Arapiles. An excellent place to avoid the heat of summer. Using the handy ring bolts above, one can also TR the even steeper Glory Rodent (22) nearby. Shot from the ground. Video by Michael Boniwell.
Sluts Have No Honour (2.8 Meg, 45 seconds)
Hanh leading the consumer classic Sluts Have No Honour (21) at Camel's Hump during the Chockstone April 2004 gathering. Footage shot from above. Video by Michael Boniwell.
* Green Alliance (3.2 Meg, 52 seconds)
Joe Morgan-Player takes on the mighty Green Alliance (25) at Camel's Hump, Mt Macedon. A fall from bolt three heightens the drama before he puts the moves together arriving just shy of the chains. Next time Joe! Footage uses two angles and some close ups. Video by Michael Boniwell.
* Beowulf (4.5 Meg, 1 min 13 seconds)
Owen leading Beowulf (18), South side of The Gorge, Mt Buffalo. This delightful tips only layback is awesome trad climbing. With a bomber rest mid-way and good gear it's a short route, well recommended. Footage shot from above. Video by Michael Boniwell.
* Peroxide Blonde (4 Meg, 1 min 5 seconds)
Owen leading Peroxide Blonde (20), The Horn, Mt Buffalo. Thin slabbing along a sharp arÍte, that drops away on the left leaving the climber slide pulling with delicate smears. Bolted all the way and with an amazing backdrop, this is one of the mounts more popular short routes. Video by Michael Boniwell.
This Is Not Our Land (47 seconds)
Michael leading This Is Not Our Land (19), Dreamworld, Horn Area, Mt Buffalo. Glorious jug hauling bar two small cruxes, the last and hardest just shy of the top out, this is one well bolted short, but sweet climb. Video by Owen Gervasoni.

Non-climbing Trips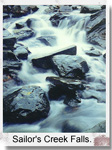 Photos and video from a mixture of past and present non climbing trips, mainly hikes.
Editor's Contributions:
Bogong High Plains, July 2002 - Myself and Peter, five days ski touring around Falls Creek.
* Tasmania, April 2002 - My father and I hike through the Walls Of Jerusalem, Cradle Mountain, and a brief look at Ben Lomond.
New Zealand, January 2002 - We take a holiday in the land of the long white cloud. No climbing, but plenty of rafting, bungy jumping, sailing, swimming, glacier hiking and other such activities.
* Hikes Around Australia - Some older photos from my pre-climbing days, when hiking ruled my dreams.
Home | Guide | Gallery | Tech Tips | Articles | Reviews | Dictionary | Forum | Links | About | Search
Chockstone Photography | Landscape Photography Australia | Australian Landscape Photography

Please read the full disclaimer before using any information contained on these pages.
All text, images and video on this site are copyright. Unauthorised use is strictly prohibited.