Martin Jackson contemplating the path to easier ground during the final runout on Work The Meat (20), Black Hill.

Now thatz how2 climb a slab. StandN up in balance, smearin tha carp outa tha diem, an usin fingatipz like brail detektas 4 tha nex smear-spot. Aint no beechD whale topoutz 4 MJ wiff that styl. - gnaguts

Great photo. brings back good memories of climbing granite slabs. Those were the days.... - robbio

Yep. Like that one. - Doug

Photo - 3 stars The push to make slabs cool again - 4 stars Brushing job on that route - 5 stars Average - 4 stars - One Day Hero

I liked the last slab photo better for photographic reasons, as I prefer the horizontal format and 1/3 ~ 2/3 aspect ratio better than a 1/2 ~ 1/2 aspect. Here is that pic for easy comparison on this viewing page, as it isn't often we get two slab photos on Gallery Page, let alone in succession...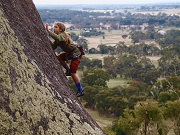 Here is the large version. The colour in the current WTM photo seems less vibrant and the background more cluttered by comparison, though having said all that I have no hesitation in agreeing with the comments above mine, so give it four and a half stars, unlike five for the last one! - IdratherbeclimbingM9
Wow, I don't like to slag people off, but I find this pic really boring. The climber looks more like an electrician staring at a bunch of wires rather than someone in the middle of a crux? I generally rate these photos in two ways - one is a photo I'd hang on my wall; the other is something that makes me think I'd love to climb there... sadly this is neither. - martym
Hero you do realise it is a Black Hill "slab". Have you ever climbed there? There is no slabbing. The slabs there are mostly very low angle face climbing with holds. More often than not the holds are big (there is a reason you can't see many knuckles or slab technique in these photos) and if it wasn't for the first 2 metres it wouldn't be a climb at all and the only reason it is brushed to the top is so you can say you did a 20m grade 20. Reality is you've done one grade 20 move and then walked 19m up a steep slope to belay. - Stugang
Have I ever climbed anything between melbourne and the gramps? What sort of choss doddling, low standards bumbly do you think I am? - One Day Hero
Odius wrote above: >What sort of choss doddling, low standards bumbly do you think I am? Tha gullibird kine? - gnaguts
Stugang wrote: > Reality is you've done one grade 20 move and then walked 19m up a steep slope to belay. Err .. I did that route just before Martin. You need to know the exit moves are fairly solid, probably 18. See that little shiny thing down the bottom of the pic? That's his last runner. You're looking at a 14m+ fall off gr 18 moves. Now breathe... - gfdonc
Look if you worked on engaging your core a little more then those 18 scary moves would drop a few grades and you'd be strolling. But go ahead listen to hero and keep practicing crap technique and keep getting shit scared on easy stuff. - Stugang
Ok photo for the genre depicted. Since when was core strength ever required for climbing slabs bro stugang? In fact I doubt core is used much in most similar graded (20 and below) face climbing, which is the next level up for physical difficulty? Overhangs and bomb-bay flares on the other hand are another matter, but this pic is none of those. - Duang Daunk
Well no wunda yiz all shit at slabz. - Stugang
I did hear an anecdote over the weekend. Robin Holmes took a fall off the top moves (just about where Martin is). As he didn't have the small cams to place in the last horizontal break, his last runner was the bolt a little further down. He pulled up about 1m off the deck! - gfdonc