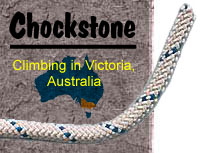 Sponsored By
ROCK
HARDWARE

| | |
| --- | --- |
| | For All Your Climbing Gear! |




Grampians Video Gallery
[ Back | Arapiles | Grampians | Buffalo | North-Western | South-Western | Eastern ]

[ All video anywhere on this website, and not otherwise attributed is the copyright of Michael Boniwell. Unauthorised use is strictly prohibited ]

Video clips are (352 x 288 pixels, 512 Kbits/sec) mpeg movie files, generally without sound (".m1v"). Both Windows Media Player or Real Player, run them fine. Right click the links to video files below and select "Save Target As", or just left click to view in your browser.

Victoria Range

* Poison Bait (4 Meg, 1 min 4 seconds)
Malcolm Matheson cruising up the Scoop Rocks sport route Poison Bait (25) in the Grampians' Victoria Range. Fully horizontal across the powerful, endurance roof moves, HB locks off with one arm and conducts a lengthy conversation (edited out) with those below like he'd bumped into an old friend while in town. Footage shot from a nearby tor is steady and presents well up until the contrasty sky plays backdrop to the final moves. Video by Michael Boniwell.
* Poison Bait (5.9 Meg, 68 seconds) Part Two (4.8 Meg, 55 seconds)
Or the full sequence in Low Res (3.8 Meg, 2 mins). Jacqui finally makes a much anticipated tick of Poison Bait (25) at Scoop Rocks in the Grampians. In part one, she valiantly fights gravity on the reachy opening moves. In part two, she tackles the pumpy horizontal roof while the winter winds lash cruelly. See also Jac's Trip Report Part 1 & Part 2. Video by Michael Boniwell.
* Ground Fall (4.5 Meg, 26 seconds) Low Res (389 kb)
Neil Monteith takes a ground fall while attempting to onsight a new grade 24 route in the Grampians. His two pieces of protection pulled, leaving him plunging 5m or so to the deck below. Thankfully no serious injuries were incurred. See forum topic for full details. Video taken by James Pfrunder.
* Gondwannaland Project (2.7 Meg, 44 seconds)
Falling! Neil takes a sizable whipper on an FA attempt of his grade 25 face project "Faceless" at Gondwannaland in the Grampians. Part Two (3.2 Meg, 52 seconds) - He continues, working the moves to the top. Video by Michael Boniwell.
Northern Grampians

** Invisible Fist (9 Meg, 3 mins OR QuickTime Version 5.1 Meg, 3 mins)
Jacqui Middleton leading The Invisible Fist of Professor Hiddich Smiddich (26) at the jewel of the Grampians, Taipan Wall. The scary traverse out right and back left to tag the finish is well above the last bolt. Video shot from two angles, including above and behind via an overhanging abseil. Video by Michael Boniwell. Superb editing by Neil Monteith.
The Big Pay Back (2.9 Meg, 1 min, 18 seconds)
Malcolm Matheson on The Big Pay Back (25), Cut Lunch Walls, Grampians. Camera work a little unsteady, but undeniably HB doing what he does best, on steep power moves. Video By James Pfrunder.
Tyrant's Grasp (2.2 Meg, 35 seconds)
Emily wrestles the Tyrant's Grasp, a steep grade 22 sport route on Amnesty Wall in the Grampians. Footage shot from the top of a nearby pinnacle provides a keen sense of the gradient. Video by Michael Boniwell.
De La Soul (2.6 Meg, 42 seconds)
Dave cranks out the lead of De La Soul a grade 26 route at Van Dieman's Land, sport climber's paradise. The crux is tagging a high right hold, almost out of reach, after bolt three. Sometimes done from a wild stem, Dave opts instead for the standard throw from a slippery layback. Video by Michael Boniwell.
* Army Of Ants (3.6 Meg, 59 seconds)
Neil attempting Army Of Ants, the super overhung grade 26 sport route at Sentinel Cave in the Grampians. From the knee bar rest stance, he powers up, taking a scary fall while clipping, then fights across the roof traverse plunging downwards just shy of the Lace Front Wigs last bolt. Video by Michael Boniwell.
* Stepping On Snakes (2.2 Meg, 35 seconds)
Dave leading Stepping On Snakes, a grade 23 sport route in the overhanging Sentinel Cave. A powerful dyno completes the route. Two successful attempts have been merged hence the duel camera angles and discontinuity with the T-shirt. Video by Michael Boniwell.
* Little George (3.3 Meg, 53 seconds)
In the setting sun, Jacqui Middleton grabs the FFA of Little George, a new grade 22 sport route at The Guardhouse. Jac's smooth, leisurely pace appears more dynamic in this footage edited to reduce file size. Video by Michael Boniwell.
Lofty Odours (3.4 Meg, 55 seconds)
Climber at the ever popular Summer Day Valley in the Grampians cruises up "Lofty Odours", grade 21 just right of the crag's dominant roof. The route, sometimes done in two pitches, diverts left into a cave, then right again following the ar?te. Video by Michael Boniwell.
Golden Showers (2.3 Meg, 37 seconds)
Michael leading the trad line "Golden Showers and Group Sex", 21m grade 20" at Hollow Mountain block, Mt Stapylton, the Grampians. He dogs the ascent then ends up running out the last 5 metres, missing a bolt, though he did it in better style on a subsequent trip. Video By Brett T.
Central Grampians

* Angular Perspective 2 (4.7 Meg, 1 min 15 seconds) Low Res (2.3 Meg)
Jacqui powers through the first two bolts of the super overhanging Angular Perspective at Bundaleer in the Grampians, before falling trying to make the committing dyno to the third clip. Video by Michael Boniwell.
Angular Perspective 1 (1.5 Meg, 24 seconds)
Rohan cranks to the first bolt of the super overhanging Angular Perspective at Bundaleer in the Grampians. Video by Michael Boniwell.
Fringe Dweller (2.7 Meg, 44 seconds)
Natimuk local on Fringe Dweller 130m grade 21 at Mt Rosea in the Grampians. He fights the layback or jam crack, then takes on the bold chimney moves with his back to the rock, facing out into space! Video by Michael Boniwell.
Halls Gap

My Friend Flipper (1.9 Meg, 30 seconds)
Jacqui makes a valiant attempt at on-sighting My Friend Flipper, getting a good way up this crimpy grade 26 bolted face at the Watchtower near Halls Gap, Grampians. Footage shot from above. Video by Michael Boniwell.
Home | Guide | Gallery | Tech Tips | Articles | Reviews | Dictionary | Forum | Links | About | Search
Chockstone Photography | Landscape Photography Australia | Australian Landscape Photography

Please read the full disclaimer before using any information contained on these pages.
All text, images and video on this site are copyright. Unauthorised use is strictly prohibited.