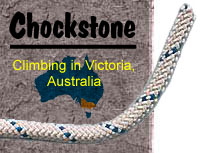 Sponsored By
ROCK
HARDWARE


Chockstone Forum - Trip Reports
Tells Us About Your Latest Trip!
Author

| | |
| --- | --- |
| Cranking hard in the Vic Range - PART 2 | |

4-Aug-2003
11:10:53 AM

Sunday: Jac, Malcolm, Kent, Michael and Tim head to the Poison Bait area. Jac and Tim lag behind ensure the track is clearly labelled for the others. Jac comes face to face with a very black, very shiny black snake. She swears, about faces and yells to Tim "GO!! GO!! GO!!! It's black!!" Tim assumes she is referring to a snake and gets moving as requested. The group eventually arrive at Poison Bait, and Malcolm decides Jac is draw monkey. Malcolm is mildly concered as there is still a crux move he hasn't sussed. Jac warms up by mucking up the opening moves a few times. Malcolm warms up by going draw-to-draw (pulling past the troublesome move). Wally and Al arrive, feeling the effects of beers at the pub the night before. Soon after, Jen, Alisha, Len and Helena arrive. Jac has another go at Poison Bait, successfully executing the heelhook/mantle, and snatching the crimper, and then realising to her horror that she hasn't tied her left shoe up tight enough. Consequently, the force of the heelhook/mantle has started pulling the heel of the shoe off, and her foot is almost off the hold. She stares at it for a while, trying to establish how to rectify the situation. She realises she can't, and falls off. Malcolm starts a mini-sulk that he still hasn't pulled that crux move.

Jac gets back up on Poison Bait, feeling pathetically weak. She manages the opening moves and thinks to herself "you better pull out all stops here, girl... you're too tired to pull those moves too many times today". She gets the heelhook happening and launches into the mantle, getting nowhere near as high as necessary. She yells at herself "GET UP!!! GET UP!!! GET UP!!!". Up on the mantle, she reaches her arm out for the crimper and is still a good 10cm short. Malcolm starts yelling at her, and she eventually strains her fingers onto it, and balances for the next move. Yay, she pulls it, and positions herself in her pseudo-rest.

Right: Jacqui on Poison Bait (25), Scoop Rocks. See More Pics & Video of Jac's ascent.

Malcolm is belaying, and she looks down and tells him "I better tick it now, because I don't think I can get through that section again today... I'm exhausted!" The vest comes off mid-climb, and Michael Boniwell is thrilled to have caught it on video. She heads out to the big throw move, tries it twice and doesn't hit the hold. She hasn't fallen off though. She rushes back to the pseudo-rest to refocus. Then out again, and another failed throw. No fall though, she catches herself. One more throw and a loud yell, and the tip of her fingers catch the destination hold. RIGHT! She says. She knows she'll tick it now... or die trying. Up to the base of the roof for an efficient clip, and a quick shake out. A strenous move (due to lack of armspan) gains her access to the roof, and she starts launching thru the moves. Pseudo-resting at every opportunity, she eventually moves into the double-leg, quasi-handsfree rest. She's getting pumped, but intends to tick it... now. Malcolm is saying encouraging things from the ground below. Then, a big deep breath, she grabs the heuco with the right.... a big crossthru to a sidecling with the left... lots of tension with the feet and a temporary placement of the right hand in a little pocket, she grabs the last hold, and swings the right leg onto a hook, preparing for the final clip.... and her feet cut loose. The crowd is devasted momentarily, but Jac manages to relocate, hooking her heels in, and clipping in a controlled fashion. The crowd cheers and Jac is lowered to the ground. Malcolm is most pleased, and then sulks some more as he still hasn't pulled that crux move. Jac tells him it's his shot, and he says he's still resting. So it's Kent's turn.....

Up he goes, straining thru the opening crux. In the roof, panic sets in. Every time Kent moves, Jac sees his face turn red. So Kent pulled his moves with Jac yelling "breath, Kent!" and Malcolm telling him to "relax". And yes..... KENT TICKED!!!!

Wally had a go, and pulled up three moves shy of the flash. Very impressive stuff. Malcolm is still sulking, and is a bit alarmed that there have been three ticks today... and not one of them have been his. He resolves that maybe he'll have to pull that final crux move Jac's way after all. He tries it.... repeatedly putting his right foot where he has been specifically told to put his left foot. Consequently, he keeps falling off. He rests a little and tries again, at last putting his left foot on the crucial hold, and throwing with all his might to the sloper. Jac is belaying, and is thrilled to see that he catches it. She yells loudly at him "that's it... you've done it... now finish it off!" Malcolm finishes the climb stylishly, finding rests in spots where everyone else just got more pumped if they stayed too long. The crowd cheers when he finishes the route, and Malcolm's reputation is back in tact. He head's off to lead Len up a gr20 trad climb, declaring he might come back to start "playing" on the Talon Project, which is rumoured to be gr28. Apparently it has some very long reaches in it, and noone has managed to link the moves yet... not even the strong gym boys.

Meanwhile... Wally ticks Poison Bait.... but not before he was in final clip position, and was too pumped to clip! "Nup, take me there, he gasped." NOOO! I said. CLIP IT NOW! He repositioned and tried a couple more times. Still no clip. Eventually, he chalked up his whole hand, hung himself by his wrist (his hand could no long hold on), and clipped like that. And the crowd cheers so loudly it can be heard from the gr20 trad climb.

Malcolm returns for a try on the Talon Project. He refuses to stick clip the first bolt. There's some weird little slopey crimpers on the climb, and he doesn't use any of them instead, he gets himself into some trademark HB positions, and nearly onsights the thing. It is obvious to all from the amount of effort he needed to exert, that this thing was certainly not gr28. He susses the whole route before coming down to rest. He informs Jac that she's doing second ascent. "Not today" she says. "Too tired". HB sulks again. So much infact that Jac gets her booties for a bit of a play. She plays on the crux and agrees it is no harder than 25. Then Malcolm gets back on and ticks it. He is very pleased. SUFFER!!! GYM KIDDIES!!! Malcolm strikes again.... Big hugs all round, and the climbing day is over. Malcolm declares "Talon" to be gr25.... an easier gr25 than "Poison Bait". The grade of Poison Bait is now unclear. It is either a hard 25 or an easy 26. Jac said it was probably hard 25 and Malcolm disputed furiously. "Look how long it took you to tick it..." he said.

Jac, Tim and Kent head home, via George's Fish Shop. A lady (not Qing) takes Jac's order, and the group sit down on the bench to wait. Some Macpac vest-clad blokes walk in that could be climbers. They look a little bit too clean on a Sunday night, but then again, they could have been bumbling at Summerday Valley or something. Jac sits quietly, fearing a repeat incident of the week before, when some guy that appeared to believe he knew her, launched into full conversation. She had no idea who it was and felt very guilty about it. Luckily, these blokes did not approach the bench.

Qing arrives, and extracts a basket from the oil, featuring one flake, and one fishcake. He wraps it up and calls "JACQUI!" Jac laughs. "I REMEMBER" he says proudly. The trio sit on the bench and eat their fish n chips before heading home to Melbourne. This wonderful trip has come to an end... Now we wait for the next exciting increment of the Horsham fo
4-Aug-2003
11:53:21 AM

Nice trip report Jac, luved every minute of it. I`m definitely keen for the pics and vids. Just one question, that fish shop owners name pronunciation would that have anything to do with the sound that the cash register makes when he sees you guys coming every Fri and Sun nights? Kaching, oh yeah that was Tching wasn`t it, sounds the same eh.
4-Aug-2003
12:06:07 PM

Good to hear I've successfully provided at least one person with some entertainment for a while :-)
4-Aug-2003
1:09:03 PM

You lot certainly lead lives in a different circle to an unknown ancient bumbly like myself; however I too was also thoroughly entertained, and found myself quite caught up in the obvious sentiment expressed ... did you hear the post-event cheers for your success that I whooped up here ?
4-Aug-2003
6:33:03 PM

Great read Jac, sounds like a great weekend.
4-Aug-2003
11:46:59 PM

Nice one Jac - thanks for putting it all down.
5-Aug-2003
12:12:52 PM

Great stuff, highly entertaining. The video was great as well. Congrats on the tick.
5-Aug-2003
1:15:55 PM

yeh good report Jac and congrats! Sounds like an awesome weekend!
6-Aug-2003
4:27:42 PM

What an awesome report complete with pics and vid to match!


6-Aug-2003
4:48:22 PM

I had originally intended to shoot the video on abseil over the lip of the mighty roof, such that the climber would be seen coming towards to camera, upside down. Would have been a cool angle, but with the wind as bad as it was I couldn't get stable, despite being anchored from two directions. The compromise was to shoot from a nearby block, but as you can see, as the climber approaches the final roof moves they are backlit against the sky, causing contrast issues. Sigh. Arh well, I'm having as much fun filming as climbing. If anyone else is planning a hard, picturesque lead, let me know!
6-Aug-2003
5:26:02 PM

nah looked great mike! Well done!
8-Aug-2003
6:28:06 PM

Nice one Jac, good to see you ticked it. Nice job on the report too. Hopefully catch you up there some where the weekend after this one.

Davey
10-Aug-2003
10:35:51 PM

Sounds like a great trip. Good to hear that someone is out and about. I'm looking at heading out next weekend (16-17 Aug). All the usual suspects seem to be off skiing. Is anyone heading up who whould be willing to let me tag along?
| | |
| --- | --- |
| | There are 13 messages in this topic. |
Home | Guide | Gallery | Tech Tips | Articles | Reviews | Dictionary | Forum | Links | About | Search
Chockstone Photography | Landscape Photography Australia | Australian Landscape Photography | Landscape Photos Australia

Please read the full disclaimer before using any information contained on these pages.
Australian Panoramic | Australian Coast | Australian Mountains | Australian Countryside | Australian Waterfalls | Australian Lakes | Australian Cities | Australian Macro | Australian Wildlife
Landscape Photo | Landscape Photography | Landscape Photography Australia | Fine Art Photography | Wilderness Photography | Nature Photo | Australian Landscape Photo | Stock Photography Australia | Landscape Photos | Panoramic Photos | Panoramic Photography Australia | Australian Landscape Photography | High Country Mountain Huts | Mothers Day Gifts | Gifts for Mothers Day | Mothers Day Gift Ideas | Ideas for Mothers Day | Wedding Gift Ideas | Christmas Gift Ideas | Fathers Day Gifts | Gifts for Fathers Day | Fathers Day Gift Ideas | Ideas for Fathers Day | Landscape Prints | Landscape Poster | Limited Edition Prints | Panoramic Photo | Buy Posters | Poster Prints