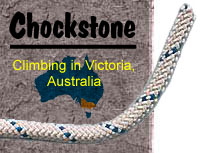 Sponsored By
ROCK
HARDWARE


17 Down Under: 17 DOWN UNDER. "A celebration of moderate grade climbing in Victoria". 184 pages. 285 images. Father & son team, Steve & John Morris, embark on a journey to climb and photograph 50 of the best rock climbs in Victoria, grade 17 & under. Inc bookmark $50.00
9% Off

Chockstone Forum - Trip Reports
Tells Us About Your Latest Trip!
Author

| | |
| --- | --- |
| TR: Araps, Cup Weekend 2009 | |

5-Nov-2009
2:43:57 PM

TR – Araps Cup weekend

My contribution to the recent rounds of trip reports. Thanks all for posting.

We took off from Melbourne nice and early on Friday afternoon, to beat the crowds and to allow my daughter to take her lunchtime nap in the car. A stop at the bakery in Ararat for coffee and vanilla slice was mandatory.

Nearing Horsham the dark clouds thickened and large drops hit the windscreen. What was this? Rain hadn't been predicted AFAIK but the road between Horsham and Nati was a deluge.

The rain stopped before Nati, though, and we refilled the gas bottles. Another sprinkle in-between, but the rain stopped before we parked and didn't reappear while we set up camp.

Skinny Dave, our visitor from Sydney, turned up as expected after a tour of the Avoca wineries, then had to drop his rental car back to Horsham. Robin and Tuesday arrived at a good time, Dave hitched a lift back from an Edenhope-bound truck, and the 5 of us were enjoying a glass of red in the lower Gums at a sensible hour.

In the morning, the females all headed in to Nati to check out the Frinj, while Dave, Robin and myself headed up to the Northern Group to tackle "Vandal" as a trad warmup for the NSW sport climber and a test of Robin's repaired elbow.

Skinny Dave starts up Vandal (17)

The bottom two pitches were run together, but Dave belayed on the first ledge in the sun, not the higher ledge which was in shade, so I led through without gear and set up a higher belay. Robin soon arrived and led us up the final crux corner.

Robin ponders the crux of Vandal (17)

We escaped off right and found the rap station, meeting two others at the bottom. For such a busy weekend, the Northern Group was pleasantly quiet.

Next up was Opening (*18), on the inside wall of Intrepid Gully. The coolness of the gully was very pleasant, and I managed the steep section of this route easily, then had to think a bit at the top where the jugs ran out. Robin and Dave decided to lead it on my gear, then Robin had to climb it again to clean it.

I'd wanted to have a crack at Down and Out (**20) based on the guide alone, but had never been up to have a look. I scrambled up to the chockstone, got onto the traverse and made my way around into the corner, only placing one wire to protect the second while avoiding rope drag. In the corner I placed two bomber wires and a cam, so back-cleaned my last piece to straighten out the line.

Down and Out (20)

I launched up into the crux, which can be inspected at close range from the other side of the gully. I got the high sidepull then placed the wire at the roof, then realised I'd better keep going before pumping out, so launched immediately through the crux. Got it! The next hold was huge, but the terrain still steep. I placed two cams at the next horizontal and climbed the remaining steep headwall without problems.

However – where was the rap station? I was planning to lower off and top-rope the others, but climbed all the way to the top without finding them. I downclimbed back and found the anchors off left, but impractical in terms of a lower-off, so I rapped down.

The other two then decided to lead on my gear instead of following, so we all ticked. I then did the route again to clean it, and we rapped 40m back into the cool chasm.

We were now feeling thirsty, and Robin mentioned something about beer, but we wanted one more route, so Dave led us up Tangent (*19) just around the corner before we headed back to camp.

Skinny Dave leading Tangent (19)

The next day I was on parental leave, while the others headed up their chosen climbs. Richard 'Travelguy' dropped around to say hello. I drove into Nati to check out the Frinj. I queued for a coffee (thanks Simey), checked out some art and dresses and then a sausage in the warm sun. By around 3pm everyone was back at camp. Robin and Tuesday were heading off, but we were keen for a swim, so checked the opening times for the Horsham pool and arrived there about 4pm. They were closing! Bloody web site says they're open until 6pm in November, but no. We headed down to the river instead for a picnic snack and a swim. Some lady named Susie turned up with a wetsuit for some triathlon training – she says to say hi, Simey.

Next day the crowds had thinned a little. Dave and I were seeking some shade, so we headed up Central Gully. Dave ticked Rosy Shy (*19) which I was happy to repeat, then I got up the gumption to onsight The Scourge (*20) – fortunately the 'poor pro to start' wasn't as bad as I'd feared. On top, though, I became convinced the top part of Minstrel Pinnacle (about the size of a truck) was just balancing there and about to fall off with me attached to it, and wondered if I'd be able to untie and leap across the void onto Preludes before we went on a death roll down the gully. Fortunately my paranoia was unrealised.

After that we walked up the top and did Johns Corner (*19) – well I don't think the guide has a star but it deserves one! The jugs on the face looked like a good option, so we craned our necks to try and find the bolt implied by the route description. Later, we realised this refers to the bolt up higher. I placed a 00 cam for Dave off the deck, as it turns out he was feeling poorly after the walk up in the hot sun and needed some preplaced gear to get motivated.


Dave leading John's Corner

Back at the base it was either time to head down to camp or tick something serious, so I racked up without thinking too much about it and headed over to do Cecilia (**22). It had been on my list for a while. I got to the bolt cleanly, but then couldn't work out how to release a hand to grab the next crimper, so took a time-out. A couple of tries later I was past it, clipped the next carrot and got to the rest. Eh? Two more carrots in view, and only one more bolt plate. I ran out of steam and took another rest near the roof, then up to the anchors. Dave joined me in fine style and we rapped off.

Back at the base of the Mount, Antje joined us and we wandered over to do Trapeze (*11) while I took over babysitting duties. It was still bloody hot, and the main shadow was not yet over Castle Crag, but some passing clouds gave some cover.

Skinny Dave on Trapeze

The heat continued well into the evening until the cool change finally came through after dark. Tuesday, I was on parental leave again and packed up camp in the wind while the others tackled some easier stuff in the Organ Pipes.


5-Nov-2009
2:52:47 PM

Arr - embedded pics from a separate web site don't appear, how can I fix this. Anyone? Anyone?

5-Nov-2009
2:55:57 PM

On 5/11/2009 gfdonc wrote:
>Arr - embedded pics from a separate web site don't appear, how can I fix
>this. Anyone? Anyone?
>
Same thing happened to me recently. I ended up copying the pic from original site, resizing and uploading it.
~> Definitely not the preferred way to do things though...
5-Nov-2009
3:09:39 PM

Disregard this post, as I am experimenting with a test of html format to see if I can get gfdonc a pic to work...

(unsuccessful tests edited out)... till ~>


Robin ponders the crux of Vandal (17)

Thereyagogfdonc

Don't know why but it seems to do with the " thingies.
~> edit your post and overtype those keystrokes again, as it seems the ones that I copied from an aborted reply-copy of your original post don't work.
I have found this happened to me once before in a TR of mine a long time ago, but mis-remembered it till now...
It often happens when copying and pasting, and is specific to the quote keystroke for some reason.
~> would've made life easier a couple of days ago too!

Note: one also gets this error message if there are an odd number of them!
>Your post includes an odd number of quote (") characters. If you have used HTML tags this can cause formatting issues. Please press BACK on your browser, correct the post, and OK the form again.


Post edit;
I notice from pseudo-replying to your amended original post that you uploaded them, as per my original 'work around' solution.
;-)

~> If you pseudo reply to this post, to check the format line*, you will see that I am still referencing your original image source, hence the different size.
(* Btw, you don't need the last bit of...
>*/img>
ie a * inserted instead of an <
~> ... otherwise it would 'disappear' off this post!

Back on topic. Your TR is a good read, and the pics make it even more so!

Cheers,
M9


5-Nov-2009
3:55:57 PM

OK, thanks Rod - I now have the bigger picture.
5-Nov-2009
5:27:32 PM


Robin ponders
the crux of Vandal (17)

Thats is a nice set of micro nuts you have there. Peanuts? RPs? What are they?
6-Nov-2009
11:13:59 AM

Don't know, you'd have to ask Robin. I thought they were RPs but may have been one of the competing brands.

6-Nov-2009
11:23:27 AM

Thought you'd like that picture sol

BTW: nice TR, thanks for taking the time to share.
6-Nov-2009
11:46:29 AM

On 6/11/2009 mattjr wrote:
>Thought you'd like that picture sol
>
Similar theme, but running with a fair dinkum twist, as it is better than the usual backside from below shots often obtained by climbers of their mates while on climbs.
It has strong symmetry.
* * * * ½ 's for that one gfdonc!
Good the way the body position and rope accentuates the rock architecture. Even the climbers shadow provides balance to the shaded left side of photo. The angle makes the viewer feel they are in there with the climber. Climber (subject) focus is up, visible sky forms an arrowhead pointing up.., blah, blah, etc. ☺
~> If you enter it in a photographic competition it could be alternatively titled; Robin pondering how high the markup of BD cams is going to go?
... or ... Looking to climb out of the interweb that is Chockstone!
Heh, heh, heh.

6-Nov-2009
12:14:12 PM

FYI, all the shots are straight-out-of-the-camera JPEGs, no postprocessing at all, no cropping or contrast/exposure adjustments. And (dig) all the clouds and skies are completely natural.
Olympus e-510, 11-22mm zuiko lens (22-44mm equiv).



6-Nov-2009
2:35:53 PM

yes it shows you just how good cameras are getting these days :P just kidding it takes a good eye as well, but technology is definitely making it easier
6-Nov-2009
2:53:47 PM

What did you think of Vandal? I did it a few years ago a was a bit underwhelmed but it looks ok in your photos, particularly the first pitch looks harder than I thought. I remember the crux being a bit hard to get going and then over rather quickly?
6-Nov-2009
2:57:35 PM

I liked it, but the crux is a little out of character with the rest of the route. With a shoulder to stand on, the whole lot would be great at about grade 14.

6-Nov-2009
3:21:56 PM

On 6/11/2009 gfdonc wrote:
>I liked it, but the crux is a little out of character with the rest of
>the route. With a shoulder to stand on, the whole lot would be great at
>about grade 14.
>
Will we be seeing a pic of combined tactics sometime in the future then?
... Once upon a time it was regarded as a legitimate climbing thing (still is?), and many a team utilised it!
;-)
8-Nov-2009
11:04:48 AM

On 6/11/2009 gfdonc wrote:
>I liked it, but the crux is a little out of character with the rest of
>the route. With a shoulder to stand on, the whole lot would be great at
>about grade 14.

It was originally graded 12 (in the 'green guide') and was graded 14 at the times I did it. At 17 it is way to hard for me now :-o

| | |
| --- | --- |
| | There are 15 messages in this topic. |
Home | Guide | Gallery | Tech Tips | Articles | Reviews | Dictionary | Forum | Links | About | Search
Chockstone Photography | Landscape Photography Australia | Australian Landscape Photography | Landscape Photos Australia

Please read the full disclaimer before using any information contained on these pages.
Australian Panoramic | Australian Coast | Australian Mountains | Australian Countryside | Australian Waterfalls | Australian Lakes | Australian Cities | Australian Macro | Australian Wildlife
Landscape Photo | Landscape Photography | Landscape Photography Australia | Fine Art Photography | Wilderness Photography | Nature Photo | Australian Landscape Photo | Stock Photography Australia | Landscape Photos | Panoramic Photos | Panoramic Photography Australia | Australian Landscape Photography | High Country Mountain Huts | Mothers Day Gifts | Gifts for Mothers Day | Mothers Day Gift Ideas | Ideas for Mothers Day | Wedding Gift Ideas | Christmas Gift Ideas | Fathers Day Gifts | Gifts for Fathers Day | Fathers Day Gift Ideas | Ideas for Fathers Day | Landscape Prints | Landscape Poster | Limited Edition Prints | Panoramic Photo | Buy Posters | Poster Prints