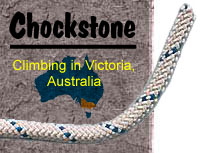 Sponsored By
ROCK
HARDWARE


Black Diamond: SET of 8 "C4" Cams and 8 matching wire gates. Sizes .3 .4 .5 .75 1 2 3 & 4 and 8 anodised "neutrino" - wire gate karabiners. $625.00
20% Off

Chockstone Forum - Trip Reports
Tells Us About Your Latest Trip!
Author

| | |
| --- | --- |
| Warrumbungles October 2007 | |

17/10/2007
4:14:14 PM

"Hey, about that Warrumbungles trip..".

The words popped out of my mouth at the gym that evening when I saw Joe and Naomi. "I think I'm interested". I didn't really know what I was signing up for at that stage. I'd heard of the Warrumbungles but didn't really know where they were, or what the climbing was like.

A supposed planning session at Munro St lapsed into a slide night, but it allowed me to meet the 4th member of the party, John, and to see some photos of the place. Wow. 300m trachyte walls with routes up to 500m in length. Just the type of holiday I needed. It was on.

 

Eventually on the Newell you see mountains in the distance ..

We left Melbourne on Friday evening and with an overnight stop in Jerilderie completed the 980km trip around 3pm the next day, with plenty of time to pick up the hut key from the park centre. A repacking session in the car park, then we shouldered our loads and made the steep trek up to Balor hut before darkness.


Are we really going to carry all this stuff? .. yup

Day One, Sunday, we chose Crater Bluff as an introduction - the classic Cornerstone Rib Direct (14). John and I gave Joe and Naomi a head start from the hut so they could get a pitch in front, then walked in. All went well except for a dull "thud" below me as I led the crux pitch, just behind Naomi who was seconding. I was puzzled to figure out what I'd dropped, until Naomi said something like "shit .. the walkie-talkie ..". It was never seen again.


Crater Bluff walk-in


Joe on Cornerstone Rib


Naomi on the summit of Crater Bluff


Descending Green Glacier


Crater Bluff

John and I reached the summit in good time, and ate a great lunch on time while Joe placed the first glue-in bolt for the new abseil station. We went to help with the drilling of the second hole.

We rapped off the usual tree while the glue dried, descended Green Glacier, updated the other two rap stations en route and were back to camp in good time.

Monday John woke up feeling sick so I teamed up with Joe and Naomi for an attempt on the stellar route "The Flight of the Phoenix" (300m 18) on Bluff Mountain. Somewhat naively we thought 3 people - not known for speedy climbing - could make a 7am start, find their way into a previously unknown crag and climb a 300m route with a party of 3. Oh well, worth a try. After some track-finding and adding cairns to the access track along the way, then scoping our route I was tied in and led off at 9am.

I finished the 50m pitch at 9:50 and brought up the others. Joe led off on pitch 2, placing a wire above the belay then stepping right to clip a rusty piton. Progress became slower from that point. Naomi and I sat on the belay, watching eagles and trading comments about Joe being off-route.


Approaching Bluff Mountain. FOTP traverses under the orange patch (pitches 3 and 4)


Pitch one, FOTP

After about 1 1/2 hours he finally called "safe" but Naomi then took a long time to second the pitch, resorting to aid for a section. She has led 23 so I was having stronger doubts that we were on-route. At 1pm with Naomi still seconding I realised we were in for a long day. I followed, able to take a more direct line as Naomi had completely cleaned the right-most part of the diversion, but the fixed pin seemed to confirm we were on track. When I reached the belay I was unsure of the status but with the heat and Naomi being out of water already we decided to bail.

We replaced the mound of 'tat' - which later found its way into the bin at the park centre - with some new 7mm and a mallion, leaving the best tape and screw-gate behind, and I rapped off, tensioning left to reach the next rap. We got back to the ground without incident. Placing more cairns and detouring for photos, we were comfortably back at camp around 4:30, but without having bagged the route.


Joe and his tat.


Cooking up a storm?

I was realising how different this is from 'normal' climbing - long serious routes, and long approaches each day with little prospect of rescue. We were all climbing well below our technical grades of course but that was necessary to ensure speed and safety on the long climbs.

Tuesday I was keen to do "Lieben" (17). Joe and Naomi headed over to Belougery Spire to do "Out and Beyond" (15) and some more drilling. John and I finished in good time and were able to radio the others from camp. They were late, reaching the top around dark, then descending, leaving behind the bolting kit and their packs for a further climb the next day.




John leading the crux of Lieben (17)



Top of Crater Bluff again

We had accommodation issues with the hut on Wednesday night. Two families had booked it before us, so to work around this it had been planned that Joe and I would walk out, get a pub meal and a shower, restock and camp in the valley, then return the next morning with more food. John had brought up a small tent for the other two. However, this meant an early start on Thursday was out - and since we were heading home on Friday, Wednesday was the only remaining chance for an attempt on Bluff Mountain. John and I made plans while we walked back to camp.

The alarm went at 5:15am, and I was surprised to see how light it was. We were up and started walking just after the 6:15 weather bulletin. At Dagda saddle I was just 30m ahead of John when he yelled to stop, and was then violently sick into a nearby bush. His body made sure that his stomach was empty 2 or 3 more times while I kept a discreet distance.

He was keen to try to continue so we hiked up to Ogma saddle but it was no use. Feeling weak and fearing dehydration on the long hot day, he sat dejectedly on a rock while we explored options. Bluff Mountain would not surrender that day, either.

I decided to find the others so hiked back over the High Tops traverse to Belougery Spire, where I found Joe and Naomi's packs but no sign of them. I waited 10 minutes then decided to hike back, expecting to meet them on the trail.

When I got to the hut I found there was a second casualty. Joe was still lying in his sleeping bag, feeling ill. We decided it must have been the tank water. Naomi was taking it easy, having written off the day, but on my arrival was keen so we headed back up to Belougery and did "Vertigo" (70m 10) then spent 11/2 hours fixing up the abseil station.


Naomi on pitch 3 of Vertigo (10), Bluff Mountain in background.


Naomi redrilling the rap anchors at the top of Abseil Gully

Bluff Mountain was still unclimbed - could we possibily fit it in? Naomi and I hatched a plan in-between drilling sessions. I would go back to the hut, down to the valley and into Coonabarrabran as planned, but solo (Joe wasn't up to it), then bring the remaining food plus the spare tent back up that night and be ready for the next morning. Eventually after a 15 hour day including some 18km of walking, 3 pitches of climbing, drilling, plus the round-trip to Coona and the walk back up the hill in the dark, I ate dinner with the others about 9pm and set the alarm for a 5:30am start.

I woke early after a restless night, suffering from diahorrea. Oh no - not me as well? Over breakfast I could only force down a few spoonfuls of muesli. I gave Naomi a short head-start, used the potty one last time, then hiked off around 6:15, wondering if I was destined to repeat John's performance of Tuesday.

We reached Ogma Saddle by 7, and arrived at the base of the route at 7:40am. Naomi led off while I sipped water, trying to find some strength. The sun was out, and as Bluff Mountain faces mostly north, it was going to be a hot day. I drained my bowels again before tying on and followed Naomi's lead.

I found the right line for pitch 2 this time, stepping left instead of right. The climbing was brilliant.

At the belay ledge I belayed on the slab, copping the sun directly from all angles. I looked out into the skies, watching clouds drift over but they kept missing us, providing no respite from the sun.

By the time Naomi joined me I was feeling woozy, and had an urgent need to get some shade. I rearranged the belay to park under a small bush, while Naomi rapped down the corner and set up a hanging belay in preparation to start pitch 3. I joined her, then she led off, leaving me trying to detangle the ropes.

Naomi led about 40m of brilliant climbing but was running out of draws so belayed early at a stance. I followed, enjoying the superb rock & position some 100m off the deck. We changed leads, and I led the equally-fantastic pitch 4, also belaying a little early at a good but exposed stance. We were half way. The day was getting late but with easier pitches above there was hope of topping out around dark.


Naomi leading pitch 3, Flight of the Phoenix (18)

The clouds had gathered and now thunder and lightening were startling us. I became fearful of being hit, looking at my rubber-soled boots on the rock with some vague hope they would protect me. Naomi started to follow. I wondered: what if the lightening continued when we topped out? It would have felt extremely hazardous standing exposed on such a place.

A radio call from Joe was reassuring. The others had hiked up and were watching from the other side of the valley. He expected the brunt of the storm to miss us. A few drops of rain started, and I thought perhaps we might get 1-2mm and then a break. Then I looked across to the right, and saw what was approaching. Thick clouds and a fierce-looking rain band. We were going to cop it.

The rain started in earnest, and Naomi - still seconding - found herself a comfortable stance. Then it got heavier. I held tight, getting soaked but prepared to withstand what was coming. Then it started to hail. They were normal-sized hailstones at first, but then they got bigger, and heavier, and stronger. It became unbearable. Hailstones up to 2cm diameter were smashing down onto me. It was a form of torture.

Most mountaineering articles struggle to impart a sense of what it was like to be there. In this case, I'll make it easy for you to relate to what we were experiencing. Try this:
Go and get a bag of ice from the 7-11. Stand in the shower in a t-shirt, shorts and harness. Lash yourself to the hot-and-cold taps so you can't move. If you have an adjustable shower head, set it to 'massage'.
Now, turn the cold tap on full force.
Then, get 3 friends to throw ice cubes at you, as hard as they can. When you complain how much it hurts, they start using both hands.

That's what it was like, except 4 pitches up. It was the type of experience you can only endure, and there was nothing we could do but stand there and take the punishment, and hope it would stop soon. The ice was smashing down. Pummelling me in the shoulders painfully. Crashing onto my helmet with loud cracking noises. Hitting me in the elbows, sending nervous shocks up to my fingers, which were still holding Naomi on belay. Slashing at my legs.

Communication was impossible. There was no-where to hide, no way to move on the stance, and no shelter. After about 10 minutes, a pause came, and I thought we were saved. I started to shiver violently. I tied off Naomi, and called down to her to see if she was OK. Then I looked at the next band of oncoming cloud. Uh oh. More coming.

The next wave hit, hailing just as badly as the first. The possibility that we would not survive this epic entered my head. I had been in difficult situations before, and long epics, but this was the first time I felt out of control of the situation. Half-way up a 1000-foot wall, with no shelter and little clothing, we would not be able to take much more of this treatment. We were literally at the mercy of the elements.

I stood there, shivering, as the large hailstones continued to smash into my body, hoping it would stop.

After about another 10 minutes it started to ease, then stopped. We did a stock-take. We were sore, but uninjured. Water was cascading down the cliff, and I was worried about rockfall. My digital camera was still in its case, but I poured out about 1/2 a cup of water, so there would be no more photos that day. I got my long sleeve top out of my Camelbak, and wrung out a hat that was in the bottom, and put them on.

Naomi had clipped herself in to two cams as a backup. She got organised, I put her back on belay, and she climbed up to me. I must have looked worried, and was shivering violently still, and she reassured me. I got her to climb up to the next stance on the dripping rock, placing gear often in fear of a slip. "C'mon, start climbing, you'll warm up" she encouraged. I was shaking so hard it was difficult to pull apart the belay. "Don't worry about the shivers, it's your body's way of warming up".

Amazingly, the radios were still working, and Joe made contact. He suggested we rap off but we thought this was too uncertain. We were about 120m off the deck and the line had traversed, so we were unable to descend via the climb, with the possiblility of overhangs below us and uncertain belays. Naomi confirmed we needed him on top with warm clothing. What about a rescue rope? We considered the logistics and realised it was useless - the hut was a 1.5 hour return walk from where he was, then he had to ascend the mountain via the tourist track, and somehow find the top of the route.

I led off, still shaking from the cold. The mountains around us looked like they were under snow. A drift of hailstones at the bottom of cliff appear to be about half a metre deep. But, by now, the rock was starting to dry from the stored heat of the morning. The mothership of nature was trying to right herself. But sunset was not far away, and we still had 3 pitches left of uncertain climbing, and storm clouds around.

I climbed a full-length pitch, belayed in a small alcove then swapped ends when Naomi joined me. She had never climbed in the dark before, and was now feeling very uncertain. I led off again at 6:15pm, darkness came quickly & I turned on my headtorch about 1/2 way up the pitch. I grabbed a hold which wriggled out from under my fingers; bloody c--kroaches.

The climbing was still wet and slippery. The radio announced 6m of rope left, so I traversed a rotten bush to belay. We were unable to get Joe on the radio. After a few minutes, Naomi's headlight appeared out of the darkness, reassuring. We scrambled another 40m to the top, still placing gear and avoiding standing on patches of hailstones.

Joe's headlight showed in the distance. He had built cairns across from the summit so we could find our way. Brilliant. It was 8:15pm, we had spent 12 hours on the wall. We made it. Hugs.

We walked down, slipping on the hail patches, and finally reached the hut at 9:15pm.

John had been locked out of the hut - the key had been washed 2 metres from its hiding place by the force of the storm. He had managed to get in via a window. Gear in the tent was wet. I was spent, and could only sit. Joe cooked a fantastic stir-fry, and made me tea, then I passed out on the bunk.


Balor Hut after the ice storm. Photo John Stone.

The next morning we behaved like survivors of a train wreck. Dried some gear. Packed slowly, then walked down, passing patches of hail, still melting after 24 hours in the open.

At the park centre, we gave back the key. The storm had been so localised, they had only received a few spits of rain the previous day. The mountains had saved their best for us.


17/10/2007
6:00:45 PM

Cheers for the great TR! sounds invigorating, reminds me of this quote;
''Adventure: absolutely misery looked back upon with great fondness''
It also reminds me of a time on Sandanista in the gramps when i was seconding Dave, a mate from America up it and as i reached the top it started hailing (not as bad as yours) and all i can remember is huddling under a few trees and Dave repeating in his best colorado accent ''this is super, just super man, this is super" makes me smile!

17/10/2007
9:03:59 PM

That was an awesome TR. Glad to hear you all ended up OK....
17/10/2007
10:28:40 PM

Exellent TR. There's no place quite like the 'Bungles for an adventure.

JamesMc
18/10/2007
11:16:28 AM

Thanks, great TR. I've also spent longer than desirable on Bluff Mtn.
I'd be interested to know what walkie talkies you used?
thanks
18/10/2007
12:57:36 PM

I've used a few models over the years. Happy to provide feedback on a separate thread.


18/10/2007
6:20:33 PM

Man! What an epic to get hammered bloody by hailstones and then top out in the dark, especially with your reserves sapped by a bad stomach. That's old school tough.

I still have perfect mental images of so much of the ground you're talking about, and I remember getting chased down from the topout on FotP with a huge storm on our heels that sounds a bit like the one that caught you (no hail, though). Yikes!

Fantastic TR, and glad everyone's okay!
18/10/2007
7:12:56 PM

Great TR, wish I was there...

On 17/10/2007 gfdonc wrote:
> Crashing onto my helmet with loud cracking noises.
Sounds like another good reason to wear a helmet!

20/10/2007
2:44:11 PM

hey tokyo bill

the book you left in the hut is still there! just what i needed to keep my mind off the hut dunny lurgy and the missed climbing!

John
20/10/2007
2:55:44 PM

one word... epic
21/10/2007
7:53:31 PM

Hey John I think I detect a pattern - you were crapping yourself halfway up Ascension too...
22/10/2007
10:55:11 AM

That was only metaphorical!! the hut dunny lurgy was the full literal catastrophe...
22/10/2007
6:36:14 PM

"the book you left in the hut is still there! just what i needed to keep my mind off the hut dunny lurgy and the missed climbing!"

Hah! My first thought was to pack it out, but I was sure someone would be happy to have it there on a rain day, or whatever.

Glad to hear you were reading it and not wiping with it...

23/10/2007
9:25:38 AM

I am amazed you needed to re-stock provisions after only a few days when you walked in with a pack of
that size! What was in that bag?

Fast and light??!

23/10/2007
10:27:29 AM

No, everything you need for hut living ..

2 books
deck of cards
3 headtorches (took a spare plus found a third one in the bottom of the pack when I got there!)
walkie talkies and several changes of batteries
3 litre cask of wine.
3 litres UHT milk
one litre orange juice
3 packets Tim Tams
stove and cooking equipment
food + various other snacks
fresh fruit & veg
full rack
Camelbak

and "oops" the 'big crack rack' was also inadvertently left in the bottom of the pack .. I was mightily peeved to get to the hut and find: two large cams, two tube chocks and a #11 hex looking at me from the bottom of the sack ..

24/10/2007
9:58:49 AM

>The mountains had saved their best for us.

Sums it up well.
Scary stuff.
An extremely good read. Thanks for posting it gfdonc.

>(snip) "oops" the 'big crack rack' was also inadvertently left in the bottom of the pack
Pity you did not have a 'waterproof' with you for your epic as a result of the same 'oops' !

>Water was cascading down the cliff
You probably got more than your 'direct share' of water and hail as a result of ricochet/catchment area of the cliff face above you ...

>I tied off Naomi
... for the 2nd onslaught, but kept her on belay for the 1st?
I have learnt from your experience to tie off the second asap, in case your fears about rockfall etc came to fruition.
:)

>cairns across from the summit
Joe may have added to them (rebuilt them?), but I recall a number being there in days of yore.
... mind you they are not as helpful if topping out in such conditions, or in the dark with minimal/nil headlight !
You did well for a 1st visit to the top of Bluff under such conditions, as imo it is a reasonably complicated area in the dark finding the proper descent track due to being a broad area with at least one 'false' summit.
Tip for the uninitiated; ... hug close to the minor escarpment edge (follow along its base), near (just West of), the true summit, on its RHS while heading South to pick up the main ascent/descent track.

The only time I have been caught by hail while on a rockface I had a portaledge with me. Since it was already deployed I took refuge underneath it!
24/10/2007
12:53:59 PM

On 24/10/2007 IdratherbeclimbingM9 wrote:
>>cairns across from the summit
>Tip for the uninitiated; ... hug close to the minor escarpment edge (follow
>along its base), near (just West of), the true summit, on its RHS while
>heading South to pick up the main ascent/descent track.

For newbies attempting to descend I'd probably suggest this: head away from the cliff edge at a direction between 10 and 11 o'clock (with your back to the cliff) until you see a gully down on your left. Scramble down this and up the other side, then continue ascending (now moving roughly parallel to the cliff edge which is somewhere on your left) until you reach the true summit.

24/10/2007
1:58:43 PM

On 24/10/2007 IdratherbeclimbingM9 wrote:
>The only time I have been caught by hail while on a rockface I had a portaledge
>with me. Since it was already deployed I took refuge underneath it!

i have this great image of m9 indignantly hanging under a portaledge with a sour look on his face...!
24/10/2007
4:29:22 PM

Surprise maybe, but not a sour look; as I was stoked by the event and generally marvelled at its brief ferocity (included wind/rain/thunder & lightning), though the nearby lightning strikes had me a tad nervous. Found myself stationary para-gliding under my ledge every time a strong gust of wind hit.

Different event/location: ... As far as the 'Bungles goes, lightning strikes are a real possibility there also.
Was on Tonduron once at the outer edge of a storm and watched stikes over on Crater Bluff which was also on the edge of the storm but closer to the action. (It got some real rain while we only got spits where we were).
It seemed to me that there was more lightning activity around the edge of the storm than in the thick of it which went across Bluff Mtn.
~ I have no idea if there were parties on Bluff Mtn that day. If there were then they probably had a fate similar to gfdonc/Naomi.

gfdonc wrote
>until you reach the true summit.
For other readers clarification, my directions-(tip) start from the true summit ...
21/11/2007
4:56:17 PM

Hey Joe, did anyone find my favourite top at the bottom of FOTP? Had a nasty toilet accident last season at the top of the second pitch and had to ditch it and my undies! You can keep the undies.
Great TR. Thanks for the re-anchoring.
tony
| | |
| --- | --- |
| | There are 29 messages in this topic. |
Home | Guide | Gallery | Tech Tips | Articles | Reviews | Dictionary | Forum | Links | About | Search
Chockstone Photography | Landscape Photography Australia | Australian Landscape Photography

Please read the full disclaimer before using any information contained on these pages.
Australian Panoramic | Australian Coast | Australian Mountains | Australian Countryside | Australian Waterfalls | Australian Lakes | Australian Cities | Australian Macro | Australian Wildlife
Landscape Photo | Landscape Photography | Landscape Photography Australia | Fine Art Photography | Wilderness Photography | Nature Photo | Australian Landscape Photo | Stock Photography Australia | Landscape Photos | Panoramic Photos | Panoramic Photography Australia | Australian Landscape Photography | Mothers Day Gifts | Gifts for Mothers Day | Mothers Day Gift Ideas | Ideas for Mothers Day | Wedding Gift Ideas | Christmas Gift Ideas | Fathers Day Gifts | Gifts for Fathers Day | Fathers Day Gift Ideas | Ideas for Fathers Day | Landscape Prints | Landscape Poster | Limited Edition Prints | Panoramic Photo | Buy Posters | Poster Prints