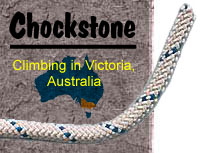 Sponsored By
ROCK
HARDWARE

| | |
| --- | --- |
| | For All Your Climbing Gear! |

DMM: DMM RACK DEAL Total is $1346. (DISCOUNTED prices normally $1106) This is a "PREMIUM" DMM Rack for under $1000. N/B Only 1 rack available at this Super Special price. Be quick! $999.00
26% Off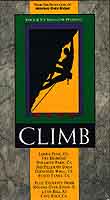 Climbing Media Reviewed
[ Books | Movies | Screen Shots | Best Stuff | Aussie Titles | Latest Reviews | Reviewed Only | All ]

Climb
(Doco) America's top rock climbers in Hueco Tanks, The Diamond, Tennesse Wall, etc.
| | | | |
| --- | --- | --- | --- |
| Format | Video | Category | Non-Fiction |
| Title | Climb | Mins | 40 |
| Starring | Todd Skinner, Lynn Hill, Roger Briggs, Rob Robinson | RRP | $40.00 AUD |
| Director | Michael Strassman | Reviews | 2 |
| Edition | Range Of Light Productions (1991) | Ave Rating | (1.50 of 5) |
User
Comments

Mike
7/13/2002

"Climb", from Range Of Light Productions is not a bad documentary. I must admit to being a tad underwhelmed upon first viewing it. I suspect my expectations were set fairly high. The film almost, but not quite transcends a certain "home movie" kind of feel. Too much of the footage is shot from the ground giving us the infamous "bum shot". The cameraman makes little or no attempt to get on the rock, close to the action, by rapping down the line or whatever. We are given a few overhead views that work very well, but overall, the video-photography while enjoyable is somewhat less than professional. The audience is not left with an urgency and inspiration to rush out and climb something. The movie is saved, however, by interesting interviews with the climbing stars, and some spectacularly hard and attractive climbing. The bright lycra tights remind us that the film was shot in the late eighties to early nineties.

Below: Lynn Hill at Cave Rock.


First up we see a promotional snippet for Moving Over Stone II, which gives us 2.5 minutes of Lynn Hill lead climbing at Cave Rock, Lake Tahoe, California. Mixed between scenes of her pulling some great looking moves in a pair of wicked pink shorts, sadly shot from below, are a few words from one of the best female climbers of today. She briefly describes her philosophy on climbing, and the style she adopts.

Below: Todd Skinner at Hueco Tanks.



The movie proper, opens with a 9 minute segment on Todd Skinner high-ball bouldering and leading in Hueco Tanks, Texas. To a background of pan flutes Todd makes 5.13d look easy and explains his outlook on life and climbing. This is probably the highlight of the movie, somewhat reduced by the absence of variety in camera angles, it is never-the-less an excellent piece. Todd takes us up "Hueco Cranks" 5.12c on "Mushroom Boulder", commenting that one needs to power through, climbing without hesitation to survive the potentially lethal solo. Next he cruises "Wyoming Cowgirls" a 5.12a high-ball boulder problem explaining "it's worth a lot to make a solo like that. It's worth far more than just leading it". His lead of "When Legends Die", 5.13b is followed by a run up "Calling All The Heroes" at 5.13d, the hardest route at Hueco Tanks. Todd remarks upon putting up new routes as "something that you've given to the world, but still feel you own".

The Diamond at Longs Peak, Colorado is the scene for the next 8-minute segment in which Roger Briggs and partner take on "The King Of Swords" an alpine free climb. We see a few old black and white stills introducing the peak as a big wall, which has become a free climbing route, before a telephoto lens takes us up 2 pitches of 5.10, 4 of 5.11 and a crux 5.12a. The occasional glimpse of handy-cam footage from on the rock is underused, but the piece has a certain power when a snow storm wells up forcing the duo to climb out in blizzard conditions to avoid bailing down overhanging terrain.

Below: Rob Robinson on the Tennesse Wall



Five minutes of Rob Robinson on the Tennesse Wall follows, where-in he leads a bunch of 5.13a's and b's ("Rubyfruit Jungle", "Psychopath", "Grand Contusion"). These are all roof climbs (using pre-placed gear) and fortunately more attention to camera angles provides some decent close-ups, probably the best footage of the film, though Rob's wild red and blue tights are perhaps not the best wardrobe selection.

The final 15 minutes bring us Richard Leversee and John Moynier mucking about on Mt Dana, Yosemite, California. The segment includes a great deal of background introduction on the pair, and way too much skiing. We're left with maybe 3 minutes of actual climbing. I found this segment the least interesting, though it takes the most amount of space on the tape. Cut-away shots of a hand delving a crack or edge, are supposed to give sustenance to the lean footage, but they are out of pace with the scene. However, at least the scenery is good and one mad bugger does solo down climb 5.9 terrain over mixed rock and ice, wearing gloves and hike boots

So in summary, arm yourself with an American to Australian grade conversion chart and sit down to enjoy this now oldish, reasonably good quality production. It's definitely worth watching and kind of grows on you after a 2nd or 3rd viewing. Just don't set your expectations too high.
Susan
10/31/2004

Talk about a rip-off! I can't believe I paid 7 bucks for this trash! (It was on special.)

Poor film quality, poor sound quality, badly filmed, poor editing etc etc etc.

But perhaps the worst was that the film is really just about a bunch of people wanking-off in front of the camera.

---
Further Reading:
Range Of Light - The maker's web site

Home | Guide | Gallery | Tech Tips | Articles | Reviews | Dictionary | Forum | Links | About | Search
Chockstone Photography | Landscape Photography Australia | Australian Landscape Photography

Please read the full disclaimer before using any information contained on these pages.
All text, images and video on this site are copyright. Unauthorised use is strictly prohibited.