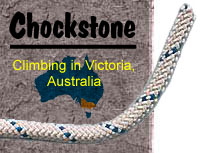 Sponsored By
ROCK
HARDWARE

| | |
| --- | --- |
| | For All Your Climbing Gear! |

17 Down Under: 17 DOWN UNDER. "A celebration of moderate grade climbing in Victoria". 184 pages. 285 images. Father & son team, Steve & John Morris, embark on a journey to climb and photograph 50 of the best rock climbs in Victoria, grade 17 & under. Inc bookmark $50.00
9% Off

Climbing Media Reviewed
[ Books | Movies | Screen Shots | Best Stuff | Aussie Titles | Latest Reviews | Reviewed Only | All ]

Masters Of Stone 5
(Doco) Speed-Soloing, High-Ball Bouldering, Female Freesoloing, Blind Crack Climbing, Slacklining, Rope Freefalling
User
Comments

Mike
2/7/2003

Master's of Stone Volume 5 contains some simply amazing footage. There's stuff in here that has to be seen to be believed. The movie contains about 85% climbing, and the rest is slacking line walking, base jumping and roped cliff jumping. Of the climbing footage, almost all of it is super hard, high ball bouldering, and absolutely death inviting free soloing, the main example of which is a speed free solo of "The Nose" of El Capitan, Yosemite, by (and I hope I've got this right), Dean Potter. It's worth getting this tape just to see this feat alone. But lets start at the start…

First up we see Dean Potter at "Crack House Roof" do a totally upside down, endurance bouldering roof problem, on jams only! It looks super pumpy and painful. Really a good opener for the film. I thought his arms were going to explode, but he makes it up in the end. To Indian Creek, Cayon next were Steph Davis free solos "Coyne Crack" 5.11d/12a and "Scareface" 5.11c. She sinks the jams with grace and style and her voice over comments explain "a jam is like an anchor", so she obviously feels strong, despite soloing. I liked her comments about the 30 feet mark, above which invites death and below which you might get away with terrible injuries only.

We get a quick bit a slacklining next, with a world record attempt at 120 feet I believe. Okay, its not climbing, but it was still pretty interesting, and if nothing else the backdrop behind the canyon is very scenic. Afterwards we are shown Eric Weihenmayer (who is blind) doing a 5.8 trad lead. Inspiring! And as if to go one step beyond, it's followed by footage of a chap with artificial legs leading 5.11, while being belayed and seconded by Eric. What a team! Now I guess the rest of us without such unique challenges have no excuses!



More of Dean Potter follows with his free solo of "Scavenger" 5.12d at Mill Creek Canyon, an unrated boulder problem "Cleopatra" where he takes a few falls onto the crash mats, and another free solo of "Sinister" (5.12c). At this point I was wondering if anyone was indeed going to bother roping up at all! On the down side the footage on "Sinister" has contrast problems (underexposed climber), but I guess they could hardly ask him to climb it a second time, or crowd the man with cameras to get better angles and lighting. Some of the other climbing scenes suffer in this regard a little too, but like I said, most if it is soloing, so their options for retakes must have been limited.



Anyway, let's keep going. What's next? Baffin Island base jumping. Yeah, whatever, on to the next climbing scene. Scott Burk big walling "Freerider" 5.12d/13a in Yosemite Valley. While it barely scratches the surface of the big walling experience it's still enjoyable to watch. He's one crazy dude. Maybe spent too long on the rock or something.

Rick Cashner does a bit of bouldering on "The King" 5.12, and Dean solos "Short Circuit" 5.11, kind of as an intro to the main event of the whole film, which, as I mentioned in the first paragraph is his speed free solo of "The Nose" of El Capitan. Now I'm thinking that this is something of a recreation, because the camera work is so good, there would be no way they'd get such well shot footage with Dean firing up the wall at high speed in real time. But anyway, it's awesome! Has to be seen to be believed. The dude is just unroped with hundreds of metres of air below, cruising up like its a boulder problem! Okay, yeah, he's carrying a rope, harness, a few cams, aiders, etc. But he only seems to use these for bolt ladders, pendulum traverses, and maybe aiding through hard bits or resting. He explains this incredible risk taking away with something like "I'm just out having fun". I mean hello!! What the? Has the man never had a rock break under his foot before? It's blood curdling stuff, especially the scenes where you see the full height below him.



Above: Free solo of "The Nose" of El Capitan.

Lastly we are shown a "tribute to Dan Osman", mainly focusing on his roped cliff jumping stunts. No direct mention is made of the circumstances of his tragic passing, though there are scenes where Dan talks about his concern over contacting trees, trusting his life to knots, that kind of thing. Anyway, it's a nicely compiled segment, and certainly if you haven't seen roped jumping before it will probably raise the pulse a little.



Above: Dan Osman, roped cliff jumping.

So in summary, what have we got? An action packed movie, with mostly climbing, but other stuff thrown in which will perhaps make the film appeal to a wider audience. Certainly this is not the doco to hand to your young son if you want to impress climbing safety on him. This is more like a thrill seekers tick list or something. Every scene is wilder than the last. I like the disclaimer at the start "don't try anything depicted here if you want to have a long life" or some such… hehehe. Anyway, recommended viewing. I had a few negative points about camera work, but hey, who is going to notice such things when the subject is free soloing 5.12?
Anonymous
1/1/2004

If you have the first few Masters of Stone videos, Hard Grit etc.. this one is worth getting. However I'd estimate only about 60% of it is actual climbing. It's basically the Dean Potter video. So, if you want to see Dean solo a bunch of stuff and pay $60 for about 30-40 mins of climbing action then the video is well worth it. I thought the section showing Weihenmayer, Herr and Wellmann (sp?) climbing Fisher Towers was quite inspiring and would like to have seen more of Burk, but I get bored with Osman's non-climbing antics pretty quickly. This is probably why I prefer Masters of Stone I and II to this one.

Monkey Face
1/5/2004

OK
i have to say that this is the best vidoe out of the 5 masters of stone,
it had everything for every one,
Climbing, soloing, boldering, slacklining, and my fav rope jumping,
Das Osmans death after making the Video was a tradgic one to have happend, a light on this earth has gone out..
i have read the book bye Authour: Andrew Toddhunter "Fall of the Phontom Lord"

In the early darness of Novemeber 23, 1998, Dan Osman was killed in a 1,200-foot fall from Yosemite National Parks Leaning Tower.
Following a jump of some eleven hundred feet -a world record- the rope broke at a point nearly two hundred feet above his harness.
He must have understood, for an instant, that the system failed.
He was almost certainly killed upon impact.
Osman was thirty-five.
Osman and a number of freinds had erected the equipment weeks before, and spent several days jumping on the gear before Osman was detained by authorites for a suspended driver's licence and related offences.
On the afternoon of his death, Osman and a freind returned to the site to remove the gear.
The equipmenthad been exposed to the early winter elements- snow , rain, cold nights, and warm afternoons with drimatic temperatur swings-for over a month.
Thw nylon climbing ropes in the system were almost certainly damp to the core at the time if the accident, and rope manufactures estimate as much as a 40% decrease in rope strenth while wet.
In all likelihood, the rope broke at a point that had previously been knotted .
The nylon fibers in the area of such a knot, already strained by the first series of jumps,m would have been further weekend by the expansion and contraction cause by the variations of humidity and tempreture.
Taht Osman concidered the equipment sound is both suprising and a testement to his extraordanary faith in its strength.
He was sure of one thing he wrote in a personal letterjust days before the accident, and that wes the rope would never break if properly rigged.
Speculation that his decision to jump on the gear was in some way suicidal is unfound.
There is strong indication that Osman was intending to slow down, at least temporarily, and spend more time with his daughter.
He made comments to that effect, and had proposed marriage to Nikki Warren a week prior to the accident."
"In the dilating flash of time through which he fell, untethered, I hope that we has not afraid.
He had erned that, certainly, if nothing else.
A final moment of composure-not of resingnation but of rediness, of welcome-for the sword stroke he could not elude."

He personally was my biggest and for most idol to start and take up climbing,
after reading the book and seeing the films, i was hooked,
It is a must get see and read.
i give it the full thumbs up!
Anonymous
1/7/2004

This is an intense show. The directing was well-done though not exactly Oliver Stone, with the excitement building to climax, with a momentary breather every so often. I orginally wanted to watch it because of local heros Steph Davis and Dean Potter, but I got a lot more, like inspiration! By the way, the music is wonderful, too. Some of my favorite musicians like Harvey Mandel and Jason Becker add to the tension. Again, well-done, worthwhile and unique. -Brad in Moab
Anonymous
2/12/2004

Excellent video, love it to death.

I was interested in the story behind Osman's death and googled for it. Sorry I don't have the link but it was from the black diamond safety specialist who examined the ropes after the accident.

From memory it was not the condition of the rope that was the problem, but the fact that Dan wanted to break his record even further. In order to do this he picked a point higher up and on the other side of his tyrolean line from his original jump point. That unfortunately meant that he had to jump over his tyrolean line. The story as I remember it was that the friction from the jump rope being pulled over the tyrolean line cut the tyrolean line.

This is only my memory of the article I read and apologise for any inaccuracies.

---
Further Reading:
Just Push Play - Details, purchasing, reviews, etc.
New England Bouldering - Details, purchasing, etc.

Home | Guide | Gallery | Tech Tips | Articles | Reviews | Dictionary | Forum | Links | About | Search
Chockstone Photography | Landscape Photography Australia | Australian Landscape Photography

Please read the full disclaimer before using any information contained on these pages.
All text, images and video on this site are copyright. Unauthorised use is strictly prohibited.