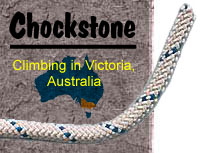 Sponsored By
ROCK
HARDWARE

| | |
| --- | --- |
| | For All Your Climbing Gear! |

Sterling: Sterling "MARATHON PRO" 10.1mm X 60M. Dry Core. Weight: 63 Grams/mtr. Number of UIAA Falls: 6. Impact Force: 8.6 kN. N/B Thicker sheath and Durable. This is an awesome rope IMO... New 2017 ORANGE/BLACK colour! Super SPECIAL for a short time only! $299.00
21% Off

Climbing Books Reviewed
[ Books | Movies | Screen Shots | Best Stuff | Aussie Titles | Latest Reviews | Reviewed Only | All ]

Expeditions
Get inside the skull of Andrew Lindblade
| | | | |
| --- | --- | --- | --- |
| Format | Book (Australian) | Category | Narratives |
| Title | Expeditions | Pages | 233 |
| Author | Andrew Lindblade | RRP | $32.95 AUD |
| Publisher | Hardi grant Books | Reviews | 5 |
| Edition | 2001 | Ave Rating | (4.00 of 5) |
User
Comments

Donut King
6/22/2002

So you think climbing mountains is all about huge sponsorship deals, swanning about in "Patagucchi" slacks and approach shoes, impressing friends over a warm latte in Lygon St and living it large? Bullshit.

They way I see it climbing mountains sucks, its damm hard work, grim, expensive, wayb beyond dangerous, distressing, cold, etc etc.

Lindblades book is a winner, because he tells his story in real life language. Theres no "Gee it was really hard but we made it to the top and now I'm THE man and my shit dont stink" type crap.

Its not only about the physical steps taken in any journey but also the mental steps. The bits in between the climbing that no one really talks about. The journey from playing around on Taipan Wall to being the first team to forge up the Nth Face of Thaly Sagar (6904m) after having been forced of a few years earlier. this is ground breaking stuff.

why do people cream themselves over Everest....if you have the cash they'll pull your dead carcas to the summit for one last "glory trip"...wankers......back to the review...

Andrew talks deeply about his strong friendship with his climbing buddy Athol Whimp. As Baxter said in a ROCK editorial (a few issues ago now) they are one of the great teams in Oz (world?) or words to that effect anyway.

You get the feeling that they have developed that sort of trust that can only be gained "in the heat of battle". When you have to trust that your mates will come through for you when the chips are down, someone you can rely on. these guys won the "golden ice axe" award (best mountinerring feat, sounds/looks better in French) for their climb of Thaly Sagar back in 1997.
Local boys made good.

Listen folks, do yourself a big favour and buy a copy.

This book is a welcome relief to the usual sort of crap that goes around how climbing a big lump of dirt is about sucess and being a winner or "car-accidents" waiting to happen on bigger lumps of earth.

The photos are some of the best you'll see. A real sense of depth comes though.

It only cost about the same as 3 nice DB crabs, the boy is from Melbourne for gods sake, he used to climb at the Mill ( I think).

My dad read it and he reckons it a top read...nuff said
Anonymous
7/23/2002

A good read. A real insight into climbing big mountains. Large chunks of captivating reading, just not from start to finish.

Mike
12/26/2002

I hinted that this book was on my wish list prior to my birthday this year and having now just finished reading it I can say that I havenít been disappointed with the experience. Being an Aussie Andrew has scattered the novel with a few references to places well know to the Australian climber. He spent a fair amount of time rock climbing in Victoriaís Arapiles and the Grampians before venturing further a field to build an impressive mountaineering career on remote alpine peaks in distant parts of the world. Through all his well written adventures somehow these little local anecdotes sparked a link, at least for me. Iíve touched the same rock that this local legend trained upon. Possibly fell off routes he probably cruised before breakfast. Though the scale of his endeavours will forever greatly dwarf anything Iíd contemplate, reading his words somehow made it easier to imagine myself high on the oxygen starved peaks, dodging rock fall, enduring forced bivis at breathless heights Ė maybe. Anyway, tenuous though the connection was it was enough to make this document a vicarious page turner. I recommend it to all, and especially to fellow Aussie climbers. Who knows maybe it will provide inspiration to launch a similar mountaineering career. At the very least maybe one day I might stand at the base of New Zealandís Mt Cook and remember that this is where it all began for Mr Lindblade.

The book is essentially a series of trip reports covering a portfolio of impressive peaks bagged. If I had to pick fault Iíd say that this is where it might be. It would have been nice to hear a little more about the times between trips. To link the seemingly unreal heights with concepts us mortals down here at sea level can comprehend. He does do this to some extent, but overall the days high up on the ice are documented possibly too well if that makes any sense. A bit more character development I guess is what Iím trying to say. Also the reader is given many an intense and descriptive journey of battling high winds, cruel bivis, thirsty steep treks, hard mixed rock and ice routes and very impressive first ascents, and yet it all kind of left me feeling like Iíd still want to ask, ďyeah, but what was it really like?Ē. Rapping off a single poor anchor thousands of metres above in a raging storm, your fingers frozen solid. Stuff like that he writes seemingly as par for the course. Iím having trouble expressing what I mean here. I guess youíll just have to read the book and develop your own opinion. In any case itís a great read.

Some of the places he gets to with climbing partner Athol Whimp are amazing. Fitz Royís north pillar and Cerro Torreís south east pillar in Patagonia. A first ascent on Thalay Sagar and the north face of Jannu in the Himalaya. Itís all there and more. Wild stuff. With some great colour photos to complement the words. Thereís even a shot of him ticking a grade 29 on the Grampiansí Tiapan Wall, just to relate the whole incredible scale of his career back to something some of us would at least have stood at the base of and stared. Like a said this book is a bonus for locals, even if, like me, youíve never set foot on a peak even half the height the aforementioned. If he does a biography Iíll buy it.
Joe
2/20/2003

I was so psyched to read this book as Andrew Lindblade is one guy I really look up to. The book started well and was gripping in parts, But i found it really lost it towards the end, and I lost interest completely. Still, you get to read about some of the awesome stuff he and Athol have been together and it is really inspiring. Worth Reading.
Rob
1/15/2004

A very good read, at times absorbing but loosing it a little bit towards the end.
Well writen by a down to earth"Aussie" this book was made better by knowing that Andrew Lindblade has got familiar roots to me, I have seen him at the gym and climbing outside and can draw parallels with the strong friendships that climbing gives you such with Andrew and Athol.
---
Further Reading:
Hardie Grant - Description of some Hardie Grant books, including "Expeditions".
Dymocks - Review of "Expeditions" from Dymocks Books

Home | Guide | Gallery | Tech Tips | Articles | Reviews | Dictionary | Forum | Links | About | Search
Chockstone Photography | Landscape Photography Australia | Australian Landscape Photography

Please read the full disclaimer before using any information contained on these pages.
All text, images and video on this site are copyright. Unauthorised use is strictly prohibited.