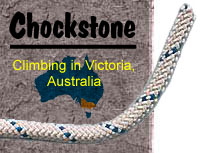 Sponsored By
ROCK
HARDWARE

| | |
| --- | --- |
| | For All Your Climbing Gear! |

Mad Rock: Mad Rock "Bottle Nose" Quick Draw. This is one nice looking quick-draw. Top Straight gate is BLACK body/yellow gate. Bottom Bent gate is YELLOW body/black gate. Both karabiners are 24 9 9 kN. 150cm (6") black NYLON dog bone (22kN). Awesome value IMO. $24.00
20% Off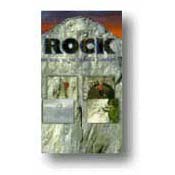 Climbing Media Reviewed
[ Books | Movies | Screen Shots | Best Stuff | Aussie Titles | Latest Reviews | Reviewed Only | All ]

Rock: The Soul of the Climbing Experience
(Doco) Rock & Ice climbing and bouldering in America, Italy, France, Germany and Slovakia
User
Comments

Mike
8/18/2003

The movie is basically about sport, trad and and ice climbing in Europe and the US. It was a little hard to get into, possibly because it's fairly old now and the bar, in terms of camera work, editing and content has been raised since its production. In its day it there probably wasn't many other climbing documentaries around, but having seen quite a number of these films now I'm finding myself getting rather picky. The dizzying shaky, and held camera work, the dated, unnecessary and perhaps even annoying post production effects – it all takes away from the viewer's ability to vicariously experience the climbs. Which is a pity really because in terms of content, there was plenty of scope and opportunity. The film heads off to some great locations in Europe and the US. We see some good climbers and seriously attractive scenery. The film maker even goes to lengths to ensure some decent angles are used, with lots of close ups, which I like. But, yeah, it all kind of fails to be absorbing somehow, with one or two exceptions perhaps.



It starts well, with Alex Lowe climbing mixed rock and ice on the first ascent of "Triple Bypasss" (WI 6+), in Cody Wyoming. The "7th Tentacle" (WI 6+) and "Octopusy" in Vail, Colorado – impressive waterfall ice, with an interview cut into the footage. At one point a large spike of ice breaks off and spears Alex in the chest, though he appears uninjured. He then solos "My Only Valentine" (WI 5) also in Cody Wyoming. Some good close ups. Like I said it gets off to a good start.

Jules Eichorn, Smoke Blanchard and Peter Croft say a few words, before we are transported to the Primrose Dihedrals (5.11) on Moses Tower, Canyonlands of Utah, where Pat Adams and Steve Hong lead 7 pitches of trad climbing. Camera work is pretty bad, with terrible post production effects that make it almost impossible to focus on the climber's movement. It's almost like some home video footage that someone attempted to edit into shape to try and cover up all the mistakes. I'm sure the film maker has gone on to create better material and probably cringes himself when viewing some of this older stuff.



Now to the meat of the documentary. We are introduced to Hans Florine and a couple of others, Paul Linaweaver and Wolfgang Leeh. They basically spend a good bit of the film traveling around Europe climbing when it's not raining. Unfortunately they get a lot of rain and end up bouldering castles and the like. Anyway, most people would now recognize Hans' name as a famous speed climber. On wet rock they do routes like "Smokin Bolts" (5.12d) at Frankenjurn, taking a long fall and "Westside Story" 5.13b, where the climber hangs from his toes for a rest.

Next up the lads move to an area called Elbsandstien, where no modern climbing equipment is allowed. No cams, no chalk. They use knotted slings. One of the locals shows them how to place them by bashing the knots into pockets with a bit of stick. It's interesting to watch their attempts and then see them climbing over such gear. Bernd Arnold is shown 30 feet out from a knot on "Hollenhund" 5.12, looking relaxed. Unfortunately the zoom footage doesn't get us close to the action.



Slovakia is next where Marcel Zentro leads "Central Overhang" 5.11c explaining that the climbing gear in the past has been incredibly expensive. A pair of rock shoes might be 2 months wages. So the people of the area hadn't really explored the cliffs too much until more recently.

The rain sets in, so Hans and Co go skiing for a bit instead. Then it's on to Arco, Italy where Hans competes in a speed climbing event, but comes in 2nd or something, before the boys decide to climb a big route on "The Dolomites" well into the night, leaving the cameraman calling for them from the ground.

Most of the Europe footage has some great clips of amazing scenry mixed in with the climbing, which is a bonus. Martial Dumais does a sport route called Dingomaniaque 5.11a at Verdon Gorge, before we are shown a quick glimpse of Lynn Hill in Lourmarin, France with some terrible camera work and editing, before J.B. Tribout ticks another sport route.



Back in the US at Temple Crag, Sierra Nevada and two guys talk about how they learned to ice climb by dry tooling up river beds. This humorous footage is interspersed with short clips of Alex Lowe, Kitty Calhoun and Charlie Fowler doing some real ice climbing. It kind of works, and is, at least, funny to watch the two jokers trying to put ice screws into mud.

Towards the end of the film we see shorter segments with Andy Selters, ice climbing on "The Death Couloir" Mt Morrison, California, before Pat Adams takes us up a great looking trad crack route, which is totally destroyed by hideous post production effects. Then it's back to Sierra Nevada again, for an FA of the North Pillar of Mt Dade. The movie ends with Steve Schneider leading a sport route "Children of the Revolution" in the worst possible wardrobe choice for a man.

In summary, a lot of good content, scenery, amazing locations, and routes, but just somehow it doesn't hold together well. I'm sure the film maker has gone on to produce much better climbing movies. Still worth watching, though.
---
Further Reading:
Outdoor Review - Review from outdoorreview.com
Range Of Light - Details from the maker's web site.
Amazon - Details, purchasing, etc.

Home | Guide | Gallery | Tech Tips | Articles | Reviews | Dictionary | Forum | Links | About | Search
Chockstone Photography | Landscape Photography Australia | Australian Landscape Photography

Please read the full disclaimer before using any information contained on these pages.
All text, images and video on this site are copyright. Unauthorised use is strictly prohibited.