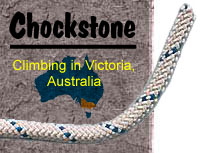 Sponsored By
ROCK
HARDWARE

| | |
| --- | --- |
| | For All Your Climbing Gear! |

Black Diamond: SET of 6 "C4" Cams and 6 matching wire Gates. Camalots sizes .4, .5, .75, 1, 2 & 3 and "Neutrino" 6 Pack. N/B Comes with a FREE carry bag. $565.00
19% Off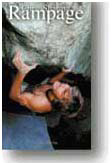 Climbing Media Reviewed
[ Books | Movies | Screen Shots | Best Stuff | Aussie Titles | Latest Reviews | Reviewed Only | All ]

Rampage
(Doco) Follow Sharma, Carrion and friends on an outrageous two month bouldering spree .
User
Comments

Mike
9/1/2003

Rampage is possibly the best pure bouldering video I've watched thus far, and I've seen a few now. It's described as a two month bouldering spree with Chris Sharma and friends, across the American west from Arizona to Canada. Essentially it's a documentary of a young (1999) Chris Sharma pulling down some hard boulders, with additional problems being climbed by his friends. I'm not a boulderer as such myself (see it as a training thing), and I still found it very enjoyable.

The camera work is excellent. Sometimes climbing videos tend to look like they were made by climbers whose obsession with the sport spills over into amateur filmmaking. Rampage, looks like it was made by professional filmmakers who got caught up in the climbing obsession. Basically all the video photography (and editing) is faultless, with the exception of the handheld stuff by the lads themselves, but that is supposed to look off beat.



By the end of watching it we were all psyched up to climb something. It was pouring rain outside, but a little group of us actually considered making a mad dash to the nearest urban wall.

The movie kicks off in Santa Cruz, CA, where they pick up Chris and head off in a campervan. Chris gives us a little tour of the camper which becomes their home for the next few weeks. We then head to various destinations on the road trip, with each new locale being intro'ed or separated somewhat by footage highlighting the hard moves to come, or some social scene of the lads being lads.



Several FA's by Chris and Co later and we've been shown some great camera work and interesting places. For example, we'll see the climber setting up for a dyno (wide angle), then a slow mo of the move, immediately followed by the hand slap close up so we can really appreciate the feature being tagged, then back to wide, and so on. They would have taken ages filming in such detail, and it shows.

At one point our hero looses a shoe and decides to tape his feet and continue climbing, claiming he's getting better contact with the rock. We are shown a snippet of Chris competing at an outdoor gym competition, maybe X-games or something. Anyway, he wins and takes the prize money. I'll also, mention "The Draw" in Arizona as interesting, with the rock shown being total horizontal with amazing pockets. Looked fun. Towards the end of the flick, at the foot of some tall cliffs in Sqamish the boys joke about trad climbers, laying it on a bit thick, but it's all in good fun.



The last problem shown, "The Proposal" an FA by Chris, is filmed in great detail, with each hold/grip explained and demonstrated in close up – really gave a good impression of the unique difficulties making it possible for the viewer to imagine attempting the moves themselves, or at least trying to. With some actually reasonable music (as opposed to the usual loud grunge-rock rubbish) and attention to detail I have to say I really enjoyed this movie, despite not really being into bouldering myself.

Here's summary of the places visited:
Castle Rock, Black Mountain, The Tramway, The Draw, Lake Tahoe, Humbolt County, Squamish.



Note many of the problems they do are not graded. Chris expressed his reluctance to grade things, explaining that every problem is different for each person.
zzsean
7/24/2002

One of the definitive Bouldering Videos. :)

It has Sharma pulling down insanely hard, it has a road trip and it just has a bunch of Climbers having fun at what they do.

Combine that with great editing and an excellent soundtrack and you have a video deserving to be on anyone's shelf.

Remains my favorite bouldering video.
Climbinkate
8/2/2002

Absolutely the most intense video to date!

Chris and Obe are great, top form, and I love to see Julie in the mix!

The comp. scenes are excellent, and the soundtrack makes you want to climb, but you just can't turn off the movie!!!!!

alrob
12/3/2002

what could be better then an entire video of Chris Sharma "squeezing the rock juice?".

Awe inspiring bouldering, in the most scenic of areas in America. 5 stars for it's entertainment value too. It's not just a video showing off bouldering, but the feelings, trials and tribulations that flow between a boulder and a climber.

Tel
12/27/2004

Now also available on DVD, containing an extra 40 mins of footage.

I really enjoyed the movie, don't know about others but I kinda thought I saw the beginnings of some friction between Sharma and Carrion.
Some awesome problems being done and it was nice to see them sketching around at times. The relaxed and fun attitude comes shining through also and like Mike said makes you want to go climb something.
---
Further Reading:
Outdoor Review - Reviews from outdoorreview.com
Big Up - Details from the makers.

Home | Guide | Gallery | Tech Tips | Articles | Reviews | Dictionary | Forum | Links | About | Search
Chockstone Photography | Landscape Photography Australia | Australian Landscape Photography

Please read the full disclaimer before using any information contained on these pages.
All text, images and video on this site are copyright. Unauthorised use is strictly prohibited.