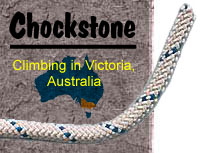 Sponsored By
ROCK
HARDWARE

| | |
| --- | --- |
| | For All Your Climbing Gear! |

Black Diamond: "ATC" Belay device - Suits 9-11mm ropes - Great all-rounder. Anodised Bronze. $25.00
24% Off

Climbing Media Reviewed
[ Books | Movies | Screen Shots | Best Stuff | Aussie Titles | Latest Reviews | Reviewed Only | All ]

Where The Mountain Casts Its Shadow.
The Personal Costs of Climbing. Winner of Mountain Literature Award at 2003 Banff Mountain Book Festival.
| | | | |
| --- | --- | --- | --- |
| Format | Book | Category | Narratives |
| Title | Where The Mountain Casts Its Shadow. | Pages | 274 |
| Author | Maria Coffey | RRP | $23.95 AUD |
| Publisher | Arrow Books | Reviews | 3 |
| Edition | 2004 Paperback edition. | Ave Rating | (4.50 of 5) |
User
Comments

IdratherbeclimbingM9
9/17/2008

Buy it.
Read it.
You won''t regret it.
It is one of the best I have read and is certainly great value for money, especially if you are inclined to explore the mental aspects of the game that climbers play/call lifestyle.

Others have reviewed it and said;
1."Climbers who court danger in the worlds highest places risk far more than just their own skins. When tragedy strikes, what happens to the people who love them? Why would anyone choose to invest in a future with a high-altitude climber? What is life like in the shadow of the mountain? Such questions have long been taboo within the international world of mountaineering. Now Maria Coffey breaks this silence. She recounts climbers stories of near-death experiences, and gives a voice to the families and loved ones of Chris Bonington, Ed Viesturs, Anatoli Boukreev and Alex Lowe, amongst many other famous names.
Her riveting narrative weaves tales of adventure with first-person accounts of the people left behind, highlighting the conflicting beauty, passion and devastation of this alluring obsession."

2. A common theme emerges, of the powerful appeal of the next challenge, even when climbers have suffered severe injuries and are leaving spouses and young children at home. Although Coffey doesnt offer conclusive reasons as to why partners tolerate such behaviour, she deftly examines the unique bond between an explorer and his or her family. She recounts the surprise of a climber who learns the author has married a non-climber: "I laughed at his presumption that Id seek out another mountaineer, yet I understood the reasoning behind it. The mountaineering tribe is a comforting place for the partner of a climber. Its protective circle shuts out the questioning eyes of the outside world. Theres no need to explain why someone would chose, again and again, to put himself in danger-it is understood, accepted as normal, seen as admirable." Climbers repeatedly put themselves at risk, says Coffey, and return to climb after suffering serious injuries, even amputations. According to Coffey, competition among climbers (and a sense of self-definition through climbing) is simply an essential part of their lives. Coffeys interviews brim with rugged honesty, and some of the accident details are gruesome and potentially disturbing, yet her books combination of memoir and psychological overview is unique."

I am hard pressed to add anything of further value to the above critiques, other than I found it to be a lot better book than Fragile Edge which precedes it.
It has an intrigueing style that draws the reader in. If one has the time they would not put it down until finished, however I found that one can read (and re-read!), chapters to then go away and ponder upon, equally easily.
She has certainly done her homework and quotes many sources to explore not only the obvious but also the less obvious aspects of the whole grief process.
What you glean from the book is applicable, indeed whether or not you are a climber, let alone a high mountaineer.



dmnz
1/4/2011

Yep, read it a few times. It may be like looking into a mirror sometimes. Fairly digestible for non climbers too so a good one for the family to read if they want to get a glimpse of what it''s like.

Read Malcolm Slesser''s With Friends in High Places if you liked this. The latter doesn''t ask the questions as directly but definitely recommended. And there''s a ski one out there too that I''ve yet to get around to: Jay Eacker''s It''s About Skiing and Not the Skis

Camalittle
3/10/2011

If you want a ripping yarn, this isn''t the book for you. Although it is more
about mountain climbing (like most books) rather than ''just'' rock climbing, it
does offer some great insight into what drives us to do what we do, why we
get a thrill out of climbing, and the effect our trips have on partners and
families. Also has some nice ''home truth'' stories about some of the more
famous mountaineers. A worthy read.
The only library in Victoria which seems to have it is Philip Island.
Home | Guide | Gallery | Tech Tips | Articles | Reviews | Dictionary | Forum | Links | About | Search
Chockstone Photography | Landscape Photography Australia | Australian Landscape Photography

Please read the full disclaimer before using any information contained on these pages.
All text, images and video on this site are copyright. Unauthorised use is strictly prohibited.