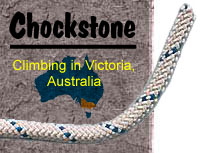 Sponsored By
ROCK
HARDWARE

| | |
| --- | --- |
| | For All Your Climbing Gear! |

Petzl: D11 "Rappel Rack". For use with 1 or 2 ropes. Diameters from 9mm to 13mm. Two red fixed bars make for easy threading. SUPER Special! $119.00
21% Off

Climbing Media Reviewed
[ Books | Movies | Screen Shots | Best Stuff | Aussie Titles | Latest Reviews | Reviewed Only | All ]

A Summer in the Southern Alps
Vaughan and the RMIT crew take on various peaks in NZ.
| | | | |
| --- | --- | --- | --- |
| Format | Video (Australian) | Category | Non-Fiction |
| Title | A Summer in the Southern Alps | Mins | 45 |
| Starring | | RRP | |
| Director | Vaughan Shanks | Reviews | 5 |
| Edition | | Ave Rating | (3.00 of 5) |
User
Comments
V
9/25/2003



Filmed on a shoestring budget, using a solar-charged, hand-held digital camcorder, this is a short film about the RMIT trip to the Southern Alps of NZ over the summer of 2002/2003. Featured climbs include an attempt on the low summit of Aoraki - Mt Cook, some climbing in the Upper Tasman area, including Mt Elie de Beaumont, and an attempt on Tititea - Mt Aspiring. This film is currently available in SVCD format, but a DVD may become available soon. Contact Vaughan Shanks for more information.

James
9/30/2003

I had a squiz at this video over the weekend.

I thought it was very good, considering it is essentially a home video (documentry style I guess). The video shows some of the classic NZ alpine scenery of the more popular climbing areas. Also included are some quite breath taking shots of the magic alpine mountains. Many of the parts of alpine climbing that are often brushed over get more of a look in here which I thought was good - for example: the desparate approaches in shite weather, the *joys* of snow camping (I still don't know why people insist on sleeping in tents when there are perfectly good huts there), the excellent NZ high huts, retreating from routes etc.

Some parts are a little long-winded, but I assume that the video was produced as a record of the trip (not just a video to appeal to the masses), so this is quite understandable.

Bolt-clipping sport climbing punks probably wouldn't be interested in the video (alpine climbing is much too scary & too much effort), but I definitely recommend it for any who has done any alpine climbing or for anyone who is keen to do some in the future.

Also, add another 1/2 star if it becomes available on DVD & you have a huge wide screen TV (to 'do justice' to the scenery shots).



Cheesehead
10/12/2003

I like this film, mainly because that's the cheeshead head in the center tile.
But seriously folks, I daresay this movie apeals to the reminisence of being there. I assumed it wouldn't really work for anyone else, but alpine climbers from around the world always make funny noises when they watch it - in a good way, given the context.

The amount of action footage in this film is testimony to my idea - that in order to take really great action photographer or cinematograopher, one has to be somewhat separated from the action. As proof, some of the best scenes were shot by Vaughan when he had completed a solo ice climb and could catch some others coming up.

In summary, A summer in the Southern Alps is not a tangy vaccum wrapped morsel of action sauce that the plebes will crave on the way home from the pub on saturday morning. Rather, it is a more wholesome potato dish that nourishes and delights the mountaineer who longs for deb and hot raro once again.

Two picks up for the fine effort, Mr Shanks

PS- an extra half star for the music selection. There is something to make everyone cringe

Mike
10/16/2003

Agree with all the above, a great amateur doco movie, which I really enjoyed watching. I was excited enough after seeing it that I immediately passed it onto a friend who I know is planning a NZ mountaineering trip in the near future, thinking this would be just the ticket to give him a taste of the real action. Sure if Vaughan had had time to solo ahead and set up a tripod or rap down something with a steady-cam device, then do post climb interviews or something he could have staged more impressive and professional sequences, but then the thing might have come across as lacking in realness. Also the home-movie feel has been improved upon a good deal by some excellent editing. I was also impressed by the SVCD quality, which appeared better than I expected, certainly as good as VHS, with only minor negative artifacts from compression here and there. So all up very worth watching, and worth bugging Vaughan for a copy.
G
12/22/2003

I feel priveleged to have been at the opening night for this fine film. Hving been to Mount Cook, but only walking up as high as Meuller Hut, the film gave me a different perspecitve of the place. I thought that there was a nice mix of footage i.e. it didn't focus too heavily on any one aspect of the trip. I have to disagree with Cheesehead however, I found Vaughn's eclectic taste in music delightful. The film has a very 'real' feel to it due to the home video style. I would recommend it to anyone who is considering taking up mountaineering or those wanting to reminisce about time spent in NZ.

Well Done Vaughan.


Home | Guide | Gallery | Tech Tips | Articles | Reviews | Dictionary | Forum | Links | About | Search
Chockstone Photography | Landscape Photography Australia | Australian Landscape Photography

Please read the full disclaimer before using any information contained on these pages.
All text, images and video on this site are copyright. Unauthorised use is strictly prohibited.