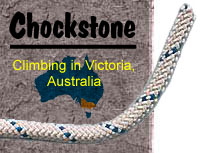 Sponsored By
ROCK
HARDWARE

| | |
| --- | --- |
| | For All Your Climbing Gear! |

DMM: DMM RACK DEAL Total is $1346. (DISCOUNTED prices normally $1106) This is a "PREMIUM" DMM Rack for under $1000. N/B Only 1 rack available at this Super Special price. Be quick! $999.00
26% Off

Climbing Media Reviewed
[ Books | Movies | Screen Shots | Best Stuff | Aussie Titles | Latest Reviews | Reviewed Only | All ]

Front Range Freaks
(Doco) A varied film following some of Colorados top climbers.
User
Comments

Mike
8/14/2003

Front Range Freaks is a good climbing film, possibly deserving of more stars than I gave it. It's primarily about hard trad leading, bouldering and soloing. It does contain its share of silliness as the title suggests, but its primary focus, for a good third to a half of the movie, is a tribute to the late soloist Derek Hersey who died while soloing. The whole film lasts over 90 minutes so it's not short on content.


Above Left: Derek Hersey soloing. Above Right: Paul the Dyno dude.

The segment on Derek is well presented. The filmmaker has obviously gone to considerable effort of round up and interview numerous friends and climbing partners of Derek, including a visit to the UK to gain his parents perspective on their son's childhood and introduction to climbing. The whole piece is very interesting with some old (and unfortunately lesser quality) footage and stills of Derek soloing various routes as well as footage of an interview of sorts with the man himself. We see and hear about Derek's solo (no gear, nothing but a chalkbag) and sometimes onsight leads of routes such as Rosy Crucifixion 5.10, The Diving Board, The Naked Edge 5.11 600 feet, Wurschs Dihedral 5.11 300 feet, The Yellow Wall 5.11 1000 feet (23+ pitches), etc. On that last one the photographer describes watching Derek repeatedly inching for a high reach and failing several times before tagging it. Just hearing this description, strikes a cord, and makes you nervous to think about being so high, unprotected. But that appears to be what his life was all about; complete freedom. Anyway, as I say, this tribute takes the bulk of the film. The rest is all about hard trad leading and bouldering.

The movie opens with a segment on Paul Glover dyno-ing past the crux of several boulder problems and short single pitch routes. This was pretty uninteresting footage to me, because all I thought was "lets get off this silly jumping guy and onto some real climbing". The unhelmeted fool cracks his head open and we are shown it being stitched up – yuky stuff. I suspect they put this section at the start to set a fast pace and off beat mood to the film, but it really didn't grab me.

The next section was even less interesting with Naomi Guy bouldering "Germ Free Adolescence V5 in an 18th century dress. What the? Just fast forward. After this bit we finally get into some footage worth watching. Heidi Wirtz in the Rocky Mountains leading "The Wasp" 5.12/13 and taking some trad falls.


Above: Timmy O'Neil the urban ape.

Timmy O'Neil appears next urban bouldering and soloing. This section was a highlight, and really quite shocking the first time you view it. Wild stuff. He solos up buildings like a monkey, gets questioned by a cop and told "get down from there!". It culminates in a solo of the University Of Colorado's Student Dormitories – 12 stories up a chimney and he's holding casual conversations and joking around. Okay, so it may not appeal to all, but it is at least in line with the title of the film.

The next segment had us all laughing out loud and shrieking with mirth. "Biscuit" the climbing dog is a wonder to watch. A tiny little creature, he follows his master up low angle slabs and even does a bit of crack climbing with full body jams. He twists his head to get extra purchase in off widths – it's hilarious stuff, though I doubt the RSPCA would appreciate it, with the poor thing forced to do a quick reverse and jump to bail off one route.


Above Left: Biscuit the wonder dog. Above Right: Matt Samet on the FA of Skin Flute 5.12.

A short section on Base Jumping is next then it's back to Hedi on the Wasp. She takes 3 days to make a successful ascent. Very watchable. Next is the Derek Hersey bit, then afterwards Matt Samet leads the FA of Skin Flute 5.12 on the north face of Seal Rock. He mentions a no bolting ethic to the area to explain why he is doing such run out trad. Nice close up footage really gives a good sense of the holds and exposure.

Next is Eric Johnson on Rough Roof, onsighting on very poor trad gear. Dual cameras gives us good coverage. Vera Schultze-Pelkum shows us how to do an off-width crack, with arm bars and chicken wing moves – looks a struggle but she pulls it off nicely.


Above Left: Topher Donahue. Above Right: Vera Schultze-Pelkum.

"The Lock Of Rages" 5.13 on a wall called The Rock Of Ages is the route for the next segment. Topher Donahue leads over small wires and takes a sizable fall. Again good camera work. Then it's back to Rough Roof, Eric puts a cam in a terrible loose flared crack and proceeds fall trying to clip it.

Beth Benett shows us how to lead Sliver Raven 5.11d. A very fit lady, she takes on this run out trad with the camera panning down to show just how run out it is. Back to Topher again on the Lock Of Rages. He tags the ascent after working tiny single finger jams. Great footage. And we end with Eric finally ticking Rough Rough on the 3rd attempt.


Above Left: Beth Benett on Sliver Raven 5.11d. Above Right: Heidi Wirtz on "The Wasp" 5.12/13

The back and forth nature of the editing is good, it keeps the pace moving, and it's good seeing climbers falling off and returning to make the tick. All up this film is definitely worth watching. It's primary focus is the tribute to Derek, so if you are interested in that, consider the other bits as a bonus.
Mad Dog
8/8/2003

This is pretty entertaining. If you've climbed on the Front Range, it's pretty much a must-have. It sort of fits the modern home-brewed American climbing mold, but it has a few twists. Having some Derek Hersey footage is precious. The Timmy O'Neil footage is a blast. Overall, a nice variety of personalities and places.

alrob
2/4/2004

Steve Morris from Rock Hardware recommended this to me, and i can honestly say, it is awesome! My collection is built up of mainly bouldering, so this is a somewhat welcome relief sometime. Trying to focus more on climbing hard routes myself, i find watching the Wasp route particularly inspiring. That sketchiness above gear is wicked. Normally, we see on videos famous sport climbers cruising up a bolted route which they have worked on many times. With this video, we see actual working of the routes, the gear selection, the elvis leg, the doubt about the gear holding, and the ethics on gear over bolts. A completely different, and fresh look at climbing.
Anonymous
8/10/2004

That Topher Donahue Rocks!
Anonymous
3/9/2005

Eh, a bunch of spoiled trust-funders spending mommy and daddy's money showing off on rocks when the REAL climbers of the area, hard-working, hard playing and POOR go unnoticed whist they send climbs the stars of FRF can only do in their dreams....
Anonymous
5/1/2005

Great climbing. Funny.
dave
9/19/2005

Without doubt the best climbing movie I've seen. Inspirational and terrifying at the same time. For almost all the segments I sat in awe trying to imagine how I would be feeling in those situations! The answer: Very insecure.

Great Movie!
Anonymous
3/4/2009

in response to - "Eh, a bunch of spoiled trust-funders spending mommy and daddy''s money showing off on rocks when the REAL climbers of the area, hard-working, hard playing and POOR go unnoticed whist they send climbs the stars of FRF can only do in their dreams.... "

what are you chattin about. Derek Hersey and all the rest''a whip your hind into shape fore you know what hit ya.
dont diss what you obviously dont have a clue about.
---
Further Reading:
Planet Fear - A review
Rock Hardware - Purchase within Australia

Home | Guide | Gallery | Tech Tips | Articles | Reviews | Dictionary | Forum | Links | About | Search
Chockstone Photography | Landscape Photography Australia | Australian Landscape Photography

Please read the full disclaimer before using any information contained on these pages.
All text, images and video on this site are copyright. Unauthorised use is strictly prohibited.