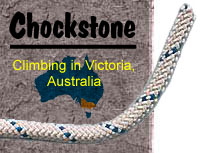 Sponsored By
ROCK
HARDWARE

| | |
| --- | --- |
| | For All Your Climbing Gear! |

Mad Rock: Mad Rock "Bottle Nose" Quick Draw. This is one nice looking quick-draw. Top Straight gate is BLACK body/yellow gate. Bottom Bent gate is YELLOW body/black gate. Both karabiners are 24 9 9 kN. 150cm (6") black NYLON dog bone (22kN). Awesome value IMO. $24.00
20% Off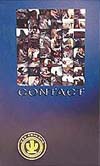 Climbing Media Reviewed
[ Books | Movies | Screen Shots | Best Stuff | Aussie Titles | Latest Reviews | Reviewed Only | All ]

Contact
(Doco) Bouldering at New Zealand's Castle Hill
| | | | |
| --- | --- | --- | --- |
| Format | Video | Category | Non-Fiction |
| Title | Contact | Mins | 60 |
| Starring | | RRP | |
| Director | | Reviews | 2 |
| Edition | | Ave Rating | (4.50 of 5) |
User
Comments

Mike
11/18/2002

"Contact" is a video devoted to bringing New Zealand's "Castle Hill" bouldering scene to life. The hill resides in the centre of the South Island and contains some of the best limestone boulders imaginable. I've actually had the opportunity to view the area first hand on our own visit to the Island, and remember excitedly scanning the outcrops for potential lines. Though bouldering is not really my thing (I'd rather be leading trad), this movie makes me want to hop on a plane and head back there with a bunch of mates for some serious crash mat thumping, tendon straining, chalk dust inhaling, hard pulling moves – which is exactly what "Contact" is all about. A group of young, fit dudes exerting every ounce of muscle to slap some of the most wicked slopers you'll ever see, and decking out nearly half the time. Repeated failures are shown, making the eventual send that much more enjoyable to watch. With a cry of "Com' on, Stick It!" (in a NZ accent), these lads have at it with a vengeance.



It should be noted that its not rated PG. Launching off of double smears and mono pockets tends to bring out the expletives, so perhaps slide this vid in after the little tackers have hit the hay. One of the best things about the performance, however, is the camera work. With one of their camcorders mounted on a pole they manage to show almost every climb from a variety of angles, favouring the "above looking down" view. Individual holds are easy to spot and visualise, putting the audience right into the thick of the action. Rather than being distanced from the sequence, we are placed right there, inches from each move. So much so, that it's possible to imagine pulling the moves yourself. You can see the very grains in the limestone. Note, however, that this technique may not appeal to all. For a non-climber it's probably going to come across as too much camera motion, giving it a slightly "home movie" feel. But for an audience of boulders, yeah, they're going to relish close ups of each crimp, each wild mantle and desperate slap to non-existent slopers.



The music is described on the back cover as "Rad techno beats from Omega. Word!". I kid you not, that's what's written there. For my own taste it does get a little monotonous, but will likely appeal to some. On the downside, the problems are not labelled during the movie, so the audience is left to wonder what is being attempted and what the grade might actually be. The movie runs continuously through one action sequence after another without let up, which makes for fast paced absorbing viewing, but we are not given any notion of who the lads are. Are they on FFA's? Is this an onsight? We aren't told. However, the cover does explain that the video showcases "classic problems such as the Phoenix, Leviathan, Cosmic Energy and The House Of Pain, and introduces many of the climbers responsible for the incredible problems". I believe that they may have repackaged the cover at some point though, because I read another review that claimed the route names and grades were listed on the back. Anyway...



So did I enjoy it? Well yes, very much so. It made me want to take a stab at the problems myself, if only I could afford the airfare and time off. Bouldering for me is just training for climbing. But watching this vid I can see how it, as an activity, can become an end in itself, containing rewards and challenges that are portrayed with enthusiasm in this very watch-able documentary. To traditional climbers, compared to hard won footage of a Himalayan ascent, or aiding out of a storm on a back country big wall, this is just going to look like a bunch of young rock jocks stuffing around with a camcorder in a picturesque landscape. But taken in context, within the sphere of bouldering, it really comes off as stimulating, especially on the high ball problems. Recommend viewing for all boulders, especially any planning a trip to NZ!



Above: Last scene of the movie, shows the most hideous flappers you'll ever see!

alrob
2/4/2004

Remarkably found this on the bargain table at the wilderness shop for half price, couldn't believe my luck! As soon as i got home, straight into the VCR it went. Could not move off the couch for the entire length, it was like nothing i had seen before. I was used to watching the typical muscling through problems in videos such as EOS 2 and rampage, however this was a totally different experience. To see fear in the eyes of the boulderer, as they press down on the rock, and the quite determination. Stunning location, stunning film. As Micheal said before, the filming techniques are not as smooth as that of the American releases (Rampage and Dosage etc), but the funky camera angles really do put you right in the moment. Highly recommended!
---
Further Reading:
Mountain Gear - Details, purchasing, etc.
Planet Fear - Reviews, details, etc.

Home | Guide | Gallery | Tech Tips | Articles | Reviews | Dictionary | Forum | Links | About | Search
Chockstone Photography | Landscape Photography Australia | Australian Landscape Photography

Please read the full disclaimer before using any information contained on these pages.
All text, images and video on this site are copyright. Unauthorised use is strictly prohibited.