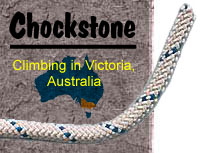 Sponsored By
ROCK
HARDWARE

Mt Teneriffe, Euroa
[ Climbs | Map | Forum | Trip Reports ]

Quick Stats
Climbs
***
**
*
Hardest
Longest
Rock
Access
40
0
1
4
23
64m
Granite
15 Min
Update: This review is now out of date. Access & routes have improved. See the latest VCC Eastern Vic guide for more details.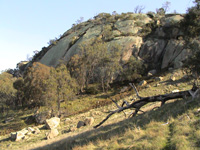 Mt Teneriffe appears on your right as your fire up the Hume highway towards Euroa. A boulder strewn hill offering sharp, short granite outcrops it doesn't look very promising from the road. Closer inspection reveals the huge "Sparrow Slabs" area (pictured right), that at first appears to present a hidden wealth of quality lines. Unfortunately, the promise somewhat fails to be realised. The rock tends to be mossy and prone to crumbling crystals unless it's been vigorously cleaned. And without the long awaited update to the Eastern Districts guide, the areas are scattered and confusing, making route finding occupying the bulk of your trip. It's not nearly as good as the nearby Warragul Rocks, nor is it comparable to other granite outcrops, such as Black Hill. However, it does offer something of an adventure, in a picturesque setting.
Right: Sparrow Slabs, as viewed from The Saddle.
Access is troublesome. The old guide is hopelessly out of date, but will at least get you close. Turn right off the Hume at the 130 km mark (from Melbourne), and duck down "Oak Valley Road" for 2.5 kms. (See: Approach Map). The slabs will appear on your right. Now for the fun. Between you and a rough dirt road (possibly privately owned, and not on the old guide) at the base of the slabs there lies two or three cow paddocks guarded by electric fences and the occasional bull. The old guide mentioned gaining permission to cross these paddocks from some farmer who has presumably long since left the area. The least intrusive approach we could find was to hang a U-Turn and head back up Oak Valley Road 500 metres or so, until you find a small bush paddock near the drive way of a one Milton Gibbs. This paddock is undoubtedly private property (gain permission to cross if you think it wise), but at least it doesn't have any live stock or electric fences, and only a short dart up it will yield the aforementioned rough dirt road. Heading left up this road will bring you to a bush paddock at the base of Sparrow Slabs. Jump the electric fence at the corner (handy boulder), and a short but steep cow trail leads up to the slabs themselves.
If you're super keen on bolted slabs, you may well enjoy the "Sparrow Slabs" area, with a considerable number of new routes having gone up. Two vertical lines of bolts a mere metre apart running up some slab to nowhere, is not uncommon. On the other hand, there is at least two or three routes worth a star. The base of the slabs runs for about 200 metres, with the most outstanding feature being a huge splitter crack/chimney near the right side. Just to the right of this we found a line worth doing, though I'm uncertain of it's name. With mixed trad pro and bolts, it's about 25 metres to the double ring bolts, and at a guess would be about grade 14 for pitch one. A second pitch above, following a vegetated finger crack would be hard, but possible. We chose to rap off.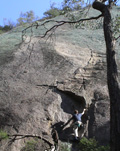 Above Right: Me leading and Kent seconding pitch one of the route just right of the main slabs chimney. Left: Kent bouldering up to the wicked under-cling start of a route just left of the main chimney.
About 10 metres left of the main chimney crack, we found another mixed trad and bolt line that looked fun (pictured left). At least the rock has some features, as opposed to the rest of the area which is mainly featureless slab. Unfortunately I couldn't send the double smears / wicked under-cling start, and had to back off the lead, without really getting underway. Never-the-less it looked worth a star to me.
Right: Me heading up, and belaying atop a grade 20, bolted slab route, definitely worth doing. Yeah, in the second image, that black dot in the top right is me.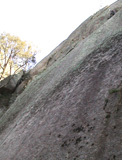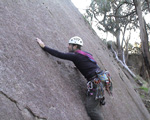 Heading left again, along the base of the slabs we found at least a dozen bolted lines, most of which looked exactly the same, and some of which seemed a trifle pointless. Approximately 100 metres along we came across one that shone out as better than the rest. A bolted, grade 20 (we think), slab, well cleaned, with a duel ring bolt rap station at about the 25 metre mark. I took a fall above bolt two (crux), but managed to get up the remaining portion without incident. The moves are very consistent, offering almost zero edges upon which to rest and reassess. Basically its hard friction smearing all the way, until an expando flake (slightly off route on your left), offers a stance at the very top. Then a weird little right traverse yields the rap station. The bolts are spaced far enough apart to make the demon rise within. However, I was very happy with the lead and give the route 1 and a half stars. Kind of like Milawa at Black Hill, but harder. A 2nd pitch may be possible, but was too mossy to consider on this day.
There are various other routes at Sparrow Slabs, but dammed if we could identify them. This area will likely be more fun when the new Eastern Districts guide comes out.

The Saddle (Climbing Banned)
"You should be made aware that climbing is now banned on The Saddle". - Bill Andrews, VCC.
To the right of Sparrow Slabs, you'll find "The Saddle", a loose collection of large granite boulders in a cow paddock, obviously on private property. A farm house sits quite close by, making us wonder if climbing is even allowed on this land (subsequent note: it's not!). Never-the-less, there are several lines here including a two star 23, though we couldn't find it.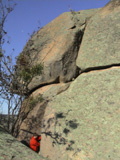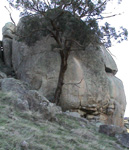 Above Left: Kent on City Living, 26m grade 15. A nice crack if it wasn't broken by a ledge and crumbly. Above Middle: The largest block on The Saddle. Above Right: View from the saddle overlooking farm land.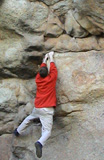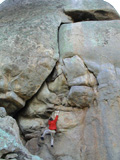 City Living, 26m grade 15 (pictured above), was about the only easily identifiable route. Kent soled the best of it, so we didn't bother with the lead.
Right: Kent bouldering "Magic", an incredibly attractive, grade 25, overhanging jug fest, that leads to a series of desperate under-clings, before launching up a vertical crack.

The most impressive piece of rock here appeared to be a wicked, juggy overhang (pictured right, possibly "Magic" 28m grade 25 freed back in 1998) on the largest block, that is just begging to be freed. We played around on the start and Kent vowed to return and red-point it, despite how hard to looks.
From The Saddle, hike up to the ridge line, through a gap in the fence, and head for the summit of Mt Teneriffe. This will take about 20 minutes. The summit is marked with a small triangular metal "trig point" structure. From here, your guess is as good as mine. We managed to find the route "Cracked" 12m grade 21 (picture right). Four bolts run up the left arÍte, making this line very hard. From the summit, continue down the other side a short distance. The cracked rock route is facing the highway. Where the other lines are I've no idea. We searched high and low for some time and only found a newly bolted project or two. Disappointed to not have found, "Layback To Glory", which the guide gives a star, we ended the expedition, on something of a low. A picture in the guide, taken from the highway and pin pointing the exact location of the main routes would have been invaluable.
Right: The climb on the left arÍte is "Cracked" 12m 21. Split Rock is about another 500m north west.
Bill Andrews of the VCC says: "It will be in the new Eastern Victoria Guide and Robin Holmes and a cast of thousand's (well, quite a few anyway) have been beavering away out there for the last couple of years. Along with photos, maps and route descriptions there is about 26 guide book pages. Apparently Steve Wilson spent a fair bit of time deciphering the old ED guide before Robin became involved and drew up some maps..... I hope the guide will be ready in a about 2 months, towards the end of October [2002].....You should be made aware that climbing is now banned on The Saddle".
| | | | |
| --- | --- | --- | --- |
| Sparrow Slabs | Height | Grade | Stars |
| [ About a dozen newly bolted slabs ] | ? | ? | ? |
| The Great Leap Forward | 18 | 22 | 1 |
| Ennaid | 21 | 11 | |
| Runaway | 23 | 16 | 1 |
| Sparrow | 64 | 13 | |





| | | | |
| --- | --- | --- | --- |
| The Saddle (Climbing Banned) | Height | Grade | Stars |
| Grandfather Clock | 20 | M4 | |
| City Living | 26 | 15 | |
| 1000 ASA | 12 | 19 | |
| Shaky Corner | 10 | 15 | |
| Vertigo | 21 | 23 | 2 |
| Little Fish and the White, Fluffy Cloud | 30 | 14 | |
| Portrait of Mario Vargas Llosa | 35 | 14 | |
| The Gownless Evening Strap | 35 | 15 | |

| | | | |
| --- | --- | --- | --- |
| Split Rock Area | Height | Grade | Stars |
| Mistreated | 14 | 18 | |
| The Rise Of Modern Socialism | 12 | 16 | |
| Pygmy Twilight | 16 | 17 | |
| Blue Day Black Night | 12 | 17 | |
| Avoid-Dance | 32 | 18 | |
| Wombles From Wimbolton Common | 50 | 19 | |
| Inch By Inch | 12 | 12 | |
| Liquid Laughter | 14 | 22 | |
| Layback To Glory | 14 | 22 | 1 |
| Outside Line | 18 | M2 | |
| Phlegm And Farts | 6 | 21 | |
| Tuff Tips | 6 | 22 | |
| Summit Road | 26 | 15 | |
| Summit Road Direct | 18 | 18 | |
| Summit Road Variant | 14 | 20 | |
| Midnight Crack | 12 | 16 | |
| The Other Side Of Midnight | 14 | 20 | 1 |
---
Further Reading:
Eastern Victoria - A rock climbing guide, edited by Michael Hampton, Robin Holmes, Paul Martin & Others, and available from local climbing shops, or the VCC.
Home | Guide | Gallery | Tech Tips | Articles | Reviews | Dictionary | Forum | Links | About | Search
Chockstone Photography | Landscape Photography Australia | Australian Landscape Photography

Please read the full disclaimer before using any information contained on these pages.
All text, images and video on this site are copyright. Unauthorised use is strictly prohibited.