A Comfortable Hanging Belay?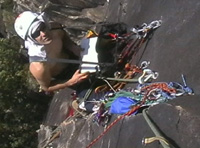 Contributed to Chockstone by Phil Box.
(Neither Phil, nor Chockstone takes any responsibility for the accuracy of this article, or it's suitability for the purpose. Use at your own risk. Chockstone Photography | Landscape Photography Australia | Australian Landscape Photography

Please read the full disclaimer).
Comfortable hanging belay, ha, there isn't one. But you can make it a little more comfortable. If you have a couple of long slings then you can set up something to stand in. Getting weight off your harness is by far the number one trick to achieving some modicum of comfort on a hanging stance. Make sure that you are moving your legs around when hanging or else you'll end up with deep vein thrombosis or worse, harness hang syndrome which quickly leads to death even in very fit and healthy individuals.
Above Right: Extreme Reading from a hanging belay. Lee belaying Phil at Beerwah, QLD.
I'm thinking that a long stint hanging in your harness is no good for your kidneys either. A harness with wide comfy belts is a definite advantage when it comes to hanging around. Leave that sporto harness at home it'll cut you in two. If you know that you'll not be there for too long then obviously you can adapt to suit the situation. If I know that I am going to have a long session hanging in my harness I will take up my belay pod which is a specialised fabric seat with an inbuilt spreader bar. (Eg, the Pika Belay Pod). I've sat for about seven hours belaying Lee Skidmore on Cuddles A3+ on the upper overhangs on Mt. Beerwah. One could also use a bosuns chair which is simply a short plank of wood with a piece of rope attached to each corner and in turn those pieces of rope go up to an attachment point. Both of the above will get weight off your harness.
A rope bucket made of cloth or vinyl is essential for dealing with the rope management. Simply feed the rope into the bucket and, as you need it, during your belay session it will simply feed out. You should never allow the rope to swing below you in the breeze. Murphy's law dictates that the rope will (not maybe) catch on a flake/stick/protrusion of some sorts. Worst case scenario is that the rope will blow out horizontally along the cliff and get hung up and then where will you be, it doesn't even bear thinking about, better to not have to deal with issues like that. Get a rope bucket, if you are using twin ropes then get two, are you using a zip line as well then get three.
If you don't have a rope bucket then you can organise the rope in such a way that you'll never end up picking up a loop. What you do is when you first start to lap coil over say a sling you will need to make large loops which will progressively become smaller. This way as you can see you cannot pick up a loop which could end up in a tangle just when you don't need it.
Organisation is key to not killing yourself. Know where everything is and have a place for everything and everything in its place. A good thing to bring along on a long belay stint is a book, we call it extreme book reading (pictured above right). Oh yes another thing don't forget water and food. I like to have some trail mix or scroggin which is a whole bunch of different mixed nuts and dried fruit and don't forget the lollies, fruit tingles are a great way of staving off drinking too much. You need to drink enough but not too much. You may want to drink too much when you first arrive at the belay due to the high exertion, don't do this, drink a small amount and suck on a fruit tingle and then take sips while you hang around.
A wallhauler or protraxion can be an advantage for hauling up light packs but a pulley and a prussic will suffice. Hanging well below your anchors is a plus too as this builds in a more dynamic belay as well as you then have options when it comes to rescue or hauling. You can also move around to avoid rockfall or falling partners or get a better picture.
Don't forget to remind the leader to clip the rope into a quickdraw that he will have placed directly into the top piece of the anchor and also that he should place another piece as soon as possible so he cannot fall directly on to the anchor. It may not always be possible to have bomber pieces right off as you leave the anchor, if this is the case then the anchor needs to be reinforced so that if a factor two fall occurs then the anchor will hold a London bus.
I am a fan of using a Grigri and they work so well in this scenario. You will be belaying the leader directly off your harness and this gives that dynamic belay. When you are belaying the second up you will need to be clipping the Grigri directly in to the power point of the belay.
Disclaimers as per usual, don't whatever under any circumstances take any of what I have written and go out and use it. Don't ever go anywhere near a cliff where you'll need to use this stuff and all the new liability laws can't come soon enough. You are responsible for your own safety on the cliff and you know all the rest so I won't bore you with anything more.

Chockstone Feedback - Discuss this article by leaving comments in an appropriate topic of the forum.

---
Further Reading:
Harness Hang Syndrome Fact & Fiction - By Joe Ivy, and posted on texasroperescue.com or try equivalent PDF document, Harness Hang, from the American Construction Inspectors Association.
Harness Hang Pathology - By John Green.
Pika - For aid gear, including such things as a belay pod.
Rockclimbing.com Forum - A thread about hanging belays.
Home | Guide | Gallery | Tech Tips | Articles | Reviews | Dictionary | Forum | Links | About | Search
Chockstone Photography | Landscape Photography Australia | Australian Landscape Photography

Please read the full disclaimer before using any information contained on these pages.
All text, images and video on this site are copyright. Unauthorised use is strictly prohibited.

No claim is made about the suitability of the information on this site, for any purpose, either stated or implied. By reading the information on this site, you accept full responsibility for it's use, and any consequences of that use.