MT COOK CLIMBING TRIP– DECEMBER 2003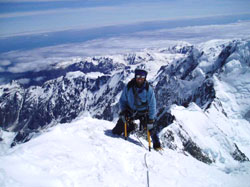 By John Kazanas
(All photos courtesy Steve Hunt)
After completing a TMC in Dec '02 with Alpine Guides, spending a week ice climbing at Blue Lake in August and a weekend here and there snow playing in the Vic Alps, it was time to get back to N.Z. and put my alpine climbing skills to good use. The plan was to spend 20 days starting with a warm up trip up to the Upper Tasman where the TMC had been held the year before, and then heading to the Grand Plateau area to climb the more serious peaks which would climax with a possible attempt on Mt Cook itself.
Preparations for this trip included multi day hikes (it snowed on Mt Howitt on the last weekend of November!), climbing with mountaineering boots/ice axes (let me tell you slab climbing at the North Jawbones with plastic mountaineering boots is damn hard work), lots of intense cardio stuff every day for the 3-4 months leading up to the trip, a min of 2 heavy duty and long indoor climbing sessions per week and obviously climbing outdoors at every opportunity.

FRI DEC 5 – GETTING THERE
As I had left my frequent flyer points booking quite late with Quantas, the only way I could book my flights to Christchurch was by going business class and using up extra points. Although flying business class and mountaineering don't seem "right" when you have to go you have to go. However, the only way was via a 6 hr stopover in Sydney. Although my plan was to have a beach day at Manly to get some colour before being fried by the NZ sun, it was 19 degrees and raining when I caught the ferry across to Manly. Melbourne weather in Sydney I thought, but I still spent 1.5 hrs there chilling out which beat hanging around at the airport all day. I then spent time in the Quantas Club stocking up on my alcohol consumption which I thought would be zero for the next 3 weeks in NZ. When time came to board I met Jonathan who lives in Sydney and we were off to Christchurch.

SAT DEC 6 - CHRISTCHURCH
We spent the day buying gas cooking cylinders that would have to last us 2.5 weeks and then spent $283 on groceries at the Pack & Save supermarket. We managed to speak with the manager of the meat/packing dept. who organised individual vacuum sealing of some of our perishable food which included fish, steaks, mince, beef strips and chicken snitchels. Good food goes a long way to good mountaineering and as we were flying into our climbs neither of us was keen to eat dried meals for 2.5 weeks. We spent like 2 hrs sorting all of our food and getting rid of all the food packaging which included 80 chocolate bar wrappers (bounty's, sneakers and mars bars!), cutting up our vegies and portioning our food in sealed bags. We obviously got some strange looks at the Stonehurst YHA kitchen! We even bought a $12 esky to store our meat and perishables for the 5 hour bus trip to Christchurch. I also purchased a copy of a great book called "The Mammoth Book of Eyewitness Everest – 32 Firsthand Accounts Of The Most Memorable climbs" for those bad wether days (and there would be plenty).

SUN DEC 7 – MT COOK VILLAGE & FLY IN
We caught the bus to Mt Cook village and along the way I kept telephoning Mt Cook Ski Planes to arrange a direct flight to Tasman Saddle Hut from Mt Cook Airport. Unbelievably, the stupid NZ bus driver from Newmens Bus Coaches who had previously charged us $40 for excess luggage ($10 per bag for 4 bags of climbing gear & food) kept refusing to drop us off at the airport as this was not part of his "normal" stops! Eventually he agreed to stop on the side of the road which was 500 meters from the airport itself but only if we agreed to move all of our things in a convenient unloading location underneath the bus. He then proceeded to stop at every lookout, town and place of "no interest" between Christchurch and Mt Cook Airport including that stupid dog statue at Lake Tekapo and the helicopter flying base at Glentenal Park!
Thankfully Todd from Mt Cook Ski Planes picked us up in his van from the side of the road and dove us the airport where I met the very friendly Elaine from Mt Cook Ski Planes who arranged our flight and our gear storage. As it was too windy for a ski plane we caught a helicopter with two other climbers who were flying to Plateau Hut to climb Mt Cook.
The flight to Tasman Saddle hut was nothing short of spectacular with the pilot hugging the slopes of the eastern side of the Tasman Valley to avoid the strong katabatic westerly winds coming down the sheer slopes on the other side of the valley. Landing around 100 meters from Tasman Saddle hut, we roped up and hauled our food to inside the hut where we met Jules and Pete from the U.K. who had arrived earlier in the day.
The view from the hut is sensational as it lies 150 meters high on a rocky outcrop right in the middle of the Upper Tasman surrounded by spectacular snow covered peaks all around. The view from the balcony looking all the way down the Tasman Glacier and to Mt Cook itself was awesome!

MON DEC 8 – HOCHSTETTER DOME (2827m)
Our warm up climbing day. We trodded up to Hochstetter Dome and roped together we free climbed the east-west ice/snow arête. We then practiced simul climbing on the way down placing snow stakes between us and scouted the Anna Glacier for an attempt on Elie DeBeaumont the following day. Although the Anna glacier looked cut up and somewhat impassable, we thought we would have a go at it anyhow. A long walk down to the Darwin icefall ensured we practiced our crevasse crossing skills and then it was back to the hut.

TUE DEC 9 – MT ELIE DE BEAUMONT (3109m)
Out of the hut by 3.50am we got one third of the way up the Anna Glacier and the first large crevasse by 5.30am and began climbing up 45 degree ice slopes towards the left under Mt Walter. Past the second crevasse and then on to the third. I stood on the edge of a bergschrund/crevasse lip feature and when I stood right on my toes I could reach over the actual crevasse below me and to the overhang of the crevasse wall on the other side. I placed an ice screw in for protection, planted both ice axes over my head across the crevasse and it was time to commit to a leap of faith hanging from both ice axes. A leap, hanging from both axes, feet up, and I managed to climb through this overhanging crevasse lip and through a crevasse type gully thing for about 20 meters and set up a belay station at the lip of the next crevasse that was sloping 45/50 degrees.
After several attempts to haul my pack up it proved useless. My pack kept getting snagged under the overhang 20 meters below. By now the sun was also up and blaring its heat everywhere. This caused ice and small rocks to pound down from the face of Walter all around me. The whizzing sound made by all of the debris was a scary sound. It was time to retreat. I modified my deadman anchor into a snow bollard, made a prayer that the crevasse lip would not peel away with me, and abseiled back down to Jonathan. We down climbed the steepest part of the Anna Glacier and walked back to the hut for lunch and an afternoon of hut life.
Jules and Pete who were living on dried food looked on in amazement as we cooked up a feast of fresh beef, rice and fresh vegie stir fry. Obviously we had no problems getting rid of the left overs! We also met Jamie (Alpine Guides guide) and Steven (an Australian from Sydney) who had just climbed Mt Green and Mt Walter by biviying at the base of the South East Ridge of Green.
- So on this day it was unfinished business on Elie D. really, and in hindsight if the Anna is cut up like that, the approach via Mt Walter is probably the safest and best way but which may require a bivy either on the col between Mt Walter and Mt Green or at the base of the South Ridge of Green. -

WED DEC 10TH – MT GREEN SOUTH RIDGE (2837m)
Out of the hut by 3.45am and at the base of the ridge that leads to Mt Green by 5.30am. Over a large crevasse and we climbed roped together up 45 degree icy slopes. No time for placing protection, so we just kept going up and up and with the icy conditions we made good progress. We then reached the very exposed undulating ice ridge system that would eventually lead to the base of the summit ridge itself. Still tied to one another, we each placed our feet on either side of the ice arêtes for balance and we slowly inched our way up with. There was about 500 meters of exposure on each side of the arêtes at this stage. and growing! We then reached the base of the summit cone and had 200 meters to go before the summit. As this section was steeper and we were doing good time (it was 9.40am) we decided to practice our pitching skills. A short break, and after 4 pitches which took 2 hours, we were on the summit by 12 noon. Unfortunately, the clouds and wind moved in to spoil our views of the West Coast. It took us a further 2 hours to pitch down from the summit cone. At the base of the summit cone Jonathan fired up his stove and melted snow to supplement his water supply and we had a late lunch. Then conditions began deteriorating. The snow softened up and we were sinking up to our knees in soft snow. As we descended the series of the snow/ice arêtes, the only way we could get down was to climb on all fours in traverse mode on the lesser steep side of the arêtes. The wind which had picked up bought in clouds from the west it began to snow lightly so we had to ensure a speedy descent. We simul climbed on all fours with each of us kicking steps up to our knees and sometimes sinking up to our waists. It was several hours of down climbing in steep soft snow which could not be down climbed facing the slope. As we got below the cloud base the weather improved but the crevasses we had easily crossed in the morning were also opening up. On one crevasse crossing, Jonathan made it across and when it was my turn to cross, the crevasse edge I stood on gave way. My breath was taken away from me and I fell one meter into the crevasse itself but a ledge on my side of the crevasse actually stopped me falling in all the way. As Jonathan pulled tight on the rope thinking I had fallen in, I screamed for "slack" as he was about to drag me into this 15 meter monster. Regaining my composure whilst arching my back backwards so as to not fall in, I jumped across on all fours across landing on my elbows across the other side. Close one!
It is 6.30pm before we descend all the way down to the base of the South Ridge. A short break and change of gear, at it is 9.30pm and three hours before we reached Tasman Saddle Hut 4mks away. Really soft snow and a dozen cautious crevasse crossings along the way slowed us down significantly. At one stage Jonathan fell in a crevasse (now it was his turn!) up to his waist as I held him falling further. His legs dangling in free air and with a nervous grin on his face he pulled himself out.
It took 18 hours to get back to the comfort of the hut. Not surprisingly, we both slept like the dead!

THURS DEC 11 – REST DAY AT TASMAN SADDLE HUT
It's a rest day today. After yesterdays the 18 hr marathon yesterday we decided to take it easy and recover. Pete and Jules not surprisingly decided to avoid Mt Green and did a speed climbing session up to Mt Walter and back. In the mean time, we spent most of the day chilling out and being entertained by all the sightseeing ski planes that were buzzing our hut and then landing on the glacier below us full of eager sightseeing tourists.
We found out today that 4 Latvian climbers have been tragically killed climbing Mt Cook. Not really the best way to mentally psyche myself up for a potential climb there next week. whilst another climber slid 150 meters near Mueller Hut when one of his crampons came off. Another testament to the late season these guys were having here??
The events on Mt Cook and yesterdays 18 hour marathon means that unfortunately Jonathan has decided today he will cut his trip short head back down to Mt Cook Village. Although I have second thoughts myself I have decided to continue and will head back down to Mt Cook Village and find another climbing partner.

FRI DEC 12 – FLY OUT
The weather began deteriorating today with very strong winds. The helicopter picked us up at 11.30am and along the way we landed at Grand Plateau to pick up a few more climbers. My first look at Mt Cook, Mt Dixon and Mt Tasman from close up told me these were imposing and serious peaks.
Parted company with Jonathan and checked in at Unwin Lodge a few kilometres south of Mt Cook Village. After putting up a notice for a "climber wanted" I met Steve from the UK who was an experienced mountaineer having climbed extensively in the European Alps and in Nepal. We agreed to hook up and fly to Plateau Hut for a climb on Mt Dixon and a potential climb on Mt Cook.
Another rescue happens today. An Australian is rescued after being stuck on Haast Ridge. As I share a room with this guy later on at Unwin, I hear more about his ordeal. The main thing is he is safe and back down the mountain with time to reflect on what happened.

SAT DEC 13 – MT COOK VILLAGE
As the weather is crap, I did a multi pitch climb with Steve today just 15mins walk from Unwin Hut at Sebastopol Bluffs. He is a far better climber than me on rock which complements my skills in ice/snow terrain. Then it's dinner time at Chamois with Joromana the Italian tourist girl sightseeing in Mt Cook but who got stuck with us climbers at Unwin as the YHA is fully booked.

SUN DEC 14TH – MT COOK VILLAGE (AGAIN!)
The weather is still very windy and not flyable. Hitchhiked my way to Twizel 70 kilometres away to get some additional food. Robin from Alpine Guides gives me a lift and fills me in on the latest climbing goss in the village including the gory details about the retrieval of the bodies of the 4 Latvians killed on Mt Cook and the latest theories on why they were killed. A cautious, well prepared and almost humble like approach to climbing Mt Cook and the surrounding peaks in that area is reinforced in my mind.
On the way back I got a lift from a great South Korean guy who had a one day break from business in Christchurch and was determined to see Mt Cook even if that meant driving for 5 hrs. This mountain does attract all types. Along the way I helped him take some photos whilst he posed with Mt Cook behind him as he gave this great mountain a traditional South Korean salute.

MON DEC 15TH – MT COOK VILLAGE (AND AGAIN!)
Can't believe the weather is still windy! However it is improving and it could be worse as I could be stuck up on a mountain. Boredom sets in, so I hook up with John from the UK and we do a 5 hr hike up towards Mt Wakefield and a nice 600 meter altitude gain hike to get rid of all the food I had been eating over the last few days.
On the way back we walk to Mt Cook Village where we meet Steve. We then proceed to the Old Mountaineers for a dozen jugs of the local beer and we are well on our way.

TUES DEC 16 – FLY TO PLATEAU HUT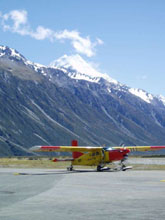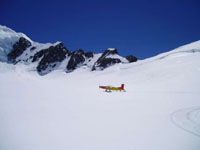 Above Left: Porter Ski Plane taxing at Mt Cook Airport with Mt Cook in the background. Above Right: Porter Ski Plane landing on Grand Plateau with Mt Dixon Ridge in the background. Below Right: Plateau Hut toilet with Mt Tasman, Syme Ridge and Mt Lendenfeld in the background.
Hurray! The weather is great and we can fly in to Plateau hut at 11.30am. After a short chat with the pilot of the Porter and the exchange of a few flying stories of my own I managed to get a seat in the right hand seat of the cockpit.
It's another great flight and we come in to Grand Plateau for a nice ski plane landing. As we know there are lots of people in Plateau Hut we try and beat the people on our flight and the next flight coming in by walking briskly to the hut to ensure we don't get stuck with the worst bunks in the house.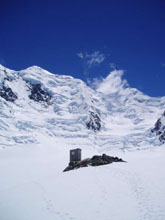 We enter the smelly, musky, damp looking hut to find that it is already overflowing with nearly 15 anxious climbers keen to get on the summit of Mt Cook the following day. There is a feeling of "summit fever" in the hut and after last week's events with the 4 Latvians killed it's a worrying sign. I wonder if there will be a bottleneck tomorrow up there. Steve and I intend to stay well clear.
We sit outside on a rocky outcrop and watch in my binoculars as 3 climbers reach the Mt Cook summit at around 4 pm. It's a guided party that includes double amputee Phil Doole who lost both legs trying to climb the mountain 16 years ago. It is very inspiring indeed watching someone who has had both legs amputated 6 inches below their knees summit a mountain such as Mt Cook.
As the hut bustles during dinner time with chef like meals being prepared by a number of people including the various guides in the hut who can cook up a storm, I engage in my own culinary delight special by preparing lamb cutlets, salad and potato mash for myself and Steve. As I said, good food goes with good mountaineering! (incidentally one of the people staying in the hut is Paul Scaife from Aspiring Guides who later dies on Mt Tasman)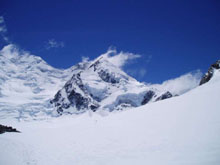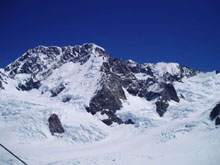 Above Left: Mt Dixon from Plateau Hut. Above Right: Mt Cook from Plateau Hut. Below Right: Mt Dixon

WED DEC 17 – MT DIXON SOUTH RIDGE AND EAST RIDGE TRAVERSE (3004m)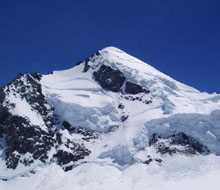 We get up at 2.30 am, out of the hut by 3.10am and at the base of Mt Dixon by 4.00am. Due to a large crevasse at the base, we have to start climbing from a lower point than we expected. Whilst climbing in the night we can see more than a dozen head torches going up the Linda glacier towards the summit of Mt Cook. They look like glow worms in the dark. It's an amazing sight and we wonder whether we will be doing the same soon.
We commence one of a dozen pitches through a series of classic NZ ice gullies, a number of rock knolls and a winding series of snow/ice arêtes. The ice climbing is sensational but hard work reaching up to 70 degrees in certain short but steep sections. An intimidating chimney also forces us more towards the West Face and the gullies running up in this area. Our toes are sore and we can only be cautious with the rotten rock that behaves like breakfast weet bix. We make is to the summit by 2.30pm after ten and half hours of continuous climbing.
We commence our descent on the East Ridge on 45 degree snow slopes. It takes around 4 hrs to complete the descent and we make it to a snow/ice arête by 6pm. Although this point is the most common descent route to Grand Plateau 150 meters below us, the sign of rock fall and avalanches from ice cliffs above intimidates us enough to decide to avoid this section and complete a full traverse of the entire East Ridge all the way to Glacier Dome. Although we simul climb the first section, we begin pitching which slows us down, but provides a higher margin of safety. On one side it's a 1300 meter drop down to the Haast and Tasman Glaciers whilst on the other side it is now at least 250 meters to Grand Plateau. At one stage at around midnight in order to save time, Steve gets a really good belay point and lowers me down a really steep arête section. I slide down on all fours riding this steep ice arête. I then belay Steve by sitting on the arête "horse riding" style. I am climbing at an ever slowing speed. I try everything. At one stage I am crawling on all fours on this damn never ending series of arêtes. They just keep going on and on! Time is passing by and it's now 2.30 am. We are getting slower and slower. Our nerves and patience are being tested as we belay each other slowly freezing ourselves. We deal with this in our own ways. I turn my head torch off and stargaze to take my mind off my freezing, aching, sleepy body. The night sky is spectacular against the eerie white glow of the snow and ice around us. I sing whatever songs I can think off to pass the time whilst I belay. Now it is 3.30 am and unbelievably our rope decides to get snagged. Whilst Steve attempts to take the slack for the next belay, the slack rope tumbles down one side of the arête and gets snagged 15 meters below us towards the Haast Glacier. I take a good look and see that it is below me in a somewhat vertical ice section snagged on some loose rocks 15 meters below. Then it is 1300 meters all the way down to the Tasman Glacier. I think about it, but there is no way I am going to solo down there and back. I yell out to Steve to tie off the end of the rope and abseil down. He gracefully obliges and abseils down to retrieve the rope. I then solo to his belay station on the rocky end of our last ice arête. It is now 4.30am and we have been climbing nearly non stop for over 24hrs. It's time to stop. We agree that we will take shelter and wait for the sun to rise. We have no sleeping bags or bivy gear so we make do with what we've got such as our packs, spare clothes, rope etc. A gap between the rocks provides somewhat protection from a light but freezing wind and we both drift into a cold, damp tired sleep.
It is 6.00 am before the sun comes up. I am freezing and shivering somewhat. Steve is keen to get going. I refuse to move until my frozen body has warmed up. I am like a lizard on a rock waiting to be warmed up by the morning sun and it takes me half an hour to get warm, have a toilet break and get my gear together. I am also quite dehydrated and have lost the feeling in my tongue. I crush some snow into my water bottle and let the sun do its work. Steve uses a system of letting snow balls soften up on the rocks. The snow provides us with some desperately needed fluids.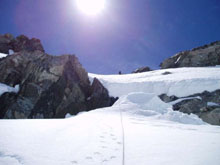 We walk over the rest of the rocky knoll we have slept on and see that we have 4 or 5 descending rocky ridge/summit knoll combinations to traverse before we can get down to Glacier Dome and Grand Plateau. Thank god for no more snow/ice arêtes. We spot a rap anchor and decide to abseil the first section. The rock here is very dangerous. It's a huge pile of loose, sharp slab like mess. I slightly touch one rock, it touches another and before I know it I have started a mini rock avalanche beneath me. We tie together Steve's 8.6mm rope and my 7mm rap rope for a 60 meter abseil. Steve goes first and I follow. After my second step I just lightly nudge a small rock and it dislodges a dinner shaped rock piece which is as sharp as a razor. This piece takes off and drops two meters bouncing in the gap right between the two ropes. Very close call and I breathe a sign of relief. After I get down our rope unfortunately gets snagged (again!). Steve curses and makes a 60 meter climbing dash back up to the rap anchor using a prussic to dislodge the stuck rope. We then begin a traverse and rock scramble down loose rock ridges. We simul climb and belay the difficult sections. At 10.30am a Cessna is circling high overhead. We find out later that DoC has decided to check on our progress this morning as we are overdue. They see us moving so assume we are ok. By 11.30am we are at our second last rocky peak along the East Ridge and we do another 60 abseil down to a lower section on a snowy ridge. We find a rap anchor going down to Grand Plateau and I urge Steve to bypass the very last part of the East Ridge and go home. We agree and we do a 60 meter abseil over a bergschrund and a 5 meter wide crevasse. I push hard over the icy lip and jump over the crevasse section.
We have made it to Grand Plateau. It takes us 35 mins to walk to the hut and we are "home" by 12.30pm. It has taken us 33 hours to complete this climb! The hut occupants most of which summited Mt Cook the previous day and are waiting to fly out greet us with a cup of tea and wait to hear about our adventure. They tell us their. We find out we are possibly the first to have completed the entire traverse of the East Ridge of Dixon to Glacier Dome for the season (first or silly I am not sure......I can see why!). After drinking three litres of water supplemented with good old Gatorade powder I am in bed by 1.30pm for the world's best ever sleep.



Above: Route description and times of climb on Mt Dixon.

FRI DEC 19 – REST DAY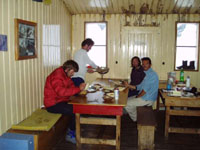 The hut has been deserted with everyone gone. There are only Johnny the New Zealander and Patrice the Frenchmen who works as a guide in Chamonix.
We begin scavenging for the left over food that has been left behind. It is extensive. I cook up lunch for everyone with hookien noodles and we await for David to return who is soloing the East Ridge of Cook. Amazingly he returns by 2.30pm after only 14hrs having soloed up the East Ridge, across the summit and then down the Linda with no rope, no climbing partner, cloudy crap weather in poor visibility and increasing winds. He then proceeds to tell us about his climbing stories in Everest, Cho Ohu, K2 and Nuptse. The cards come in handy for a few games of solitaire.

SAT DEC 20 – BAD WEATHER DAY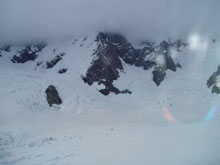 The winds are howling outside and gusting up to around 90 km/h. Hut life is now reaching the stage where we begin to boulder on the three level bunks, compare our climbing equipment, have a round of push up competitions (the only game I won) and play games which can only be invented in the pubs of Yorkshire in the UK (Steve being from Yorkshire obviously wins most of these!). We are then entertained by all the card tricks that Steve and Johnny can come up with.
Right: Deteriorating weather moving in. View from Plateau Hut window looking towards Mt Cook and Zubbrigens Ridge.
At 7pm we quietly listen to the weather forecast which predicts a possible calm weather window for Monday. We also find out that a huge party of nine Indonesian climbers are still missing between Ball Shelter and Haast Hut after 2.5 days. It normally takes 12 hours to do this section. We think shit!!!, even though they are 500-1000 meters lower down than us, with this crap weather these guys must be dying out there! Hope they are ok.

SUN DEC 21 – ANOTHER BAD WEATHER DAY!
Crampons and an ice axe are necessary for a venture out to the toilet today (which I called the "shit pit") but the weather is improving. The Indonesians have made it to Haast Hut and we think they will be rescued off the mountain as soon as the wind dies down. My feeling is that the weather will be all right for Mt Cook so I spend the whole day sleeping, eating and hydrating myself.
At 7pm the weather forecast tells us we will have a one day weather window and it gives us a "go" for an attempt on Mt Cook. The prediction is for high winds early on but reducing in intensity as the day goes on. As such, we all decide to leave 1-2 hrs later than normal thus avoiding any expected high winds on the summit. Whilst Steve and myself will be going up the Linda Glacier, Johnny and Patrice will be going up Zubriggens Ridge. David will be soloing Mt Vancouver.

MON DEC 22 – MT COOK VIA LINDA GLACIER (3754m)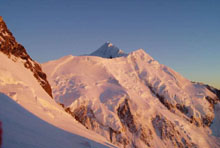 Up at 1.15am and out of the hut by 2.00am. With head torches shinning we zigzag our way across the Linda Glacier crevasses which are deep enough to make multi storey buildings disappear. What we can't see in the dark can't hurt us! We cross tiny snow bridges and after 4 hrs we get to the bottom of the Linda Shelf where we dump our bivy gear, poles and some water. The sun is rising behind us and an orange glow begins to cover Mt Tasman and the peaks around us. In the soft deep orange glow of the morning sun, the snow and ice takes on the appearance of pink gelati. It is a surreal and beautiful scene.
Right: Morning sunlight hitting Silberhorn and Mt Tasman from high on the upper part of the Linda Glacier.
We traverse up the icy Linda Shelf and we make it at the bottom of Summit Rocks in another two hours. We then hear "hey" and "bonjour" from Johnny and Patrice who have flown up Zubbriggens Ridge. We then commence the first pitch of the climb up a steep gully with me leading and as soon as the rope runs out Steve starts simul climbing. I then reach the first of many rock belay stations on summit rocks and as Steve is the better climber on rock he commences a series of leads as we climb the Summit Rocks area. The climbing is awkward rather than difficult but we take extreme care. Although this section is rated only as a Grade 9/10, with plastic mountaineering boots, crampons and a pack, the most difficult sections which are rock bulges and small overhangs feel more like Grades 14/15. The route is littered with slings and accessory cords, and there are convenient steel cables belay/abseil stations at several of the crucial sections which increases safety.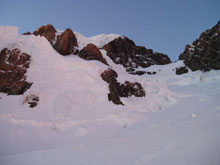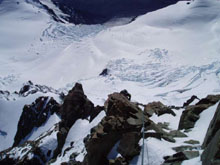 Above Left: Looking up at the Linda Shelf and the Gunbarrel Ice Cliffs from high on the Linda Glacier. Above Right: John Kazanas climbing the very last part of summit rocks with the Grand Plateau and Hochstetter Glacier below. Below Right: Looking up to the Mt Cook ice cap from the top of summit rocks. Notice Middle Peak on the left and the summit Chandelier on the right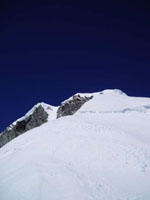 It takes us 5 pitches to get to the start of the ice cap where we meet Patrice and Johnny who are descending from the summit jubilant. We are still one hour away but we can clearly see the summit chandelier and the summit itself. The ice cap is 45 degrees and full of sustrugi with some reasonable steps into it. After one hour of careful crampon foot placements we skirt around the summit chandelier ice climb up a vertical section to set up a ledge right next to the prayer flags on the summit. It is now 11.30am. It has taken us 9.5 hrs to climb 1550 meters from Plateau hut. The view is amazing. The NZ west coast is revealed in its whole majesty from this height of 3745 meters (12,300 feet). The view resembles that from an aeroplane and no climbing book or photo can do the view justice. There is no wind and both Steve and I are just enjoying our view. The East Coast is covered by low cloud and in the distance we see the entire Southern Alps which looks like a jagged brown earth covered with brilliant icing sugar surrounded below by a green like carpet of the countryside. Behind us we can see the "magic mile" across to the middle peak. The West and East faces of Mt Cook fall away 1,500 meters and are a somewhat scary but a truly spectacular sight. I take out two small chocolate bars, take a small bite from one and offer the rest to the mountain gods of Mt Cook as a peace offering. Mysteriously one of the chocolate bars disappears and I look at Steve who has a grin on his face. He is keen to start moving down the mountain. As I munch hurriedly on my tuna sandwich on top of New Zealand, we look across to Mt Vancouver (3309 meters) and see David who has soloed up the summit and is having a break just beneath it in a crevasse.
Less than 20 mins on top and we commence our decent. For me this is the most intense part of the climb as we inch our way down the ice cap being extremely careful with our foot placements. My thoughts turn to the four Latvian climbers.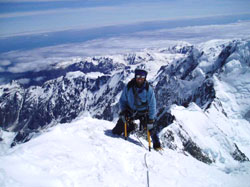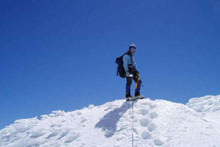 Above Left: John Kazanas on the summit of Mt Cook with the West Coast behind him. Above Right: John Kazanas standing on the first part of the Mt Cook ice cap above the summit rocks. Below Right: Steve Hunt on the summit of Mt Cook with Middle Peak and prayer flags behind him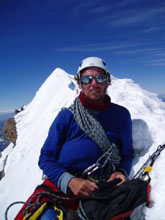 After the summit cap it takes us 4 abseils to get off summit rocks. For our last abseil to the top part of the Linda Shelf we set up a rap station to the left of the icy gully we climbed using 7mm cord. Although on some questionable rock, we feel it will hold at least our two abseils. As I am here writing this report it obviously works ok and we then down climb to the worst part of our descent. This involved descending a rotten ice section at the top part of the Linda Shelf. It takes me 25 minutes to descend 30 meters of scary ice. It is ice that appears like loose hailstones stuck together. It takes a good 3-4 hits with each ice axe and crampon to secure a placement and even then I don't feel safe. Half way down on the steepest part I attempt to put a snow stake between me and Steve. No good. The snow stake I am trying to pound in with both hands simply crumbles the ice into millions of bits of ice. So I continue down. As I reach the bergschrund/avalanche crevasse overhang, I step into thin air and place my foot on a weak/soft snow pedestal. Then the other foot. Bad move! I fall a meter up in the crevasse. I scream to Steve "tight" and pull myself out. As he can't see me as he is over the lip and 30 meters above me he wonders what all the commotion is about. I descend a few meters and set up a belay for Steve.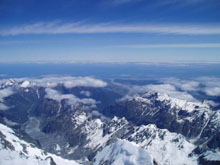 As he descends and bypasses the section I went through he sees the hole I fell into and grins nervously. In the mean time I am looking above me at the huge over hanging "Gunbarrel" ice cliffs which are getting the full heat of the sun. As small pieces of ice are streaming down I yell to Steve to hurry up and that we should get the hell out of here. We traverse the rest of the Linda Shelf and make our way down the steepest part of the Linda Glacier. As everything is now in the afternoon shade the snow is hardening up and is only ankle deep which is perfect for a quick decent. Suddenly to our left there is a whizzing sound of small rocks coming down from the top of a surrounding peak. We look at each other, pause, and begin a quick run down the slope! We make it to where we have left our bivvy gear and have a short break as we are in relative safety there (somewhat).

We then continue down the Linda Glacier jumping over crevasses which have begun to open up all over the place (or which we could not see at night!). Both Steve and I jump up to one meter across wide crevasses and my high school long jumping skills come in handy. We do not dare look inside the deep blue crevasse abysses beneath us.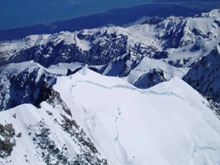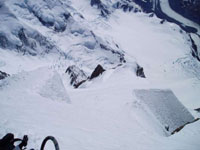 Above Left: Mt Vancouver from the summit of Mt Cook. Above Right: Hope you don't hate heights! – Looking 2700 meters straight down from the summit of Mt Cook to the Tasman Glacier. The summit Chandelier is on the left, then the ice cap, top part of summit rocks, Linda Glacier, Grand Plateau, Hochstetter Glacier(right) and finally Tasman Glacier (top right). Below Right: Top part of Boys Glacier during our walk out and our moraine rock surfing descent.

We make it back to the hut by 8pm (18 hrs after leaving) where Johnny and Patrice are outside with a warm cup of tea offering their congratulations. They made it back 6 hrs earlier! We share our stories and go to bed. They are planning to walk out at 2am and we at 7am.

DEC 23 – WALK OUT VIA CINERAME COL AND BOYS GLACIER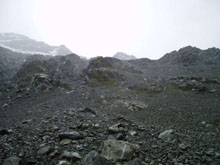 We pack our gear, have a quick chat to an American and Slovenian pair of climbers which arrived the evening before to climb Mt Cook and we are out of here by 7.00 am into a strong gusting wind. Half way to Anzac Peaks and Cinerama Col we are pelted by heavy rain that feels like hail. We then zig zag down and around the top of the Caroline and Boys Glaciers and begin a 500 metre rock surfing decent on loose rock/mud/moraine combination. It is fast and furious and before we know it we are putting our crampons on again to descend the very last part which is also the steepest part of the Boys and is thankfully covered in snow/ice. We get to the bottom of the Tasman Glacier and follow a moraine ridge across to Garbage Gully for the somewhat gruelling 100 meter scramble up the moraine wall to the walking track. Within one hour we have passed Ball Shelter and make it to the end of the 4WD track. Another hour and we have made it to the start of the normal 2WD road. It is now 4pm. As there are a number of cars in the car park I urge Steve to hang around so we can try and get a lift from someone, otherwise it is another 8km or two hrs walking back to Unwin hut and my feet that have been in my water logged plastic mountaineering boots for 9 hrs are yelling at me "don't do it!". As Steve looses patience and is just about to set off, a huge campervan pulls up, and an extremely nice Slovenian couple with their two children offer us a lift. These guys are great, and they even offer us a cold beer from their fridge! What a way to finish things off. At 4.30 pm we arrive at Unwin for the best hot shower you can ever have!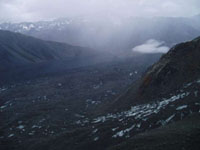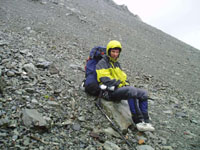 Above Left: Tasman Glacier viewed whilst descending the lower part of the Boys Glacier. Above Right: Rained out author resting on easier slopes of the Boys Glacier whilst walking out.
We spend the evening personally being served my famous NZ guide Charlie Hobbs at the Old Mountaineers where we devour a huge meal of steak, chips and salad washed down with a couple cold beers.

DEC 24 – GOING HOME TIME
I nearly did a full blown waist deep river crossing this morning by trying to take the "shortcut" to Mt Cook Village from Unwin Lodge, but my better sense prevails and I walked back towards Unwin hut for a rock hop across the now swollen Black Birch Stream to the main road.
So I made it to the village and the Hermitage Hotel coffee shop for several cups of hot chocolate, chocolate cake and an OJ for breakfast, then paid my hut fees at DoC, called home to say I am still alive and packed my things for the bus ride to Christchurch.
Steve helps me carry my 50 kgs of gear across the road, I say goodbye wishing him the best for the rest of his 3 weeks climbing and I anxiously depart Mt Cook Village as I appear to have lost my passport. I spend an anxious 5 hrs on the Newmans bus and at every stop I jump in a telephone box trying to contact foreign affairs, the Australian Embassy and Quantas to see how the hell I can get home without a passport. It is only until 8pm that evening that I am told that I have a good chance of getting home for Xmas the following morning using alternative ID and a foreign affairs check of my identity. I take out my days frustration on a Hungry Jacks double whopper meal (the burgers are better at Hungry Jacks!) in busy Colombo St which is overflowing with tourists.

DEC 25 TH – FLYING HOME TO MELBOURNE
I am at the airport by 4.30am and thanks to the efforts of an Air New Zealand official who ensures I answer each of his questions at least 5 times correctly I am able to get a boarding pass for my 6.30am flight. I visit the Quantas Club and have a great breakfast which includes Coco Cops, OJ, Toast, fruit and even the "The Age"! As I am the only passenger in business class on this flight the Quantas service is simply superb and I consume everything that I brought before me. I have lost 4kgs in weight in 3 weeks so its time to stock up. The view over the Southern Alps is all but clouded out and I wonder about the people down there waiting out the weather.
I get to Melbourne Airport where there is more quizzing about my passport and confirmation of personal details but I make it home to my mum's great home Xmas cooking!
Despite the loss of a beanie, a passport, a $10 mountaineering mat (that will teach me to sun lounge outside Tasman Saddle Hut), 4 kgs in weight and some numbness in my fingers and toes it was a sensational trip to the Southern Alps in NZ. However the rescues and deaths whilst being there somewhat soured my jubilation and have reinforced a careful and methodical approach to my alpine climbing. I would highly recommend such a trip to this area to anyone considering pushing their climbing and alpine skills to their limit.
Home | Guide | Gallery | Tech Tips | Articles | Reviews | Dictionary | Forum | Links | About | Search
Please read the full disclaimer before using any information contained on these pages.
All text, images and video on this site are copyright. Unauthorised use is strictly prohibited.