By "Jon The Pom". Download Bouldering.mdi for a printable version.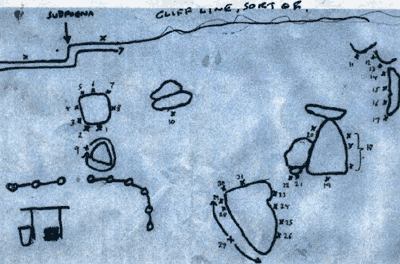 Above is a very rough map of the boulders that have been cleaned and climbed at Black Ians Rocks over the last couple of years. Iím claiming most of them on the grounds that I spent hours with a wire brush excavating the buggers, however a lot of very good climbers have passed this way and I í d be surprised if someone hasnít wandered up a couple of them in the past. Iím not really interested in grading boulders but Iíll mention if I found them hard and you can see if you find them hard too.
1. The Warm up. A classic. Best done before breakfast.
2. Up the Queen. The left edge starting with undercling.
3. Door Barn umph. Pull up then step left into crack. A sit startís bin done.
4. Descent Crack. Tricky. Both ways.
5. Innoccuous. Two moves. Should be doddle. The sit start I canít do. Yet.
6. One Hold Wonder. Obvious up the back.
7. Underneath The Arches. Start at arÍte, move right under tree and hand traverse all the way if you feel like it.
8. Descent Climb. No less tricky than Descent Crack. That poor little tree, lost itís best foothold.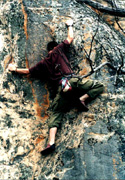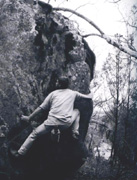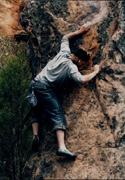 Above Left: Scott Appleby on The Warm Up. Above Middle: Bryce Hindmarsh on Innoccuous. Above Right: Chris Goy on Up The Queen.
Before leaving this boulder I should point out that EVERY variation has been done, except the direct up the Warm Up face. And the afore mentioned sit start.
9. Scallop. Round the scallop. Thereís a story to this one. One beautiful sunny afternoon at Cowbaw I pulled a rock off a block and it landed on my mate Bryce Hindmarsh í s bare foot. Damm near chopped it two. Six months later and fresh off the couch, literally , this was the first thing climbed. Try it on one foot, while someone jabs a hot needle in the spare one. There í s quite a nice low traverse here avoiding the lip.
10. Moss Side. Climbs the brushed holds stepping right above the lip.
This area is basically the last rock of climbable height.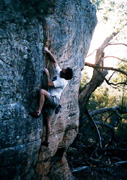 11 Unnamed
12 Unmaned
13 Unmande
14 Users Lose Drugs. Ignoring the big holds on the left climb the little left wall of this lovely face.
15 Grand Central. T he really obvious line.
16 Project. The wall between 15 and 17.I í m two moves up it and have been for ages.
17 Annarette My favourite of Ď em all. Reach is good to have at the start but itís a great sequence.
Above Right: Geoff Breach on Grand Central. Below Right: James Falla on Pseudo Sex.
Moving on to the biggest boulder around. So big a couple of routes have been done on it. Here lies the last great problem. James Falla showed me it in 1989 and in 2002 I brushed it. And I figured out a series of moves that would get me up it .But I haven í t even top-roped it. Ď cos I know no matter how many times I watch Hard Grit my bold days are gone. Love to watch someone do it though.
18. See Black Guide.
19 Red Diamond
20. Earth mover cave. So far the problem starts at the back and ends with hands on the lip but I can í t pretend it í s finished.
21.22. Two little problems. at least one had a sit start .
Many of the problems on this one I top-roped first. We didnít have a mat but we did have alcohol so it seemed best.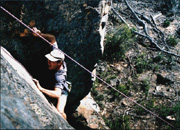 23. Julia Broke The Jug. Indeed she did .I use it as a bookend. The reachy arÍte starting off block in corner.
24 Pseudo Sex. Grade 21ish Feels like a route. The open slabby corner. The landing gave me a bad feeling so I put a rope on.
25 Done Years Ago Said James. The cracked wall to the left.
26 Elephants Arse. Weird slim pillar thing.
27 Stupid Traversist Attitudes. Obvious traverse line that is best finshed rocking up into the distinctive shallow circular pocket.
28 Brand Spanker The hardest one Iíve done. Sit start 1m R of easy crack, up for pinch, slap R for pocket and pull Straight up. Reach may be essential.
29 Easy Crack The easy corner crack. A variant pulls into the narrow jam crack.
30 Liquorette The true arÍte avoiding narrow jam crack. For a 40 yr old it í s a desperate rockover.
31 Little Ankle Biter. Thin wall above only flattish landing. We top-roped lines left and right if I remember right.

Home | Guide | Gallery | Tech Tips | Dictionary | Forum | Links | About | Search
Please read the full disclaimer before using any information contained on these pages.
All text, images and video on this site are copyright. Unauthorised use is strictly prohibited.