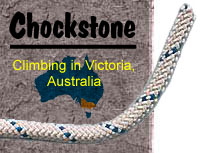 Sponsored By
ROCK
HARDWARE


Chockstone Forum - Trip Reports
Tells Us About Your Latest Trip!
Author

| | |
| --- | --- |
| Killiecrankie, Flinders Island | |

19-Jan-2012
12:41:22 PM

Spontaneity is a wonderful thing. On Sunday, I meander home from a weekend in the Gramps sore and aching in places previously unknown to medical science from The Ogive, and before I had even had time to clean up the storm soaked chaos that had returned with me, came the call. The siren of possibility. Unexpected adventures to be had. Doug had found a cheap flight to Flinders Island for Wednesday and was keen to stay another week if came down to join him.

Thus it was I found myself surrounded by the chaos of one trip, preparing for the next and the unfortunate reality of an exam barely 12 hours away conveniently put aside. Exam blitzed, bags packed and chaos reordered, a quick climb fitted into the schedule and 6 am Wednesday saw me on the bus to Melbourne. It was cold. It was raining. There was a howling gale. Why was I going to Tasmania in this crappy excuse for a summer?

It's forecast for 50km an hour winds on FI. I step off the tram (how cool is it that you can take the tram straight to the airport?) and am nearly blown off the overpass to Essendon Airport. Just as I walk into the terminal, it starts hailing. What am I doing getting on a tiny plane to fly over Bass Straight in this for?

Despite the terror in anticipation, the flight was fine. Ok, so there were a few vigorous swings on the way up, but cruising altitude was cruisy. The pilot announces we are about to descend and he expects a few bumps as we pass through the cloud line. Moan … what sort of understatement is "bumps"? This will be terrifying. But it's all dandy and I waltz onto Flinders Island in far better weather than I'd left behind in Melbourne. Doug and Enga pick me up, we grab a few essentials and by 5 pm, we're sitting on a secluded beach drinking beer in the evening sun. Our campsite was a sheltered grove of casuarinas, just seconds from two delightful bays we dubbed B1 and B2.

When Doug was persuading me to come down, he described the climbing as mostly excellent, the location beautiful and the weather fine and warm. Of course, this email was accompanied by a photo of Enga bushbashing in a windproof and beanie. Still, the other photos were supportive of the general beauty.

Enga was sporting a disconcerting gas beside her eye however, and a little questioning revealed much about their climbing experiences of the past week. The cash was a result of a hold break down climbing from a route, sending her tumbling into the gnarled mass of petrified melaleuca and casuarinas that cover most of the ground here, making any off track walking rather hard. It really did make a good attempt at gouging her eye out and was still impressive a week later - this having happened on their first day. The theme of the trip doesn't seemed to have changed much since. Enga was quite happy to be tag teaming Doug-sitting and jumped on her flight home the next morning mentally drained. It says a lot about a crag to leave Enga wrecked. My first trip to the mountains was with Enga. After 18 pitches up to 6c, we were finding out way down when I come around the corner to find Enga halfway down a steep, loose, manky gully. Traversing into the gully, I comment that this is terrible and if I or any of these holds come off, I'm going to die. Enga calls up the immortal words "Falling off is not an option". Apparently the descents around here makes those mountain descents look tame. Poor Doug, he's gone from wearing out one of the toughest women in Nati to climbing with one of the wussiest.

So, armed with a poor replacement for Enga, Doug leads the way out to the cliff. He is right about the general beauty - the coast alternates gorgeous sheltered sandy inlets of clear sea green water with wild waves crashing over rugged rocks. The granite is liberally covered in striking orange moss and eroded into funky shapes and features and little boulder islands dot the water. The walk in is just gorgeous. We weave in and out of the forest of melaleuca and casuarinas, intermittently crossing clearings that look like world war 3 struck them, with the largest trees uprooted and patches of forest flattened. They must cop some good weather out here. We wander past the old campsite, decorated with an assortment of chairs and shelters, then head up to Faraway Places, a 2 pitch 18 Doug had done earlier - I was being broken in gently. He even offered to lead it if I wanted to get used to the place first, but bugger it, I like just diving in.

I wander up FP in one long mega pitch. I like mega pitches. Still, I'd have like to have had a little more gear on this one. The luggage limit for FI was 15kg. Some judicious editing of everything is necessary to carve your bag down to 15kg. I down climbed and retrieved some gear and was immensely grateful I'd done so. From the ground, it looks like the overhanging hand crack will be the crux, but in reality the top finger crack was nails and I would have died of terror without the extra quick draws I'd recycled.

Then we potter over to The Brain, its sulci and gyri looming out over a large cave. It sports a number of early-to-mid 20s routes up steep rock littered with unusual scoops. It also featured two unclimbed crack lines which Doug has dubbed Wendy's route A and B. A little further investigation discovered Wendy's routes 2A and B. There's a lot of new routes to be done at this crag.

Doug started to solo up the scramble into the cave and I quickly reminded him that the wuss bag here does not solo exposed, wet granite, and we got the rope out. Tumour goes up some scoopy stuff just to the right of an obvious groove (unclimbed) and the 2 cracks. We wander briefly what makes people choose the least obvious line when they put up a new route, then Doug heads up it. It's very steep, sports a generous number of knee bars, but also, as Doug was strangely silent about, wet. And slimy. I'm not convinced on coastal granite. It has this horrible texture from eons of salt spray that feels like you've forgotten to wash the sunscreen off your hands. Doug wasn't complaining about that either, just me. All this steepness was also completely trad protected and cleaning it became a mildly protracted siege as I tried to find positions to take out gear that had been welded in at the extent of Doug's reach. And did I mention the wind? A small typhoon was blasting through the cave and communication was negligible. At least Doug could lean over the top, smile and give me the thumbs up. Surely this is universal language for "on belay"? Sadly, actually climbing meant I was well under the roof and out of visual contact. In space, no one can hear you scream! But we managed, found some reasonable mank to rap off and called our phenomenal effort of 2 routes a day.

Day 2 dawns somewhat over cast and, surprise, surprise, windy. We wander on out, getting excited about new routing and make a start on Doug's route 3 A. This is a direct up some intermittent thin cracks and corner on the arête to the 2nd belay on Taipan. I get us up the first pitch of Taipan and settle in with about 5 layers on to belay. Doug steps in over the roof and comments that the rock in the corner is a little poor, but it will go at least. A few bits of rock litter down beneath him, then he finds himself at the thinnest section. He place a 3 rp and small cam and comments that the rp's ok, the cam ordinary, but the gear beneath that stonker. That particular gear is already below his feet.

Doug launches into some desperate looking bridging, back stepped against the edge of one crack and facing the other in a John Travolta like position against the rock and reach up to where the final cracks starts, only to find the bottom of it to be a horrid slopey pod and plummets. The rp held. The cam didn't. Take 2 resulted in getting so bunched up in the John Travolta position that he couldn't take a limb off. The rp held again. Take 3, he got a cam in the flarey pod,
19-Jan-2012
12:43:42 PM

Our last day, and we really ought to actually climb something. We still hadn't done Adventures in Paradise, the 4 pitch 18 volleyed around as a potential Classic Climb of Australia. I admit, I wasn't holding out a lot of hope. I start up pitch 1, and the start's ok. Again, closer to 21 for me - I'm sure you don't get smeary foot thin finger lock big reaches on 18s - but it reverts to a loose, vegetated, grotty gully at half way. I set up the belay before the traverse of the second pitch and contemplate where it actually starts. Doug also spends a moment in this contemplation. He goes high for a piece, then attempts straight across. Fiddles some more gear in, but not much horizontal progress is made. Climbs down to the next option. And up. And down. Eventually the low road succumbs and he gets to what looks like a wedged pillar between 2 horizontals and comments about having to pull out on it on smears. I would like to reassure him that many others have pulled on it before hand, but I suspect that we're doing about the 4th ascent. He thanks me for my honesty. I hurry to add that I'm sure the other 3 parties didn't have his delicacy of touch.

At the end of the pitch, Doug apologises for faffing, but he is trying to find some decent gear for the belay. Faff away, I say. Whatever it takes. Who am I to get in the way of a good belay? Soon enough, I'm on belay and try the high road, then the low road. Of course, the low road meant when I climbed back up, I had to reverse most of the high road to get out the gear. Shortly after, I break my nut key trying to get out one of Doug's nuts. Tore the hook off the end levering, then bent it bashing. Still, it was quite a fun pitch, in a good position.

I start up the next pitch, an overhanging, recessed wide crack, and lob in a kneebar or 2, a foot lock, curse my helmet a bit and pull over the first bulge wondering if it was just me, or does the route really need all of that weirdness? Doug concluded it did need somewhat more weirdness than he first expected, but possibly not as much as I did. The crack continues to a hard move into a chimney (which Doug called the crux, but I reckon the start was harder) which lead into more chossy wonderland. I set up a belay off a half uprooted tree, gear behind a disconnected flake and wrapped an entire spike of questionable attachment. It was the best available, trust me. I lean out to get a photo of Doug and the massive chockstone I was standing on moved. I quickly relocated before it and the dozen others piled on top of it went careering down on Doug. Still, we agreed it was an awesome half pitch.

When Doug arrived at the belay, I invited him to peruse the direct finish that apparently turned a 1 star route into a 3 star classic. It's an ugly, uninspiring series of blocky, black, friable flakes. Neither of us can imagine why anyone would head up there and the original finish, whilst easy and less exposed, was at least an attractive looking corner in solid rock. Doug points out that he had done almost all the 3 star routes here now, and none of them were 3 star routes. Someone must have been hallucinating. At the start of the flakes, he says "Watch me, this is could all come off any moment. Actually, watch yourself too". I had already judiciously removed myself from the firing line. He later declared the pitch to be the worst he had done there.

This route has inspired us to develop a new book - Classic Half Climbs of Australia. It's got ½ a really good pitch, 1 quite good pitch and ½ an ok pitch, leaving the other two ½ and one full pitch of complete mank.

I really benefited on this trip from Doug and Enga's previous week of sussing things out the hard way. They got to enjoy the best epics finding routes and descents and I got to reap all the rewards. Thus Doug knew we could down climb to a suitable rap thread and he directed me down the other side of the buttress, leaving gear to protect him, past the death spike that did not look long destined to remain part of the cliff that some less thoughtful party had rapped off and we rapped of a solidish thread to the ground and packed up with plenty of time for another evening snorkel.

You may have gained the impression that Killiecrankie is not suitable for bumblies. You'd be correct. There's not a lot of easy stuff, nothing particularly moderate about the moderate stuff and route finding, gear placement and descent vary from fiddly to positively hazardous. Essential equipment include a solid trad background, mountain style sense of direction and descent and a good set of cojones. You will want a competent and confident second as well. It's a longish way from civilisation and mobile phone service is non-existent. I mean, completely non-existent. There are no other climbers around. We will probably be the only party for the year. There were no walkers. Once or twice, people came to scuba dive or fish, but didn't go past B1 and B2. You are on your own. Be prepared to take responsibility for yourselves. It may be one of the most romantic looking spots around, but don't delude yourself that it will be a perfect climbing holiday with your not-so-confident significant other. You will probably kill each other, figuratively or literally. Come for the romance and forget about the climbing unless you are both suckers for punishment.

I have mentioned some of the vagaries of the guidebook already, but honestly, the thing is a travesty of modern publication. Sure, Gerry and Bob admit they only came there for 3 days, barely touched the place and copied straight form the old guide. Well, why bother???? Why even try and cover an area you have no idea about? f--- it, I took a walk through the Bungles last winter, failed to climb anything in the crap weather, but hey, it needs a new guide, I'll just lob one together. I mean, it's just dumb. If you wanted to promote Killiecrankie, you'd take decent topo photos, sort out the descents, fix a few decent anchors to avoid all the random mank left by retreating parties on all sorts of fixtures of varying quality, clarify where the best routes go and reassess the starring which has obviously currently only been allocated by starry eyed first ascensionists. The sort of people able and interested in the climbing as it is would be equally capable of making do with the original guide.

Just as an aside, the guide describes a crag called "Sedgie's Buttress" as having "some of the most pleasant climbing on the cliff". It seems a little odd then to observe that they have only given stars to one route on the cliff. The you go and look at the crag. A picture would be worth a thousand words here, but those ones all on Doug's camera. But it's a crag of trenches. From grade 13 chimneys to 19 overhanging off widths via a grade 16 squeeze chimney roof. I kid you not. I looked at this thing and could not conceive of anything 16 about it. Now, I love a good trench, but even I would refrain from describing them as "the most pleasant climbing". We collapsed into further hysterics at every route. And the starred route? It was shattered nonsense in the gully at the start of the cliff. You'd barely notice it as a line except someone had labelled the start. But it was the first climb at Killiecrankie. Yet again, I wonder about the eye for a new route displayed around here.

On a final note, some logistics. If you're lucky you'll rind a return flight for under $200. Full price is still only $450, so given that crap weather would suck there and good weather is so bloody good, I'd take advantage of good weather windows at the last minute. The wind howls around there, making some days unpleasant even in the sun and communication impossible from as little as 15m. It'd suck to go down there and miss out on all of its best features - lolling around and snorkelling - because the weather was cruddy.

The guide mentions a camp at the
19-Jan-2012
12:49:34 PM


Doug climbing into the choss and out of the best climbing on Adventures in Paradise


Doug following the last pitch of Taipan


Walking back to camp as the sun sets


Me seconding the "most underestimated" first pitch of Killicranking


B1 at high tide. Pity about the splotches on the lens of my camera


the second pitch of Adventures in Paradise


the old shelter at the crag campsite


Doug staring in wonder at the last pitch of Adventures in Paradise


Doug emmeshed in Dildo Direct

there are more photos on my facebook page but i'm running out of copy and paste steam, you'll have to go there to find them.
19-Jan-2012
1:04:55 PM

Next time you have a 5 hour layover at Southern Cross I'm driving down to pick you up so I don't have to read a 15000 word TR. ;-)
19-Jan-2012
1:13:39 PM

Well, you weren't talking to me enough on gmail!

19-Jan-2012
1:30:59 PM

I'm glad it's not just me that found the place terrifying. I think we tried about 3 so-called classic easy routes only getting up one, a 15 or so somewhere near the skull cave. There was a Wayne Maher so-called 14 where the protection just ran out on the hard bit. A long classic that I'd seen a picture of Bangla waltzing up - death fall territory for the first 15 metres. The best thing about being there was the echidna that came up and licked the sweat from Meg's socks while she was wearing them.

19-Jan-2012
2:53:46 PM

I was there in a windless drought and the routes I repeated all seemd easy (dry, frictional) but I could see evidence of regular howling winds.

I think the stars come from cases of FA-itis, a new route is always a great day out, but is rarely a great repeat.

Skull cave routes? Surely Diana Palmer and bridging corner left of it are pretty obvious?
Into the labrinth 24( edit - by Sam Edwards) is the best route I've done south of Melbourne
19-Jan-2012
3:04:49 PM

The rock looks like amazing quality. Obviously not?
19-Jan-2012
3:25:28 PM

On 19/01/2012 nmonteith wrote:
>The rock looks like amazing quality. Obviously not?

Oops, now that i've picked myself up off the floor - no really not!!! Dildo direct, that pitch of Taipan and the end of p2 of AinP you can see in the photos are the rare examples of good rock. And even those had crumbly moments. Quite regularly, you would smear on what looked like normal rock, and the whole surface would peel off under your feet. These big lumps of sort of conglomeratey-granite would pop off left right and centre. There are loads of unattached blocks. Cracks are filled with shaly nonsense. Without a doubt, the worst granite I have ever climbed on in my life. Anyone who finds Buffalo or Booromba granite to be problematic should note that the rock at Killiecrankie is far, far worse!

And Into the Labyrinth is on Mt Strezlecki, Mikl. I have no idea how it compares to Killiecrankie.
19-Jan-2012
3:51:06 PM

Thanks once again for a great read Wendy. Interesting about the granite crumbling under foot. After the 2003 fires in the ACT the heat seemed to have made the granite a lot more crumbly too. Probably unrelated though since it doesn't look like there have been any fires around those crags. I always wanted to get over there when I was living in AU. You kinda spoilt the mystery for me in some ways but saved me the effort!
19-Jan-2012
3:57:09 PM

Every route I did (except for the Docks) was on stellar rock, the loveliest, smooth, featured granite.
19-Jan-2012
4:09:32 PM

wow, which routes were those? how did we miss them? well, there was dildo direct at least.

Doug and Enga climbed at the Docks and said the rock was much better where we went. Which says a fair bit.
19-Jan-2012
9:30:53 PM

Maybe mikl went ther after a month on the sinny sea cliffs and you and dug went after living at nati and you're both (relatively) correct ?

PS - Hi Dug, looks fun, hope yers well ! Your hair looks funny.
19-Jan-2012
10:42:26 PM

On 19/01/2012 Wendy wrote:
>wow, which routes were those?
we did a few poxy new routes at the Docks
everything else was excellent
some great stuff around the skull cave and few repeats
Repeated Into the Labrinth on Mt Streslecki (fabulous definately best route south of Melbourne I've seen)
a few new routes at lovett hill

>how did we miss them?
Bad guide?

>well, there was dildo direct at least.
that looked wide and hard, and on normal rock for the area
20-Jan-2012
7:14:05 AM

Is it just me or is KillerCrankie the bet name for a Crag in Australia? Any other contenders?
20-Jan-2012
8:51:07 PM

The guide in Climb Northern Tas is a direct copy of the old interim guide by Steve Craddock and was acknowledged as such. If it wern't for our guide, there would be no readily available guide to Flinders at all. All stars, descriptions of routes, quality of climbs, etc is the work of Craddock/Maher and others who put together the handwritten interim guide that I typed out word for word. So if putting the guide out was dumb, then its better than having no information at all, or you could ring steve Craddock and ask for his handwritten guide next time you go there. Or else put your own guide together and see if you can do better you [Edit Moderator - locked account 14 Feb for one week]
20-Jan-2012
8:53:53 PM

On 20/01/2012 Tastrad wrote:
> Or else put your
>own guide together and see if you can do better you whingeing cow

Lol.....You mad bro?
20-Jan-2012
9:05:18 PM

On 20/01/2012 Tastrad wrote:
>Rant

Tastrad - edit your post otherwise I will and then lock your account.

20-Jan-2012
9:08:43 PM

On 20/01/2012 Tastrad wrote:
Or else put your
>own guide together and see if you can do better you whingeing cow

fk me you're a cranky man. Was that really required ?
20-Jan-2012
10:38:06 PM

Wow, Gerry, you have such a lovely interpersonal style. The guide is crap. I appreciate that you wanted to do something to make the crag accessible, but it needed a lot more than just retyping the old guide. You could have just scanned the old one and bunged it online for anyone to make do with if they wanted, instead of charging $42 for a completely inadequate guide.
| | |
| --- | --- |
| | There are 96 messages in this topic. |
Home | Guide | Gallery | Tech Tips | Articles | Reviews | Dictionary | Forum | Links | About | Search
Chockstone Photography | Landscape Photography Australia | Australian Landscape Photography | Landscape Photos Australia

Please read the full disclaimer before using any information contained on these pages.
Australian Panoramic | Australian Coast | Australian Mountains | Australian Countryside | Australian Waterfalls | Australian Lakes | Australian Cities | Australian Macro | Australian Wildlife
Landscape Photo | Landscape Photography | Landscape Photography Australia | Fine Art Photography | Wilderness Photography | Nature Photo | Australian Landscape Photo | Stock Photography Australia | Landscape Photos | Panoramic Photos | Panoramic Photography Australia | Australian Landscape Photography | High Country Mountain Huts | Mothers Day Gifts | Gifts for Mothers Day | Mothers Day Gift Ideas | Ideas for Mothers Day | Wedding Gift Ideas | Christmas Gift Ideas | Fathers Day Gifts | Gifts for Fathers Day | Fathers Day Gift Ideas | Ideas for Fathers Day | Landscape Prints | Landscape Poster | Limited Edition Prints | Panoramic Photo | Buy Posters | Poster Prints