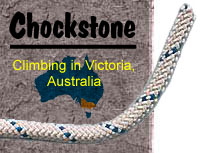 Sponsored By
ROCK
HARDWARE


Chockstone Forum - Trip Reports
Tells Us About Your Latest Trip!
Author

| | |
| --- | --- |
| Rod's Euro 2010 - Trip Report | |

25-Sep-2010
10:13:16 AM

just got back...bit of a let down in terms of the rap inducing fear factor that everyone else still keeps gibbering on about but it remains an awesome spot...i'll take it over ceuse any lifetime. ranks on par with plenty of the sard aventures in some aspects. positives are that its a bit passée so there's bugger all climbers around, camping is cheap, the corner bar bloke is into rock and roll/metal, you can easily avoid routes by the remy brothers and now that we're into the 2010's you can combine a decent mix of horror show classics with newer routes more adapted to sport climbing consumption. TR might follow over the weekend before i split for a few weeks in oz, might not as well.
25-Sep-2010
9:02:16 PM

Verdon 1 of 2

I arrived in geneva airport from a jaunt in london at 8pm, Bernard called to say he was an hour or so late...we finally hit the road at 9:45pm. Nice night for driving and the tents were pitched by 3am in a field somewhere near La Palud. Woke in the morning to mist, realised we were in the wrong field so rolled everything up and moved in the direction of coffee. Saw morning sun in Jean-Paul's campground so the camp spot decision was made for us. Later learned that Jean-Paul is retiring and closing it down later this year -I'm pleased to have pitched a tent in there and enjoyed this little bit of Verdon history.

Bernard & Jean-Paul


Finally got organised and decided to go for a climb to iron out the kinks, fatigue or not.

Dent d'Aire: Dolce Vita - rap then climb out on a modern 5c, 6a+, 6a. i was so knackered i had to take a couple of slumps on the last pitch.

Bernard raps


Bernard second's the last pitch


Retired for beers, wine, camp meal and then I put Bernard on point by telling him outright that he's going to stop talking about how he's never done Pichenibule despite 30 years of coming here..."I'm here for Verdon exposure, based on these pics and the topo Pichenibule looks like it's got that in spades. We're doing it tomorrow. Bon Nuit"!

Dogpound disturbed sleep. Morning mist, overcast, slightly humid conditions...perfect. LOTS of coffee, food, etc and then we were off, slightly nervous.

Pichenibule: from the Jardin under the Dalles Grises rap stations - 5b, 5c, 6a+, 6b, 6c+, 6b, 7b+/A0, 5c. There's a lower 4 pitch extension but its easy climbing and you don't get into the face's big exposure until a couple of pitches from where we joined the route. It traverses across the base of this massive face sitting above overhangs before a rising traverse across the main face; similar fall exposure on lead or seconding apart from the last pitch. No easy way of rapping your way out of this thing if things go a bit pear shaped.

First pitch (5b) is shared by another route, polished crap. From here basically, you get yourself deeper and deeper into the shit the further you go because the only way out is up...

Pitch two (5c) is pretty nice, airy traversing on a slab full of gouttes d'eau finishing with an exposed corner system without any bolts before reaching a belay station on the lower right of the main wall.

Pitch 3 (6a+) is great, traversing through pockets and flakes on a nice vertical wall.

Pitch 4 (6b) similar start but a couple of moves that are bit punchier for the fingers before reaching an ill defined corner and heading up straight vertical on bigger holds.

Pitch 5 (6c+) toughie and in our opinion this is the crux pitch...if you can't climb solid 6c you aren't getting through this one. After the 3rd bolt the belayer can't see the lead climber, Bernard looked a bit tetchy rounding the corner after bolt 3 and sounded like he was working pretty hard...about 40 minutes later he finally reached the belay.

"Good Job!" ...I feel a few rain drops..."Uh Oh".

I second it in about 10 minutes, pretty tough pitch at 6c+, I lost the onsight second about 5 metres from the end in a fairly reachy ill defined corner system...the plants got me undoing a necessary foot friction move.

Pitch 6 (6b) traverse into a nice little rounded crack system, I placed a small friend between bolt 2 and 3, then its quite a powerful little number using hands on a ledge and gouttes d'eau for the feet in a very airy situation traversing leftward to the belay. Belay itself is in a spectacular setting underneath this very compact wall of limestone with not a plant anywhere on it.

Pitch 7 (7b+ or A0) took one look at the 7b+ option and it looked like it needs a rebolt. An old aid pitch (free'd by Denis Burdet?), the line wanders off away from the bolts looks like it'd be a bitch to free. With rain pending we opted on the easy option, Bernard took the gear and aided the 15 metres to the next belay station.

Pitch 8 (5c) bolts every 7 metres or so and very, very nice. If you're climbing 6b easy enough then I'd recommend rapping into this from the top belay station just to enjoy this pitch. The distance between bolts adds that bit of spice, the vultures love coming in for a look at you and the tourists go "ooh, aah".

Bernard and I at the top of Pichenibule...realisation of his dream, I'm stoked for him.


Verdon


The beers and wine flowed that night, we ate at the Creperie run by Pascale and Moose. Pascale had rung her sister's earlier in the year to wish young Robin happy birthday, by happenstance we were staying with Pierre and Sophie and I'd picked up the phone. It's a small world. She gave me a wool cover to make the remaining nights a tad warmer...gratefully received.
25-Sep-2010
9:03:34 PM

Verdon 2 of 2

Next day we called in on Sandra and Jean-Marc at his Bio Camping Verdon. They went picking veggies, we went climbing but set an RDV for dinner. Bernard and I headed for ViriLimite intending an easier day out...

Saut d'Homme: 6a, 6a+, 6a+, 5c
Minet Gominet: 5c, 6b+, 6b, 5c or 6b

Rapped in easy enough but the wall we were intent on climbing looked pretty stiff. I took the first pitch of Saut d'Homme and pretty quickly realised it was going to be an interesting afternoon of test flights - I peeled about a metre away from the penultimate bolt and took a 15m ride, at least being that far away from the bolts you get a soft landing. The bad news was that I had to climb it all again. Bernard flashed it on second but kept commenting on how far apart the bolts were. Off he went on pitch 2, peeled less than 5m later, commented on what a horror show it was, then aided his way right onto Minets Gominets! I flashed the 6b+ on second, SO much easier than the first pitch of Saut d'Homme. Pitch 3 Minets Gominets - fantastic flake/pockets with a little steep section finishing with a big change in rock to more fluted systems. Pitch 4 was a non-event. I felt pretty good climbing wise so pulled a fast one on Bernard by getting him to belay me whilst I took revenge on the last pitch of Dolce Vita. Got it done, went to dinner and a little sampling of the local herbs.

Grande Eycharme Droit: Les Caquous A0 6a+, 6b, 6b, 6b+, 6c, 6c+, 6a+, 6b. Jean-Marc and Sandra borrowed a static so we could all do the 250m rap in one go, very airy. I just enjoyed the view thinking we were climbing a wall to climbers left of the rap, turned out we went almost straight up where we rapped. Bold, vertical to overhanging most of the way and nice and physical. We skipped the first one to avoid the aiding. Otherwise, all pitches stand out. The second 6b, the 6b+ on semi-flutes and the first 6c on gouttes d'eau were all brilliant, the 6c+ was pretty good too and the last 6b had a very physical short roof. Top day out, a quality Verdon corner system. We finished with beers on a terrace, followed by beers at Philou's followed by another visit to the Creperie.

Grande Echarme: unknown name, its not in the topo having been put up recently 6a/+, 6b, 6a+, 6b/c. Pockets and stratified, down low in the gorge. Right up my alley this one and though I had to fight for a couple of 'em I finally onsighted it just before the rain started. All 5 star quality pitches.

Me rapping


Joking around whilst Sandra suffered on a vertical slab, not really her style :)


Sandra amidst the first pitch hostilities


Me in the same pitch setting up for a French Blow


After that it was a long drive home. I added a 10 second spicy section by nearly losing the tail after a rally passing move into a wet, tight, bumpy corner in the mountain section on the North side of Ceuse. Nearly swiped the barriers but kept cool until the tail drift started to ease then used the lack of traction to put it sideways through the next corner. Bernard was impressed by the benefits of my mis-spent youth in the wilds of SW Oz...he even managed to stay awake and talk in quite an animated state until we reached the freeway :)
26-Sep-2010
11:57:21 PM

Right, I'm off to West Oz for a few weeks. Anyone wants to catch up for a few beers whilst I'm there send me an email, might also get a bit of bouldering in around the Capes during the stay if anyone cares to hook up.

Next instalment on here will probably come from Bleau...
27-Sep-2010
8:27:52 AM

all very inspiring and drool making, hope to get there some time.
29-Oct-2010
4:51:31 AM

Back from Oz for the late season blast before work looms...

...currently in Fontainebleau, getting my arse kicked at Bas Cuvier on a daily basis. Good scene, really international, super supportive crew locals or otherwise and the forest has gone all autumal.
29-Oct-2010
11:28:36 AM

Awesome place verdon....i did Pichnebule with an 8b climber who also gave up trying to free the crux pitch and pulled through on the bolts....doesn't help it is polished to buggery....some lovely new climbs on the other side for the hotter months too.
2-Nov-2010
6:01:06 AM

Totally agree maxdacat. I'd been saving Verdon for when my climbing actually merited being there; I'm glad I did. Being able to get on some classics without the overwhelming "what if we don't get up this" fearsome reputation problem was really cool. To find some more modern bolting on the last day was a bit of an eye opener. Might even be able to go back with G one day and do a few easy days with her, share the vulture experience (BIG MF's aren't they).

Bleau was equally good in a totally different way, its SO big as a venue and so social. Got on and sent Marie Rose after a 5 goes, pretty hard but its such a classic boulder problem. I don't know what else I got on...dog with 6 dick's syndrome.

Back in CH these last several days to find it all very much late autumnal, daylight hours are reduced and winter's oppressive touch is ever present. Pulled down on rock above the village here in Branson late this arvo, such a contrast to Bleau: granite/gneiss, crimpy and ever overhanging...little finesse, all about power and aggression. Seemed so much easier for me than Bas Cuvier but there were plenty of little improvements in evidence, I even despatched 2 new problems for me in the 6C/7A range on a day that was far too hot/humid, also bagged a crimpy anti-Rod problem at 6C that I've hunted for a couple of seasons now.

So what's next?

I've got 1 month left before the first work contract. A run to the States is not going to happen but otherwise, apart from one trip to London mid November I'm relatively commitment free so I can perhaps do the run to/fro Bleau for another 1 or 2 stints before the dream ends.

I'm very happy to have realised the whole thing starting from May last year. The financial cost has been HIGH but I needed this time during the last 18 months or so to finally accept the loss, bury someone I loved and deal with the transition...its time to move on.
25-Nov-2010
3:18:21 AM

...it ain't over till its over. I had ONE last boulder problem to go and was in reasonable form a while back but conditions just got worse and worse to the point that we found some ski gear and gave that a lash last weekend.

So there I am all prepped for work next week and, having taken a call about a potential job starting Feb then researched the company concerned throughout the morning, I'm feeding my fat frame an expresso sitting on the couch with a fire going when Fred sends a text from Bhutan confirming he'd done Radja. 20 seconds later there's a break in the cloud, its dry and cold as can be climbable according to my fussy standards..."hmm, maybe i should get out and give that last remaining objective a lash?"

Strolled down to the car and got the crash pad, shoes and chalk then wandered up into the forest to find a cool breeze and sun on the rock which meant it was as sticky as can be.

Warmed up on the long standing objective and got each crimpy section sequenced really quickly so tried one full burn: didn't even come close on the ending all points off dyno, missed the crash pad too then nearly karked it as the effort involved registered on an unsuspecting body. Considering I'd wobbled through the entire thing to that point for the first time ever I was pretty stoked. Pulled onto a few other prob's to continue the warm up, ending up pumped stupid after one long, burly 6B before it came in really cold and overcast again so I decided on a warm down and pack up...

...but sitting there all rugged up, there was another little break in the clouds. With the sun on it conditions were SO good and I got to thinking this might be the last ever chance so I gave the long standing objective a last shot...

...and sent, given my fatman status right now I'm a happy man!

Apparently it's my FA so I'm going to name it the most appropriate thing I can think of..."Au Revoir Pierre", Branson, 6C Font...not too sure about the grade given my current fatman status but the local hotshots are up there giving it a lash right now just before dark so I'll know soon enough.

Definitely my last climbing post in this thread. Hope you've all enjoyed reading about my 2 euro seasons. You can find the 2009 TR in another thread, that trip was derailed by some personal non-climbing stuff but that simple fact ended up providing the motivation to come back and finish things off this year. I've certainly enjoyed the experience...

...and I'm looking forward to sampling some long missed Aussie sarcasm in the New Year and maybe even pulling down on some Aussie rock!
| | |
| --- | --- |
| | There are 69 messages in this topic. |
Home | Guide | Gallery | Tech Tips | Articles | Reviews | Dictionary | Forum | Links | About | Search
Chockstone Photography | Landscape Photography Australia | Australian Landscape Photography | Landscape Photos Australia

Please read the full disclaimer before using any information contained on these pages.
Australian Panoramic | Australian Coast | Australian Mountains | Australian Countryside | Australian Waterfalls | Australian Lakes | Australian Cities | Australian Macro | Australian Wildlife
Landscape Photo | Landscape Photography | Landscape Photography Australia | Fine Art Photography | Wilderness Photography | Nature Photo | Australian Landscape Photo | Stock Photography Australia | Landscape Photos | Panoramic Photos | Panoramic Photography Australia | Australian Landscape Photography | High Country Mountain Huts | Mothers Day Gifts | Gifts for Mothers Day | Mothers Day Gift Ideas | Ideas for Mothers Day | Wedding Gift Ideas | Christmas Gift Ideas | Fathers Day Gifts | Gifts for Fathers Day | Fathers Day Gift Ideas | Ideas for Fathers Day | Landscape Prints | Landscape Poster | Limited Edition Prints | Panoramic Photo | Buy Posters | Poster Prints