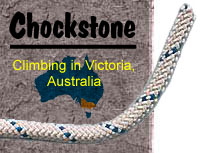 Sponsored By
ROCK
HARDWARE


Austrialpin: OVALO Straight Gate. Strength: 25 10 8kN (Heavy Duty) N/B Perfect for Racking wired Nuts? IMO $12.00
45% Off

Chockstone Forum - Trip Reports
Tells Us About Your Latest Trip!
Author

| | |
| --- | --- |
| Blue Lake - That Day the Mountain Fell | |

20/08/2008
2:22:30 PM

I wasn't going to post this just yet, but with all you lot now wanting to head out there you've just got to read this before you go.

That Day the Mountain Fell
By Nicholas Reese

That day the mountain fell
There was something in the air.
We stopped, that sound? Just like the knell
Of doom, in which we were to share.
That's when the mountain fell.

A tremble neath our feet
That makes the heartbeat stop.
A tear – most horrible – though neat,
A crack that parts the mountain top -
That starts the heart to beat.

The avalanche starts down;
Relentless, surges on.
The snowface crumbles, smashed and broken,
The debris rumbles tonne on tonne.
No mercy has been shown.


Alan E.J. Andrews
from Skiing the Western Faces of Koscuisko (sic)

I write this story for a few reasons. I feel the most important one is make the story known (my version at least) so that this type of situation may be avoided in the future by those who share the love of skiing the wild back country of Kosciusko National Park (KNP). Another is to tell my story so that those who were not there will gain some insight into what happened – to dispel myth, rumor and speculation. The final, and perhaps the most selfish reason, is to purge my own demons.

Blue Lake is in the heart of the Main Range in KNP. It is a glacial cirque, which is a small circular valley surrounded by steep cliffs with a lake in the centre. If you had been standing on the spot sixteen thousand years ago you would have seen that the valley would have contained a glacier. As the last ice age retreated, so too did the glacier, finally melting to reveal the valley. To the north of Blue Lake, Mount Twynam and Little Twynam rise majestically above the surrounding landscape. To the east, there are easy slopes that descend into the Snowy River, with the Charlotte Pass ski resort just up and over the next hill.

Blue Lake is a popular destination for many visitors to KNP due to its natural beauty and remote ambiance. During summer it is visited by walkers who find it a perfect destination to sit and lunch and reflect on the wonders of the mountains. Rock climbers find the buttresses of the western walls a worthy spot to test their skills. In winter, especially in seasons of heavy snow fall when the central lake freezes over, back country skiers challenge themselves on the surrounding steep slopes of powder snow, and would-be mountaineers don crampons and ice axes and dream of harder mountains whilst picking their way up ice covered rocks.

I had planned a trip to Blue Lake for quite a while. I'm a member of both the Canberra Climbers Association and the Canberra Cross Country Ski Club and I had been wanting to get up there to take photos for a proposed new climbing guide book, and to recce the route in so as to lead a tour for the ski club. I needed a partner to ski in with, and had made contact with Owen Hrabanek though the ski club – he was wondering if anyone did any ice climbing and if there were any trips planned. I'd never met Owen before, but he said he had rock climbing experience and was a trainee Volunteer Ski Patroller at Perisher, so I knew he would be fit and would definitely be able to ski. You need at least one partner for safety reasons when traveling in the back country, and I was willing to go with Owen as the route would not be difficult, and is often the case with climbing, he was the only one willing to go with me on the day.

I met Owen as planned at the Guthega carpark at seven o'clock on Sunday morning, 17th of August, 2008. Guthega is a quiet ski resort to the west of Perisher on the Snowy River and is a favourite starting point for back country skiers heading onto the Main Range of KNP. Our plan for the day was to follow the Snowy River up to where the Blue Lake creek cut in, then follow the creek up to Blue Lake itself. I had brought along all the gear for ice climbing – ropes, crampons, harnesses and ice axes – and we divvied it up between us to even up the load. I'm a very careful back country skier (and had competed a NSW TAFE Ski Tour Leaders' course only a few weeks before) and so had emergency equipment with me such as a snow shovel, first aid kit, emergency shelter, cooking equipment and food. This made for a heavy pack on my part, but nothing I took was superfluous for what we were planning to do.

The day was shaping up to be perfect for back country ski touring – sunny, no clouds whatsover, a very light wind, and excellent snow cover. I had been watching the weather map like a hawk for days and knew that there was a high pressure system moving over the top of us – everything was falling into place for a perfect day on the Main Range.

Owen and I started off on our skis up the eastern bank of the Snowy River. Blue Cow Creek to the south of the resort had been snowed over, so there was no need to use the much feared and talked about flying fox to get to the other side. The snow was hard packed and still icy from the night before, but we knew that as the sun rose it would soften up the surface and make ski travel much easier. We were able to make an almost direct route to the Illawong suspension bridge a couple of kilometres up the river. We needed to cross over to the western bank of the Snowy River and the suspension bridge is often the only way to get to the other side. When we reached the suspension bridge I was surprised to see that sections of the Snowy River had been covered completely by snow, and that other skiers, gamer than I, had used these natural snow bridges to cross the river. There had obviously been a lot of snow this season.

After crossing to the western bank of The Snowy we more or less stayed on the contour, neither climbing nor descending, and followed the river south. We were not going at the pace that I had hoped to achieve, as Owen was skiing on older alpine touring gear – he was having trouble with one of the bindings which forced him to stop regularly – and was also using skins. Skins are material attachments that adhere to the bottom of skis to enable the user to climb straight up hills without slipping back, but on the straight and level or downhill they slow the skis down considerably. I was using almost-new back country skis that look like downhill skis, but have a patterned base that grips into the snow and allows the user to climb hills, but do not noticeably slow the skier down when skiing level or downhill. I did my brand new official ski tour leader best to break the trail the whole way, and stop regularly to allow Owen to catch up. After starting so early we had plenty of time up our sleeves, and the return route would be mostly downhill and quite fast, so I was not worried about our progress. The weather was so good that it was just great to be out on skis.

By the time we reached the junction of Blue Lake Creek and The Snowy we were a little tired, so we decided to rest and eat before making the final slog up to Blue Lake. This done, we donned our packs again, and I elected to walk up the steeper sections of the hill towards Hedley Tarn – another glacial lake that is down hill from, and fed by, Blue Lake. There were sections where the snow cover was quite icy, and with such a heavy backpack, walking was the easier option. We reached Hedley Tarn and were starting to flag a little, but on checking the map we realised that we only had to ski around the contour of the hill in front of us and we would be at Blue Lake shortly. We marveled at the snow cover and striking scenery. By then we were above the tree line and were confronted by endless hills covered with the best snow cover I could remember seeing.


Owen traversing above Hedley Tarn


Blue Lake itself came into view around midday, and we elected to stop and lunch at the point where the creek exits the lake, which was completely iced over and covered with snow. The scenery was magnificent. Towering Mount Twynam to the north; the vast, featureless expanse of the frozen lake; and the imposing snow covered crags on the western wall of the cirque. There was another back country skier taking a break nearby, and we rested while chatting and watching his mate ski down the slopes to the north. We watched as he carved beautiful turns down a steep section, then a high traverse across the slope above the lake, before tearing down the hill to join our small group. The two new guys were hooting. They were quite young and competent and were obviously having a ball, and their good humor was infectious. We all started taking photos, exchanging cameras so we all had our partners in the picture. We ended up goofing off with them, taking their lead by doing silly poses, handstands and the like while taking shots with the main wall of the cirque in the back ground. I secretly wished I was like these two guys again – young, full of piss and vinegar, having a great time and not a care in the world. The weather and conditions were so good that it made everyone want to jump up and down.


Me and Owen on Blue Lake - the cornice that was to fall is circled



20/08/2008
2:25:26 PM

(Part 2)

The two guys headed off and left Owen and I to ourselves. We sat down and ate lunch and surveyed the crags for ice climbing potential while discussing where the best place to climb would be. I looked directly across frozen lake at the main cliff line of the western wall, a distance of around five hundred metres, and noticed that there were big cornices built up along the top of the cliff line in the gullys between the buttresses (sections of rock protruding from the cliff line). A cornice is like a big lip that protrudes out horizontally from the top of a vertical snow bank. The wind blows the snow over the top of the cliff and it gradually accumulates until it looks like a frozen wave caught in the process of breaking. They are well known for being unstable and many a mountaineer has met their end by unknowing walking too close to the top of one and falling through, such as the legendary Hermann Buhl, who fell to his death through a cornice on Chogolisa in the Himalayas in 1957.

There was a vertical gully about sixty metres wide in the centre of the cliffline which at its top had biggest cornice of all. The snow covered cliff dropped about forty metres vertically below it with some protruding boulders, with another forty metres of very steep snow covered ground below that. Climbers know the buttress immediately to the south of this area as Grey Buttress. I remarked to Owen that there was no way we were going anywhere near those cornices and that the safest place to climb would be on the less steep northern side of the cirque. We scanned the safer looking area for rocks with the tell-tale glint of ice that would allow our ice axes and crampons to bite as we climbed.

By this time it was a quarter to one, but we were in no hurry to move, soaking up the sunshine and recuperating from the long haul we had just done with heavy packs. Owen then spotted another back country skier on the top of Grey Buttress, just to the left of the large cornice and drew my attention to him. At the same time, another skier appeared right above the centre of the largest cornice to the north of Grey Buttress. We both sensed the immediate danger that the second guy was in. I callously remarked that this was going to be a good photo opportunity. I seriously thought that he would just fall through the cornice and end up sliding down the slope below it, probably none the worse for wear. We were too far away to yell a warning, and by the time I thought about it, it was too late.

At that exact instance the cornice began to peal off from the left hand side of the cliff line. A big crack appeared in the snow right across the cliff as it broke like a wave. The guy, whom I now know to be Tom Carr-Boyd, was still on top of the cornice as it started to drop and he made an attempt to turn back, too late. We watched him fall for about twenty metres, then lost sight of him as snow was thrown into the air by the massive force. For the time that we could see him, he appeared to have turned back and faced the snow-covered cliff as he fell, and looked as though he was either scrabbling for holds, or was trying to swim his way to the top of the moving snow.

For a second or two we were stunned as we watched the falling cornice trigger secondary avalanches on the steep slope below. I have been asked since whether there was a lot of noise caused by the avalanche, or whether I heard yelling or warnings shouted by the others, but all I can remember is silence. There must have been some sound, but I think I suffered sensory overload watching the drama unfold before us.

I watched the skier who was on top of Grey Buttress immediately launch himself off the cliff, carve a few turns on the near vertical face, then stop on the right hand side of the avalanche debris field. I remember being mightily impressed by his skiing skills.

I swore loudly and yelled at Owen for us to get over there. We donned our skis and I yelled again at Owen to grab our snow shovel. We were about five hundred metres from where the bottom of the avalanche debris field stopped, but the ground was flat as it was the frozen lake surface and we moved very quickly. After a couple of hundred metres Owen yelled that he was going to try and get mobile phone reception and call for help, and threw the snow shovel over to me and turned back to climb Little Twynam, the hill to the north of our position.

I arrived at the bottom of the avalanche debris field, which had pushed out over the flat surface of the frozen lake for at least fifty metres, and was up to two metres thick, and I kept swearing over and over to myself in an attempt to get a grip on the situation. It was surreal, the volume of debris was enormous and couldn't believe that that much snow had dropped off the hill. The avalanche debris field extended for at least another fifty metres up the hill and stopped where the cliff line became more vertical. I climbed as fast as I could up the right hand side of the debris field, scanning it as I went to see if there was any sign of the guy who had just fallen. I tried to move out onto the debris field as broken blocks of snow obscured visibility somewhat, but its loose blocky nature forced me to move off it as I kept sinking up to my thighs, and I continued climbing up the clearer snow slope, scanning as I went. At the time I saw no sign of a person or any equipment in the avalanche debris. I could see the other guy at the top of the debris field, working at a frantic pace, but I did not know whether he had found the other guy or not.


Looking down onto the debris field where it has flowed out onto the lake - my ski is circled to give and indication of scale


I know from the literature and associated statistics that you have to find an avalanche victim as quickly as possible. The survival rate drops rapidly between fifteen and thirty minutes. Some avalanche victims end up close to the surface, and are easy to dig out (or in fact extract themselves). Others are able to form a pocket of air around their heads which enables them to keep breathing until they are found. Others are not so lucky. One of the characteristics of an avalanche is that when it is moving it is quite fluid, and one of the recommended techniques is to discard any equipment (skis, ski poles, etc.) and attempt to swim to the surface of it (literally). Once the avalanche stops it compresses itself and becomes quite compact underneath, much like when you pick up a handful of snow and crush it into a hard snow ball. This can trap the victim so that they cannot move, and may even compact so hard around the torso that it is impossible to breath, even if there is an air pocket.

I made it to the top of the avalanche debris field where the guy was probing like mad with his ski pole. I yelled at him if he knew where the other guy was, and he indicated that he had seen him go down in the area that he was working on. I asked if the person we were searching for had their skis on, and the answer was no. I mentioned that that was probably a better thing as survivability in an avalanche is greater without skis on. I did not ask my fellow rescuers name, I was too aware of the time constraints that were on us and just got to work. The guy who was probing indicated that he had set up snow cairns (blocks on top of each other) to indicate the area he was working on. I ripped the bottom half of my extendable ski pole out of its handle, and started probing with it upside down. I started working further down on an area he had not probed. I then realised that I need to be able to probe deeper, so pushed the basket off the bottom of my ski pole, then inserted it back into the handle so that it was like a spear, giving me about one and a half metres of probe depth. About this time I also realised we should be working in a slightly more co-ordinated fashion, and the two of us worked out a more systematic probing pattern, again marking out our search area with snow cairns.

The reasoning behind the probing is that you are hoping to hit the person with the probe, and that you can feel the person's body or equipment (such as a ski boot) with it. If there is any indication that someone or something underneath has been found, more intensive probing is carried out in that area, and if there is any further confirmation a snow shovel is used to excavate the area. I held my snow shovel in my left hand, and probed with my modified ski stock in my right. I swore at myself. The previous year the sales person at the Paddy Palin store at Jindabyne had tried to sell me ski stocks that converted into more adequate avalanche probes. "When do we get avalanches in Australia?" I'd asked. We'd had such dismal snow seasons that I had dismissed the possibility.

We worked harder than Trojans, probing across the slope with thirty centimetres between each probe. I would stop every couple of metres and scream out "Can you hear me!", and listen for a second or so in the hope that the person under the snow could make a noise, then continue probing. After a short while, the other guy said "His name is Tom", so I started calling his name instead. Again, I did not ask my fellow workers name – somehow it seemed too personal for the situation and would be a waste of time. We were highly aware that the clock was ticking and the sands of time were slipping though our hands. I could tell the other guy, though working like mad, was in shock. He was calling Tom's name way too gently and sadly. "Brother Tom" he was saying. He was firing himself up and trying to motivate himself by repeating "Not today Tom, not today". I did not think at the time that is was his brother, as I also was in a frantic state of mind and, being married to a Melanesian, I am too used to the Melanesian use of the word brother to indicate a good friend.

We worked and worked, trying to cover as much of the area as possible. I tried to ignore the passage of time, concentrating on the probe, yell, listen sequence. I knew that the situation was getting worse as the minutes ticked by, but I had been reading some of Joe Simpson's writings lately, and I reflected on some of his points about mountaineering tragedies as I worked. He emphasises that you should never give up on someone until you know that all is lost. Never say that someone has not survived until you know that they have not survived. Even if the situation is obviously hopeless, be there and help others in their time of need. I used this philosophy to motivate myself and cursed myself for not being as fit as I had been the previous year as my energy started to wane.

After about forty minutes I realised we were going to need more people in the search, and could not believe that I had not seen any other skiers in that whole time, as I was randomly scanning the frozen lake surface and surrounding hills for other people who could potentially help as my energy levels dropped. I stood up and had a good look around the area below us and spotted two more back country skiers (who had been camping next to the lake and had just come back from a mornings tour). I started screaming like blue murder at them "HELP, HELP". They were obviously stunned for a couple of minutes while they took in the scene before them. Just at that time I heard the sound of a helicopter, and I noticed Owen skiing back over the lake. Owen had climbed Little Twynam in record time until he moved into mobile phone range, and called the Ski Patrol emergency desk directly, informing them of the situation and that we needed a whole pile of people and avalanche probes (poles of thin tubular metal about 3-4 metres long). Owen had climbed the hill so fast that he had given himself muscle cramps in the legs and was having trouble moving quickly. By this time the Careflight helicopter was coming over the top, and the couple who had just appeared down on the lake skied the words "HELP" into the snow in large letters. As the chopper went overhead I raised both my arms over my head in an attempt to give the mountaineering rescue sign, and hoped that they saw me. After a couple of minutes of doing that I realised that it must be highly obvious where the avalanche was and that they would be able to see where we were working.

By that time, the couple who had been on the lake below reached us. We explained to them what had happened and they asked how long it had been. I shook my head and couldn't say much as I felt that admitting how long it had been would make the time span too real - I had checked my mobile phone clock and it was at least forty-five minutes – the time had gone way too quickly. They did not have ski poles that allowed us to remove the baskets, so I modified my other ski pole for them, and after a few false starts one of them decided to use a ski, which was better than nothing for probing. They too joined in the grid pattern and worked like mad. They were the first to ask the name of the person who I was working with, whose name was Peter, and they found out that Tom was Peter's brother, and told me. As I feared, this made things too personal for me. I introduced myself and kept probing.

I was surprised that Owen had not appeared at the top of the debris field with us, and it was a long time before he did. He had apparently seen a loose ski somewhere in the debris field and had carried out his own probing in that area. I didn't find out until later that Tom carrying his skis in his hands when the cornice collapsed.

By this time the helicopter had worked out a position to hover, and it lowered a doctor with a winch cable, who then made his way up to our position. Skidoos also started to appear with the first Ski Patrol, National Parks, and other rescue workers who brought along snow shovels and some avalanche probes. Gradually, over the next half hour, more and more skidoos turned up with extra rescue personnel, and an expanded search pattern was set out with the extra people who were on hand.


Probing


By this time I had been probing for an hour and a half non-stop, and had to have a break. I actually changed over to working with the shovel on any areas that may have given some indication of where Tom was, helping clear excavated snow while another rescue team member dug the actual holes. I really needed to drink some water, and used some of Peters, but realised that the others such as Owen, and the two skiers who were helping first were going to need water too, so I descended down the slope (again, scanning the debris field), and skied over to my pack, packed everything into it, and skied back to the search area. I had a Jetboil gas cooker in my gear, so I fired it up and started to melt snow for people to drink after the water that I had been carrying had been used up. I first used the water to make black tea, with the hope of enticing Peter out of the probe team (there were now more people than probes) and getting him to drink a brew. Even with hot tea, there was no way Peter was going to stop. I marveled at his stamina and ability to keep on working. By this time we had been going for two and a half to three hours.

Time had obviously slipped away and I could tell be the way the rescue workers were acting that it was now a process of recovery, not rescue. One of the rescue guys got a radio call, and said out loud to everyone that there had been "another" fatality over at Perisher. I remember thinking how thoughtless this was as we had not found anyone deceased yet. By this time the rescue team had brought in two snow plow cats from Charlotte Pass and had pushed a snow road in from the Kusciouszko road and up to Blue Lake to enable easier access for skidoos. They then pushed the road all away around the northern side of the lake, staying high and off the frozen lake surface.


Rescue team on the job


The shadows were starting to get longer and we were obviously going to start losing light soon. A general announcement was made by those who were now in charge of the rescue crews that everyone was to move off the slope and away from the avalanche debris field. The snow ploughs were then going to be used to clear the debris field in an attempt to locate Tom more quickly. It took a while to sink in what was happening, and eventually most of the rescue team was moved down and out of harms way to the side of the lake. I packed up my gear and was about to move off, when Peter came over and thanked me for helping. I was almost too embarrassed to say 'no worries', and made my way down the hill.


The full perspective - the rescue team can be seen probing at the top of the debris field


Owen then joined me down where most of the skidoos were parked on the side of the lake, and the other two skiers who helped at the beginning met up with us as well. I introduced myself to the others, but I was so tired that I have, to my chagrin, forgotten their names. The bloke was from Canberra, and his female friend was from Tasmania. Luckily Owen, through his Ski Patrol activities, knew many of the skidoo drivers and we organised to be taken back to our cars at Guthega. That was an adventure in itself, being driven from Blue Lake, to Charlotte Pass, Perisher, and then Guthega on the back of a skidoo, but we arrived in one piece. Just as we were dropped off, one of the skidoo drivers received a call on his radio to inform him that they had found Tom at 5.45pm - he was actually a good way down the slope from where we were searching, and was found under three metres of debris. The sad thing is that he was found in the vicinity of the ski that Owen had seen. We had all tried hard, and without the benefit of hindsight, we had all worked to the best of our ability and knowledge.

I dropped in at Jindabyne police station on the way home, to give a statement as instructed by the policeman on the scene, but they were too busy, told me to give it later at Queanbeyan, and I went gladly on my way, almost too tired to drive, but wanting nothing more than to shower and sleep in my own bed. I also finally rang my wife, who screamed at me down the phone. "What was that for?" I asked. "I'm so glad to hear your voice", she said. The news had traveled way faster than we had, and for a few hours no-one knew what the details of the accident were. All my family knew was that a skier (some reports said climber) had died in an avalanche at Blue Lake, and they knew that I was there and hadn't reported in. They had all assumed it had been me.

20/08/2008
2:36:17 PM

Vale Tom.

Thank you Capt-mulch for taking the time to compile and post your very personal/sad TR.
My thoughts/condolences again go to the family and friends of Tom.
20/08/2008
3:44:47 PM

Sorry all - I think I've fixed all the speling mistakes now...
20/08/2008
3:45:52 PM

Ta Nick. Moist eyes at work.


20/08/2008
3:55:26 PM

Well written Nick, thanks for sharing.
20/08/2008
4:32:18 PM

Thanks for sharing Nick.
20/08/2008
4:47:59 PM

Have a pat on the shoulder from me mate for a job well done.
20/08/2008
5:50:14 PM

No wonder you were promoted from Lieutenant, Nicholas. Well done mate. Must have been quite a cathartic experience, writing that.

I'd promote you again but Major Mulch sounds a bit dicky.
21/08/2008
7:45:46 AM

On 20/08/2008 wallwombat wrote:
>No wonder you were promoted from Lieutenant, Nicholas. Well done mate.
>Must have been quite a cathartic experience, writing that.
>
>I'd promote you again but Major Mulch sounds a bit dicky.

How about we just knight him and also give him a pretensious name like Archibald. Sir Archibald Mulch of Snowdonia, yeah that has a nice Marx Brothers ring to it doncha think. We can then simply shorten it to Archy, spoken in a high pitch winey English snob voice. Yeah that'll do it. That would certainly pop his monacle off his eye wouldn't it by jove.
21/08/2008
7:57:46 AM

Just call him Mulchy in a "high pitch winey English snob voice".

Works for me.
21/08/2008
9:21:33 AM

Thankyou. Not very often I find myself crying at work.
21/08/2008
9:30:18 AM

I have spoken to a couple of NZ guides who have swum up through avalanches and it worked for them, apparently it's one of the best things you can do. One guide told me he'd swum up through 5 - pulling the tigers tail an awful lot.

Great retelling of the story Capt Mulch, great perspective and honesty. All jokes aside, you're a nice person. Death in such a beautiful place on such a glorious day and in such a healthy, fit individual just seems so much sadder.
21/08/2008
9:53:58 AM

Thanks for sharing your story mate, and a very good decision on your part not to go anywhere near that section of cliff.

It provides a stern reminder to all of us backcountry users of the real dangers of the alpine environment and to ensure your safety is always put first over a good line etc.

The bad thing about being a climber (especially of the alpine variety) is that one day, whether you like it or not, you'll be involved in a rescue or similar :(

Paul
21/08/2008
1:08:05 PM

Thanks for that Nick. I hope the process of writing it helped sort your head out. Must catch up for a climb and a beer soon!

Gav
21/08/2008
1:29:37 PM

very moving, i think the effort you (both) put in is obvious..at least his family know everything that could have been done was.

my thoughts for his family, and especialy his brother...

Blue lake is an extremely pretty spot..now its even more meaningful.
21/08/2008
1:46:55 PM

Just as a matter of interest - do people not use transceivers over your way?
21/08/2008
1:56:42 PM

Vey moving tail, thanks for sharing it and long lasting peace to all.
21/08/2008
2:18:52 PM

I've never seen one used - though I'm very interested in them now. I've been reading up on the their use and have looked at a few online for around the $300-450 dollar mark. Can anyone recommend one and some tips on their use? I think the other thing is that we haven't had snow like this for so long that these young back country skiers don't even think about them. Any thoughts or suggestions would be greatly appreciated.
21/08/2008
2:31:27 PM

Cap'n - a good source for things second hand and alpine is in the 'classifieds' section of the various chapter newsletters of the NZAC. AT gear, transceivers, tools, crampons etc come up quite often. As a side bonus there are often a few peculiar mountain tales and speccy pics to trawl through as well. I bought my transceiver through this method.
| | |
| --- | --- |
| | There are 52 messages in this topic. |
Home | Guide | Gallery | Tech Tips | Articles | Reviews | Dictionary | Forum | Links | About | Search
Chockstone Photography | Landscape Photography Australia | Australian Landscape Photography

Please read the full disclaimer before using any information contained on these pages.
Australian Panoramic | Australian Coast | Australian Mountains | Australian Countryside | Australian Waterfalls | Australian Lakes | Australian Cities | Australian Macro | Australian Wildlife
Landscape Photo | Landscape Photography | Landscape Photography Australia | Fine Art Photography | Wilderness Photography | Nature Photo | Australian Landscape Photo | Stock Photography Australia | Landscape Photos | Panoramic Photos | Panoramic Photography Australia | Australian Landscape Photography | Mothers Day Gifts | Gifts for Mothers Day | Mothers Day Gift Ideas | Ideas for Mothers Day | Wedding Gift Ideas | Christmas Gift Ideas | Fathers Day Gifts | Gifts for Fathers Day | Fathers Day Gift Ideas | Ideas for Fathers Day | Landscape Prints | Landscape Poster | Limited Edition Prints | Panoramic Photo | Buy Posters | Poster Prints