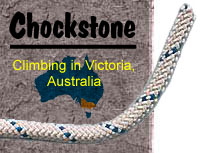 Sponsored By
ROCK
HARDWARE


Black Diamond: SET of 8 "C4" Cams and 8 matching wire gates. Sizes .3 .4 .5 .75 1 2 3 & 4 and 8 anodised "neutrino" - wire gate karabiners. $625.00
20% Off

Chockstone Forum - Trip Reports
Tells Us About Your Latest Trip!
Author

| | |
| --- | --- |
| Blue Lake - Aug 12 to 19, 2003 | |

22/08/2003
11:16:55 AM

- Day 1 - Tues Aug 12th -

4.00am start today. On the Hume with all the Melbourne to Sydney truck fleets we make Wodonga for morning tea at 7am, with one of the local bakeries serving us hot croissants and coffee but not the hot pie that Jono is craving, as it is even too early for them. We arrive at Thredbo by 11am and proceed to negotiate a handy discount at the local ski hire shop where we pick up our snow shoes. We then drive to Bullocks Flat at the bottom of Perisher to catch the Ski Tube train up the mountain to Perisher Blue. Whilst waiting for the train we have amazed onlookers gaze at the size of our packs with the common questions being "how heavy is that thing!!?" and "where are you guys off to?". We then jump on an oversnow mobile for the 30 minute bumpy, diesel smell fuelled ride to the picturesque snow bound ski village of Charlottes Pass. The driver gives us some advice on the most appropriate river crossing and drops us off at the most convenient spot just before the ski village.

So our walk begins. Snow shoes on, poles in hand, and whilst Jono can still not believe the size of my 35kg pack, I am getting used to the walking speed with which he is breaking trail. The Snowy river is frozen right over, so after a short descent, crossing it is a breeze. We hurry to get as close to Blue Lake as possible, in order to set up camp before the expected storm front that is due to hit us that evening. Jono's barometric watch is already telling us that the front is coming. On our way we come across a mountaineering school that has set up camp just over the first ridge near the Snowy River. They offer us the use their top ropes the following day at Blue Lake. )We neither saw nor heard from them for the rest of the week! So not sure what happened to those guys.)

By 3.00pm we have walked close enough to Blue Lake to consider setting up camp. Jono picks a nice spot only 10 mins from Blue Lake overlooking Headly Tarn (a small lake), and sheltered by the increasing wind, we spend the next hour carving out a ledge and setting up our dome tents. A few rocks, additional snow for a larger snow ledge and together with our aluminium snow pegs we ensure that our tents survive any high winds (little did we know that this would happen sooner rather than later!). In the wind, my tent bag which is now empty is caught by a gust, flies past Jono, and it began it's flight back toward Charlottes Pass. Without hesitation Jono sprints and dives down the slope and into the snow retrieving it with a giant snow leopard like leap (thanks mate, I owe you one!).

Right: Walking in over frozen lake. See here for more pics.

Whilst we sort out and compare our equipment, supplies, food and talk about our plans over the next few days, we melt water and begin stocking up on our H2O supplies (all water in the Blue Lake/Mt Kosciuszko area is extremely suspect and likely to contain Giardia so beware – it must either be boiled or filtered). Unfortunately I accidentally bump Jono's water pot spilling over 2 litres of his precious water which he has just finished melting! Expectedly, he does not usher a word to me for the next 15 mins or so and I quietly spent the next 20 mins melting snow to supplement his water supply! We then both have dinner, talk and hit our sleeping bags by 9pm, after a long day.

- Day 2 - Wed Aug 13th-
To our dismay it starts raining at 12am and it does not stop for 36 hrs!!!. It in fact snows for about the last 6 hrs of this period. Our tents are hit by gale force gusts and they are shaken to their foundations. Both Jono and I are screaming at each other through our ear plugs, beanies and tent walls finding out what the other is up to in their tent and trying to keep our sanity in the boredom of our secluded and individual tent isolation. "…Can you stop the rain John?..." yells Jono…."....I am trying...." I reply…….."....well try harder!" says Jono. We both laugh. We monitor the passage of the cold front with questions like "…has the barometric pressure stopped droping yet?..." and Jono replying "Not yet…" and "….pressure has stabilised" being common yelled replies.

We are both in our tents, wrapped up in our sleeping bags drifting in and out of sleep for the whole day. By mid morning I offer Jono to swap him our only book for his pee bottle. He politely refuses. Now I have the option of either going through the entire ritual of getting dressed and putting on those dreaded mountaineering boots which take at least 10 mins to put on, then getting wet in the rain and wind, or holding on until the rain stops. But alas, wait, there is an alterative. By early afternoon, I have worked out how to relieve myself without getting out of my tent, without getting fully dressed and without getting wet. It has taken me all day and various attempts to work it but I have it! I scream with relief to Jono who can only laugh at my jubilation and toilet tent humour. In the mean time he has had enough of tent life after nearly 24 hrs. He gets dressed in all of his Goretex armada and although he offers an invite (which I politely refuse) he heads out in the rain storm to see Blue Lake. One hour later he returns with some amazing digital footage of Blue Lake. There is plenty of ice everywhere and if the rain stops we could be in for some amazing climbing over the next few days.

- Day 3 - Thu Aug 14th -
The rain stops at 12am. It then begins snowing until 6am. We wake up, have breakfast and don all of our gear including our snowshoes and walk to Blue Lake for an amazing spectacle. There are over 20 or so frozen waterfalls cascading into a frozen, snow covered lake the size of several football fields. The western, northern and north eastern shores are surrounded by snow/rock covered slopes towering up to 150 meters above the lake. There are three very steep gullies with overhanging cornices on the western end, and there has been a severe and large avalanche on the northern most of these gullies.(Over the next week, this area will in fact avalanche three more times due to snow drift and fresh snowfalls).

We begin exploring the area and slowly picking our climbs. We check out the ice which although is thick is brittle and shatters easily. Jono picks the first climb and begins a lead up a steep ice gully. It's a good warm up for us. We then top rope a beautiful waterfall with blue ice right next to this gully which offers some short vertical sections.

We have lunch and begin a steep climb towards Mt Twynam. As I come around a snow corner perched on all fours, I look up, and to my amazement Jono is soloing this steep 10 meter waterfall which is the highest waterfall above the lake. It is nearly 100 meters above the lake floor itself. On a high, and full of adrenalin, Jono descends to my position exclaiming "….perhaps I should not have done that!". I'm, like "…..hey man, do what feels good, go for it!". On that note, and as if to prove he can do it again, he grabs the rope and now does a lead on the same climb. Seconding the climb, I still can not believe that he has soloed this steep exposed ice section so high off the lake.
We then commence a steep ascent reaching what I end up calling the "false summit" of Mt Twynam which is only perhaps 30 vertical meters and 200 horizontal meters below the real summit. It is here that I see for the first time snow which resembles material like that which is placed inside a bean bag. It is truly granular, large, circular snow powder which behaves more like icing sugar rather than snow!

- Day 4 - Fri Aug 15th -
It's a glorious day today. Not a cloud in the sky, with very little wind we have the whole place to ourselves. Jono suggests a steep snow ascent of one of the western side gullies. I agree and I begin a lead up the middle western gully. 100 meters up, Jono takes over the lead, and climbs the steepest section which is a 65 degree ice/hard snow section which veers over to the right over a rock overhang. It offers some of the best exposure of any of the climbs we have done thus far. We top out on an amazingly high section which overlooks the entire lake and finish the climb by posing for some amazing photos. When we descend to our packs, we look up at our tracks with amazement at the climb we have just completed.

It's time for me to do a bit more leading. On the northern side of the lake there is a nice blue ice section with around 15 meters of near vertical climbing intervened with several snow ledges and ice gullies as resting points. Three ice screws, a 5 meter vertical section straight up (let me tell you how pumped I was when I put an ice screw at the end of that!) followed by a top out to the right through an ice gully and across a soft snow overhang and we've made it! Jono down climbs whist I abseil back down.

Right: Jonathan bouldering/soloing. See here for more pics.

We have lunch and we both agree we have had enough with using ropes for the day. We head to the north eastern part of the lake where there are a series of interlinked frozen waterfalls running down a moderate snow arete. All climbs are no more than 10 or so meters on plate glass ice with moderate grade steepness levels. We practice placing ice screws and bouldering across ice and rock sections. Before I know it Jono is off soloing again, ticking off climb after climb. Whilst I am practicing constructing and testing Abalakov threads (or V threads) we both look at our watches and concur that Jono has just managed to complete more than 5 solo climbs in less than 30 mins! "….I am leaving tomorrow he complains…..I think I can do one more!" and he heads off for another solo run.

It has been an amazing day, with non stop climbing from 8am to 4.30pm. We get to camp and sit in amazement as we watch the orange glow of the sun go over the western snow covered hills. Our evening chores of storing our gear, melting snow and making dinner then completes our long day.

- Day 5 - Sat Aug 16th -
It's time for Jono to go home today. I wake up to the sound of hacking ice and him separating his tent from the ice ledge. We make it down to the Snowy River crossing only to discover that the river is flooded. We get mobile phone coverage and receive Neil Monteith's message that it was severely flooded on Thursday when he tried to cross it in order to join us. Unable to, he does a solo hike to Mt Kosciuszko and then on to Thredbo instead! In his message he warns us about attempting to cross the river which is running like a wild torrent.

By now the river itself is a 20 meter wide fast flowing water mass, but has subdued a fair bit since earlier on in the week. Whilst Jono begins taking his gear off for a bear foot river crossing, I walk upriver to see if it's any different. After nearly half an hour of walking I return with no luck with only one section of the two river section being able to be crossed without stripping off. I see Jono on top of the opposite hill on the other side of the river well on his way to catching the 9.30am oversnow mobile to Perisher. I wave my ski poles to him and begin stripping off for my gear for my own dash across the frozen river. By the half way point my legs are too numb to be feeling anything and I am simply concentrating on not falling in any further than my thighs. The thick ice blocks are easily broken aside and a nice rock/grass ledge on the other side that has been warming in the morning sun greets my aching and freezing legs. Before too long I am descending the ski runs of Charlottes Pass into the village. I see the oversnow mobile leaving for Perisher and I figure Jono is on it. I now have to wait for Jonathan my new climbing partner to arrive at 11.00am and with whom I will spend the next few days. A quick visit to the Kosciuszko Chalet Lodge gets me the latest weather forecast which predicts another change tonight and more snow over the next few days. I pray for no rain.

Jonathan arrives right on time and after a quick bite I tell him about the river situation. Although he is not too concerned, my legs are telling me otherwise. So, for the second time on the same day, my gear is coming off and we walk into the frozen river, and make out way to camp where Jonathan spends the afternoon setting up his tent and getting himself organized. However, there is still time for a climb. We walk to Blue Lake, and I do a lead up a short but steep ice section that is shadowed by a vertical stalactite ice formation. An awkward traverse to the left ensures that I don't have to climb the rotten ice on the frozen stalactite. I cram my axe adze in one of the stalactite formations and complete the traverse. Not before too long I am yelling "safe" and "on belay" to Jonathan who begins his first climb at Blue Lake.

- Day 6 - Sun Aug 17th -
It's a reasonable morning. We did not get rain over night, but we did manage around 10 centimetres of snow and lots of wind. Whilst Jonathan spends part of the morning re-adjusting his tent and hacking all the ice and snow away from the previous nights snow falls. I walk up to Little Twynam and Crummer Spur to try and get telephone reception. It works. Four service bars. A telephone call home and I retrieve all my messages. I also discover where everyone else is camped. It appears that there is a nice hollow below the south eastern end off the edge of Blue Lake on a creek bed that runs towards Hedley Tarn. There are at least 10 dome tents and 5 snow caves down there this morning all sheltered nicely from the wind and snow drift. Back at Blue Lake I meet Jonathan for more climbing, more leading and some more bouldering. There is plenty of wind today and the snow drift is making goggles mandatory. As we climb, we are showered in snow drift .Jonathan solos one of the steep gullies on the western side and gets within 20 meters of the top stopped by an exposed overhanging cornice. We finish the day by Jonathan trying a lead with some of his new ice screws and by doing another bouldering session.

- Day 7 - Mon Aug 18th -
It's our last climbing day. It has been another cold night and I wake up with ice dust sprinkled inside my tent. As a result of all the snow that has been falling over the last few days, an amazing vertical 10 or so meter pillar of blue ice has gradually formed in the middle of the northern part of the edge of Blue Lake. It has become the largest and most prominent ice feature of the entire lake. That's our target for today. There are at least 4-5 lines we can take with this feature. Although vertical, I spot several small ledges towards its right hand side, so I don all my lead rack and decide to think about doing a lead. We set up an ice ledge below our climb, and as I take a closer look I change my mind. There is too much water oozing from beneath the formation in certain sections and some of the ice seems way too fragile. Also the small ledges that I perceived from below are in fact tiny features with minimal sections on which to rest. We top rope the climb and abseil down. We then spend the next 3 hours climbing and re-climbing each line. It's amazing climbing. At certain sections each blow creates a small water spurt from the ice pick holes. We check the anchor after several climbs and make necessary adjustments to enure a free running top rope. We have lunch, do a few more climbs and decide its now time to attack this feature head on from the most exposed and vertical part which has a slightly overhanging angle to it. As Jonathan down climbs below me, he takes one look at my right crampon heel housing and to his amazement sees it has broken. To my horror, my right crampon is simply hanging on from its strap. At some stage it has sheared off during my last climb. It's 2.30pm in the afternoon. After 7 days of climbing that's good enough for me. The Blue Lake god has spoken and given me the sign that there shall not be any more climbing at Blue Lake today! It's now snowing and there are whiteout conditions so we retreat back to camp where we complete our normal rituals and begin packing our gear for tomorrow's departure.

- Day 8 - Tue Aug 19th -
Well it has arrived. Walk out day. We get up at 8.00 am and it takes us two hours to get dressed, have breakfast and pack our gear. It's a beautiful sunny morning without any wind. The weight of my 35kg pack is only assisted by the cushioning of fresh snow under my feet as we descend. We reach the river crossing and find 15 mountaineering school students who have just crossed the river by tip toeing across rocks. They gaze at the size of my pack (I am used to all this attention by this stage), have a chat with us about the conditions at Blue Lake, and then move on up the ridge to their camping spot.

Although Jonathan quickly negotiates the river crossing, it takes me nearly 10 mins to carefully pick my way through the rocks by balancing on my toes. At certain points the water is gushing over my plastic mountaineering boots and near my ankles. I hold my footing. The 35 kg pack which is 50% of my body weight can throw me off balance at any time and I'll be on my way down river in no time. I make it across and we head up the ridge towards Charlottes Pass. We then walk/glissade down the groomed ski slopes for a well deserved cold beer at Charlottes Pass ski village. We catch the 1pm oversnow and half way to Perisher we see first hand the damage that last week's rain storm has done to the snow. We are forced to change to a bus as the snow has melted and the bitumen is exposed. We then pass huge ice/snow sections at Spencer Creek which have been washed away by the rain. Huge plates of ice are lying nearly vertically above and near the side of this wide waterway, resembling the broken ice sheets that an ice breaker creates when it rams icebergs at sea. The force of the water torrent from all the rain storms is simply amazing.

We arrive at Perisher where amazed on lookers gaze at our sunburnt unshaved faces and our packs (off course). An elderly lady even offers to get me Sherpa help in order to assist me with my pack (she obviously has Australia confused with Nepal!)
We catch the ski tube train and we make it down to the Bullocks Flat car park. Jonathan and I wish each other all the best for the long drive home (6 hrs for him to Sydney and 7 hrs for me to Melbourne). As I open the boot to the car I find that a leak in the boot seal has flooded the rear boot compartment and I have neither spare clothes to change in to, nor any normal shoes to wear. No problem, I have been wearing my plastic mountaineering boots and goretex clothes for like 7 days, so I jump in the car and drive down the windy mountain road still wearing my plastic mountaineering boots and goretex stuff. As I dodge all the dead wombats on the road (yes, there were 4 huge dead ones in like 10 kms!) I am attempting to dry my normal shoes and clothes with the car heater blasting hot air everywhere!

The neon lights of the industrial estates next to the Hume Hwy in the northern Melbourne suburbs greet me after nearly 7 hours of driving. I make it home by 9.30pm that night. It's over. An amazing week of ice climbing has come to an end and its back to life in the big smoke! It's now back to normal day life and Blue Lake ice dreaming until next winter...........

22/08/2003
12:20:07 PM

You should have called htis the threes Johns expedition! Absulty amazing trip report John. I laughed all the way through it. I wish i had made it in. Jono is tryign to get me to do a long weekend there int he next few weeks!
22/08/2003
12:38:14 PM

I think there is still time Neil, I'll be in it, and we can walk in straight from Gutherga. We can leave on a Thursday evening after work and come back on Monday night! That will give us at least 2.5 days of climbing which is plenty.
22/08/2003
12:38:31 PM

Holy Mackerel! What an grand read. Brought back memories of our trip a few years ago. (Pics here, if anyone is interested). I remember walking in in snow shoes while the others skied simply because I suck at skiing with a big pack. The river had a set of duel chains for a cammondo style crossing - sound like they must have removed it, or perhaps we went a different way, can't remember exactly. We stayed for a week in a snow cave, which was way warmer and larger than tents. And it never rained once!

Thanks for the excellent report John! Made me cold just reading it. Feel free upload pics yourself, or email to me and I'll incorporate them into your report and (with your permission), put the better ones into the gallery, accredited appropriately.
| | |
| --- | --- |
| | There are 4 messages in this topic. |
Home | Guide | Gallery | Tech Tips | Articles | Reviews | Dictionary | Forum | Links | About | Search
Chockstone Photography | Landscape Photography Australia | Australian Landscape Photography

Please read the full disclaimer before using any information contained on these pages.
Australian Panoramic | Australian Coast | Australian Mountains | Australian Countryside | Australian Waterfalls | Australian Lakes | Australian Cities | Australian Macro | Australian Wildlife
Landscape Photo | Landscape Photography | Landscape Photography Australia | Fine Art Photography | Wilderness Photography | Nature Photo | Australian Landscape Photo | Stock Photography Australia | Landscape Photos | Panoramic Photos | Panoramic Photography Australia | Australian Landscape Photography | Mothers Day Gifts | Gifts for Mothers Day | Mothers Day Gift Ideas | Ideas for Mothers Day | Wedding Gift Ideas | Christmas Gift Ideas | Fathers Day Gifts | Gifts for Fathers Day | Fathers Day Gift Ideas | Ideas for Fathers Day | Landscape Prints | Landscape Poster | Limited Edition Prints | Panoramic Photo | Buy Posters | Poster Prints