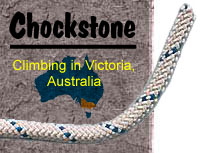 Sponsored By
ROCK
HARDWARE


Chockstone Forum - Trip Reports
Tells Us About Your Latest Trip!
Author

| | |
| --- | --- |
| Ever wanted to go to World Cup? | |

2-Nov-2005
9:09:10 PM

On 30/10/2005 climbingjac wrote:
> But as it stands I think I am in theory strong enough. I need to word
>on controlling my nerves.

Awesome stuff!! Glad I was awya for the long weekend here and I could read the full story without having to wait.. the suspense was to much!!

Maybe a mantra which identifies the things which make you climb well is the way to go to control nerves .. something like "precise,strong,focused....." or whatever

Wow, there were lots of good insights tips here about climbing comps... counting bolts,...back up plans (sequences).. binoculars... I'll have to take some to Altona this week!!

Good luck with the next comp!!
3-Nov-2005
2:35:53 AM

Hi everyone!

Thankyou all for your replies... it is really nice to logon to Chockstone as it gives me a little piece of home. Both myself and Sarah are well aware we will not make a final (top 8) and may not make the semi (though Sarah has been in two semis previously). But we do not come here expecting to win. It is more about getting and understanding of the standard here, giving ourselves a good kick up the pants, absorbing some serious atmosphere, but most importantly... gathering valuable information for the next generation of Australian climbers. We hope to increase the participation of Australia on the international comp scene.

Friday night after our qualis was the speed climbing. Wow the atmosphere. Some kids brought along a drum to contribute to the hype and noisemaking, and stamped their feet a lot on the stairwells. The routes were essentially done on lead with all bolts preclipped, and then there was a runout of several metres before the competitors jumped up and hit the finishing bell thing. Then they fell and swung in spectacular fashion, with a pair of blue spotlights following them. The opening pair were even accompanied by the superman theme song. It was truly atmospheric.

The semis were significantly more exciting than the qualis. They were held from around midday on a Saturday so heaps more spectators. As Australia was not in it, we focussed our attentions on doingf some serious cheering for some others we had met, including some Austrians, Dutch and also someone from Basque country.

And Saturday night; the finals. 8 men and 8 women. We were geared up doing some serious cheering for Jorg from the Netherlands; who had been quite ill and had taken an aspirin a day for a week or two. Sadly, as it turns out, Jorg is allergic to aspirin and this triggered a nonstop nosebleed that made dinner on Friday night very dismal for him. We were also cheering a lot for Patxi Usobiaga from Basque country, who I was videoing hopeful for a topout because he is very entertaining when he tops. In a devastating turn of events, a sequence he chose pulled him off the wall. The same happened to Thomas Mracek, and Jorg took out the first ever World Cup win for the Netherlands... complete with paraphenerlia stuck to his nose to control the bleeding.
3-Nov-2005
2:52:34 AM

I went to the afterpart and met a Kiwi and Ukranian who offered me a space in their car to go on a climbing mission to St Leger in the South of France. There are Russians, Kiwis, Ukranians and two Basque in our group. As a result there appears to be large quantities of wine and cognac around at all times.

Today is a rest day, and myself and Max the Ukranian accepted a ride to Avignon in Patxi's car (which I must note is fully branded up with his name, as are his jeans and goretex/downie... I get the impression he is very famous here). We got as far as the town of Carpentras and figured we could do our internet stuff there instead. We asked a couple of guys where we could find an internet cafe, and they said it was really complicated to explain, and offered to go there in their car so we could follow. We were impressed with their helpfulness, and followed this one guy in his car thru many small streets... almost too small for our car (a van). So he shows us where to park on the street, and suddenly a couple of his friends materialised. We followed him to the internet cafe and said thankyou, and I shook the guy's hand. He attempted to shake Max's hand but Max didn't like him... he thought he was shifty and so didn't shake his hand. Next thing we know, this guy is saying "You don't like me? I help you and you don't like me?" He was being quite aggressive and suddenly there were more of his friends there. I ducked into the internet cafe where Patxi and Irati were already seated, and urged Patxi to head outside and find out what the problem was. We quickly decided it was best to leave town and scurried out of there. During a call home, Patxi learned from his mother that in recent days, two Moroccans were killed in a car crash during a police chase, and ever since the Moroccans in France have been fighting nonstop. These guys were Moroccan so I guess we were lucky to get out of there!! Max is now a hero for being at the centre of the incident that made us decide to leave. Chances are the car would otherwise have been stolen, or someone hurt.

It was rather annoying because I had wanted to phone home while it was still a repectable hour in Australia, and I missed the window of opportunity. Ce la vie. We have a good story to tell the others when we get back to camp tonight. It will have to double as an excuse for why I have failed to buy multigrain bread, which is all gone by a certain time due to its popularity.

Sorry, that was a very long paragraph.

On the way home we hope to find showers as we are filthy. I am living in flipflops (aka thongs) as heavy rain FILLED my shoes the other night. I expect they will be wet until the weekend.

I have no idea how long I am staying in France. Until at least the weekend I thin, after which I will either join the group on a mission to their next destination or head to Italy, and progessively closer to Slovenia (the location of the next comp).

Rest assured Australia, I have taken a lot of photos and footage of the comp scene, and also of the routes. I have closeup piccies of the holds that get you off the ground so everyone back home can see that it is possible to get off the ground on a World Cup route. I expect I will not be able to get these images to you until I return home. But you WILL get to see them!!

Must go - we have the groceries and hungry climbers await us.

Until next time!!

Jac
3-Nov-2005
4:16:38 PM

Lots of climbers have been attacked and stolen in their way to the French alps or other climbing areas. Many climbers own a vw transporter or Mercedes vito's (vans) in euskal herria (basque country). Sometimes, they stop to sleep at petrol station or other road side areas to rest.
Apart from the van, all climbing gear, tents, gore-tex jackets… are exquisite attraction for robbers.
Some people went to sleep to their vans and woke up on the floor, all gone.
Apparently the robbers use gas to make people in the van sleep, without realising they are being stolen. The rest depends on what they want to take from you. Lucky if they leave what you are wearing on.

Don't trust frenchs

3-Nov-2005
4:31:20 PM

On 3/11/2005 igoitz wrote:
>Don't trust frenchs

That might be a bit of a gross generalization!
3-Nov-2005
4:51:27 PM

Generalisations suck.

Oh, and fantastic stuff jacqui, like the others I was on the edge of my seat! Just wish I could climb that well :P
3-Nov-2005
6:10:31 PM

Yeah... great read....

I'm gonna go next year..... Is there a B Grade? hehehehehe (rhetorical)
4-Nov-2005
11:44:41 AM

Is there a masters category?
4-Nov-2005
2:55:04 PM

Nice reports Jaq. Continue the good work!

How to go from calm to stressed at a World Cup in less than 5 minutes!

1. Being calm in isolation, as you have no illusions of grandeur and are just there to give it a go.
2. In the toilet with plenty of time before your scheduled start, have an official come running in anxiously calling out your name.
3. Rush via the elevator with your kit you grabbed quickly on the way to directly behind the wall.
4. Have a snug buckle on your harness which is taking forever to double back. And have your belayer tell you not to worry doubling it back as there is no time!
5. Look at them incredulously whilst finally finishing to double it back and worry that you have a crazy person belaying and will probably let you hit the deck. Making doubling back the harness unnecessary!
6. Have the unfortunate luck of being on the harder route B with the qualifying height to get into the finals at just over 10 metres, rather than 22 metres like route A!
7. Step around the wall into blinding spot lights, booming commentator callling out your name. Look at the wall and notice only the first draw swinging...

Now feel the starting holds and pull on...

4-Nov-2005
4:08:54 PM

On 3/11/2005 igoitz wrote:

>Some people went to sleep to their vans and woke up on the floor, all
>gone.
>Apparently the robbers use gas to make people in the van sleep, without
>realising they are being stolen. The rest depends on what they want to
>take from you. Lucky if they leave what you are wearing on.
>
>Don't trust frenchs
>

I've heard this rumour about trains/buses in Thailand, Cambodia, Loas, Germany, Italy, Romania Bulgaria, Spain morroco also on Greek ferries..........sure I'm not denying things get knicked when people are asleep, but really what type of gas? It would be pretty easy to kill people with anything but hard to access medical grade stuff. Thats a lot of hassle to go to if your a dodgy charachter, all for a gortex jacket, a camera and a few draws. Does anyone know who this has happened to?
I think that this is one of those urban myths ( maybe one for the myth busters " Can you mug a climber in a VW combi using gas?")

Don't trust rumours....and don't believe the hype.
4-Nov-2005
4:15:26 PM

On 4/11/2005 DJ Biggs wrote:
>
>
>Don't trust rumours....and don't believe the hype.


seems a bit like those stories eminating from asia of people waking up in tubs of ice minus kidney's et. al.....................
4-Nov-2005
4:29:40 PM

No way those ones are true for sure.......
:0
4-Nov-2005
4:49:46 PM

Nice one dalai!
4-Nov-2005
4:52:07 PM

[Thread Hijack]
On 4/11/2005 Bob Saki wrote:
>On 4/11/2005 DJ Biggs wrote:
>>
>>
>>Don't trust rumours....and don't believe the hype.
>
>
>seems a bit like those stories eminating from asia of people waking up
>in tubs of ice minus kidney's et. al.....................

http://www.snopes.com/horrors/robbery/kidney.htm

[/Thread Hijack]


4-Nov-2005
5:26:08 PM

First chance I've had to read for myself Quiline as I have to wait until after 5 to get in at work!!
Good to hear you are having a great time and got off the ground ... ya make me proud.
Keep up the great reports!!
Little Brudda
9-Nov-2005
6:36:27 AM

On 3/11/2005 nmonteith wrote:
>On 3/11/2005 igoitz wrote:
>>Don't trust frenchs
>
>That might be a bit of a gross generalization!

Not at all. This stuff goes on all the time, which is exactly why Patxi was not keen to leave the car. We ended up paying for parking in Avignon and ensuring the car was right next to the attendant and camera. Igoitz and Patxi come from the same country and accordingly I presume have had similar experiences with theft. As for the current state of France, the Morroccans are out of control. Last I heard, they burned three and a half thousand cars in one single incident last weekend.

Anyway, back to the trip report.

Last Wednesday was the rest day. Thursday at the crag it absolutely poured with rain. We were in a cave so it was ok, but the rain did not stop, and I had to get back to camp in my flipflops. Or should I say crawl, on account of the mudslide I faced. We were all sick of camping in the rain and listening to the man that runs the Gite (farmhouse with accommodation) complaining that camping is forbidden along the river. There are no signs to indicate this, and in France you cannot buy a section of river, so we thing he didn't really have a valid argument. However, one of the other neighbouring landowners DOES own the land that the crag resides on, so it is important to keep up good relations between the climbers and the landowners in order to ensure he does not close down the access of St Leger.

Anyway, a few of us moved into the gite and the luxury of having a shower, a stove, and a roof over our heads. And the Gite man went on holidays so we had the place to ourselves. As the weather improved, more climbers turned up and set up camp. There were parties each evening... sometimes under the bridge if campers were sheltering from the rain. The Czech climber that has apparently been winning many of the World Cup events, Thomas Mrazek (or is it Mracek? sorry Thomas I will check) and his partner Lena showed up, and they are also lovely people. Every night there was much wine drinking and cheese eating. And in true French style, this went on for hours. The Ukranians, I have discovered, each have three names. A formal name, a name, and a nickname. This makes it hard to learn who is who: At last count I think there were three guys all with the nickname "Jack". Or was it two, and then me making up the third "Jac" ??? Ah, I remember now. To make life even more difficult, the name of Thomas' dog was also Jack!

There was a very tall Ukranian called Midun who was very drunk each night and yet pulled up cheerful each morning and climbed well. His famous phrase, regardless of how much rain or whatever he has to put up with, is, (in his best Ukrain accent) "The point is... we have more wine!!!!!!!!!!!"

St Leger climbing is quite the mecca, with heaps and heaps of bolted lines from, I don't know, about grade 18 upwards. Short walkins too. The crag is new and as such the rock is still a tad loose, but this will improve with time. (The jetfighters that rocket through the valley each day should help to dislodge some of the loose stuff!)

I tried a couple of 8as (29s) and got all moves except one on one of them first shot, which I was happy with. I tried the nasty sloper move a few more times and got much closer, though not close enough. Doesn't matter. I have spent my time on easier routes trying to improve my faceclimbing skills. It is embarrassing and frustrating falling off them, but it is a necessary evil in order to learn.

By the way, on the day it rained at the crag, I did this 7a (23) which was absolutely terrifying: Very run out and hard at the grade. I got myself into a point of no return situation and was hating it. Scotty was yelling "come on, you can do it!" and I figured I should do one more token slap at the wall to pretend I was trying, and sadly stuck it. The higher you go, the further you can fall!! Then I sort of shuffled my hand a few more times into an undercling, and found myself with my face plastered against the wall, panicking like crazy with my hands failing. I pressed my face harder into the rock and managed to get a tiny bit of weight off my hands, and then did a little internal crazy person scream in my head to psyche myself up for a few more moves. The fall I was facing now was huge anyway, so what was another metre? Anyway, I found myself having to execute a very long lock move off a sloper to what I prayed was a jug that would essentially be the finish, and was literally sliding off the sloper on the way through, and miraculously landed the jug. Phew! Amusingly, Lena told me a story a day or two later about a horrifying 7a she had tried, and it turned out to be the same one. She said she was real scared when she realised her feet were a few metres above the bolt and there were slopers ahead. Anyway, I consider this route one of my finest achievements at St Leger.

Tack a couple more days onto that, and I climbed five days straight with no rest. I am now wasted and will be a tourist for two days while I recover.

I want to spend around a week in Italy revising my language skills and making some friends there, so I have departed the luxurious gite. I bought a train ticket from Nimes in France to Milan in Italy. There was a changeover somewhere, which I initially assumed would be Genova in Italy, but it turned out to be Geneva n Switzerland. The buildings are so cute in Switzerland that I could not resist ditching the train ride and deciding to stop the night here for some Swiss cuisine. It was actually the waffle stand in the train station that was the decider .-) So here I am in Switzerland, drinking a beer and writing to you. Very spontaneous of me. Sometimes I surprise even myself. I am out of control. Woo hoo!

We'll talk again soon, Australia!
9-Nov-2005
10:54:21 AM

According to 8a.nu, Patxi Usobiaga has onsighted his eighth 8b+, Le Nabab in St Léger. Patxi is #3 in the world ranking and there are now four Spaniards in the Top-9. So there's obviously been some good moments while you've been at the crag Jac!
9-Nov-2005
7:32:18 PM

He also came close to onsighting 8c one day at St Leger. The only thing that stopped him, on the last move I believe, was a footer breaking out from underneath him. Strong boy!
10-Nov-2005
1:01:05 AM

Last week at St Leger, one of the Austrian World Cup team, a lovely girl by the name of Gerda, fell prior to clipping the second bolt on a route. She inverted and hit her head... hard enough to cut it. We were all extremely worried and people mustered to assist as required, though the very next day she was back at the crag, seemingly perfectly fine, which is a huge relief! In Australia, if only out of respect for the situation, climbing on a wall where an accident has occurred normally ceases for the day. This does not appear to be the case in Europe. People continue climbing even while first aid is being administered. !!

Ironically, a day or so later, I opened the door to my room in the gite, walked up the cute little stairs, and someone was saying something to me and I couldn't quite hear them. So I turned around and BANG! I belted my forehead nice and hard on the door frame. It has been rather sore ever since, and it hurts everytime I move my eyebrows. As such, it is best that I do not find anything surprising in Europe over the next couple of days. I wish to keep my eyebrows nice and still. Then last night I checked into the backpackers here in Geneva, and I was lucky enough (!) to get the top bunk. When I was busily making the bed I forgot where I was and sat up quickly, and BANG! I belted the back of my head extremely hard on the concrete ceiling. This one hurt like hell. Today I got up and was disturbed to note that my right eye had a huge red blotch on it. As the day has progressed, I am feeling good and dodgy and am getting more tired and shaky by the hour. So the irony is poor Gerda cops a groundfall but pulls up fine. The idiot from Australia hits her own head twice against stationary objects and finishes up having to visit the Swiss doctors who insist a CT scan must occur in 5 days if the headaches and dizziness do not subside. Argh! This will be a major disruption to a climbing day next week if this has to occur. I am still deciding whether to visit Arco, or to head south to Sperlonga where the weather is warmer and where I have climbing partners lined up.

On a more entertaining note, I was thrilled to bits with myself this morning when at long last I found a "hands free" kit for my mobile which has a retractable cord. Yee hah! After years of searching, at last I have one. And by some miracle, it was only 1 swiss franc (about one Aussie dollar). I was soooo happy, and probably would have bought more for others back home if they had amore in stock. I just could not believe it was only a dollar, and considered that it was my destiny to come here to Geneva to find the much-coveted headset with retractable cord. I have since come to realise the reason it was only a dollar : it is only a listening device, eg for the radio on my phone. I see no evidence of a piece that I can talk into (though I have yet to make a call to confirm this). Argh!! I will blame my stupidity on the knock to the head, and not the fact that I am a complete fool.

Hope all is well back home!

jac
10-Nov-2005
5:14:42 AM

Official website for the World Cup event next week in Kranj, Slovenia is here:

http://www.worldcupkranj.com/en/main.php

It has a pic of the wall if you are keen to see it :-)
| | |
| --- | --- |
| | There are 168 messages in this topic. |
Home | Guide | Gallery | Tech Tips | Articles | Reviews | Dictionary | Forum | Links | About | Search
Chockstone Photography | Landscape Photography Australia | Australian Landscape Photography | Landscape Photos Australia

Please read the full disclaimer before using any information contained on these pages.
Australian Panoramic | Australian Coast | Australian Mountains | Australian Countryside | Australian Waterfalls | Australian Lakes | Australian Cities | Australian Macro | Australian Wildlife
Landscape Photo | Landscape Photography | Landscape Photography Australia | Fine Art Photography | Wilderness Photography | Nature Photo | Australian Landscape Photo | Stock Photography Australia | Landscape Photos | Panoramic Photos | Panoramic Photography Australia | Australian Landscape Photography | High Country Mountain Huts | Mothers Day Gifts | Gifts for Mothers Day | Mothers Day Gift Ideas | Ideas for Mothers Day | Wedding Gift Ideas | Christmas Gift Ideas | Fathers Day Gifts | Gifts for Fathers Day | Fathers Day Gift Ideas | Ideas for Fathers Day | Landscape Prints | Landscape Poster | Limited Edition Prints | Panoramic Photo | Buy Posters | Poster Prints