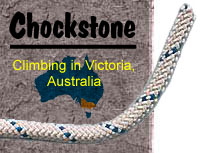 Sponsored By
ROCK
HARDWARE


Chockstone Forum - Trip Reports
Tells Us About Your Latest Trip!
Author
10-Jun-2014
1:42:19 AM

La demande: trip report

We have been fortunate this year to have been travelling on a climbing holiday around morocco, Turkey, Greece, Northern Italy and now France. Up until this week, when we have 35 degree days in the Ecrin, the weather has generally been pleasantly cool, although it did get rather hot the day we did the classic 6a route La Demande at verdon Gorge last week. I thought while sitting around sweltering on a rest day to do a quick trip report as it has been one of the highlights of the year to date. Hopefully I can embed some photos later.

The route was first climbed in 1968, so it is almost as old as me, and like myself showing some signs of wear, but still an attractive proposition :) The name "the question" comes from a marriage proposal at the top between the first ascensionists, and Dave was a little concerned that he was being set up.

There is quite a bit of information on the net, but not a lot of it practical. You can either get to the base of the route via parking at col du Sampson and walking for 30 minutes through old hydro tunnels, or abseiling 4 times down from the dalle Grise abseil to jardin du eccureils ledge, and then abseil again another 3 times (with double ropes) and traverse to the base once in the gorge. UKclimbing logbook reports and forum discussions had "helpful" advice from people who did the route in the 70s (it was harder in their day as there were no bolts and the chimneys had 15 m run outs) or more recent discussion from people that climb E7 " no need to take a rack, it took us 3 hours", and lots of comments such as "bailed due to heat, or thunderstorms, or benighted".

The day before, after cruising up the 280m arête du belvedere 6a+ in the spitting rain in 3 hours and having lunch in La Palud sur Verdon, we did the walk to the base. The line is very obvious, a searing slanting crack that goes left for 150 metres, then right for 50 metres before being engulfed in some very large chimneys for a total route length of 320m. The gorge itself is absolutely spectacular and plenty of tourists do the hike for 5 hours from chalet de la Maline to the col du Sampson.

We were concerned about the heat, and other parties on the route so decided to head off at 6am and walk to the base and carry a second thin rope. This was for abseiling, and for pack hauling the chimney pitches. If we had to bail then abseiling down the route would then be possible, and we could walk out. (Head torches needed for the tunnels). Making the top we could do the abseil descent with our 2 ropes, or try our luck hitching. It would also be possible to call a cab if you are prepared and don't have the luxury or 2 cars.The distance by road back to col du Sampson is over 15km, and there are no short walking tracks due to many side ravines. Double thin ropes would be ideal, but we didn't have them.

The base was easy to find and started with a 15m solo up a pillar to start up the climb. Dave led off what turned out to be the most slimy polished pitch on the whole route. The rest of the route was a bit polished, but not so as it detracted or felt insecure. There are quite a number of bolts on all pitches but we supplemented this with a full set of link cams, a #3cam, a set of c3s which was a bit of overkill, and a set of nuts and slings for trees and were very happy to have this supplemental gear. It was pretty easy to follow the line, though on top of pitch 7, under an overhang, the route traverses hard right, then up and then back left again. There are old pitons and threaders straight up which looks a bit unpleasant.

It was possible to run pitch 2 and 3 together which I did, and also the final 2 pitches: 12 and 13. Of course other people simul climb, or even solo, but we are not that talented.The guidebook gives different grades for pitches, but pretty much 95% of the route felt 6a in the good old school sense. It was very sustained, mostly with good belays, many of them with some shade. We alternated pitches. There is a semi hanging belay at the end of pitch 5 and one at the end of pitch 7 and unfortunately I managed to score them both. There was a bit of a breeze, I wasn't dehydrated, but I felt like my brain was frying in a solar furnace. By the time Dave joined me at the top of pitch 7 my mental faculties were rather strained by the heat. Seconding the next pitch felt like slow motion with the brain only able to compute one move by one limb at time. It was most bizarre. Fortunately the chimneys come into the shade at about 1pm, and we were now in them and I soon recovered. We estimate the temperature on the rock face was about 32 degrees. It was a good reason to make dave lead the chimneys. He has seen me flailing around in chimneys before, so he didn't argue. The chimneys need full on back contact so if we hadn't hauled the packs I would have had to drag it dangling beneath my feet. Needless to say Dave found the chimneys straightforward (he was climbing in the 70s!) and I had an ascent that consisted of multiple grunts, moans and exclamations of "c'est horrible!". My iliac crests are still a bit bruised. The quality of the route continued right to the end with exciting moves just before and after the last belay. It was just great the entire way with no boring bits at all. One of my top 10 routes ever.

There were brilliant patches of vegetation tucked away including a whole spray of violets, and an amazing pine tree growing out horizontally in the chimney section that I gratefully laid down on at one point. Huge vultures circled, and early on I had the unpleasant experience of seeing someone falling, a split second before his BASE jump chute opened, and I could calm down. And of course the view of Verdon Gorge.

We topped out just after 5pm, having started climbing at 730am. We could have gone a couple of hours quicker, if I hadn't slowed things down with heat stress, and we hadn't had to lick the entire contents of Dave's pack top pocket free of the chocolate that had melted over everything. Mostly we moved fairly consistently.

The car park at belvedere du carrelle only had 3 cars when we arrived and we waited for 15 minutes with little hope of a car heading the way we wanted to go (the road turns one way a little further on and most tourists do the full circuit). I was just resigned to moving to the abseil point when fortunately we were rescued by Germans who were much more chatty to us when they found out we were Aussies and not poms. Another lift on the main road from another kind German back to our car, and We were soon tucking into a nice 3 course meal at our hotel. The only casualty, a roll of tape, lost to gravity,and my hat. Highly recommended, but probably only if you can confidently jamb and chimney your way up old school 18s. A tape glove on the right hand helps.




10-Jun-2014
9:36:50 AM

Fantastic report. Especially the intro. :-)
Thanks Vanessa! Look forward to seeing some photos when you get the chance. Et la démande ... il n'etait pas proposé???
10-Jun-2014
10:55:36 AM

Awesome.
We did La Demande in 2010 and it was way cool. Mind boggling for 1968. It is impossible to forget the vultures ! How slippery was the first pitch !

Verdon makes you feel like such a bumbly....

Interested to hear where you have been climbing in Northern Italy....
10-Jun-2014
3:49:10 PM

I did it in 1992, and the only slime/polish on the route was comming out the eyes and nose of one of my climbing partners.

I understand that he never went climbing again after that day.
10-Jun-2014
3:57:17 PM

Attempted this a couple of years ago. We thought that a mid morning start would allow us to climb mostly in the shade at this time of year but we cooked during the abseil in and bailed half-way for the walk of shame. I'm Impressed you persisted in the sun!
That first pitch was the most polished climbing I've ever seen but it's amazing that the later pitches are totally fine.

12-Jun-2014
5:45:59 PM

No proposal :)

In Northern Italy we spent 6 days at Abbadia Lariana, just north of Lecco and climbed at Torrette, Galbiate and la discoteca. Some good climbs, some polished ones at Galbiate. It rained quite a bit so we didn't venture higher. A good base to visit Milan.
We then went to arco for 2 weeks. Anything bolted in the 80s, or in walking distance is pretty horrible. We went to Nago a couple of times. The high sectors were quite good, with the odd horror slimefest. The lower crag had good routes but anything under 6c was polished and felt way harder and runout, and the 6c we did felt like a 24.
Nago belvedere- similar story.
Eventually we ignored weather forecasts and hurtled up a multipitch on placcate zebrata which was quite fun. We also found some good crags near Sarche- Sisyphus, and a pleasant crag on a river- val d'algone.

We then moved to Ala and had 2 half days at ceredo which had some good routes, and visited venice.

From there we drove to finale ligure. We were better at crag selection by this time. Climbed at monte cucco- teatro/anti teatro which I really enjoyed apart from the routes on the centre of the wall which were super slimy. Also roca di corno, bastionata, the 280m multipitch grimonetta on monte sordo, the 400m sea level traverse at capo Noli, and the most memorable grotto dell Edera which involved access through a Cave into a large cylindrical doline with some really nice routes.

Finally we went to Val di Velo and climbed on paretone. This valley had heaps of nice looking limestone, and a visit to the caves at Toirano was fun. And val pennavaire where we climbed at colosseum. It started raining before I could do anything at the next sector, Euksol, but it looked like a great wall with heaps of tufa routes. The area covered by the oltrefinale guidebook, which the last 2 crags are included in seems a bit newer, hence less polished and better bolted, though grades especially at the lower end seem a bit harder. Maybe I was still in the kalymnos mindset however!

We had actually intended to go to the Dolomites for a couple of weeks, but many ski resorts had extended their season and none of the refuges seemed to be opening before June, so will be coming back in September some other year to get up there.


12-Jun-2014
7:30:45 PM

Finale rocks !
This crazy cave ?



Thanks for the info on Italy.
Arco doesn't sound too good, which is a shame since we like other old school crags (Finale and Buoux).

We hope to try our luck in the dolomites this september. And val de mello...
12-Jun-2014
10:47:34 PM

Really cool TR and I'm looking forward to some pics... Thanks for taking time to post it up.
13-Jun-2014
12:00:47 AM

We had a nice time in Arco, as it's a great location, beautiful valley, shopping galore in the 10 climbing shops and yummy gelaterias. Heaps of stuff to do on rest days like cycling, via ferratas, windsurfing or visiting castles and museums. But I would aim to drive a bit more to get to crags, and do more multipitch. The situation might be quite different if you climb over 7b. I just got demoralised falling of 6bs that should be warm ups.
Yep, that's the grotto. It was a very cool place. There's another grotto above bastionata called something like strampente? which you can walk through and explore with some nice looking climbs next to it.
19-Jun-2014
1:54:28 PM

Oceano Irrazionale in Val di Mello is a fantastic route for the everyman, and it's a gorgeous low key place.

19-Jun-2014
3:55:26 PM

On 13/06/2014 vwills wrote:
>We had a nice time in Arco, as it's a great location, beautiful valley,
>shopping galore in the 10 climbing shops and yummy gelaterias. Heaps of
>stuff to do on rest days like cycling, via ferratas, windsurfing or visiting
>castles and museums. But I would aim to drive a bit more to get to crags,
>and do more multipitch. The situation might be quite different if you climb
>over 7b. I just got demoralised falling of 6bs that should be warm ups.

Did you get to the Sonnenplatte? 500m slab climbing - great for a fun day out in the valley - amazing that you climb that high and still have over 1km of rock towering over you...
23-Jun-2014
9:18:10 AM

It sounds like I've been somehow missing running into you in France lately... I arrived at La Palud Sur Verdon on 13/06 from Ceuse. Just got home today having spent the last week in Switzerland (trying for Deep Blue Sea on the Eiger nordwand).

Both Ceuse and Verdon are mind blowing... Having to do 200m of abseils to escape from a 6c+ multipitch in torrential hail, then Tyrolean back across the flooded Verdon was the perfect functuation to a rad day of limestone multipitching.

Reading your TR brings back the "epic" recall to my mind.

Regards,

-Paul
23-Jun-2014
6:32:45 PM

Hi paul, we had left verdon and headed to the Ecrin, based around Guillestre. The weather has been a bit odd with daily thunderstorms, hail, but otherwise roasting in the mid 30s. It was too hot on south facing walls (like Tete duval), and the north facing walls still had a couple of metres of snow at the base (ailefroide). Too much snow high on high rock routes into he Queyras. Managed a few easier multis by getting in early and going like the blazes so we were back on the ground by 2pm. Will be coming back some September for Autumn conditions I reckon.
We are now in UK for a week.
| | |
| --- | --- |
| | There are 13 messages in this topic. |
Home | Guide | Gallery | Tech Tips | Articles | Reviews | Dictionary | Forum | Links | About | Search
Chockstone Photography | Landscape Photography Australia | Australian Landscape Photography | Landscape Photos Australia

Please read the full disclaimer before using any information contained on these pages.
Australian Panoramic | Australian Coast | Australian Mountains | Australian Countryside | Australian Waterfalls | Australian Lakes | Australian Cities | Australian Macro | Australian Wildlife
Landscape Photo | Landscape Photography | Landscape Photography Australia | Fine Art Photography | Wilderness Photography | Nature Photo | Australian Landscape Photo | Stock Photography Australia | Landscape Photos | Panoramic Photos | Panoramic Photography Australia | Australian Landscape Photography | High Country Mountain Huts | Mothers Day Gifts | Gifts for Mothers Day | Mothers Day Gift Ideas | Ideas for Mothers Day | Wedding Gift Ideas | Christmas Gift Ideas | Fathers Day Gifts | Gifts for Fathers Day | Fathers Day Gift Ideas | Ideas for Fathers Day | Landscape Prints | Landscape Poster | Limited Edition Prints | Panoramic Photo | Buy Posters | Poster Prints