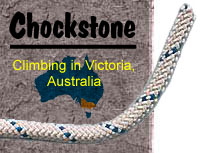 Sponsored By
ROCK
HARDWARE


Chockstone Forum - Trip Reports
Tells Us About Your Latest Trip!
Author

| | |
| --- | --- |
| A non trip report (continued) | |

14-Sep-2011
9:25:31 PM

It being way too difficult to sort out the mountain of disordered anecdotes from two American climbing trips, hereís a little non trip report of my week for all the masses requesting climbing related stuff.

Saturday morning dawned in less than ideal conditions. That is, it was .4 degrees below optimal, the wind was 3 degrees too far to the north and the planets werenít quite aligned. Actually, it really was cold, windy and miserable. We resigned ourselves to a session in the bouldering shed. At 2pm, the sun briefly appeared and we felt a bit pathetic choosing the shed. Still, local laziness was rewarded when after optimistically loading up the climbing gear only to have it raining by the time she got to the car, Kate also turned up in the shed. Dave was already there on his finger injury recovery regime of campusing. I dutifully did a few laps of the plastic crack that may or may not be of any relevance when it actually comes to climbing Passport. Iím sure a few people actually pulled on, but maybe we mostly lay on the mats, discussed the Nati Frinj and admired Lanie and Freya giving Archie a run for his money in the up and coming Australian climbing star stakes. My friend Ken texts that heís turning up tomorrow for a week. Beer oíclock was declared.

Sunday morning, Simey was supposed to pick me up at 10. At 10, I get a message saying heís running late and make it 1030. At 1030, the message says he was distracted by Fran and heíll be there by 11. At 11, I send him a message asking if there were any dibs on 12? He said maybe it would be 12. I start mowing the lawns. At 1, Ken turns up so we head out. Over the course of The Good, the Bad and the Ugly, I get to hear all about his latest adventures in Sydneyís sex clubs. They donít compare to the San Francisco ones apparently. Quite a few people got to hear all about the San Fran ones during our ascent of Serenity Crack/Sons of Yesterday last year. It canít have been too off putting as some of them were still happy to join us for beer at the Awanee afterward. Beerís bloody expensive at the Awanee. I did have an ulterior motive of checking out Fox on a Hot Thin Roof whilst we were on GBU, but all that can be usefully gleaned from there is that itís really a rather big roof and Iíll just have to suck it up and lead it. That verb might more accurately be aiding.

We then meandered over to No Future, which seems to have a unique talent of varying in grade from 18 to 23. It was having a 23 day that day. Ken reassured me we were all going to die and it was going to hurt like fŻck. This was intermingled with a descending whistle ending in ďOw, my femursĒ. Private jokes. You probably had to be there in the 90s. Somewhere in the midst of this, we calculated weíd actually known each other over 20 years. Ken had a crush on me when we first met at the Mt when I was 17. I had no idea of this until we shared a house together in the Blueys, many years later. Ken followed, grumbling that getting my gear out was truly desperate as at every decent stance, the gear was somewhere around his kneecaps. I told him to be grateful I didnít have his 90 kg frame to weld it in with at least. Simey still hasnít turned up. The sun having long since disappeared off the cliff, it was bloody freezing and beer oíclock was declared.

Iíd developed some enthusiasm for leading Orestes the next day, so we pottered up to the Atridae, where I discovered Ken had never done Daily Planet, which seemed remarkable for 20+ years of trips here, so he was delighted to have some onsighting to do. After which, I managed to drop my large wires off Togrul Khan, but fortunately, I was in my usual habit of carrying 3 racks, and plugged cams in the rest of the route instead. We found a few more things Ken had never done and he welded gear with the full force of 90 kg in Excuse me Lex. I wondered whoís bright idea it had been to do Orestes anyway? On being informed it was mine, I womaned up and Ken settled in for a long belay. A triple set of wires got me happily up the corner and I found myself at the hand traverse with some trepidation. Both pitons had gone since I had last been up there, which is no great loss to the world anyway, but must have been exciting for the poor bugger that pulled them. I plugged 2 go-go-gadget cams in and worked my feet up high enough to get the first hold. It seemed surprisingly easy to get to, and I felt a false spurt of confidence. These things are always oneís undoing. Then I realise I am totally splayed out between the crack and the hold with no footholds to really speak of and probably going to cartwheel around onto my right hand if I let go of the crack. So after a few moments of nervous contemplation, I hook my heel into the crack above my left hand to hold myself in so I can get my left hand off and onto the break. Iíve always found the next few holds to be a little suboptimal , throw the heel around a bit more, and pumped and petrified, I fail to get it together to plug in the next cam or run it out to the gargoyle and swing wailing onto the gear. I swear this hand traverse is really 27. I get my wobbly self to the anchors next shot and Ken prepares himself for the epic job of gear removal. 24 pieces. Not far up he comments on how much his legs hurt. I loosely remember my legs hurt somewhere around there too, but that seemed to fade into insignificance as the hurt in my forearms took over. By some super human effort, Ken manages to retrieve all my gear without even weighting the rope and comes down to inform me he is wrecked. Beer oíclock is declared.

Tuesday, I am booked to drag Sarah out climbing for the first time since god knows when. Ken tries to drag me up Brolga with him and Paul in the morning, but I donít like Brolga, and Iím trying to have a pseudo rest day. I have a very leisurely start when Sarah finishes work at 3 and we saunter up Bastress, which is a remarkably fine 11 that I had only done once back in the dark ages. A yell of ďLittle FeralĒ announces the arrival of Ken, who shortly appears at the top of Bastress as well. Shoes and gear appear to be superfluous, but he did tail a rope for Paul. My one pitch plans somehow become broadened to Boomer. Or was it Squeaker? I donít know, one of those things, all detail of which had long been lost to distant memory, but also turned out to be very cool and Sarah surprised herself by floating up it. By some strange arrangement of bets, Sarah and Ken both ended up owing each other beer for this, so beer oíclock was declared.

Tuesday night, Mark and Ian turn up. Weíve had a hot date for Aftermath for a few weeks now. Theyíve smashed Hollow Mtn that day and Mark has already been for a 10k jog when I get up on Wednesday morning, but Ian is reassuringly still in bed. Cam turns up at 830 and the enthusiasm of the working and parenting population to get out on the rock win out over lazy localism and we are heading out before 9. Unfortunately, itís raining. I mumble about cafes and another cup of coffee but for some reason, the car keeps heading towards the Mt. Not that we can see the Mt. Mark suggests that itís all between us and the Mt and weíll drive out the other side of it. Ian and I are a little dubious of his optimism and Iím not the only person to be heard mentioning coffee. However, we suddenly find ourselves under blue sky in front of the Mt and Mark is as flabbergasted as any of us.

Itís a beautiful day as we walk to the Pharos. Mark hasnít done Halfway Damned or Trinity Wall, so he makes short work of both of them as the boy wander up Oceanoid. Itís all going quite fine until I pop around into the business bit of Trinity Wall and realise that much as I have climbed with Mark many times before, I should still have reiterated the fact that he had a very wussy second and suitably large amounts of gear such as I might put in the route when leading it would be muchly appreciate
14-Sep-2011
10:58:23 PM

Excellent reporting Wendy. I was supposed to study tonight but your talk of Chocolate pudding o'clock won me over and I lazed around eating a chocolate sundae.
14-Sep-2011
11:10:15 PM

It shows you can fall in love with climbing without a rock in sight.
I want to be a climbing bum again. Wa
14-Sep-2011
11:22:10 PM

That really put a smile on my face, Wendy. Good one
15-Sep-2011
2:00:10 AM

Fun TR thanks Wendy.
15-Sep-2011
11:43:58 AM

I feel like beer o clock right now...

Great TR Wendy.
15-Sep-2011
12:42:53 PM

Sounds like the local Nati crew have a great life. Very cool non-Trip report.
15-Sep-2011
12:54:57 PM

I was initially thinking, how can a non-trip be worth reporting, but after having read it I am glad I did, and also see the relevance of the title!

Although I have not done any of the routes mentioned, it still felt like I was on them due to the captivating writing style.

~> A good read. Thanks for posting it.
20-Sep-2011
8:10:51 AM

Thursday was couch day. Didnít matter whose couch Ė my couch, Simeyís couch, Kateís couch, as long as there was couch involved, all was good. Natimuk is great for couch touring. So many couches and cups of tea in close proximity.

On Friday, Doug interrupted some important Chockstoning when he finished work at lunch time. Fortunately, heíd brought cake with him to ease the transition into actual climbing. Eventually, we made it out to the back of D Minor pinnacle with plans to run up Cadenza and lob a rope down the Philosopher. Ken turns up bearing a 6 pack, having already declared beer oíclock. These were initially foisted on us with instructions to drink 2 each, but as we deferred beer drinking and Ken didnít, he had this brainwave to distribute them by body mass. 3 for Ken, 2 Doug, 1 for me.

Many years ago, Doug and I did Spring Offensive together and The Philosopher turned out to be a strangely similiar experience. I mean, it is true you would be hard pressed to find two more different body shapes, but we really can find completely different cruxes on routes. That day on SO, Doug battled through these scoopy bulges, which kept pushing him outwards whilst I squished under them and almost rested, then got stuck on a big move later on that Doug hadnít even noticed. On the Philosopher, Doug was popping for the last hold and looking all a bit desperate, yet although I was 90% off the entire way through the bottom section, the top was a relatively cruisy high step.
The other notable thing about climbing with Doug is his ropes. Surely he must have a new rope occasionally? Does he save the shitty ones just for climbing with me? How come I only ever see him with the dressing gown cords with the core showing?


20-Sep-2011
8:11:31 AM

Friday night and Saturday morning turning into a mishmash of failed communication and other plans and at 830am Iím becoming kind of distressed that itís the best day of the spring so far and Iím not going to go climbing. Sol and TJ come to my rescue and we meet at the cafť for coffee oíclock. We wave good bye to the Natimuk peloton, who for some reason forego climbing every Saturday morning to ride out to the Mount. Sol has been caught up in the epidemic of finger injuries inflicting Natimuk at the moment, and has this grand recovery plan to climb every 18 at the Mount. He wants to start at the left and work across. I suggest that as thereís only 1 18 left of King Rat Gully, and loads in King Rat gully, that we just head straight there. Thereís some debate about getting efficient at packing up and moving around, but I counter that thereís efficiency in the decision to go to the high volume climbing area and get lots done and Iíve done enough packing and unpacking of my pack in my life.

So we find ourselves at the base of Scylla. Iíve heard a few people, Sol included now, swear that this is 16 going on 21. I didnít have a problem with it when it was 15. After another ascent of it, I have concluded itís quite Frog like in style. If you can climb that style, itís 15. If not, maybe it feels like 21. TJ is becoming an 18 ticking machine, and proceeds to romp up Iím a Little Dinosaur, then Sol is excited to show us his direct version on Iím a Little Asteroid. I shall hereby rename it, Asteroid Induced Flash Blindness Ignoring all the Good Holds about 15cm to the Right. Ok, but Sol likes it. He has fun. Thatís the important bit. Oh, and that his finger is holding up fine.

Here I interrupted the 18 program for a quick run up Glory Rodent, one of my favourite short routes at Araps. I donít think anyone minded as TJ demonstrated promising style, with a natural instinct towards wedging any body part possible in the crack. And how many people can claim Glory Rodent as their first clean 22? Sol also did fabulously, pulling over the top, puffing and panting and declaring himself wrecked and it was time to go home, cook yummy Mexican food for all of us and heíd be back to pick us up at 530. He tells later that he was so trashed he wobbled more than walked back to the car.

TJ continues smashing with King Rat, then I introduce her to the fine arts of faffing as I traverse across the cliff top to fangle some directionals above Kookenhagen, a 23 to the right that mysteriously has a star, but never gets climbed due to the museum piece masquerading as a bolt that is probably still the best bit of gear in the route. It actually turns out to have some fun cranking around the bulge, despite the truly appalling rock at the start. I found myself hoping it was one of Miklís routes so that thereíd be no drama about fixing it up, but further research found it was Rod Young. Rod, if youíre reading this, what do you reckon about a new bolt, maybe 2?

Somewhere around this point, enthusiasm overtook wisdom, and we head up Autisticus Spacticus. I swear it felt like 27 Ö Having no gogo left to run it out past the 3rd bolt, I recruited TJ to lead Retardation to get us to the top. Honestly, sheís a woman after my own heart Ė give her a grade 15 offwidth, and she loves it. We retired to red wine and Mexican oíclock.


20-Sep-2011
8:11:45 AM

Sunday morning, and the weary and wearier head back out to the rock. Doug hasnít been leading for ages after mangling his ankle over the winter, but decides he can do Crooked Mile on the theory that heís not going to fall off. I reckon I could do a lot more things if only I could muster faith in this theory of not falling off. He fails to disprove the theory with ease and sends me up his famous new route Je Suis un Legend. Described to me as taking part of three different routes and three grades easier than all of them, I discovered it felt actually remarkably just as hard as all the others. Pumped and a remarkable way above my gear (it had actually made it below my feet) I was even predisposed to some wailing as I hung out desperately trying to place another bit of gear to psych me up for the last move. Doug comments on how satisfying it is to see someone enjoying his new route.

Doug has been eyeing off another new line on the wall, so we lob a rope down it to see if it will go. The crux turns out to be a dyno on a slab from a slopey pocket to a gaston. Doug reminded me to note his sequence. It has a working title of ďAnd so is My DogĒ. Despite apparently turning myself into an inside out octopus head, I failed to get up it.

TJ has inherited the pleasure of Kenís company and she romps up Crooked Mile. Rapping down, Ken is quite excited by the look of Hidden Secrets, but Doug assures him the real line traverses left. That Hidden Secrets is much less satisfying. The gear really isnít as good as it looks. Ken ignores him and heads up HS. Someway up the route we are treated to the story of how he waxed his sac once. I have no idea how this topic came up. Half the skin came off as well, leaving him with bald, red balls. Doug and TJ decide they are trashed and are ready to head home, and Ken wonders if perhaps the testicle story was a bit much? We move onto Continuum, which I remembered being a little run out, but surely not as run out as it looks with a now proudly only 88kg Ken substantially above his gear on it. I start psyching up for a launch downhill. I expect Ken was more relieved than I was to get some gear in, but itís debatable.

We wander over for a final run up Voodoo but as I successfully remembered not to get pumped, we had to run up Chinese Algebra as well. Finally, beer oíclock was forcibly declared by the setting sun.

20-Sep-2011
8:50:10 AM

Envy. I hope you occasionally get bored.
20-Sep-2011
12:05:38 PM

On 20/09/2011 Wendy wrote:
>Oh, and that his finger is holding up fine.

Is this the middle one? It used to stick up a lot when his others didn't...
20-Sep-2011
6:01:17 PM

On 20/09/2011 ajfclark wrote:
>On 20/09/2011 Wendy wrote:
>>Oh, and that his finger is holding up fine.
>
>Is this the middle one? It used to stick up a lot when his others didn't...

that's just the special relationship you guys have. Fortunately, he's had a girl to distract him in his time of enforced rest.
20-Sep-2011
6:04:12 PM

On 20/09/2011 hipdos wrote:
>Envy. I hope you occasionally get bored.

Well, i have 30 teenage boys to take climbing all week. I think that is less a subject for envy.
18-Oct-2011
5:59:33 PM

Excellent reporting Wendy.
| | |
| --- | --- |
| | There are 16 messages in this topic. |
Home | Guide | Gallery | Tech Tips | Articles | Reviews | Dictionary | Forum | Links | About | Search
Chockstone Photography | Landscape Photography Australia | Australian Landscape Photography | Landscape Photos Australia

Please read the full disclaimer before using any information contained on these pages.
Australian Panoramic | Australian Coast | Australian Mountains | Australian Countryside | Australian Waterfalls | Australian Lakes | Australian Cities | Australian Macro | Australian Wildlife
Landscape Photo | Landscape Photography | Landscape Photography Australia | Fine Art Photography | Wilderness Photography | Nature Photo | Australian Landscape Photo | Stock Photography Australia | Landscape Photos | Panoramic Photos | Panoramic Photography Australia | Australian Landscape Photography | High Country Mountain Huts | Mothers Day Gifts | Gifts for Mothers Day | Mothers Day Gift Ideas | Ideas for Mothers Day | Wedding Gift Ideas | Christmas Gift Ideas | Fathers Day Gifts | Gifts for Fathers Day | Fathers Day Gift Ideas | Ideas for Fathers Day | Landscape Prints | Landscape Poster | Limited Edition Prints | Panoramic Photo | Buy Posters | Poster Prints