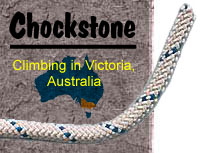 Sponsored By
ROCK
HARDWARE


Chockstone Forum - Trip Reports
Tells Us About Your Latest Trip!
Author

| | |
| --- | --- |
| Sam ad Frodo's Araps Adventure | |

8-May-2008
12:45:21 PM

Okay so this is another trip report. I'm at work. What else is there to do?

This is Sam and Frodo's Araps adventure.

So, this adventure started to be planned after…. Actually during the disappointing Easter trip to the Blue Mountains. Before the flames of scorned Bluey's climbers hits, I shall have to refer you to my previous trip report. T'was the rain I say! Damn the much needed rain that foiled us! But back to it.

The plan was to head to Araps in the first week of May. This required me to fly down to Melbourne from Canberra. Sam and I decided not to decide to drive there from the airport upon my arrival or the next morning. In retrospect it was a good decision that we didn't decide in the planning to drive the night I touched down…. Once the gear list was sorted, we had but time to wait….. Actually I'll get to the trip now. You don't really need to know the how…..

So I could only get two days of work. The Friday and the Monday. I flew down to Melbourne on the Thursday night. This was a fairly frustrating flight. Over the 45 min, we had to suffer the Q news. This ended with 15 min left of the flight, which then Top Gear was put on. YAY! But the bastards turned it off right when the race of the motor homes was about to be decided……. I haven't slept since…..

Sam was waiting outside T3 and picked me up in the mighty Ubertron. It was the lack of the gear in the boot that told me we were heading out the next morning. Meh! Damn it I thought. But never the less it was a good decision. We headed back to Sam's bed sit (hee hee! That's for you Sammy!) in St Kilda and sorted through the small mountain of gear. This is when Sam, who sort of assumed and half forgot that I had or didn't have a helmet. There was no rejoicing…. The next morning at silly O'clock we became vertical and packed Ubertron. Even at 0630, Melbourne is a busy place. Hoi! After a fuel stop and drive by bakerying, we were on the way (despite a small argument about seafood). Hmm. No offence, but Victoria is a weird place…….. About the only contour in the whole trip, was a big gorge just outside of Melton and few hilly bits near Ballarat. I expected it to be undulating hills, beautiful green scenery and cute little towns….. Aside from the cute little towns, I was shocked. Talk about flat. Guess I'm just used to mountains everywhere.

After 3 hours we arrived (raining on the way) at Horsham. Blueish sky's and cool breeze. Right shopping. Done. I won't bore you with our list. We grabbed a quick bite for lunch and headed off once more. To Natimuk!! Wow… Small town. Personally the best place in Aus to live. So having forgotten a helmet we looked at the Climbing store. Now I have to say that Natimuk is the coolest place on earth. Small population, a pub (full of climbing photo's rather than football AND that has Coopers on tap!), threeish shops not including the pub and one of them being a killer climbing shop. I mean how cool s that? Anyhoo. But I digress. It was 12ish and the shop didn't open until 1:30, so we headed to Araps to set up the camp site. When we got there, me being the Araps virgin, I, well I….. I was totally blown away. What a beautiful climbing site. Bugger it, what a beautiful site altogether. Okay so campsite set and we drove back to the shop and hired a helmet. A lime green one! So now that we had everything the climbing could commence. By this time it was 2:00 and too late to get to any heavy climbing. So it was to Mitre Rocks.

To get back into the swing of things, Sam lead an 11 that felt like a 9 (forgive me, I suck with names). Then I followed him up. Easy! So once back on the ground floor, equipment, shoes and chocolate, I gave leading a go. Yup. Easy though still slightly unnerving. It was actually my first trad lead in years. By the time we each climbed twice, the sun was setting. Well, ish. I realised that it was indeed beer O'clock. So it was to base camp and a coopers. After a filling dinner, cooked by me, Sam was sorting out the rack, we took a stroll past the Plaque wall to Squeeze Boulder. Yup. Got stuck. Damn doughy physique! Will loose weight and try again next time….. After Sam had composed himself and stopped laughing, we returned once more to camp for one more beer and some chocolate. But then things turned Ugly! Ugly I tells you!

Yawn! I rolled out my thermorest by the light of my rusty… trusty Petzl only to realise that there was a cut, 2 and a half inches in length in it, thusly making it uninflateable! Oh the horror! Once asleep, I was awoken by what I can only assume was a pissed off possum. Probably pissed off because we stored the food in the car and hung up the garbage in a nearby tree. But later, I was awoken by something else….. that sounded awfully familiar. Moaning (you know who you are!)…. Yes? ……. No?...... Yup, it was moaning. Of the good kind I hope. It grew steadily louder. And louder again. Until, the earth moved, new cracks formed in the rock face. I almost applauded. But then all fell silent. Save for a little giggling. BTW, is there an etiquette with that sort of thing that I'm not privy to?

Right. Saturday. After breaky and laughing a LOT the next morning, we headed to the Watchtower face. For my first multipitch. Once we actually found the climb the rather ambiguous guide book had described, it was down to business. A nice 10 that the name again escapes me. But it's one that leads left into the cave. Man…. I tell you. What an incredible experience. I confess I have only ever climbed single pitches. But now, I don't know how I'll cope with anything under 100m. Even though the climb was fairly easy, it was the most fun climbing I have ever had. The view, the air, the rock surface, not so much the company….. the absolutely gorgeous Wedge Tail that flew over head that for once didn't look small (being maybe 20m below it, I mean wow people), the steep learning curve (no pun intended) and the fantastic weather. I doubt at my best I could think of another place I'd rather be. Once we summated, I had a chance to take in everything. Again, overwhelming. Actually, we had at one point near the top, a communication break. No matter how we yelled, we couldn't hear a damn thing. During this, we discovered that mobile phone coverage is awesome. Convienient too. Even though it was an easy climb, after belaying and climbing for three hours, flaying a rope sucks. After we packed up, we headed down the Pharo gully to camp. I decided that I was not yet cooked and wanted more. MORE I TELLS YA! So it was off to find a nice boulder, but where…….. All taken pretty much. It must have been that time of the day. I had seen the Plaque Wall being boulderededded and though it looked like fun. So we walked that way. The wall was being climbed. Sigh. We ended up chatting to three great people who invited us to have a climb on their gear. Sam had a go at the 18 (the Plaque) while I had a go of the 15 crack next to it. Nice little climb. Thank you Anne, Brent and Sam for the climb and the chat. We helped them as much as we could to pack up and headed to our site. Hmm…. A Beer!

While Sam sorted the gear again, he loves the tinkle and colour of bling, I started a fire in the little fire things and chilled till hunger took hold of my hobbit insides. I put dinner on and ate. We chilled and gazed at the clear star filled sky until Sam made moves to bed. Sorry Guys….. Twas a quiet night. Nothing happened…… Nothing at all.

The next morning we woke up and had breakfast. Packed up everything but the tent, and chose out climb. Yup. Cannot remember what it was called. Nor the wall names. To be honest, I don't even know if it was the right wall. Again the ambiguous guide book that is rather void of photos strikes again! Bugger it we thought and just scapered to wall top and set up a top rope. Here we played for about three hours. Until I was savaged by insect life. Seven Times? Was seven bites by the one ant really neccisary? Ouchy!!! After
8-May-2008
1:42:53 PM

very entertaining mate!

chewed up 10 mins of work time
8-May-2008
1:54:21 PM

Fantastic report, now im just itching to go back! Was great to read about someones first experience up there!

As for the nightlife, it was a pity you didn't get to experience the following:
1) feral cats fighting with the possums
2) the rubbish truck nice and early in the morning
3) possums managing to tear apart your rubbish bag you so carefully strung up the tree.
ahhh the serenity!

I know that leaving feeling far too well, the sick gut feeling that it'll be too long until the next visit!
Thanks for the read!
8-May-2008
2:08:48 PM

Loved the TR, amping me up for a great weekend! Unfortunately every time I leave Araps I'm having to say bye bye to my partner who is lucky enough to be living out there for a couple months. Ah the life huh?

Try sleeping outside with the possums!
8-May-2008
3:19:04 PM

On the first eventful night, a possum tried to raid the esky. Had he asked nicely, I'd have offered him a beer. Mind you, then he'd probably try to brawl with anything that moved. Possums make such angry drunks.

It gives me nothing but satisfaction that reading my TR consumed 10 min of your working day..... Took me 30 minutes to write...... Hee hee....... My work here is done! (god I hope the IT guys don't block this site)
8-May-2008
3:41:06 PM

well that a combined total of 40 mins stolen from Da Man.

a good result


16-May-2008
9:09:20 PM

Interesting trip report.
( ~> is always interesting to see things through the eyes of others).

... or hear them as the case may be?

>Moaning (you know who you are!)….

S___y was there with a friend perhaps?

Heh, heh, heh.

:P
17-May-2008
12:44:36 AM

Great TR mate, I know those feelings of awe upon arrival, and loss upon leaving all too well.

I spend countless hours of work time each week day dreaming about living up there.

Today (after your TR) will be no different!

Cheers.
| | |
| --- | --- |
| | There are 8 messages in this topic. |
Home | Guide | Gallery | Tech Tips | Articles | Reviews | Dictionary | Forum | Links | About | Search
Chockstone Photography | Landscape Photography Australia | Australian Landscape Photography | Landscape Photos Australia

Please read the full disclaimer before using any information contained on these pages.
Australian Panoramic | Australian Coast | Australian Mountains | Australian Countryside | Australian Waterfalls | Australian Lakes | Australian Cities | Australian Macro | Australian Wildlife
Landscape Photo | Landscape Photography | Landscape Photography Australia | Fine Art Photography | Wilderness Photography | Nature Photo | Australian Landscape Photo | Stock Photography Australia | Landscape Photos | Panoramic Photos | Panoramic Photography Australia | Australian Landscape Photography | High Country Mountain Huts | Mothers Day Gifts | Gifts for Mothers Day | Mothers Day Gift Ideas | Ideas for Mothers Day | Wedding Gift Ideas | Christmas Gift Ideas | Fathers Day Gifts | Gifts for Fathers Day | Fathers Day Gift Ideas | Ideas for Fathers Day | Landscape Prints | Landscape Poster | Limited Edition Prints | Panoramic Photo | Buy Posters | Poster Prints