Ok all you ignorant pinko left bicycle/sensible car owning people, a few facts.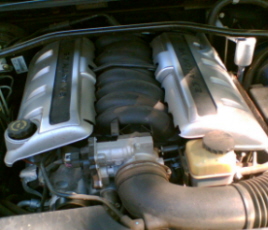 5.7 litres of pure unadulterated V8 goodness, cold air intake coupled with 2.5 inch twin exhaust system.

On a recent 2500 km trip it averaged 9.6 litres per 100km at an average speed off 117 kmph, roughly 1600 rpm. With the added bonus of overtaking 150 ft road trains with ease, although care must be taken as you can come out the other end doing 200kmph+.