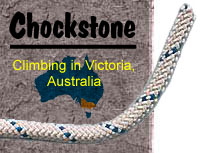 Sponsored By
ROCK
HARDWARE


Chockstone Forum - General Discussion
General Climbing Discussion
Author
18-Jan-2006
2:53:29 PM

neils current questionaire has me wondering if in this age of working routes the drama and significance of your first lead fall particularly onto your own gear has gone. I don't remember mine but i think it was onto a shiny new bolt. i do remember my first fall onto a teeny tiny rp on silver knight at gravel pit tor in the youies surprised at my lack of fear but the piece did get very retired. have been present at a beauty at dec crag, arapiles where my partner lost his cherry at the exact point of a climb that resulted in the sad plaque at the bottom, he was very aware of this fact. almost exactly the same thing happened to my father on d minor for his first lead fall many years ago when he was racking up he was told the story of the recent fatality on the climb and observed the still fresh blood stains only to take a surprise fall from the key overhang. So any good stories, particulary from the young, or is this once "special" (i have been watching bruce on the tennis) time in a climbers life no longer a big deal.

A small aside which would be better suited to the other thread if you are leading trad and you are not consistently confident logically and rationally in the quality of the gear that you are placing then fix this problem or take up soloing before you hurt yourself. This is f---ing dangerous!
18-Jan-2006
3:39:51 PM

I've fallen a many a time onto bolts, but gear has not been so often.

First was a fall onto a bomber #2 camalot at point perp. It was probably only at my knees.

My next was my first REAL fall. It was on Wackford Squeers at Araps. The thing with this route, especially at the top, was all the good hand holds in the horizontals are the best gear slots. So i made the compromise of taking the better part of this particular slot for a hold, and wriggling in about a #2 WC Tech Friend. It was an ok peice, with onse side good, the other side maybe a little overcammed. I was conviced it would hold. I ended up peeling with it at my feet, and can remember watching it as i fell past it, thinking..."wow! whats going to happen?! will it hold!?" luckily it did, as it was a fair way down to the previous bolt. I don't think i would have decked though.....maybe hit the ledge......


Another fall(s) were on That Fearful Vortex ar Gramps. I fell 4 times at the crux onto a #2 RP when it was at about foot level. Exciting stuff, considering the First Ascentionist apparently snapped an RP while redpointing it......

My last big one was on Mr Joshua P1, where i pumped out on the jugs above the horizontal break, where i had slotted in a NOICE! #12 Smiley. Twice. I was moving up to the tick in the top of this photo when i peeled. Needless to say i needed to take a rock up in my pocket on TR to bash that wire out.

Maybe it's my youthful ignorance, but i tend to put quite a bit of faith into my gear.
18-Jan-2006
5:40:48 PM

On 18/01/2006 alrob wrote:

>Maybe it's my youthful ignorance, but i tend to put quite a bit of faith
>into my gear.

You'll find your faith diminishes in proportion to the residual pain from old injuries!
18-Jan-2006
7:29:05 PM

>I was moving up to the tick in the top of this photo when i peeled.

Just a few seconds after this, in fact .... (I blame all that Bundy):




18-Jan-2006
9:52:54 PM

On 18/01/2006 WM wrote:
>>I was moving up to the tick in the top of this photo when i peeled.
>
>Just a few seconds after this, in fact .... (I blame all that Bundy):
>
>
>
>
yeah, was a little seedy first shot.....

btw,

>Alt="It's not everyday someone unleashes a physique like that...."

classic! any more pics from that trip will?

----------------------------------------
EDIT: sorry for thread hijack. back to original line of discussion
19-Jan-2006
7:14:57 AM

my first fall was on a #11 nut wich popped out so I fell on a #2 hex which held however I decked out, passing my belayer on the way!

I blame it on shite rock and not much experience

Now moslty cause of my lack of real skill, I take falls on bolts nearly every time I go climbing I have no fear of even a longish fall onto a bolt as long as I am on the third bolt or higher.

Fear of falling is so limiting when climbing for a biginer. Takes some risks as long as your gear is good. If you fall you will wonder what you were so bloody worried about.
20-Jan-2006
10:43:51 AM

Howdy Folks,

Here's a post I put up a couple of months ago after my first "real" Trad fall.

Had my first real (15M) lead fall on Saturday..., I was leading "The Bite" (Churchmans Brook) and everything seemed to be going OK, I had 2 fairly average (for sideways pull anyway) nuts placed before the tree, Slinged the tree (thank God) my next piece was a #2 TCU in a fairly average crack, I tried to put a #3 in there but it was getting close to overcammed and I was worried my second might not be able to clean it, I struggled at the crux and fell but had grabbed the base of the tree not fully loading the rope, I laughed to my belay that it was a fairly poor attempt at a fall and continued climbing up to the crux, My belayer was standing about 4m away from the face (to dodge falling rocks) and I wasnt able to get a piece in at ground level as I was taught. While trying to get past the crux my arms and fingers started to pump and unable to hang on any longer I started slipping, called "falling" and kicked myself away from the wall so I wouldnt clip any ledges... I waited for the feeling of the rope slowing me down but heard POP...... POP..... then THUD.. a dust cloud erupted, there was some yelling.. I was lying there thinking "Hmmm this isnt supposed to happen.." My belayer was asking me if I was OK, I was slightly winded lying flat on my back, tested all my limbs and sat then stood up.. I knew this was going to leave a mark... My pro was neatly collected with my belays ATC and on my harness but luckily the rope was still running through the sling on the tree. It would appear that the rope had taken most of the fall but the stretch had dumped me on the deck, We figured there was lots of slack in the system due to not having a solid piece in at the ground, The belay was standing away from the wall, The belayer was giving me slack as I was struggling to move up the climb. Also the pull direction became very sideways instead of downward and pulled out my next nut, I should have put the #3 TCU in there and not worried about how hard it would be to clean, I should have checked it after I weighted it. I should have put ground piece in or had the belayer close to the wall. I should try and make sure all the nuts will take a 45degree sidepull minimum. The TCU that pulled was only scratched on the very tips of the cam so didnt really have much purchase on it. Anyway, I've learnt lots from this and plan to keep it in the back of my mind on my next climb, I don't blame my belayer for anything, he's very safe, We top roped 2 more climbs after the fall. I've only been outdoor leading for a month, I've done the 2 day lead climbing course with Adventure Out. Think I'll be practicing more on easier routes and not trying to tick the grades as much. Hope you guys can learn something from this as well.


Cheers


20-Jan-2006
11:18:31 AM

Glad you're still alive Andaroo. Hopefully that's your last groundfall!
20-Jan-2006
11:38:42 AM

Thanks for the story Andaroo and glad to hear nothing too bad happened. You seem to have analysed the situation pretty well. Shame the analysis happened after the fall but, hey you were leading the climb, not us.
21-Jan-2006
8:54:08 PM

As i reported briefly in the other topic i recently had my first fall on trad. I was not disapointed!

Whilst climbing in Tassie in December we through various coincidences ended up on a fantastic climb called Rysavy Ridge on Mount Roland in Northern Tassie. It is a grade 12 and is about 400 metres long. I lost count of how many pitches it was but it was about 14 - and absolute epic and a mega classic climb.

Anyway to cut to the chase...At about half height there is a really big ledge where you can stop for lunch, etc. Above this stretches the best pitch of the climb. It is a 40m or so face with a knife-edge arete and a 1000 foot drop on the other side of the arete. It can be climbed either on the arete at about grade 10 or for extra interest the crack up the face is about grade 15. I chose to do the face crack as it looked to be a fantastic line - which it was.

I lead up the first harder section easily getting lots of good gear in along the way but as the climbing became easier, and the protection opportunities fewer i ran it out a bit. Looking down at my last piece was a good cam about 3 metres below me so i placed a #2 Camalot in the outward-flaring dirt-filled slot in front of me; the only placement in sight. The cams were under-cammed and i thought it would pop in a fall but left it in anyway. I continued up and had almost reached the easy arete when the large jug handhold i was holding came off in my hand! I was now about 5 metres about my last piece; the bad cam, and was now slidding increasingly fast down the rock yelling 'FALLING'. A second or two later and i came to a soft stop about 10 metres below my starting point, no more worse for ware than a few scratches on my hands. The 'bad' cam had held. Needless to say i was very cautious for the rest of the day!


This is the position i was in just before placing my last piece of pro

21-Jan-2006
10:25:48 PM

I took my first lead fall at CRAIG BWLCH y MOCH near Tremadog in Wales about 6 years ago. The
route, Valerie's Rib, is a classic 3-4 pitch effort with at least a dozen left and right variants on each
pitch. Not to mention a cafe at the bottom of the crag...with a gear shop!

I was climbing in a group of three, and we had been siting on second belay ledge for a while when
another member of the climbing club arrived they preceded to give me the beta on the oft climb right-
right-right hand variant which heads up the main weakness before stepping wayyyyy out to the right to
an exhilarating aręte!

The best part they told me, was "it's all the same grade"

Now, I will admit that the route is only HVS, but it was my first day on grit and more importantly HVS
does cover about 3-4 Ewbank grades.

Lets just say that the Right-Right-Right variant was probably closer to 17 then the 14-15 I was
enjoying; to make things slightly more complex it was also a bank holiday and the crag was packed. I
kid you not; at one of the belay ledges there were 5-6 groups of people. Unfortunately, the standard
British demeanour disappears and people quite happily climb over and around you without so much as
a "hallo ole chap!"

So... sufficiently confident and psyched, I headed off on my third ever grit stone pitch; luckily as I
mentioned before this route had a nice little crack, so I wasn't peaking about the whole climbing with
your feet only thing… yet!

I quickly found my way to the stance, before the trip out right, and to my horror stared out at the blank
wall between the aręte and me!

Right…

I can do this…

Placed a nice No.5 nut, clipped... breathed...moved.... peaked...backed off!
Breathed again...moved…peaked… backed off! (This may take a while)

I was now, however, growing very aware of the horde of brits lining up behind me, and the fact that I
had two more people to haul up after me. All of which wasn't boding well with "the little voice in my
head", which by this point was not so much a little voice but a full scale Broadway musical!

In my growing state of mind games, I grabbed a micro cam from the rack, stuffed it into the crack, and
headed out in to the wilderness...first move.....second move.......

Why is there a cam swinging around my testicles?
Why am I lower than where I started?

As you may have guessed, both the cam and I popped, and I ended up a good couple of meters below
that lovely nut placement.

I was scared, pumped...and laughing!

The story does have happy ending, after regaining my composure… and the cam, I effortlessly arrived
at the Aręte, spent a couple of seconds wondering what all the fuss was about, and preceded to run
out the last part of the climb. I might add, that on the other side of the aręte was in fact a thrilling no-
mans-land...nothing but a few tall pine trees and about 200ft to the ground!

The hero of this story spent the night around my neck at the pub, and to this day whenever I place it, it
makes me feel a little bit INVINCIBLE!

| | |
| --- | --- |
| | There are 11 messages in this topic. |
Home | Guide | Gallery | Tech Tips | Articles | Reviews | Dictionary | Forum | Links | About | Search
Chockstone Photography | Landscape Photography Australia | Australian Landscape Photography | Landscape Photos Australia

Please read the full disclaimer before using any information contained on these pages.
Australian Panoramic | Australian Coast | Australian Mountains | Australian Countryside | Australian Waterfalls | Australian Lakes | Australian Cities | Australian Macro | Australian Wildlife
Landscape Photo | Landscape Photography | Landscape Photography Australia | Fine Art Photography | Wilderness Photography | Nature Photo | Australian Landscape Photo | Stock Photography Australia | Landscape Photos | Panoramic Photos | Panoramic Photography Australia | Australian Landscape Photography | High Country Mountain Huts | Mothers Day Gifts | Gifts for Mothers Day | Mothers Day Gift Ideas | Ideas for Mothers Day | Wedding Gift Ideas | Christmas Gift Ideas | Fathers Day Gifts | Gifts for Fathers Day | Fathers Day Gift Ideas | Ideas for Fathers Day | Landscape Prints | Landscape Poster | Limited Edition Prints | Panoramic Photo | Buy Posters | Poster Prints