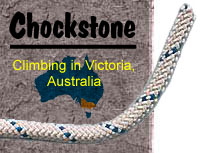 Sponsored By
ROCK
HARDWARE


Chockstone Forum - General Discussion
General Climbing Discussion
Author

| | |
| --- | --- |
| In Harms Way (19), My first retreat. | |

11-Dec-2005
4:57:50 PM

So, I'm on holidays in the blue mountains (having a great time, thanks for asking) and decided to try a new crag, a quick flick through the Carter Blue Mountains guide located "In harm's way" a three pitch, grade 19 sport route in diamond falls. Rapped in past Mr. Wall and admired the land of the hard men (complete with three routes covered top to bottom with quickdraws) and wandered up to sector 1 to find my intended climb. Decided with the g/f that I'd lead the first pitch up to the belay ledge with my backpack on, then she would take the lead from there with her backpack packed into mine (yes, should have only taken one pack).

Got prepped and started the climb, climbing up past the choss to the first fixed hanger and onto the very pleasant crack, reaching the first piton I admired its extremely rusty and disintegrating nature, clipped in anyway and continued up the still nice crack to the second piton which was still marginal but in better condition than the first. It did occur to me that pitons on a sport climb with a first ascent in the mid '90s was a little odd but I put it aside and worked upwards, fairly easily reaching the next fixed hanger just below the ledge which I assumed would be the first belay station... At the hanger there was an abandoned bail carabiner, which made me feel slightly less guilty when I hung my pack from that bolt before attempting the dificult move onto the ledge.

Got onto the ledge and found the next bolt, which was absolutely flush with the face of the rock, no way to get a bolt plate on, couldn't have even slung it with a nut had I have had one with me. Assuming I hadn't yet reached the belay ledge, I continued upwards through some rather pleasant climbing, and more pleasant climbing, and more pleasant climbing, until about 7 metres above the last bolt I came onto some harder climbing, but still reasonable for the grade, was feeling a little exposed but eventually reached the next... single... bolt, clipped in and convinced myself that the belay ledge must in fact be higher still, worked up a bit further (probably only 2 or 3 metres) to the next bolt and spotted a reasonable stance a little higher still, so I worked on upwards and much to my pleasure was greeted with the sight of another bolt, this time with two bail carabiners attached and still no sign of anything resembling a decent (sport) belay station. Was really wishing I'd brought the trad rack along at about this point...

Eyeing the rock above, there was a small roof directly above me, I climbed up a little and there was nothing more than a selection of bird droppings. A little higher still and to the left there was a bigger roof which corresponded with the topo's location of the second belay station, but from my stance all I could see was another 4 - 5 metre runout to a single bolt and by this stage I'd had my mornings worth of playing that game. In the end I rapped off and cleaned as I went, deciding that discretion was the better part of valour.

Upon returning home, a quick check of thecrag and one comment confirms what I'd found, the route is in fact very much a mixed climb rather than a sport climb as indicated. Note that I don't really hold it against the guide, I understand the huge undertaking which it is to create such a fantastic valuable resource.

So, what is your best retreat story?
15-Dec-2005
3:15:07 PM

>So, what is your best retreat story?

The one you live to tell about!

... or maybe the last few weeks of retreating from chockstone due to following Hexys advice and finding therapy by cruising* on a motorbike ...

(*It's a faster buzz than aid climbing when one 'retreats' [changes line?] mid corner at the limit of their [speed?] ability ... ~> M9 grade might be more feasible/safer now ...)

========================
Post edit:
G'day Oweng. I noted your enquiry over on Hexys thread and was going to reply. I guess the post above suffices?

(H was off the mark though, as there are no troll posts from me).

========================
2nd post edit:
I must be getting old ! ... for I have been giving the original question some more thought and I genuinely cannot recall my first retreat let alone my 'best' retreat story, amongst the many I have made.
I shall ponder some more before maybe posting another reply ...
15-Dec-2005
3:34:42 PM

Hmm, retreat stories.

I was doing work experience in Launceston for 6 months in 1998. I had learnt to lead in Cataract Gorge and on the friendly granite at Coles Bay, and with the end of the 6 months in sight, I and another student engineer decided that we would like to do a route on Ben Lomond before we returned to Melbourne. We borrowed double ropes and a truckload of gear and set-off to do a route called 'Cut No Ice' a 14 somewhere to the right of Frews Flutes, on a crag called Heathcliffe.

After a 45 minute walk across the scree slope we found the route, and after a nervous look at some approaching clouds, I set of to lead the first 40odd meter pitch. Im not sure if there was very little good protection on the first 20 metres of the route, or if I was just too inexperienced to find it, but of the pieces I placed I had no preat confidence in any of them. I managed to get through the difficulties and recollected my thoughts when the angle eased of a little. I could see the route steepening above to the belay ledge, and could see that it looked a touch more difficut than I cared to attempt. However if I moved left, I could see that easier climbing would take me up to a point from where I could traverse back right to the ledge. I started to do this, and got to a spot where I could place good gear. It struck me that if I placed gear here I would be forcing Matt to follow the same route as me, and not let him finish directly up the nice looking steeper climbing direct to the belay. I was perhaps 35 metres of the deck, and 10 metres above my last piece, which was a nut in a shallow flared placement. The gear below this piece was no more inspiring. A fall from this position would have resulted in three or four bounces down the slabby terrain I had just climbed followed by a plunge over the steepening at half height, with hopefully the flared nut catching the fall before things got too messy.

This wasnt really on my mind though, I was on easy terrain (about grade 10) that I couldnt possibly fall of, the weather was closing in and the belay ledge was not too far away. I pushed on up a slab just left of the corner, pulling up on a small juggy hold.....that moved sickeningly in my hand. A cold wave of adrenaline broke over me as the reality of the massive plunge I was about to take seared into my mind.

Luckily the hold 'held', being chockstoned in place enough to bear my weight. More solid ground was reached, and protection placed. Soon after reaching the belay ledge a bank of solid wet cloud hit. By the time Matt joined me at the belay, we were both wet and cold. I was shaking from a mixture of adrenaline overload, and the miserable conditions. We rapped of, retrieved our ropes and began the 45 minute walk back around the scree slope in a "pea souper". No landmarks at all were visable, just a scree slope to traverse around untill we were level with the carpark. Just when we started to think that we must have gone past the carpark, and be doomed to follow the scree slope around the mountain forever, we stumbled on the walking track from the carpark to the summit. This guided us back to the carpark. An epic day, that could have been very nasty, but that I look back on with good memories now.
15-Dec-2005
4:26:29 PM

I also recall getting pretty scared on Cut No Ice. Had a preconcieved idea that anything on dolerite would have plenty of cracks and hence be well protected. WRONG.

JamesMc
15-Dec-2005
9:15:20 PM

On 11/12/2005 hotgemini wrote:
>
>So, what is your best retreat story?

No much of an epic but i did retreat of a 3 star 6b route on the Penon on Costa Blanca on the weekend. It was meant to have been equiped but the bolts were decidedly rusty. Made it to the belay and my partner suggesting we change to somewhere less atmospheric.

There is a lot of mank in the Bluies especially on the medium grade stuff. If/when i move back i'd like to put some effort into recitfying this. It's easy to criticize but harder to get out there with the drill.
27-May-2008
1:27:09 PM

Bump for an old thread that deserves more response … and Chockstone has been relatively quiet lately.

15 December 2005 IdratherbeclimbingM9 wrote;
>I shall ponder some more before maybe posting another reply.

Hmmm, a retreat story or two from amongst the many …


Was getting off Belougery Spire in the 'bungles one time with a mate after topping out on dark.
After the abseil I was pulling the ropes and my mate started off downhill. I looked over my shoulder and noticed he was heading down the wrong way in the darkness …
"better not go that way or you will find the next precipice"!!
He returned to my stance and we down-climbed the correct path.
That was a good outcome to a potentially bad retreat …



Got rained off the North Wall at Buffalo one time.
One of my partners was too chuffed at having led a hard pitch in driving rain to be aware of the hypothermic results (he was saturated), that would have occurred if he had belayed the next lead, and since we were still within extended rope distance of getting back to the ground to camp that night, we decided that this would be a better option.
Upon reaching the ground it seemed the rain intensified.
We then started thinking about hot meals, dry bedding, … and a hot shower! … ('tis strange how you can smell like road-kill after even a short time on a wall, even in the wet!); as well as getting an updated weather forecast since we had time up our sleeve; … so 'retreated' up the south side of the gorge, leaving our gear on the wall to continue the climb later.
Three days later the weather eased off to drizzle after unprecedented heavy rain, … but with more forecast to arrive later that night.
We waited a few hours to allow the thundering waterfall of Crystal Brook to subside somewhat and 'retreated' carefully down the gorge. There we faced our most challenging obstacle of that trip; … a still flood-swollen Crystal Brook, even though it had appeared more benign down there when viewed from rim top.
After setting up a rope traverse we managed to cross and retrieve our gear. On the return with laden wombats (haul-sacks), we found rope stretch under the additional weight an interesting aspect to deal with within the torrent, and managed to become considerably wet (again).
… I am not sure that I now still follow the adage that I read somewhere once; that if one continually waits for the right weather, then they will climb bugger-all in the way of significant-length routes.

27-May-2008
3:17:23 PM

My most fun retreat was in the Wolgan. Coming back from shoulder dislocation #3, weak as a kitten and keen to get back into shape. I spent the weekend leading my essentially non-climbing wife up a bunch of grade 14 cracks, corners and slabs. looking for an 'easy' challenge we picked Boulder Climb, an obscure twin crack system way down the right that hadn't seen an ascent in years. Climbing to the first belay was excellent, a strange combination of committing laybacks, jams and stemming, to a bit of a treeish alcove for the belay. Bec came up and we started the whole process again. The second pitch was described as a bit chossy with better climbing higher up. I hid Bec under the tree out of the way of any debris that I might dislodge. Turns out there was a LOT of debris up there, small blocks held together with leaves. I wrestled and swore for 10 minutes, kicking off a couple of cubic metres of rubbish before I realised how dire the situation was. Bec was covered in dirt and leaves but stoically refusing to suggest that we bail. In the end I suggested it and was glad I had.
27-May-2008
5:29:48 PM

widewetandslippery and I were going to climb The Arete of Terrible Disfigurement at Maliata Point up in Katoomba one Saturday. Unfortunately, we devised our plan the previous evening over a few (too many) yeasty flavored beverages.

I picked him up at 7am and we headed off up the hill, full of energy and enthusiasm. By the time we reached Katoomba our levels of energy and enthusiasm had begun to ebb. A quick stop at the pie shop did little to improve the wave of seediness that had begun to sweep over us.

We racked up in the Scenic Railway car park and slithered on down the hill, sweating beer as we went. Nausea cancelled out our senses of direction and we missed the turn off to the cliff. We ended up at the bottom of the scenic railway, rather worse for wear.

About 30 Japanese tourists were waiting for the next ride up the hill. They seemed impressed by our ropes and the climbing nick-nacks hanging off our packs. They seemed less impressed by the synchronized tandem spew we proceeded to perform for their viewing pleasure. We slumped back down on our packs and WW&S turned to me and asked " do we have to go climbing today?"

It was music to my ears.

We retreated.
28-May-2008
8:37:54 AM

Gold!
28-May-2008
11:56:58 AM

1973 Greg Child and I walked down to Bungonia and tried the easy arete leading up the ramp below Olympus Mons and the 31's of the Cosseys on the Chicken wall. it had to eb pretty easy climbing as we got up 2 pitches on shattered dusty grey rock, I had 3 tied off blades in some flowstone. Greg weighted my waist when hold broke and the entire belay ledge collapsed. I think this is the line that Carlos the Mexican machine is interested in trying, I can still remember the walk out, which might be part of the reason I haven't been back
Can I have my pitons back please?
mikl
28-May-2008
3:01:25 PM

Did I hear the words "booty call"?

12-Aug-2010
2:55:18 PM

Bump.

Hmm. Another one.

A while back, when I turned 50 yrs of age, and had a mid-life crisis of sorts, I attempted a rope-soloed ascent of Lord Gumtree on Buffalo Nth Wall.
It turned out to be a relatively unprecedented heat-wave at the time...

After ferrying a large wombat (haulbag), down the south side of the gorge to the base of the climb, I spent the first night with my second ferry-load, in my portaledge, about half way down the south side. So far so good, as I had allowed myself plenty of time for this excursion.

Did a couple of pitches and by then had drunk all the water I had due to the 38+ degree temperatures(both night and day), prevailing at the time; ~> mental note to self; 3 litres per day is insufficicient in those conditions...

OK, still within a combined ropelength of ground, so I abseiled and refilled my water containers from Crystal Brook.

Did another couple of pitches with much the same result...

Hmm. At this rate I will cul-de-sack higher up with no water, and a forced retreat on my hands...

Bugger.

Better to get off now, while the going is good...




~> Is good to retreat sometimes, as then one can still be here to type about it!
Heh, heh, heh.
12-Aug-2010
3:07:36 PM

Climbing Lamplighter, ended up swinging right way too early and onto Judgment day. Probably because I was too busy chatting to cute lass I was climbing with. ;-)

Eventually figured I was on judgment day but though what the heck... The noticed some bolts above me and figure I'd make my way to them. So thats how I ended up on Second Coming. Did a couple hard moves and thought screw this and had to downclimb all the way back to the belay ledge with my tail between my legs. Had to bail too and leave gear behind cause it was getting late and rain was threatning.

All in all it wasn't the best way to impress a lady. ;-)
12-Aug-2010
3:11:22 PM

About 10 years ago Andrew and I attempted to do Proteus (big grade 15 near Pierce's Pass in the Blueys), but got hopelessly lost trying to find the start and ended up just starting up whatever we could find "cause surely we'll eventually run into the only grade 15 territory up there".

Needless to say after several pitches (two of them involving horizontal swimming along sandy breaks) we licked our wounds and retreated.

There's a more detailed trip report here, along with a rather crappy photo taken from somewhere near our high point:


12-Aug-2010
4:54:36 PM

My first post here folks, so Hi to all.

Quite a few retreats over the years, but one that sticks in my memory was on my first visit to the legendary Mt Piddington, still a schoolboy at this stage (so late 1970s I guess) guidebook in hand and ready to begin my lead climbing career. LOL. Stopped to chat to some nice folks getting ready to do something near Eternity, and when asked what I was going to do I explained that I'd picked out Angular Crack as a suitable first climb. They said it was a good choice and I'd find it a little furtheralong, an obvious corner marked AC. Off we went, examining the cliff as we went. Eventually we came to a really stonking corner marked AC, so I roped up and headed off up the crack. Which seemed abnormally hard for a 10, but it was my first lead after all, probably just nervous. I ended up stalled in this sort of bottomless chimney thing about half height, when the nice folks from earlier in the day wandered past. "We thought you were going to do Angular Crack!" they called up. "Aren't I?" I called back. People who know Piddo will know where I was, halfway up Amen Corner.

Obviously in way over my head, I retreated forthwith. It was a great satisfaction to eventually lead it some years later, with Glenn Robbins as my faithful belayer.
12-Aug-2010
8:04:57 PM

patto,

funny you mention that climb, we did a very similar thing of swinging exactly at the same spot. I was freezing my butt off belaying whilst the guy I met only a day or two before that in the Pines (top bloke, by the way!) was being awfully quiet and really not moving much on something that allegedly was a 14.

From memory he did warn me that we had wandered and I do remember looking up at the chalked up holds on the orange wall, seeing how it should be done and knowing full well that I'm pretty physically incapable of doing that, let alone cleaning the gear and not smacking myself repeatedly against the right when I'd inevitably pendulum into then trying to get back on.

Probably one of my first moments in climbing when the mental mode switched from "no way I can do this" to "well, I gotta, so lets figure out how".. and reignited my love/hate of traverses

Was immensely relieved to have retreated from Second Coming and came back to finish Lamplighter the next day (and enjoyed it massively, too!).

I wonder how many navigationally challenged or suitably distracted others have done this!

=)
13-Aug-2010
10:05:24 AM

TonyH thats bloody funny
13-Aug-2010
10:30:35 AM

I fear it was a sign of things to come, LOL.
| | |
| --- | --- |
| | There are 18 messages in this topic. |
Home | Guide | Gallery | Tech Tips | Articles | Reviews | Dictionary | Forum | Links | About | Search
Chockstone Photography | Landscape Photography Australia | Australian Landscape Photography | Landscape Photos Australia

Please read the full disclaimer before using any information contained on these pages.
Australian Panoramic | Australian Coast | Australian Mountains | Australian Countryside | Australian Waterfalls | Australian Lakes | Australian Cities | Australian Macro | Australian Wildlife
Landscape Photo | Landscape Photography | Landscape Photography Australia | Fine Art Photography | Wilderness Photography | Nature Photo | Australian Landscape Photo | Stock Photography Australia | Landscape Photos | Panoramic Photos | Panoramic Photography Australia | Australian Landscape Photography | High Country Mountain Huts | Mothers Day Gifts | Gifts for Mothers Day | Mothers Day Gift Ideas | Ideas for Mothers Day | Wedding Gift Ideas | Christmas Gift Ideas | Fathers Day Gifts | Gifts for Fathers Day | Fathers Day Gift Ideas | Ideas for Fathers Day | Landscape Prints | Landscape Poster | Limited Edition Prints | Panoramic Photo | Buy Posters | Poster Prints