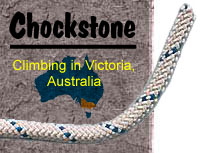 Sponsored By
ROCK
HARDWARE


Chockstone Forum - General Discussion
General Climbing Discussion
Author

| | |
| --- | --- |
| Yosemite, J-tree and bishop | |

7-Jun-2005
9:21:08 PM

hey everyone,

Because I'm lazy and tired (the weather's been really weird in DC) and can't be bothered trying to find out myself. I was wondering if any of you guys knew about the length of time you can camp at camp-4 at yosemite, and the same for j-tree and bishop?

I heard that you only get 30 days or something at camp-4 before you have to start avoiding the rangers??

cheers

Val


7-Jun-2005
10:28:45 PM

From Link, a Yosemite Ranger on www.supertopo.com

In order to spread the use of Yosemite between its four million (give or take a few million) visitors each year the park has camping limits. Though the enforcement of these restrictions has varied over the years due to priorities, staffing, and other challenges, the actual regulations have been in effect for decades. Here's the official wording out of the Code of Federal Regulations (Title 36, CFR 7.16 (e)(1)):

"Camping is permitted in Yosemite National Park for not more that a total of 30 days in any calendar year: Provided, however, that during the period from June 1 to September 15, inclusive, camping within Yosemite Valley is limited to not more than a total of 7 days and camping within all other portions of the park, during the same period, is limited to not more than a total of 14 days."

There are no time limits on day use (driving/bussing/biking/hiking in for the day and leaving again to sleep).

In other words, following the letter of the law a visitor may come into the Valley on May 18th and stay until June 8th, at which point he/she may then stay in another section of the park (outside the Valley) for one more week before leaving again until the following year (thus spending one month in the park total, two weeks of which was during the summer season, and one week of which was in the Valley during that restricted season). A visitor may also spend the entire month of November (or March, or January, etc.) in the park, or he/she may live near Yosemite and drive/buss/bike/hike into the park each day as many times as they want.

So there you have it, for the record, the official stay limits in Yosemite National Park. I'll leave it at that for the moment… as Wayne would say, "discuss."

Cheers,
-Link

8-Jun-2005
8:26:21 AM

try rockcimbing.com

My experience (from 2002) is that you just re-register in a false name every week - then swap campsites with whoever got your old campsite from last week. That way you keep your old campsite - but have to take on a new identity. We were Polish with an impossible to pronounce name for one week.
8-Jun-2005
9:50:33 AM

Bad news on that one Neil. During my last season there (spring '04), you needed to present photo i.d. to register to camp. Word on the grapevine is that they've been given a computer in that kiosk that tracks how many nights you've camped now as well, so they can tell if you're overstaying. Camp 4 nazis!!

My tip for the valley is to go in mid september - the limit changes from one week to a month around then, and the rangers are too burnt out to chase climbers.

Bishop, don't worry too much. There were plenty of perminant residents at the pit.

The J-tree situation has changed, so don't take my word on this, but i think it is now pay camping limited to two weeks????

Have a ball!

Mark
8-Jun-2005
11:46:42 AM

My knowledge can be considered ancient history, but there used to be a thing called a "Golden Eagle Pass" which cost $25U.S. in '92. It let you into all National Parks and National Monuments for free (once you paid your initial $25). At that time it mean you could camp in Josh for as long as you liked, as long as you were in an official camp site. It was a good thing for a climbing trip across the US. No doubt things have changed, as change is the only constant.
8-Jun-2005
12:39:49 PM

Golden Eagle was US$50 last time i was over there.
8-Jun-2005
7:40:23 PM

There are ways around it or you can just do what I did.
ABANDON CAMP!!!! Get back to the roots of climbing!
9-Jun-2005
12:41:37 AM

Wow. Sounds trickier than getting into the country in the first place.

Anyone wanna go there mid next year-ish?
9-Jun-2005
11:26:07 PM

To camp at sunnyside, (camp 4) a max of 7 nights. It is now very difficult to dodge the rangers as they check everyone when they go in, unless you bivy in amongst the boulders.
The other way is if there are 2 of you, just pay in one persons name and the next week pay in the others.
A Golden eagle Pass is 50USD

J Tree is a 14 night limit at 5USD/night- but it is only 14 conseq nights unlike the valley which is 7nights/season now believe it or not.


10-Jun-2005
8:53:38 AM

Thanks for the info everyone.
The whole thing sounds very retarded.....Canada's sounding better and better.

cheesehead: I'm going to be here in the US/Canada until at least oct 06.

val
21-Jun-2005
11:37:32 AM

I just got this email from a friend of mine in Yosemite at the moment.

"Yosemite is a zoo. The NPS has started enforcing a 7 day limit in camp 4 so people can only stay for 7 days TOTAL between may and september. And you need 'gov't issued photo ID' to register a campsite. After your 7 days is up you become persona non grata and have to find ways to make it work. This policy is at odds with plans that many of us travelling climbers had and is causing a huge amount of agro (many climbers arrested/thrown out of the park) They even impounded some of my stuff but I managed to get it back. All that being said, there are ways to make it work although it doesn't make for a very relaxing life while you're in the valley. Interestingly, there is no limit to how long you can stay in curry village (US$75 per cabin) or yosemite lodge (US$120) or the Awahnee Hotel (US$300-1000) "
21-Jun-2005
11:54:48 AM

Sounds like climbers ought to cost-share (like the Nowra mansion).
... or better yet, spend more time on the walls!
21-Jun-2005
1:04:08 PM

I skipped that cost and hassle of camp4 by bivying all of about 15 meters up on el cap. No rangers there!
21-Jun-2005
1:49:46 PM

You can't leave your car there for long though. Tow-away zone!
21-Jun-2005
5:42:41 PM

On 21/06/2005 mrbumble wrote:
>I skipped that cost and hassle of camp4 by bivying all of about 15 meters
>up on el cap. No rangers there!

Funny that Mark, I thought that was cos you were halfway up the first pitch when your partner said he didn't know what he was doing and wanted to bail!
Kyle
21-Jun-2005
5:50:59 PM

15 metres ought to be out of reach of the bears in Yosemite, but its NOT out of reach of the bull-ants at Buffalo in Vic.
22-Jun-2005
8:06:50 AM

Stay in touch Val. Not sure if the Canadians will have me back, but at least the US should be cool
25-Aug-2005
5:51:36 PM

I thought this would be a useful addition to this topic...

This story comes from a young American friend of mine called Will Dameron. It was his first trip to
Yosemite.


The following is a story I emailed to a buddy from the Valley, since
he's a lawyer and I wanted his input. Its written fairly comicly,
but later got a lot more serious as I was told what a federal
misdemeanor on my record could do to my chances of getting a teaching
job.

So, I'm in Yosemite, having a ball, climbing all the time. But alas,
I must take a break for such practical issues as food, laundry etc.
So, there Emily and I are, in the Village store, buying groceries. I
haven't showered in 3 days, and have lost my soap, so I go to buy more
soap. I pick out a 55c bar, the cheapest there, some wiered, herbal,
olive/aloe/ode de skunk all natural synthetic no name brand crap.
Anyway I continue my shopping, and find myself running out of room to
hold everything. So, without even thinking, I just slipped the soap
into my pocket to make holding everything easier. Stupid, I know, but
what the hell, nobody's perfect. Anyway, we go to the checkout, buy
$16 worth of stuff, and leave. As reach the parking lot however,
we're acosted by two security gaurds.
They ask me if I'd paid for everything, to which I replied yes.

What about the bar of soap in your right pocket???

Ah crap, this isn't what it seems... all to no avail, come with me sir, hands in sight, no
sudden movements, walk in front of us...

So, I get taken upstairs, searched, and then questioned. Next, they
call the rangers, and explaing that they'll take over from here. So,
a ranger comes, gets filled in on the details, and then says,

I need to read you something. You have the right to remain silent. Anything
you say can and will be used against you in a court of law. You have
the right to... Now please stand up, turn around, feet apart, and put
your hands clenched behind you.

Ok, this sux. I realize I screwed up. I realize you guys are playing
the bullies, trying to scare me, but honestly, how far is this going
to go. Well, nothing for it but to ask,

Officer, what is going to happen now?

Well son, we're going to take you to prison, and it's going to be $250 bail...

Cough, choke, splutter, Ok now this is really ridiculous.

Isn't there anyway around paying $250 for a 55c bar of soap?

No, of course there isn't.

Well can I put in on my credit card?

Of course not.

Well can I atleast talk to my girlfriend, so she can get the cash,
and bail me out of jail, since right now she's marooned in a parking
lot next to a truck she can't get into, or drive, with no idea where
I've been for the last half hour?

um, alright, after we put you in a police car.

So, next thing I know, I'm explaining to my newish girlfriend that I
need her to get $250 out of a mac machine, and come bail me out of
jail from the backseat of a cop car, crammed in with my knees near my
chin and hands handcuffed under my back...

Anyway, next I get taken to jail, with the whole gate open and closing
shebang like I'm the unabomber or something, get taken into a shower
and told to take my shoes off. Now, at this point I'm beyond any type
of emotion I've ever known before. It was a mix of hilarity (did I
just make up a word?), disbelief, anxiety, and sheer wonder. And, on
top of that, I'm thinking, are they going to make me shower, the whole
point of trying to get some damn soap in the first place? Well, no, I
didn't get to shower then, but they explained to me that if they
couldn't get in touch with the prosecuter (it was a Saturday) then
they would have to keep me there for the weekend. HHHHAAAAA!!!!!
Keep me for the weekend? Wouldn't that cost the state more than the
55c misdemeanor was worth, thereby causing anyone with a brain to
figure maybe, just maybe, this sequence of events was just a tad
haywire?

Well, as it happens, the prosecutor decided to release me on my own
cognisence, to return to court today, and in the meantime, I have to
get fingerprinted, have my photo taken with the little plaque, and the
whole works! Atleast my girlfriend didn't have to fork over $250.
25-Aug-2005
5:52:38 PM

part 2

So, today I go to court, and meet my lawyer. Yep, that's right, I
have a lawyer. Josh Cohen. A dude who seems pretty cool, and laughed
with me about this retarded situation. Anyway, he told me to plead
not guilty, which I did, and between now and next Tuesday, my second
court appearance, he's going to try and convince the prosecutor to
significantly lower the punishment, and that will be that...
Otherwise, as the judge explained to me,

I have the right to a trial by a jury of my peers, yada yada yada, for me and my 55c bar of
soap...

Other points of interest. I allegedly committed my crime on
a national park, making this a federal, not state level misdemeanor.
And, the maximum punishment for this joke, is 6 months in prison, and
a $5000 fine! Haha, now this is just too much. Also, I find it
unerving to know that there's a prosecutor, who's job it is for a
fraction of her time, to do nothing but figure out the best way to
punish me!

Anyway, that's about the extent of my story, for now. Any lawyerly
advice? Or should I go and just deck one of these ranger dicks, to
actually make all this crap worth the bother?

The result After two court sessions, talks with my lawyer and my
lawyer talking to my folks and the prosecutor, we got it reduced from
a misdemeanor to an infraction, and then reduced again to a delayed
entry of judgement, which means that if I don't commit any felonies or
misdemeanors in the next 6 months, nothing will go on my permanent
record.
25-Aug-2005
6:56:52 PM

A friend of mine got busted for attempting to steal a packet of cotton buds (he had a lot of new piercings to keep clean). He had his arm through his motorbike helmet and was carrying his shopping basket in that hand. His attempt to toss the cotton buds in the basket missed. At the checkout a security guard looked in his helmet, did the "Wot 'ave we got 'ere?" thing and called the cops. They found Chris' appearance provocative and charged him with theft (even though he hadn't left the premises). Fortunately for Chris, the magistrate said the cops and security guard were harrassing him on account of his haircut and threw out the case.

Hopefully the same will happen for Will.
| | |
| --- | --- |
| | There are 23 messages in this topic. |
Home | Guide | Gallery | Tech Tips | Articles | Reviews | Dictionary | Forum | Links | About | Search
Chockstone Photography | Landscape Photography Australia | Australian Landscape Photography | Landscape Photos Australia

Please read the full disclaimer before using any information contained on these pages.
Australian Panoramic | Australian Coast | Australian Mountains | Australian Countryside | Australian Waterfalls | Australian Lakes | Australian Cities | Australian Macro | Australian Wildlife
Landscape Photo | Landscape Photography | Landscape Photography Australia | Fine Art Photography | Wilderness Photography | Nature Photo | Australian Landscape Photo | Stock Photography Australia | Landscape Photos | Panoramic Photos | Panoramic Photography Australia | Australian Landscape Photography | High Country Mountain Huts | Mothers Day Gifts | Gifts for Mothers Day | Mothers Day Gift Ideas | Ideas for Mothers Day | Wedding Gift Ideas | Christmas Gift Ideas | Fathers Day Gifts | Gifts for Fathers Day | Fathers Day Gift Ideas | Ideas for Fathers Day | Landscape Prints | Landscape Poster | Limited Edition Prints | Panoramic Photo | Buy Posters | Poster Prints