Whenever I've climbed at Dec Crag I've wondered when this was put up and what became of these two star-crossed graffiti artists, er, lovers.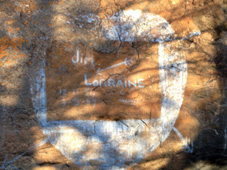 Did they marry, save for a farm, have three kids (Sue, James and Sharon) and are now contentedly approaching retirement? Do they still steal an afternoon away for a picnic at Dec Crag every now and again? Is James now a second violinist for the MSO, Sharon a kinder teacher and Sue taking over the running of the farm?

Or shortly after this pledge of eternity was painted did Jim's older brother return from the Vietnam war and sweep Lorraine off her feet, leaving with her to live in Broome? Was Jim left bitter and angry, spending most of his life in trouble, most recently up in front of the courts for being part of a syndicate cooking up meth in Horsham?

Anyone know, or is it destined forevermore to remain a mystery to taunt the miserable belay slaves of Steps Ahead?