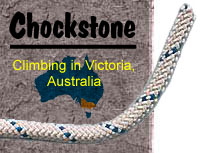 Sponsored By
ROCK
HARDWARE


DMM: DMM ALLOY "Offset" have arrived!!! #Sizes 7 - 11. (5 piece) Range: 12 to 23.5mm. (Great Compliment to DMM Wallnuts. (Refer Peenuts for Profile) SOLD OUT! Awesome Pro! $93.00
15% Off

Chockstone Forum - Trip Reports
Tells Us About Your Latest Trip!
Author

| | |
| --- | --- |
| Summitting Aoraki/Mount Cook - 9th December 2011 | |

15/12/2011
6:24:38 PM

G'day all,

I've just recently returned from Kiwiville, for which the objective was to summit Mount Cook, New Zealand's highest peak and -even via it's easiest route- a reasonably technically demanding alpine climb. Knowing that a few climbers here share my keeness for mountaineering, I thought I'd post my trip report for any other prospective Mount Cook climbers.

First of all, I should say that I elected to be guided by Aspiring Guides, rather than trying to organise the climb myself. Though I knew my fitness was more than adequate, and I've had previous mountaineering experience (summitting Elbrus in Russia last year, some mixed climbing, basic ice climbing and a week-long alpine skills course a few years ago) some of the route-finding on Mount Cook, the ice-climbing (my paricular mountaineering weakness, as I haven't done a huge amount of it) and the crazy weather-patterns scared me off persuing that course. So it was that on 7th December I rocked up at the Aspiring Guides offices in Wanaka and met my guide. As it turns out, my guide was a rather famous Peruvian mountaineer by the name of Aritza Monasterio, who -if you look at a few books on Mountaineering in Peru- has put up some rather well-known first ascents (including 2 on Siulu Grande), and manages his own mountaineering company in his home country. He works in NZ with Aspiring Guides during the Peruvian wet season, and returns to Peru to guide expeditions during peak season. Hardly the Kiwi Cook-Master I was expecting, but in my opinion: 'score!'

We headed out to Mount Cook airport and ran into Aarond and his girlfriend who were waiting for their own chopper flight into the mountains, and -like me- had been grounded the previous days due to bad weather. After some delay we flew up to the Glacier Plateu via a crazy Kiwi chopper pilot, and settled into the remarkably well-equipped Plateu Hut. The afternoon's agenda was a warm-up climb up the nearby Glacier Dome (2367m, a relatively straightforward hike up a hill, with a touch of ice and mixed-climbing on some loose-rock at the top. I felt good after having dashed up and down Roy's peak (a climb of 1278m) in Wanaka the day before in slightly over 3 hours, so the round trip up Glacier Dome took us less than 2.5 hours. Not a bad start.

The weather for the next two days was looking to be some of the best for the season -having been notoriously unpredictable so far-, so we decided to push our luck and do another warm-up climb before tackling Mount Cook on Friday 9th December. The prospect of 3 days of climbing with no rest and progressively earlier starts every day was a bit unnerving, but needs must when the devil drives, and at this point in time I was feeling fine. So, the next day we departed at 0630hrs for a dash up the Anzac Peaks, the highest of which sits at (2528m). The journey up the peaks is pretty straightforward, consisting of crossing the Glacier (and associated crevasses) below the Plateau hut, a romp up a steep snow slope, a bit of ice climbing on 60-degree ice, and 2 pitches of mixed climbing on -once again- some of the crappiest rock I've ever climbed on. From the top of the climb you have a rather exposed hike along the ridge up to the first peak, and then along a ridge up to the second, with some basic scrambling involved. It took us about 3 hours to reach the summit from the Plateau hut, and -still feeling good- we made our way back down the mountain with the help of an abseil and some down-climbing on ice. The entire journey took under 4.5 hours... But at only Grade 1 Alpine climbing, you'd like to hope that it wouldn't take too long.



After that it was time to prepare the gear for our Mount Cook attempt the following day. Since we'd be getting up at 2330hrs (for a 0030hrs start), we hit the hay at 1800hrs. Having learned from my mistake the night before (the Plateau hut was bloody crowded, and thereby noisier than a Metallica concert), I threw in the earplugs and slept like a log.

Our idea for Summit day was to head out before the other parties in order to avoid a Summit Rocks bottleneck. Talking to most of the other parties we learned that they were getting up at midnight for a 0030-0100hrs start. So, up we got at 2330hrs just in time to find out that the other parties -not having earplugs and not being able to sleep- were already up and managed to depart the Plateau hut before us. We left at 0030hrs and Aritza set a blistering pace, so much so that by the time we reached the Linda Shelf (The difficult diagonal traverse up a steep plane to the base of the couloirs used to access the upper reaches of Mount Cook on the Linda Glacier route) we'd passed every party except for 1 of the groups that bivvied the night before at the top of the Glacier (and still managed to pass 1 of the other bivvy groups), and 1 pair of climbers whom I'm pretty sure levitated up the glacier.

The walk up the Glacier to the Linda Shelf essentially consists of 3 hours (at our pace) of walking steadily uphill in a consistent zig-zagging pattern, dodging some of the terrifying cravasses (rigged up for crevasse travel, naturally) and trying to find the best of the snow in a thick fog. The advantage of the fog was that it wasn't as cold as it might have been on a clear night, so at the top of the shelf I was feeling fine. We cleared the shelf in good time, but found 2 groups already in the right (direct) couloir, with chunks of rock and ice bouncing down the narrow ice slot onto those below. With little other option we headed to the left couloir, which -over 3-4 pitches of ice-climbing- takes an indirect path to the summit rocks. We negotiated the funky 'Shrund at the base of the couloir, and headed up the ice with the sun starting to rise as a distant red glow right at the end of the first pitch.



It was here were the problems began, as some of the more experienced groups opted to short-rope and climbing without 'pitching (something I was up for, but understandably the guide wasn't, knowing my relative ice-climbing weakness) moved past us, while the Bivvyers in the right Couloir also moved further ahead. By the end of the 4th pitch of ice dawn was well and truly on us, and we'd managed to get ourselves bottlenecked on the summit rocks.



The summit rocks consist of 3 pitches of moderate mixed ice/rock climbing, with a few interesting (and strangely technical moves) on the horribly loose rock, amongst some easy ice climbing. Due to a bottleneck on the main (right) route up the rocks, we opted for the more technical (but less chossy) left route, the resulting bottleneck leaving me out on the arete, front-pointing with my crampons in a stemming stance on some loose rock for a good 20 minutes while I waited for a party in front of me (guided by Guy Cotter, Director of Adventure Consultants, and whose rock-climbing routes out at Tombstone rock in Wanaka I would later climb on) to move off the belay stance (himself bottlenecked). I wouldn't call the climbing here hard, especially if you're used to -say- grade 16 trad climbing with all the fun moves and loose rock that grade in the blueys and point perpendicular encompasses, but with mind-blowing explosure and the added confusion of trying to decide whether to 'dry-tool' (use my ice axe/hammer on the dry rock) or just climb on it normally. As it was, I found some good handjams and ice-tool camming actions in the various cracks that made the experience much more enjoyable. Throughout these summit rocks we leap-frogged with 2-other parties, and probably lost an hour of time due to delays at belay stances, but finally we reached the summit ice-cap, with the summit ice in amazing condition.





The summit ice-cap consists of an awesomely exposed walk up a summit ridge, with around 1500 metres of open air on either side of you, as you slowly but surely make your way up the final 400m to the summit. We short-roped the vast majority of it, which added to the excitement due to the exposure and (probably remote) possibility of a fatal fall. The final summit slope (past the summit 'shrund) is a bit of a sting in the tail, due to a sharp change in steepness, but fortunately it was over fairly quickly, and at last -at about 1000hrs- Aritza and myself were standing on the summit of the highest peak in New Zealand, with picture-perfect weather all-around. We were soon joined by Guy Cotter and his partner Suzie, and after the usual pictures the fiercely cold wind forced us to retreat back down the summit ice.



The descent was relatively straightforward. We'd chosen to only carry one 60m rope, meaning that we had to do eleven raps to get back to the top of the Linda shelf (we could have downclimbed the couloir, but Aritza and myself were moving so quickly on our raps that there was no real point wasting time on it). Once again, some epic bottlenecking on the raps meant that we -literally- lost 2 hours of time doing absolutely nothing but waiting for some of the slower groups to sort out their ropes and get that multi-pitch abseiling rocking. The argument was posed to me that 'during that time waiting, you're recovering energy', but unfortunately that simply isn't true. This is because seldom are you 'sitting on your arse doing nothing', instead you're standing in awkward positions with crampon points resting on dry rock, or dug into blocks of ice. Really, this late in the climb the weariness caused by such a long day makes any further increase in the length of the day infinately more tiring.

Having said that, despite all my complaining about other groups, I accept this is all an aspect of mountaineering, and really added to the experience. That is to say, that had they not been there and the climb much more straightforward, it would have been a considerably easier climb, and subsequently less remarkable. Furthermore, some of the groups were great fun to be around, of particular note Guy Cotter and Suzie, and Lydia (guide for Alpine Guides) and Fiona provided some great mid-descent entertainment. And in case she reads this: 'thanks for the loan of your second rope on the final rap, Lydia... I had the beers for you in the car out at Wanaka rocks, but you guys never showed, so I drank it' =P.

Ariving back at the Linda Shelf at around 1530-1600hrs, Aritza and I set off at a lightning pace down the softening snow of the Ice shelf. We literally ran down past the Gunbarrel (the signs of frequent ice and rock-fall already apparent on the ground we covered), slid on our arses down the crevasse-free sections of the glacier (a memorable quote from my Peruvian guide at this point was: 'I don't know what it's called in English, but in Spanish it's called , which means: 'to use your arse as a sled'). In the softening snow first Aritza managed to fall into a crevasse (only up to his waist, and after I arrested the fall he managed to get himself out easily enough) then, further down the slope, I also fell into a crevasse, managing to catch myself at shoulder depth and chimney back out. Having never fallen into a crevasse (deeper than, say, thigh-deep) before, it was quite an exciting experience.



With the sun starting to descend, we made our way back up the moderate hill to the Plateau hut, with a finishing time of around about 17hrs, 30mins, 3 hours of which was spent waiting for other groups to move. Despite the long day, only my calf muscles (from front-pointing) and my shoulder muscles (from carrying my pack) were sore, though physically I was definately drained. I would say that for a single-day experience it was the hardest thing I'd ever done, though none of the individual parts of the day was particularly difficult.

With the Mount Cook summit completed, Aritza and I discussed what to do for the next few days. The options essentially came down to: rest a day, try another peak (I really wanted to climb Mount Dixon) and try and fly out the following day, or head down while flying conditions were still good and spend the next day rock-climbing in Wanaka. Several parties had tried on successive days to climb Dixon (including an awesome Aussie duo of brothers from Brisbane, whose names I've managed to forget), but the softening snow on the South-East ridge had turned them back both days, meaning that a summit for us was probably fairly unlikely, and deteriorating weather conditions meant a flight out would likely become a walk-out via the Cinerama Col. I wasn't particularly opposed to the walk out, but thigh-deep snow and a recent avalanche on the route had made the walk something of an ordeal, rather than a 6-8 hour hike it's SUPPOSED to be, and -having seen the Wanaka rocks before setting out- I was keen to jump on some of the fun climbs, and tackle the two prominant cracks on Tombstone. In the end, we flew out the next day, chilled out for the afternoon and spent Sunday 11th Dec racking up a moderate list of ticks at Hospital Flat (with no chalk, and borrowed climbing BOOTS).

So, that ends the important aspects of the trip report, though on either side of the Mount Cook summit I hit up some funky activities in New Zealand, I won't go into detail about them.

What I will say is to discuss fitness for prospective Mount Cook climbers:

My 'specialty' back home in the Blue Mountains is to turn multi-day hikes into single (often short) day hikes by powering through them, especially uphill sections. As an example, walking (not running) I've completed the 6-foot track from Jenolan to Katoomba in 8 hours, and the 32km section of the Great North Walk from the start of the road down to Crosslands Reserve (in Hornsby) to Brooklyn Station in 5.5 hours. I climb indoors 2 days a week, and outdoors at least 1 day a week (sometimes twice). I supplement this with either a day of Canyoning (or some alternative hike) as well as 2 days of trail-running of upwards of an hour each week. As a climber, I can climb 21/22 on trad, and UP TO 24 on sport. My (relatively limited) mountaineering experience I outlined at the start of this message. Now, while I'm an arrogant bastard and love to boast about my accomplishments (all hail!!!), the real reason I bring this up is to demonstrate that even with this experience I still considered Mount Cook the hardest single thing I've ever done.
More experienced mountaineers (say, more experienced TECHNICAL mountaineers) or managing to NOT get caught up in a bottleneck on the summit rocks would make the day much more straightforward. Regardless, I WOULD urge anyone attempting this climb to strive for a similar level of fitness, and not to underestimate Mount Cook. Regardless, don't let this put you off, because the experience is well worth it, and even if Mount Cook's notorious weather prevents a summit, the surrounding peaks (all accessed from the Plateau hut) provide all manner of climbing experiences. Additionally, I cannot praise my guide, or Aspiring Guides enough. I had a bloody brilliant experience, and the food was great!!!!

Thanks for reading this rambling trip report, and I hope you all enjoy it (or use it as a cure for insomnia).

I've also got a mountain of photos from various parts of the climb if anyone wants to see them.

Regards,

-Paul Thomson
15/12/2011
7:16:05 PM

Nice one Paul, cheers for posting the report! Sounds like fun!
15/12/2011
7:55:16 PM

Thanks for the TR Paul. Out of interest you said that the more experienced parties started "short roping", did you mean simul-climbing? I tend to think of short roping as when a guide wraps a rope around his/her hand and keeps a client on a short rope with no running belay/anchor.

I met a couple of Aussie brothers from Brisbane a couple of months ago down in one of the huts. Shame on me for not remembering both their names, but pretty sure one of them was Patrick. Great guys, really liked their approach to the mtns. Hope to see them around the village this weekend.

Lydia (Bradey) was the first woman to climb Mt Everest without O2. We met halfway up the Ramp on Aspiring a month ago. NZ is full of amazingly talented individuals just getting on with it.
15/12/2011
10:34:06 PM

G'day cruze,

Simul climbing would suffice except for the fact that there was no gear between the parties (or at least, very rarely) it merely came down to if one of them fell, the other had a chance to arrest it. They were on a very short (say, sub-five metres) length of rope between each other. Though I know at least two of the guides did explicitely refer to the term like you did "when a guide wraps a rope around his/her hand and keeps a client on a short rope with no running belay/anchor", it seems that it may (unless I've misinterpreted it) have been used to refer to merely being roped up on a short leash between one another, with self-arrest the only possibly modus of survival in the instance of a fall from either one. Obviously alpine climbers are (almost) always roped together, I'd just made the assumption that short roping as a generalisation for only having a short-length between two climbers moving with no gear.

Interestingly, of the Aussie brothers, Patrick is the only name I remembered as well. I even asked their last name for the purpose of dragging them out to Frog Buttress next time I'm up in the area (apparently they'd never been... Something I considered a crime against climbing) but naturally have managed to forget it. They were a pair of funny bastards, with an awesome attitude to climbing, and a great skills base. The brothers told me that there were going to spend a few days around the village, hook up with someone-or-other, and head back to one of the other huts for another "week-or-so" in the mountains. So odds are good you might run into them again.

Lydia did mention she'd been on Everest twice. Once "for herself" and once via another (not-standard) route. Talking to her, her list of accolades was quite impressive. And you're right about the Kiwi talent.
16/12/2011
9:16:06 AM

The Brissy boys - aka 'the Olsen Twins", aka - pat and Rob.

Despite living and climbing with them for a month.... dont ask me which is which hahaha

Cool guys, having a sweet time.

Well done on Cook! Big day...... so much varied terrain for a grade 3 - well done!

On the speed angle - Soloing the linda shelf and approach gullies to spagetti junction is the 'best' way to get ahead....... but obviously with some consequences - getting comfortable on these sort of angles is the best way of shortening your days - every climb is going to have a fair bit of gound like that - eg - aspiring, minis, footy, etc etc
16/12/2011
5:31:54 PM

Nice work Paul I was wondering how your trip went. We are all very glad that your got your cook tick or you may have been a grumpy man when you got home.
Psyched as now it's back to bluies climbing.

Ps no trip report is complete with out pictures. Get to work, if I can figure out how to add photos to a TR then you could do it in your sleep :)
16/12/2011
8:21:10 PM

Lol. I won't mention how my day at Boronia today went, then =P Still, a day of battling 23's and 24's is all training, even if no tickage.

I've updated the Trip report to add some photos.

Regards,

-Paul
17/12/2011
3:13:09 AM

A few last pictures:

The Plateau hut where we stayed.



Looking down on the glacier, icefall and plateau hut from the top of Mount Cook. It's certainly humbling to realise that we started down there 10 hours before reaching the summit. To spot the Plateau hut, look at the top left corner of the icefall and continue up the ridgeline until you see three prominant "dots" just down from the ridgeline. The rightmost "dot" is the hut.



And finally, my guide: the very awesome Aritza.




5/01/2012
12:54:54 PM

That's a great trip report!!!

Enjoyed reading it, and well done on summiting. Brings back memories of Mt Cook from years gone by.

John K.
15/12/2012
6:17:09 PM


This is a fantastic review, thank you.
I have delusions about climbing Cook, I think I will, weather permitting, but getting an image fitness-wise is helpful.
Not sure about 5 hrs 30 for Hornsby to Brooklyn but I might give 6 hours a shake.
But then again, I suspect I'm a bit older than you.
17/12/2012
7:07:13 AM

Good luck roysta. Definitely a more physical than technical route. BTW I am quite sure that the entire block including cable sling shown in the OP's fifth photo has fallen off the mtn. Dean Staples was also staying in Plateau at the time and thought the same. The rock quality through the central line of the summit rocks is terrible and would benefit from the snow/ice shown in the OPs TR. The hardest rock climbing move (mind you in big boots and crampons) is about 10+/-.
17/12/2012
7:42:54 AM

Wouldn't surprise me if that big block had fallen off the summit rocks, we tried Bowie ridge last week, found the top of the ridge to have fallen off and had a minor epic retreating back down (two cut ropes, bunch of gear left)
17/12/2012
8:09:45 AM

Yeah mate glad to hear from Mal you got outta that one safely. Shame we couldn't catch up before you headed out. The geological time scale includes NOW, eh?
17/12/2012
10:51:53 AM

Hey Andrew, I saw in the hut book you guys were in the hut but you guys were already asleep when we got back. Flew out the next morning then drove straight back to CHC. Good work on Mt cook!
17/12/2012
1:39:25 PM

Great post. Well done on the summit.

With respect to short roping, I understand this practice is fairly contentious. It relies on the guide being able very quickly arrest someone in the even that they fall. It reduces the risk for the client (if they fall they might be caught by the short rope) but adds risk to the guide (the client might pull them off). Guides sometimes feel pressured to use this technique to get their client to the summit.

Recreational (non-guided) mountaineers very rarely use this technique. I would imagine that the places that guides short rope the clients, might be places where recreational mountaineers would choose to solo. Soloing is relatively common for recreational mountaineers on easier terrain, as it is simply quicker than the other options (pitching or simul-climbing). Obviously you only solo on ground you are comfortable on.

Generally speaking you don't want to be roped up steep terrain without gear, or some sort of belay going on, as you add risk to the other party. Glacier travel in steep terrain is always an interesting discussion point. Sometimes people may stay roped up to avoid time spent un-roping and re-roping later, or they might rope up on easier ground, to be prepared later.

Anyway, I'm not really an experienced mountaineer, so take my comments with a pinch of salt.
| | |
| --- | --- |
| | There are 15 messages in this topic. |
Home | Guide | Gallery | Tech Tips | Articles | Reviews | Dictionary | Forum | Links | About | Search
Chockstone Photography | Landscape Photography Australia | Australian Landscape Photography

Please read the full disclaimer before using any information contained on these pages.
Australian Panoramic | Australian Coast | Australian Mountains | Australian Countryside | Australian Waterfalls | Australian Lakes | Australian Cities | Australian Macro | Australian Wildlife
Landscape Photo | Landscape Photography | Landscape Photography Australia | Fine Art Photography | Wilderness Photography | Nature Photo | Australian Landscape Photo | Stock Photography Australia | Landscape Photos | Panoramic Photos | Panoramic Photography Australia | Australian Landscape Photography | Mothers Day Gifts | Gifts for Mothers Day | Mothers Day Gift Ideas | Ideas for Mothers Day | Wedding Gift Ideas | Christmas Gift Ideas | Fathers Day Gifts | Gifts for Fathers Day | Fathers Day Gift Ideas | Ideas for Fathers Day | Landscape Prints | Landscape Poster | Limited Edition Prints | Panoramic Photo | Buy Posters | Poster Prints