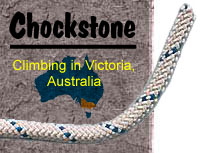 Sponsored By
ROCK
HARDWARE


Chockstone Forum - Trip Reports
Tells Us About Your Latest Trip!
Author

| | |
| --- | --- |
| 6 amigos, 2 whippers, 1 epic | |

6-Feb-2014
12:47:46 PM

It was going to be a beautiful Sunday despite the heavy morning fog. Surely this would burn in no time. The forecast was sunny and hot. Alex just pulled out his iPad – that's Alex Ling, not Amigo Alex – to complete the sacrosanct SMH Sunday quiz (final score 9/15) while I was on the phone with Dominik trying to agree on a crag. Suzy and Alex L suggested the Freezer – Sunday being a hot day and all – while Dominik wanted a more adventurous day out. Since it's all about me anyway, I skilfully manipulated the situation to obtain want I wanted: a day out in the Grose. When Alex L mentioned that the North wall stays in the shade until 16:00, I knew Machiavelli ain't got nothing on me.

The preceding night, Radhika, Alex L and Suzie stayed at my place in Little Hartley. Radhika was in charge of dinner: bitter chocolate lamb cutlets marinated in maple syrup followed by crispy skin salmon on a bed of potato mash served with bok choy (gluten free upon request). I keep asking Radhika when she's going to introduce me to her parents as I have an evil plan to seduce them first before… oh well, that's another story.

All this to say that there were six of us so that we could form two teams of three: on the one hand Radhika, Alex L and Suzy (the RAS team); on the other, the three amigos, Dominik, Alex and myself (the DAF team). Two teams require two climbs, side by side if possible and the choice was obvious: Rutger Hauer and Mild Peril. Two stunning, fun, challenging climbs from our friends Mike Law and co. Alex L was very keen to try the fabled 50 meter, grade 22, second pitch of Mild Peril, so be it.

After a big fry-up brekky, we geared up on Bell's Line of Road and started the 20 minute walk-in to the top of Yesterday's Groove. Here we are:


All geared up: Myself, Alex L, Suzy, Dominik, Alex F, Radhika.

and here's the landscape we walked through: remembrance of fires past.


Regrowth is a beautiful thing.

The abseil down Yesterday's Groove reminded me of how confronting abseiling can be: after a year away from the Grose, dangling at the end of two thin half-ropes more than 100 meters above deck trying to locate the belay station is, well, confronting. But all went well and soon the two teams were at the base of their respective climb.

Rutger Hauer

We had the easiest route and Dominik was keen to start. I belayed him and he quickly dispatched the first pitch (30m, 19). It was good to be back in action and particularly so for Dominik who hadn't been climbing outdoors for eons. The next pitch (30m, 21) was mine. Although I did it a while back, the pitch felt like complete unknown territory until I got to the last third where the crux sits. I remembered then seconding it after Shazz "busted a move" to tick it. I felt great, barely pumped, ready for the crux when the difficulties started.

Twice I asked Alex to give me slack but couldn't pull any up. I felt my patience dwindling and was about to utter something nasty when I realised that the rope hadn't been clipped properly (notice the passive voice here). One of my half-rope went straight through the quickdraw as it should while the other was wrapped around the gate and could not slide through. So, I reluctantly admitted that my belayer had nothing to do with my predicament and started to down-climb to rectify what should have been his fault in the first place when a foothold literally exploded and sent me tumbling down. Now because Alex is ridiculously underweight, he got pulled off the ledge and, with an impressive display of clumsiness, managed to cut his foot. Check it out:


Alex saved my life and paid the price.

But who cares. I got back on the wall and finished that pitch with brio all the while thinking that it would have been an easy tick had Alex not… whatever.

Pitch 3 is the money pitch and it was Alex turn to tackle it. It's graded 23 in the guidebook but has been downgraded to 22 online. I think there is a bit of truth in both. Here's what Alex has to say:



Pitch 3: Easy start, then one hard move at a blank section (i.e. first "Taaaaake"). Then a bit easier again but the crux are the final 10 meters. A very crucial bolt is hidden within a little patch of grass which almost gave me a heart attack. Very hard move after the last clip, I'd call it a 23-move, not 22, to boost my ego. Pitch 4: Short but surprisingly pleasant, nicer than it looks. Tick!




Alex on the money pitch (30m, 23).


A view of pitch 1, 2 and 3 of Rutger Hauer from the base of Mild Peril. The hi-res version shows Alex seconding pitch 2.

But I am sure you are all wondering what was going on with the RAS team on Mild Peril. Good question.

Mild Peril

Of course, there was plenty of action on Mild Peril too, albeit at a slower pace. The RAS team made it quickly to the first belay but then things started to slow down. Pitch 2 of Mild Peril has gained some notoriety over the years and lives by the motto "more is more". Have a look at it:


Suzy seconding pitch 2 of Mild Peril. All 50 delicious meters of it.

Alex L lead this one. I was casually belaying my mates on top of pitch 2 of Rutger Hauer when Alex L took a massive wipper. "Watch me here!" I could hear from afar and a couple of move later, he was off and away. But perhaps, it'd better to let him describe the occasion:



So pitch 2 starts off nicely enough, heading up an easy seam before tending rightward as the wall blanks up a bit, only to suddenly change its mind and head diagonally left for what I would conservatively estimate to be in the range of 2-3 miles. That's 2-3 miles of rope drag, choss and sweat, each of which increase exponentially with every vertical foot gained.

Anyway, around 6 or so draws up, I make the first of what will turn out to be an impressively large number of bad decisions: trying to avoid what looks to be a feisty gaston, I reach far out left to a thinnish but decent-enough looking jug. While it doesn't exactly feel bomber, I figure if I hold it just right and very delicately move my feet up I should be able to move past it without incident, and maybe even conserve a bit of energy for the long journey ahead. Of course, fat bastard that I am, the second I shift my weight to get my foot up the jug snaps off in my hand, sending me plummeting in one of those extra-exciting falls that seem to last just a second or two too long, before finally coming to a halt just above the belay station, where I find myself face to face with two giggling girls. While they assure me it's not me they're laughing at, I'm not entirely convinced. All in all, not the most auspicious of starts…

After this vivid reminder of the vicissitudes of Grose Valley rock, I can't bring myself to trust any of the holds (indeed, I go on to break off quite a few more holds before finally topping out, though on these occasions I somehow manage to keep myself on the wall), and my need to carefully assess, reassess and tentatively weight each and every hold before committing only serves to make an already long and pumpy pitch feel even longer and pumpier. Needless to say, by the time I reach the belay I'm completely and utterly smashed, and acutely aware that the 'hard' pitch is still to come. On top of this, the sun has already hit the wall, the March flies are out in force, and Suz and Deeks haven't even started the second pitch yet. Yep, it's another perfect day in the Grose…



Epic

We were at the top of pitch 3, while these guys were barely starting with pitch
6-Feb-2014
1:24:28 PM

Another great TR Francois, thanks for sharing.

If you don't already I reckon you guys could/should finish every climb this way;


6-Feb-2014
3:35:05 PM

Let's go do a multi-pitch in the Grose, they said. It will be a nice way to ease yourself back onto rock after a 7 week break, they said. March flies? What March flies? No, they don't bite! You'll be fine!!
6-Feb-2014
9:55:52 PM

Ahem. You failed to mention the warm peach & raspberry tart served with vanilla icecream (freshly baked on request)... The frequency of consumption of which is not helping Alex Ls ability to survive choss climbing whipper free.
7-Feb-2014
5:26:18 PM

What really happened on pitch 2:
F: Slack!
A: You've got slack.
F: SLAAAACK!
A: Francois, you've got slack.

Short moment of silence.

F: Fu*k
A: What happened?
F: The blue rope is wrapped around the gate of the last draw.
A: Shall I take you on yellow so that you can fix it?
F: Nah! I'll tick that pitch! Just give me plenty of slack on both ropes and I will down-climb and sort it all out.
A: Are you sure that's a good idea?
F: Yeah!
A: If you say so....

A gives slack, F starts to down-climb awkwardly. F makes a very clumsy move and falls off. A saves F's life and cuts his foot in the process.

No evidence of a "foothold explosion" has ever been found....

9-Feb-2014
1:30:31 PM

Another very good and easy-reading trip report from f_ladou who manages to continue to change his writing style to keep our interest up, along with great photos accompanying same.

With 6 people it was an interesting tactic to go as two teams of three!

>One of my half-rope went straight through the quickdraw as it should while the other was wrapped around the gate and could not slide through.
>The blue rope is wrapped around the gate of the last draw.

What do you think caused that? ... as it is hard to envisage how it happened.
Did you have two draws on the one ring and the rope self-clipped due differential feed, or interference from draws/ropes dragging across each other?

PS I reckon you ought to add the recipies for the scrummy dishes to your TR's!!
~> Cooked climbs with f_ladou!
;-)
10-Feb-2014
7:34:15 PM

On 9/02/2014 IdratherbeclimbingM9 wrote:
>What do you think caused that?

Well, I have no idea but to make the picture clearer, here's a recreation of situation:


You can try that at home, kids

What is still a mystery to me is that this rope "set-up" allowed me to climb well above that draw before it really got tangled.

I often pick on Alex for the sake of the story telling; the truth is that he did an excellent job catching this particular fall. Thanks Alex!
| | |
| --- | --- |
| | There are 7 messages in this topic. |
Home | Guide | Gallery | Tech Tips | Articles | Reviews | Dictionary | Forum | Links | About | Search
Chockstone Photography | Landscape Photography Australia | Australian Landscape Photography | Landscape Photos Australia

Please read the full disclaimer before using any information contained on these pages.
Australian Panoramic | Australian Coast | Australian Mountains | Australian Countryside | Australian Waterfalls | Australian Lakes | Australian Cities | Australian Macro | Australian Wildlife
Landscape Photo | Landscape Photography | Landscape Photography Australia | Fine Art Photography | Wilderness Photography | Nature Photo | Australian Landscape Photo | Stock Photography Australia | Landscape Photos | Panoramic Photos | Panoramic Photography Australia | Australian Landscape Photography | High Country Mountain Huts | Mothers Day Gifts | Gifts for Mothers Day | Mothers Day Gift Ideas | Ideas for Mothers Day | Wedding Gift Ideas | Christmas Gift Ideas | Fathers Day Gifts | Gifts for Fathers Day | Fathers Day Gift Ideas | Ideas for Fathers Day | Landscape Prints | Landscape Poster | Limited Edition Prints | Panoramic Photo | Buy Posters | Poster Prints