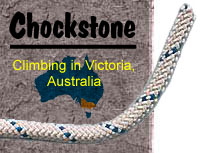 Sponsored By
ROCK
HARDWARE


Black Diamond "STOPPER" Set. (Sizes 4 to 13) - 10 pieces. Comes with a "free" karabiner for racking. $109.00
16% Off

Chockstone Forum - Trip Reports
Tells Us About Your Latest Trip!
Author

| | |
| --- | --- |
| NSW rd trip - Mt Alex, Wingello, Nowra, Point Perp | |

6/11/2012
2:35:17 PM

I had one last chance to take a few days off climbing before starting work, and a friend of mine could take off some time too, so we planned a 4-day trip of exploration south of Sydney.

Day 1 - Mt Alexandra, Mittagong

My partner was keen on a couple of days sport, so we stopped first at Mt Alex. Super convenient, the guide (http://fairex.az/userfiles/mounta.pdf) was great for access and finding our way around. Its a good crag, and we had it completely to ourselves on this weekday. I got up 8 routes, which is not bad at all for a day out, including a couple of grade 20s (Silver Fox, Three and a half Thousand) which is pretty hard for me - so I think they were pretty soft 20s. Fell off a few climbs at or around that grade too, including (frustratingly) trying to clip the chains on Pre Pimple Pop (19) - this was excellent steep climbing up huge jugs, with the crux being the last move. I should have kept my focus on getting up one more move rather than clipping - next time. Cheated my way up Judas Escariot, as I found the crux moves through the overhanging crack/bulge very awkward. There is a pretty good selection of easier climbs too, so had lots of fun on Corner from Hell (16), Parents in pain (15), Dorothy the Dinosaur (17) and Mousetrap (19), although I'll confess to pulling through the lower crux on the latter as neither of us could work this out. Note that there has been a lot of re-bolting and retro-bolting, so some of the easier climbs that were once trad are now bolted routes - so plenty of decent routes for bumblies as well as hard-men & women. Not sure I'd go back specifically for this area, but a great stop off if you are going up/down the Hume.

We camped at the Wingello campsite that night. Pretty basic, just grassy campsite amongst tall pine trees with a toilet & water, and had it to ourselves again. Apparently it used to have a hut/shelter too, until some disgruntled local with mad chainsaw skills (scary thought) felled a huge pine on top of the hut. They also blocked allthe roads around the camp by felling trees over them - clearly they don't like sharing the place (its very popular with mountain bikers). I kept an ear open for chainsaws starting during the night...but all we heard was the roar of the wind, which got up in the evening and brought the temperatures right down.


Wingello Campsite

Day 2 - Wingello

Day two was perfect with no wind. Another sport day was on the cards, so we headed down to Wingello. Again the guide (http://routes.sydneyrockies.org.au/confluence/download/attachments/5406966/Wingello+Climbing+Guide.pdf) was indispensable in finding the place, and finding our way around it. You drive for a good few kms through state forest tracks (doable with 2WD, but I was happy to have my Forester) and eventually we were brought short by a couple of huge trees over the road. A quick inspection showed this wasn't the mad loggers at work, but rather windfall - we were only 1km short, so pack on and we hoofed it. We walked down to the main area (Nubigena and Supa Fun Happy Areas) and again got through a load of climbs. Cass was keen to do some harder stuff, and found plenty of aesthetic lines to fall off. I struggled up a few 18/19s in the Nubigena area (not really worthwhile, the rock is ordinary) and then really enjoyed myself in the Supa Fun Happy area, a well named area with a good range of climbs. Climbs of the day for me were Arc Therapy (16) which is long and in a great position up a cool arete, and sMile High Club (17). On the latter I didn't really follow the RD which I thought a bit contrived, but rather used the bolts for pro and climbed the offwidth, then face, then arete, then chimney to top out - great fun and widely varied climbing. Sport climbers may not see the appeal though...

There is lots of good rock and climbing left to do here, and we'd both like to go back - its the kind of place you should really devote at least a weekend to.


This photo shows a climber high on Arc Therapy, the dark grey arete in the background. There is a wonderful looking trad corner crack on the bright orange slab too at 19 - next time I'll take trad gear as well.

That night we pressed on to Honeymoon Bay at Point Perpendicular - took us about 1.5 hours to get there, and we were just in time for sundowners on the beach with a welcoming committee of dolphins. Now that is what I call a campsite!


The campsite is in the trees just off this beach - amazing place.


Day 3 - Nowra

We'd intended to spend 2 days trad climbing at Point Perp - but the rain set in overnight, and despite the forecast saying it would clear up, the morning was grey & drizzly - no good for sea cliff climbing. So we headed into Nowra for breakfast & camping supplies, and picked up a Nowra guide as well. A quick browse of the guide (Nowra Sportclimbing by Rod Young - comprehensive and easy to use, if not up to more recent guidebook standards) over breakfast dispelled one of my misconceptions (that Nowra was all hard grades) and led me to think there might be some dry rock there - so we headed off to Thompson's Point.

Wow - what a spot! We were lucky in that it was dry there, and stayed dry all day - and I had a ball checking the area out. It was quite strange having so many people about (in reality, only about 20 in total, but seemed crowded after 2 days of just the two of us) but everyone was friendly and it was cool seeing other people climbing. We started off in the walk down gully area, and my first climb (Turtle Wall, 14) was a superb easy little climb, which set me up for a good day. I enjoyed leading Barbie Twins (16) and Hang On (17), and thoroughly enjoyed trying Beavis (20) but couldn't quite get the super slabby crux move - eventually resorted to using a convenient gum tree branch for aid to get through this move. (Apparently sport climbers consider this aid, older trad climbers often consider trees to be fair game!) I did a couple of other climbs, but Sloth (16) was my climb of the day. It was by no means the hardest, but it was steep, consistent, long, and very satisfying. As everyone else knew and I just discovered, Nowra is actually a very cool climbing area, and you could spend weeks here without getting bored.


Barbie Twins on right


Hang On


Sloth

Back to PP for the night, in time to go for a wander over the clifftops and think about what we wanted to do for a our first PP climbs. Gulp... the exposure and setting are literally awe-inspiring, and the thought of rapping off down to a tiny ledge and then climbing back up was to occupy my thoughts in my tent at night. The guide (Climb Point Perp - Robert Dun) is excellent in every respect, and made choosing and finding the climbs so much easier.

Day 4 - Point Perpendicular.

The weather was marginally better, so we headed off to the cliffs. While my partner is a stronger sport climber than me, she doesn't have a lot of trad experience, and while I do, I'm a bumbly grade climber - so we started off very easy and safe in the T-Shirt Gully area, both to give us time to practise systems and Cass a chance to set belays on natural gear, but also to ease into the exposure. We did 3 little routes there - 1: Polo Shirt (10), 2: Boardshorts (11), 3:Flanny (12). This was a good idea, and worked well in getting us more used to the area.


T-Shirt Gully with the 3 climbs we did marked.

I'd seen a very cool route called Room with a View (12) on a spectacular prow of rock starting from a small ledge 80m up, so we did that next, our first real rap into the tremendous exposure of PP. Actually it was fine, and once on the ledge it all seemed much less scary, particularly given the fact that I'd inspected the climb on rap and seen the protection was bomber. In fact the climb felt super easy and far too short - I loved the position & climbing and wished it was longer.


Room with a View

We then moved on to a bigger route, again with amazing position - Under the Yardarm (14) climbs an awesome face and then arete up a sharp diagonal prow of rock called the Yardarm. It looks pretty scary, and I was impressed that my partner chose to lead it - she can climb much much harder than that, but its not the same on uncertain rock & who knows what pro?
We rapped down the easy dihedral of Dracophyllum Corner (9) and started getting ready to lead - but I'd forgotten to bring the lead rope.... aaargh! You have to be super careful to plan your strategy and double check everything before rapping at PP, as it can be serious to get it wrong here. Luckily we'd done a double rope rap, so had options - I quickly climbed Dracophyllum Corner (suprisingly good fun, and a great long easy beginners climb) and retrieved the rope.

Under The Yardarm was great - not hard at all, lots of decent protection (cams in rails and pockets), that were not visible from below, and a truly awesome position once you are on the arete, hanging over the wild blue sea. You can look around the arete and get tremendous views down the cliffline, and be comfortable enough on the climb to enjoy them.


Under the Yardarm

We'd hoped to more and harder stuff, but time goes fast when you are still getting your trad systems in place, and I wanted to get back to Sydney in time to see the kids, so we headed out - but Point Perp was the standout place for the long weekend, and I expect I'll do many trips to the lighthouse.

Overall it was a fantastic mini-roadtrip, and a great way to finish off my long period of joyful unemployment. Ah well, I'll have scabs on my hands for a few days yet to remind me of the cliffs while I push paper.

PS: I took loads of photos, but unfortunately seem to have misplaced my camera... I left it on top of my pack at the top of the cliffs when we did our last climb. Perhaps it fell off and went under a rock, or perhaps the climbers who were climbing Sympatico next to us (Sunday 4 Nov) got it mixed up with their gear and took it by mistake. I'd love to get it back, so if you are one of those climbers, or know anyone who was climbing PP on Sunday, please give me a shout on alexanderjohnrogers at gmail.com. Thanks! All the photos in this TR were copied from the internet just to illustrate this TR and for the memories - let me know if they are yours and you don't want me to use them.

6/11/2012
4:13:34 PM

Great report of some of the easy climbing down those parts. Sounds like you had a good time and I am sure it's a good inspiration for some those climber out there who enjoy the easier grades.
6/11/2012
4:45:12 PM

Over the yardarm is definately the most memorable and beautiful 14 I have ever climbed (so far) nice T.R, makes me want to register my car!!
6/11/2012
10:26:45 PM

onya
new areas=new brain
AllGood.com
7/11/2012
10:05:42 AM

On 6/11/2012 benjenga wrote:
>good inspiration for some those climber out there who enjoy the easier grades.

Certainly is. Looks like a nice roadtrip for myself in a few weeks time :-)
7/11/2012
6:43:41 PM

Nice one Alex! Yes great trip thanks heaps for the invite.

On 6/11/2012 technogeekery wrote:
>getting ready to lead - but I'd forgotten to bring the lead rope.... aaargh!

You're too humble! It was at least a group error but really my mistake! ;) wicked climb in the end anyway and super keen for many more at pp.

if the camera eventuates in the end you'll have to sub with the real pics. fingers crossed.. maybe someone visiting pp this weekend will stumble across it..happy climbings.

ps hope first day back at the office wasn't too drab.. if you get stressed out.. take a deep breath and envision yourself on top of the sloth!! hmm... and then on second thought.. ;)
7/11/2012
9:20:37 PM

I just had a vision of myself on top of a sloth - noooooo!

Fun trip, thanks partner :-) Work is.... work. Sigh.


7/11/2012
9:39:49 PM

Great TR, it looked like a fun trip and it's nice to see some rad easier lines get a write up...
7/11/2012
9:55:51 PM

I very much enjoyed reading your TR, and found it a refreshing perspective, as too will many others I suspect.

I hope you get your camera back.
8/11/2012
6:55:04 AM

Down at the point this weekend, will keep an eye out for it although I feat if it's not already in someone else's pack it might be in davey crocketts locker
8/11/2012
10:31:12 PM

Thanks all - glad you enjoyed it.

Big G - if you are there, would really appreciate you having a fossick around the rocks at the top of the Yardarm, my pack was at the big rock sitting on the top richt by the top out of Dracophyllum corner. Long odds, I know, but still. Thanks!
| | |
| --- | --- |
| | There are 11 messages in this topic. |
Home | Guide | Gallery | Tech Tips | Articles | Reviews | Dictionary | Forum | Links | About | Search
Chockstone Photography | Landscape Photography Australia | Australian Landscape Photography

Please read the full disclaimer before using any information contained on these pages.
Australian Panoramic | Australian Coast | Australian Mountains | Australian Countryside | Australian Waterfalls | Australian Lakes | Australian Cities | Australian Macro | Australian Wildlife
Landscape Photo | Landscape Photography | Landscape Photography Australia | Fine Art Photography | Wilderness Photography | Nature Photo | Australian Landscape Photo | Stock Photography Australia | Landscape Photos | Panoramic Photos | Panoramic Photography Australia | Australian Landscape Photography | Mothers Day Gifts | Gifts for Mothers Day | Mothers Day Gift Ideas | Ideas for Mothers Day | Wedding Gift Ideas | Christmas Gift Ideas | Fathers Day Gifts | Gifts for Fathers Day | Fathers Day Gift Ideas | Ideas for Fathers Day | Landscape Prints | Landscape Poster | Limited Edition Prints | Panoramic Photo | Buy Posters | Poster Prints