21-Oct-2012
3:03:42 PM

Here is a little photo-story from my early days of climbing. I lived in Durban, South Africa, and had got into climbing as a teenager. We nearly killed ourselves every weekend, but gradually we learned, and somehow never got too badly hurt. This is the story of one of our better "learning" days, somewhere around 1987, I think.

Most of our climbing was on sandstone at Monteseel (near Durban), a beautiful crag high above the Zulu settlements and bush. Here I am doing Winnie The Pooh, 16,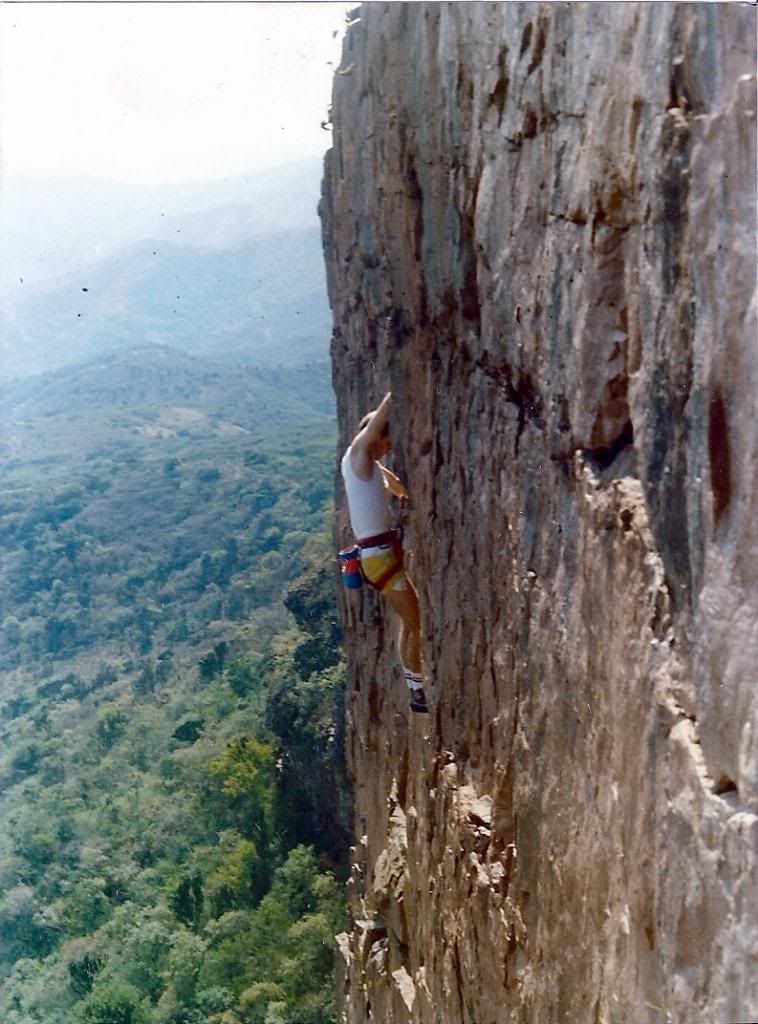 Gym climbing wasn't quite what it is today...I have a brand new pair of Fire's, and they (together with lots of "wall" training) have helped me boost my grades to about 18/19.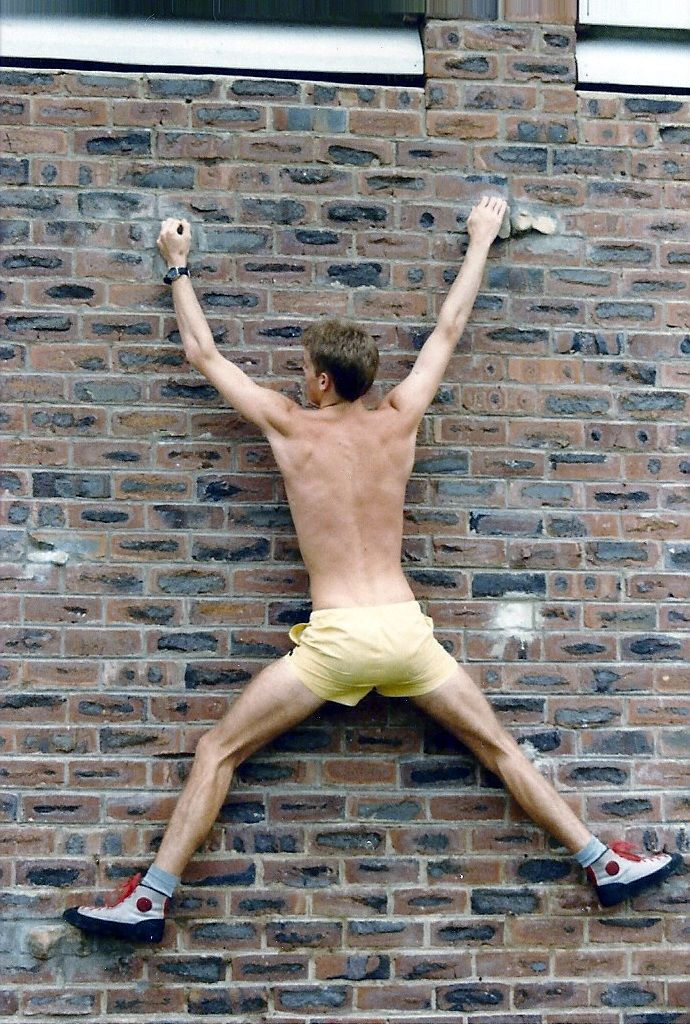 I was pretty fit, & climbing my age - this is Fiddler in the Roof, 19, at Monteseel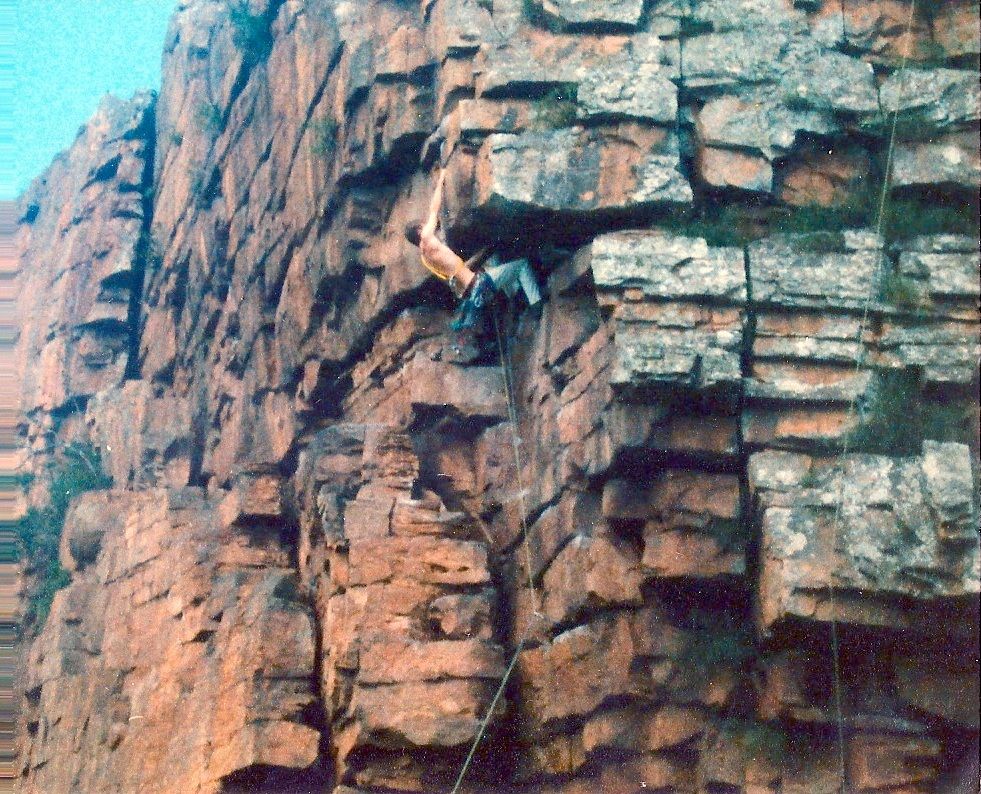 I was in the navy (national service) for a while based out of Simonstown - which meant climbing on Table Mountain was a go




Being stylish was not all that important, luckily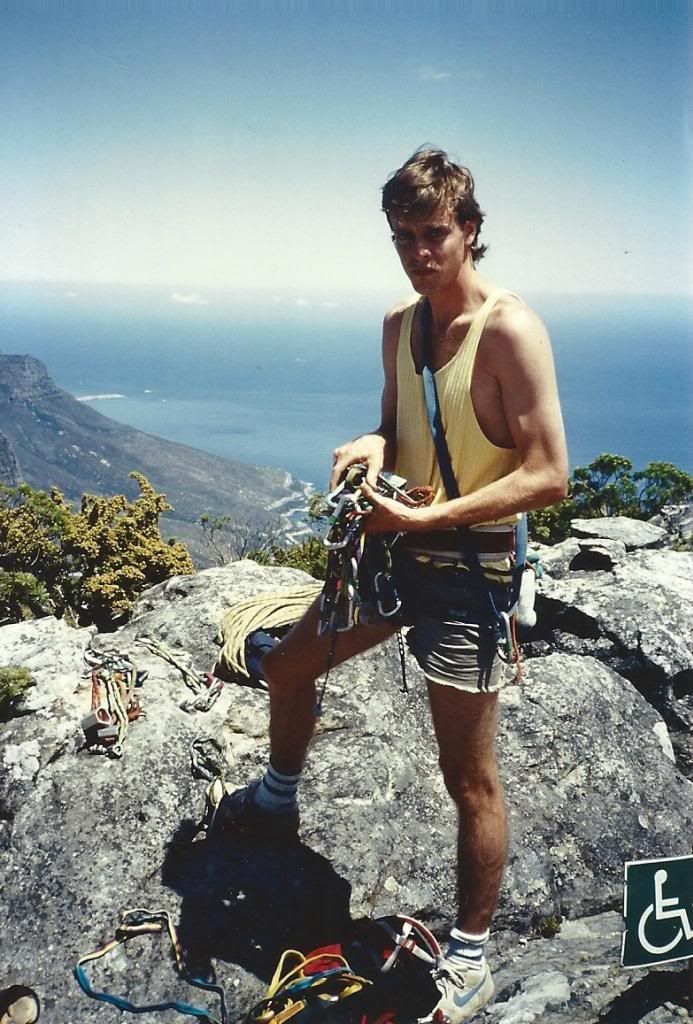 We decided that we wanted to take the next step - new routes - and had our hearts set on a big route in the Valley of 1000 Hills - Zulu tribal land, so we needed permits to visit. We didn't bother - just set out in my old VW Beetle until we ran out of road, paid our respects to the local headman and bribed his kids with sweets to look after the car, and headed up to Natal Table Mountain.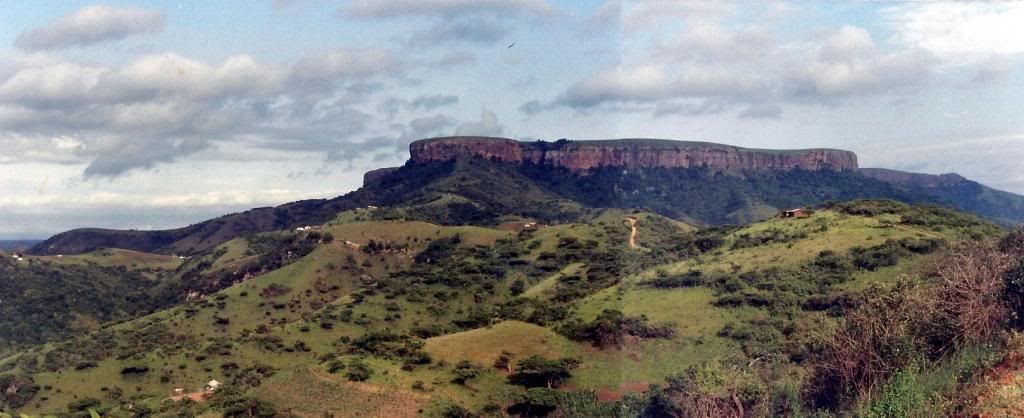 The cow-herders had left a faint trail up to the base of the cliffs, and we found an easy way up, complete with ancient piton from the 40's or 50s, so we weren't the complete pioneers we'd thought we were.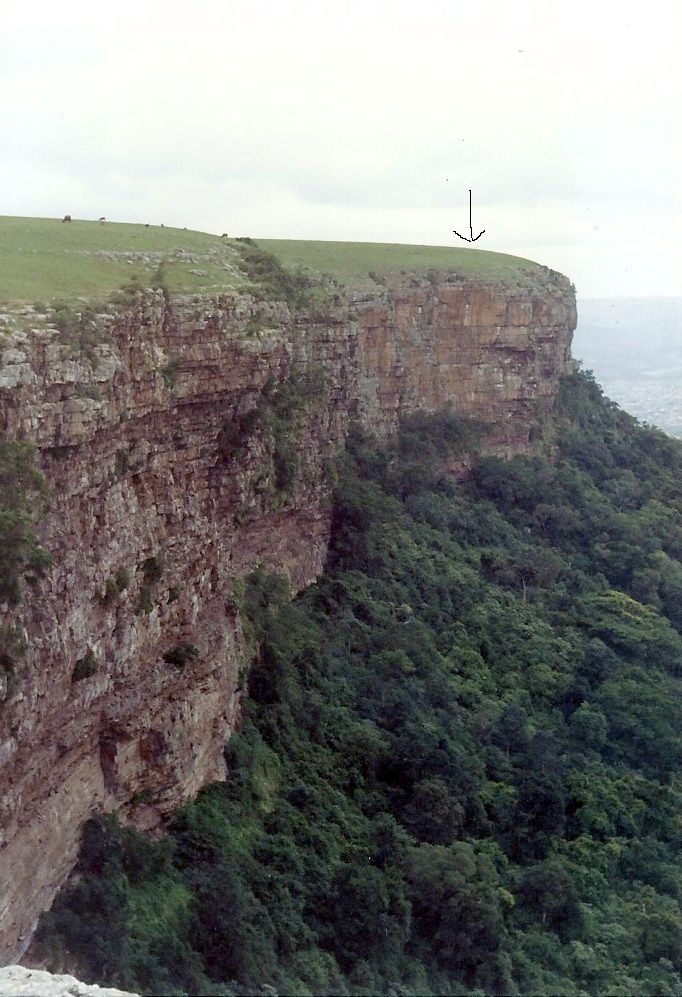 The top of this giant mesa was magical, rolling fields of grass, dotted with cows (Cows! How the hell did they get up here?!?) and nobody around for miles. We found a place to pitch our tent near a little soak where we could get water, and went exploring.

The cliffs were huge, 100m+, and mostly chossy, but we soon zeroed in on some clean rock (indicated by arrow) where the top 20m of rock curled over in an imposing, striped overhang, split by a huge crack. That's our route - we wandered on a few hundred metres until we found a good place to rap from. We needed an interim ledge, as our ropes were 45m. Eventually we found a likely looking spot and launched off. Rap 1 was no problem, and we found a huge block to rap off for Rap 2. Steve went first, backed up by a nut or two, then I took out the backup and swung over the edge, with the doubled ropes around the huge block. With a hideous grinding noise, the block shifted a few cm towards the precipice... and stopped. With my heart in my mouth, I geeeeently fed the ropes through my Figure-8 and slid down the last 40m, trying not to cause the slightest disturbance. Safe! And the ropes even pulled without bringing down 3 tons of rock...

We found the base of the climb, and off we went. Don't remember much about the first two pitches, they were a bit chossy and more than a bit vegetated - but they soon brought us out to a ledge under the main overhanging headwall and crack. It looked amazing, vertical stripes of orange and black and white curling over our heads. My rack felt even skinnier than usual (full set of hexes, double set of nuts, a bunch of slings and open trad draws, and my pride and joy, 3 original Friends, which I still really hadn't learned to place confidently). Never mind, the fall was clean - lets do it.

3 moves later I was into the crack, and struggling. It was bigger than it had looked from below, much too big to jam with fists, and much too small to get into. Yep, overhanging offwidth. But there were holds and constrictions, so I went for it, only to discover that the white on the rock was from generations of birdsh1t - and the black was compacted bat-cr@p! I waded up manfully, but every orifice was clogged with festering bat-ejecta, my feet skated on slime and my desperately clawing fingers scraped trenches in the strata of nest material and baby bird vomit. I fumbled in a #11 hex and slumped onto the rope, my dreams of glorious onsight over.

Much c_ocking about later, I conceded what I'd known for a while - I wasn't getting up this thing without giving it a thorough clean. Ground-up was the ethic of the day, and god knows we took things seriously then - but this was just too good a line to leave buried in poo. So we scampered up a nearby corner to the top, smoked a couple of Camel Plain, and rigged an abseil from about 17 dodgy little anchors at the top.

Steve kindly volunteered to rap and clean the crack, and given quite how dodgy the anchors were, I was happy to sit at the top, smoke and supervise. He fixed one end of the 9mm half-rope, took his shirt off (it was getting really hot), and over the edge he went, with the idea that he'd clean, then I'd rap down to the ledge as well, and lead us back out.




Nice rap, lots of air down to the jungle below, Steve feeling a little nervous on the skinny rope. He's soon at the top of the crack - but there seems to be a problem...

"Alex!"

"What?"

"I can't reach the crack!"

I have a look. The problem is obvious - its MUCH steeper than we'd thought, and Steve has rapped into space. Hmmm.

"Okay, swing in."

Jerk, twitch, jiggle. "It's not working."

"Okay, maybe rap down a bit more to give yourself more swing" (Can you tell we haven't done this before?)

Down he goes a few more meters. More jiggling ensues. "No, that won't work"

(Enjoying myself now at the top) "Hold on, let me get you a stick to push off with" (Throw random twigs at Steve while he rotates gently in the sun, sweating. )

"Hey Steve, take your climbing shoes off, throw them away from you as hard as you can, maybe you'll start a swing!"

"%$@#%^!"

"Can you rap to the ledge?"

"I'll try........sh1t!" Steve has just spotted the knot in the end of his rope. Its too close. He is about 100m above t