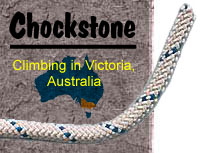 Sponsored By
ROCK
HARDWARE


Chockstone Forum - Trip Reports
Tells Us About Your Latest Trip!
Author

| | |
| --- | --- |
| Ozymandias Direct – Trip Report – May 2011 | |

21-May-2011
1:11:00 PM


Ozymandias Direct – Trip Report – May 2011.




Words by Ben and Karl.
Photos and video by Ben, Karl, and Phil.



Ben:
I'm not exactly sure when it was that I first heard about Ozy. I think I'd asked someone about the tallest cliff in Australia so naturally Frenchman's cap and the Buffalo North wall came up. Shortly thereafter I found Max Fourman's Ozy Direct TR on Blogger and have had it bookmarked ever since.

Climbing Ozy Direct has been a dream of mine for years. I've spent countless nights lying awake in bed fantasising about it, but there've always been other climbing adventures needing more immediate attention. I'm not even sure why I wanted to climb it so passionately. I suppose in part because of the challenge, the location, the beauty of the thing, but I guess mostly I liked the idea of what it asks you to give to get it done compared to the 'big' climbs at Arapiles.

Since Christmas 2010 Karl, Phil and I had been comparing calendars looking for a weekend where all three of us would be free for our Ozy attempt. It wasn't until May that a window appeared.

We did some research, sourced a bit of beta, and printed out a bit of a guide that I made up specifically for the route, and we were off on Thursday 5th of May after work on the road trip up to Mt Buffalo.

We arrived at 10ish to -2 degrees so slept in the stone hut just up from the hang gliders ramp. A crackling fire and a mug of port had us toasty and well slept ready for our 5am start the next morning.



Our plan:
Day 1 – Use the defender of the faith rap to reach comet ramp, rap comet to the base of the climb, I'd aid the first 3 pitches and haul to big grassy. Spend the night there.

Day 2 – Karl aid pitches 4 – 6 to the Gledhill bivvy, haul and spend the night there.

Day 3 – Flip for the remaining pitches to Wilkinson's and go find some good grub down in the valley.

Now I know many folks who do Ozy Direct elect to shiver bivvy on big grassy, eat cold meals, and only take enough water to keep them alive, but not us. I'm prepared to be labelled a wuss for liking my sleep, tasty food, and plethora of gear options but we were a team of three, so we could afford to haul the kitchen sink. Bailing was not an option, remember it'd taken till May for a window of opportunity so we packed to minimise the ability for wether to impact our success.

We took 2 portaledges each with a deluxe fly, Jetboil for cooking, plenty of food, Whiskey, 3 litres of water per person per day, CB radios, 2 60m dynamics and a 120m static, enough warm clothing to trigger spontaneous combustion, and a rack capable of buckling even the strongest man's knees.





DAY 1



Ben:
We were up and at 'em at 5 on the dot with enthusiasm and energy to spare. Coffee and a good breaky followed by the last civilised sh!t we'd have for days. We parked the car west of the oval just off Crystal Brook so we'd have the shortest walk in to the Defender of the Faith rap station.



I'd considered the south side track walk in, and the Chocky community seems to be divided about 50/50 between the south side vs defender, but we had an absolute sh!t load of gear so opted for the rap in.

We added a new sling to the already descent collection of extenders at the chain and doubled over our 120m. The raps were strait forward. Even with all the gear. At Comet ramp, Karl and I rapped all the way to the base of Ozy and saddled up, while Phil did a few trips up and down comet to bring down all the gear.



It was time to climb.

I aided the two bolts to the mantle move to gain the ramp. It was great to be in etts again! Once at the ramp (which leads to the base of the thin crack proper) I was struck by my first oh sh!t moment. We were all wearing hiking boots (didn't even consider taking climbing shoes) and the seam that could probably be aided in summer was a weeping, slimy brown mess. I dug about with my nut tool for a bit to clear the mess but the slime would close over again immediately after so even finding a placement didn't seem like it was possible. Not wanting to burn too much time on this section, and ruling out freeing the slab moves, I used the tree to the right to swing up to the higher ledge, and garden my way up to the base of the vertical seam. I'll tell you what: Next time someone asks "I'm beginning my rack what should I buy" I'm going to suggest a little Easter egg hunt on this ledge. It's caught massive amounts of booty over the years. Rifling through the grass I found half a dozen nuts and RP's, a nice talon hook and some biners.

Onto the seam and I was underway properly. I'd read about these 'pin scars' heaps, but could only imagine how they'd be. Most of them gobbled up RP's and I made good progress. We had a sh!t load of small cams, but only two were true Aliens. I quickly realised that these little buggers were bred for this kind of gig. I found my rhythm and knocked over the first two pitches in a little under 5 hours (including Karl jugging and cleaning, and us eating a bit of lunch). We had a good 3 hours of daylight left but the crux pitch ahead of me.

Phil was still on terra firma, had ferried the gear, spectated for as bit, and was beginning the water run's down to the brook to fill our water bottles (we'd rapped in with empty containers).



Karl:
In the weeks leading up to this weekend I had thought long and hard about this adventure, often finding myself day dreaming at work and somehow creating "memories" of great times I was destined to have. My main goal in life at that time was to br
21-May-2011
1:12:24 PM


DAY 2



Ben:
There's nothing like a big day of aiding, a warm meal, and a glass of Jameson to guarantee a good night's sleep. We hadn't set an alarm and woke naturally at about 8 I think.

The only Spartan aspect to our accommodation was our decision to omit bedrolls. It was a bit of a thermal gamble but none of us had any issues overnight.

I unzipped the fly and peered out into a golden bathed gorge. It was a stunning morning with blue sky and no fog. The view down into the valley off the mountain was spectacular, but I'll leave it's description till the morning of Day 3 cause it was even better then.




*Morning from Big Grassy.

We ate our muesli at leisure, brewed up some coffee, and sat around chewing the fat on big grassy for some time. It's an amazing little geological formation. I assume it took centuries to build the soil up, and only a couple of decades to erode it away to its present state. I'm guessing all the soil and plants will be gone in another 20 years, then one day after mankind is no more, it'll build back up into a fantastic platform again.



I took it easy as I was settling in to spend most of the day at Big Grassy while Karl led and Phil belayed. Just before Karl racked up it was time to take care of business. Business you ask? That's right. The harsh reality of conscientious big wall climbing: depositing and retaining your own waste.

We used a screw top plastic tub as the storage vessel for our sh!t, and used large lavender scented garbage bags to facilitate collection.

The arrangement worked really well. When popping a squat, it was easy to get my whole arse into the bag and go crazy. Once done it was easy to tie, roll, and dump into the tub. Who said this was going to be hard?

Karl:
For me Day 2 started a bit slow but quickly ramped up after breaky and a cup of coffee. I inspected the next few pitches directly above me and sorted out the gear that I needed. It was at that point that I realised I could no longer avoid the inevitable. I was about to pop my "Big Wall" Toilet cherry if you know what I mean. Our friendship went to a new level that morning.

Ben:
I packed up the camp while Karl led, positioned the gear for hauling, and jugged up to hang out with Phil and take some photos of Karl leading.

Karl:
Feeling lighter and eager to climb, I lead the A2 4th pitch in great time. Bomber protection chewing up lots of nuts and the occasional RP (my first time using RP's).


*Karl leading Pitch 4.


21-May-2011
1:12:56 PM

The 5th pitch went a bit slower which I put down to being presented with such good and frequent gear options I didn't push to the top of my ett's before placing the next piece. Because of this I didn't make it to the end of pitch 5 until 2:30pm.


*Phil belaying Karl on Pitch 5.

The fellas had discussed the progress and estimated how long it would take to complete the 6th pitch. The decision was made to set up the ledges below the roof before sundown and if time permits, I would start the roof and aim for Gledhill Bivvy then rap down. This decision to stop here for the night put me in another challenging position. I had to set up a pulley system and hauled up both ledges from my hanging belay.





Using the gear available on my harness I managed to rig up a pulley system by threading the rope attached to the first ledge up through a biner clipped into a bolt above me, then down through my Gri-gri and back up through another biner. I would pull up on the rope from the ledge with my ascender and with the other hand feed the slack through the gri-gri. This system let me haul both ledges safely to the top in no time.

Phil then arrived and handed over the pulleys so I could rig up a proper 3:1 pulley system so we could haul up the haul bag.



Soon Ben arrived to inspect the camp site and lend a hand. We decided on setting the ledges up in a line, one under the other as there was not enough room to go side by side. After some re-building of anchors and shuffling of ledges we had a great site setup where every ledge had an uninterrupted view. The best thing was we had everything ready by 5pm which gave us plenty of time to enjoy the portaledge lifestyle. An element of Big Wall climbing that can often be neglected or lost in the passion to climb and top out.


*Our camp below the roof.

Another warm meal, some Whiskey and a chat about the trip so far was exactly what we needed. We eventually checked out at a respectable 9:30pm and got plenty of rest. And rest was exactly what we needed due to our current position. By ending the day one pitch short of where we wanted to be meant that we had to work extra hard the next day to finish this great climb.



21-May-2011
1:14:04 PM


DAY 3



Ben:
We were up at 6 to give ourselves that little bit of extra time. It was fresh outside (f*cking freezing) and in the pre sunrise light the hills off beyond Porepunkah looked like sets of swell rolling in across the ocean. The ocean was the low lying cloud filling in the valleys, and the ridges were a wash of blues, purples and violets. Then suddenly the sun rose and the mountains all turned pink, orange, yellow, and red. It was amazing. We began warming up immediately (probably a bit of a placebo effect).


*Best sunrise in the ledge ever.

We packed up gear, ate, brewed, and racked up in amazing time. Karl was all set to lead the roof pitch, and we had about 2.5 litres each for the day.

I was the only one brave enough to attempt 'business time' inside the portaledge. I still don't know how Karl and Phil held it all day.

Karl:
Day 3 began like no other. It was 6am on Mother's Day and I'm sure my wife was not thinking happy thoughts about me leaving her with our 2 year old son.

The sun was yet to rise as Ben unzipped the ledge fly to reveal a simply stunning view of the Alps. Breakfast was served and coffee on the ready when my attention was drawn to the most spectacular sun rise I have ever seen.



The wonderful morning I was having was soon snapped back into reality when Ben declared he needed to use the Big Wall Dunny. The smell of lavender scented garbage bags will forever trigger an unwanted memory.



Fully alert and keen to get moving I racked up my harness with some climbing bling. With RP's, 2 sets of nuts and small cams at the ready I geared myself up to achieve my main goal of the trip and complete the 6th pitch "The Roof".

I made my way to the roof and placed a small nut and a snug .75 BD cam in the roof slot. Stepping out into the void is always a nerve racking experience but even more so when you are 170+ meters off the deck. Moving further along I started to traverse right by placing another small nut. I climbed my Ett's and leaned out to look for the next best placement, at that point the last nut I placed popped and I fell a good 4 – 5 meters straight down. This was no doubt the scariest moment in my life. Thank F*@%K for the .75 cam.

Ben:
I belayed Karl on the gri-gri while lying in the ledge all rugged up. It was freezing cold still and being ledge bound meant there was little I could do to physically warm up.

Karl aided the roof and Phil and I yelled up messages of encouragement. It was an outrageous spectacle and I was having the time of my life spectating from directly below.


*Ben belaying from inside the ledge.

As Karl pulled the lip, weighting a medium sized nut in the seam just past the edge, the piece popped and down Karl came in a clang of gear and obscenities. It was SO COOL. I feel for the guy, I mean it must have been unbelievably terrifying, but my life is all the richer for experiencing it. I was tugged up into the top of the ledge, but it was a clean, safe fall with no victims other than Karl's nerves.

By my estimate he'd fallen about 6 meters into the void.

21-May-2011
1:14:45 PM



Karl:
With adrenaline running through my body and a feeling of defeat I looked at Phil and Ben and said get me down. But just as I did to Ben on day one, he returned the favour and said "this is what you came here to do. You can do this bro".


*Seconds after the whipper – Karl taking his aid to the next level.

Ben pulled on the rope to get me back up to the roof. I started again, going slow and placing way more gear than necessary, I worked my way through the roof and onto more vertical rock.

Once I was above the roof I started to enjoy the climb again and quickly got into a good rhythm, stepping high in my ett's and placing great gear. I soon reached the Gledhill Bivvy bolts and rigged up an anchor so Ben could jumar and clean the line. Finishing this pitch will always be my favourite memory of this trip. Largely due to the mental effort to get back up to the roof and continue climbing after my fall.

By now our original plan was out the window as it was close to 11 and we still had 3 pitches to climb, then haul, then get our gear back to the car. We were hours away from being finished. Not to mention the 4 hour drive home.

Ben cleaned my line and met me at Gledhill Bivvy. I transferred my gear to his harness and prepped myself for another long hanging belay, which was now quite uncomfortable due to the harness burn and bruising on my hips (Note: never wear pants that require a belt when aid climbing).

It was early afternoon and more sightseers were arriving at the lookout on the other side of the gorge. I can only imagine what they were thinking while looking at the 3 of us. In my mind I was hoping they were thinking we were super human blokes pushing the boundaries of impossible. Hahahaha!



Ben:
He finished the lead in smashing time, and fine form, and I jugged the pitch cleaning. I trailed the 120m static line that we'd eventually use to haul that evening. We had reached the Gledhill Bivvy, the weather was perfect, and all the hard pitches were behind us, but I was shagged. Yep, all I'd done all day was eat, poop, and jug a pitch but I was knackered. Karl and I sat there at the Gledhill sharing some food, and re-racking gear ready for the next pitch. I slowly felt energy returning and my enthusiasm peaking. It was time to get on with the day, and see whether we could tick this thing.

I aided the bolts to the lip out right and popped my head round to look up under the Fang's skirt. Awesome! From the lip to the bottom of the pontooth was a super cool and way-less-than-vertical A1 ramp. It ate up gear and allowed me to top step each placement. I don't think I used my fifi at all until the top of the ramp. Once at the pontooth the terrain gets interesting and really 3 dimensional. It was all cams and fixed gear. A piton and some angles let me know I was following in the footsteps of many before me.

We'd brought camalots #4, #4.5 (old), 3x #5, and a #6. I went crazy and fired metal in all over the place. Getting out from under the pontooth and up onto the headwall was difficult for me though. I was grinding my arms and shoulders against the rough granite, and my legs kept wanting to sweep back under the bottom of the fang. It took me as long to gain 2 meters here as it had taken me to aid the whole pitch to this point! I still look back on this section as being the crux of the climb for me. The gear was A1 but the physical move stretched me to my limit. Once moving again I was all smiles and humming to myself as each placement was fired off quickly and sequentially. I reached the belay on medium cams and settled in to enjoy the exposure.

As Karl jugged up I took stock of my location. I was just 2 pitches above our bivvy but the view had changed a lot. I realised the exposure hadn't been getting to me at all on this trip which was a pleasant relief. I'd been interested to discover how I'd manage at these new heights.

21-May-2011
1:15:27 PM

Karl:
Ben reached the top of pitch 7 (Pontooth) and I started to ascend the tag line so I could clean the gear on the lead line easier. I realised this was a good idea as soon as I made it around the first roof. What I saw ahead was a very tricky situation. There were slots in the roof big enough to get lost in, several points where the rope would jolt and grind across very course rock and then hidden amongst it all some difficult gear I had to retrieve. I ascended the tag line using my gri-gri and ascender, then pulling myself into the rock on the lead line with my other ascender. This combo allowed me to position myself higher or lower easily and get in close to the gear so I could remove it. At times I found myself flat on my back reaching deep into the slots to retrieve the gear. I felt more like a backyard mechanic working hard under a car than a climber.

I managed to clean the line in a reasonably quick time, the only casualties being a copper coloured straightgate biner and a little sling I found on an earlier trip. Job well done I say.



Ben:
Karl made short work of the pitch which was our quickest belay-to-belay time of the trip so far. I led off again punching in the bigger cams.

A few meters later and it was time to mantle up onto soil and grass. I was stoked to be gaining ground so quickly. The rest of the pitch wasn't even climbing, more like trench warfare in the belly of a just-a-bit-too-narrow chimney. I cut my forearms up grovelling but made it to the top and stepped across to the Gledhill memorial plaque.

Relief filled me. It was about 4pm and I knew we'd make it now.

I tied off to the hauling bolts below Wilkinson's lookout and radioed down to Karl. Finally I was able to ditch all the massive cams from my harness and stand with comfort. I'd only used half my camel back to this point, and wasn't feeling dehydrated at all. Knowing I had a litre remaining was fantastic. All my worries were now gone, so I sat and rested, enjoyed the panorama, and called Mum for mother's day.

Karl:
Pitch 8 was the longest for the day at about 40 meters. Ben took lead and I settled in for another belay. Looking at the clock I thought this pitch would take a good 2hours +. I was pleasantly surprised when Ben kept asking for slack, slack and more slack. He was moving so fast I found the rope getting caught up in the gri-gri. It was great that Ben was moving so quick, but bad that I restricted his ability due to my belaying. Within the hour I was back on the rope and cleaning the gear on the 2nd last pitch.

Reaching the long flat ledge 15 meters below the lookout was an amazing moment but my celebrations were not fully expressed as we still had 2 potential problem points to get through. The first being, sending one end of our 60meter ropes (tied end to end) down the static 120 meter rope to Phil and our gear. The second being, safely getting Phil and the gear out from our last camp and up 100 meters to where Ben and I were.

To get another line down to Phil we made an expensive heavy sinker out of a large collection of biners and attached it to the end of the 2 60's that lay coiled to avoid knotting. We lowered the sinker down the 120 static line and it quickly picked up in pace.

We radioed to Phil and asked if he could see our sinker. Negative he replied. Bugger! If we can't get this down to Phil one of us may have to rap down the static line and free the sinker.

A few attempts to wiggle the line and sinker free failed. Eventually I pulled the 60's back up to the ledge and reset the sinker and let it go down the static line again. This time it seemed to follow the static line closer and at a quicker pace. A jolt was felt as the sinker stopped. Ben and I looked at each other and waited for Phil to answer.

The CB crackled: I see your sinker boys and I can get to it. Those beautiful words caused us to erupt in celebration. Yelling and shouting our hearts out into the valley below. We were looking good for a clean evac of Phil and the gear.


21-May-2011
1:15:49 PM



By now it was dark and getting late. Ben and I were ready to haul on the static line and Phil was ready to ascend the 60's and guide the ledges and haul bag over any obstacles.

Phil did a fantastic job of dismantling our camp and packing the haul bag while Ben and I completed the 6th, 7th and 8th pitches. Then he had the lonely task of ascending 100 meters of rope to meet us on the ledge.

Phil would let us haul in the bag a few meters then radio to stop. He said that nothing was wrong with the gear and that he liked the comfort and company of the haul bag. This was understandable as I guess it can get a bit unnerving being alone and swinging in free space in the dark. I radioed back to Phil and said that he can draw a face on the haul bag and call him "Wilson" if he likes. Certainly a more appropriate name than "Pig". Phil gave a chuckle and continued to ascend the line with Wilson at his side like Tom Hanks in 'Cast Away'.

Phil was exhausted and when he reached the top of pitch 8 but was happy to move along and prep himself to belay Ben on the last pitch. I sorted out the ropes and gear and got them ready for the last 15 meter haul.

Ben:
It was well dark now and we could almost taste the top! We all looked at each other waiting for someone to volunteer to lead the last pitch. Silence.

I tied in and Phil belayed. I was actually really excited to aid at night under head torch. Some would argue that carrying a number 6, 3 number 5's, and 2 number 4 camalots all this way was overkill, but it was great to have more perfect gear than I knew what to do with on this last off width pitch. The pitch is vertical, or less than vertical, so it wasn't physically hard at all. Gear went in everywhere. By now my process was automatic, and I didn't have to make much of a conscious effort at all. Up I cruised into the blackness until I rounded the final bend in the crack and spied a bolt, then another, and by now the angle of the terrain was so low I could free in my hiking boots. Up through the final bushes and over the lookout railing. I tied off the tag line for Phil to jug and took my harness off!!!

Phil exploded out of the blocks and met me at the top a few moments later.

Karl:
Ben smashed the last pitch on lead and Phil cleaned. Before too long the fellas were ready to haul for the last time. I quickly ascended the line and helped get the gear over the edge of the lookout. It was 11pm and it was over. We had done it.

For me this trip will go down as the most adventurous to date. Every one of us was challenged and asked to deliver. There is no doubt the adventure would have failed if any one of us didn't commit ourselves.

Ben:
It was a clear starry night when we topped out and we took a moment to appreciate what had just gone down.

3 great mates ticking off a dream that we'd had for a very long time.

While not the most physically demanding or exhausting aid experience I've had to date, it did herald a number of new aid experiences for me such as hooking, multiple RP placements in a row, longer pitch lengths, having to use mechanical advantage hauling, night aiding, and sh!tting in a bag in front of your mates.

To the pioneers of routes like these: I salute you. Our journey up this fantastic line was like a business class flight compared to your wagon train Spartan effort thanks to our new-fangled technology, ledges, and synthetic polymers.

To Karl and Phil: Thank you! It all came together thanks to your hard work. Already the painful, boring, and scary bits are being forgotten like chaff to the wind, leaving only the kick arse adventure and outrageous memories behind!


*3 very stoked & very buggered blokes.

21-May-2011
2:56:39 PM

Awesome report, thanks for posting!
21-May-2011
3:23:47 PM

Great work getting the TR up so quick Ben. It captures the experience perfectly.
21-May-2011
5:28:55 PM

great stuff, the videos really make this TR a standout. Quick question about the ledge set up in the last photo were you guys flagging the ledge or did you just bust it out for the photo?
21-May-2011
5:30:37 PM

That was the best TR I've had the pleasure of reading! My stoke to aid has just blasted through the roof and the pics/vids add another dimension to an amazing tale.

Well done and thanks for sharing.
21-May-2011
7:43:03 PM

What are the chances of M9 not responding to this trip report?


21-May-2011
7:53:29 PM

On 21/05/2011 simey wrote:
>What are the chances of M9 not responding to this trip report?

Zero chance.

What is the chance of him not having those little hey heh heys?

Great TR Ben. U really were gonna climb this thing! Stoked for u guys. Well done and thanks for the great read.



21-May-2011
9:25:44 PM

I reckon Organ Pipe has raised the standard of Chockstone Trip Reports considerably with this excellent Report.
I really liked the input from different team members, as it gives added perspective to the events described.

Well done Ben, Karl, and Phil; not only in succeeding on the challenge you set yourselves, but also in doing it in style and good time. Your adventure will stick with you for the rest of your lives, and deservedly so.
The bond you share with each other for that combined ascent, is also stronger for the experience.

It is interesting to see this ascent through the eyes of others.
The video clips, add heaps to the read, though great as they are, ... still don't quite capture the emotion/airy feeling invoked by actually being there, for some of us that have already made that journey. Possibly this due to the flat dimension of screen stuff on a computer vs the multi-dimension sensory overload that goes with multiday ascents.

From close scrutiny of the vids, the graffiti that has appeared at the Gledhill Bivvy was disappointing to see, and the amount of fixed gear on the route in places that it wasn't in the past, is also an eye opener.

Your research, and building of skills to go for this adventure stood you in good stead.
Thanks for sharing it with us.

Post edit:
I reckon this TR will be used by many in the future as a good source of beta on the climb, and the techniques you used to make it as comfortable as it can possibly be done, by those who want the extended experience.
21-May-2011
11:06:09 PM

Nice!! That 1st pitch always seeps. After the bolt I place a yellow C3 then use a couple of big peckers until the good gear...

P.S. Does that talon have orange webbing?
22-May-2011
9:14:33 AM

Thanks for all the kind words gents - It was a pleasure puting the report together!

On 21/05/2011 brendan wrote:
>Quick question about the ledge set up in the last photo were you guys flagging the ledge or >did you just bust it out for the photo?

Flagged, well, sort of. Rather than attaching to the haul line along the long edge 'in line' above the haul bag, Phil lined both ledges up together (like stacking a deck of cards) and dangled them coathanger style from below the bag. It was an 85 meter haul (my estimate) from below the roof to the ledge at the beginning of the last pitch and they didn't seem to cop any bumps or scrapes in the process. We were chuffed.

On 21/05/2011 Fish Boy wrote:
>P.S. Does that talon have orange webbing?

Sorry Nick, 'twas blue. And in a cruel turn of fate, I actually dropped it later on the climb. It landed further down the hill from the P1 belay, but before the vegetation becomes significant. I'd actually love to spend a day on Comet collecting dropped gear. On my rap down to the base of the climb I spied nuts all over the place - but I had places to be so didn't deviate to collect!
22-May-2011
6:06:34 PM

Just watched all the vids, nice nice work, if youse come over to Vancouver in the next few years look me up and we'll aid climb Squawmish, that goes for most of the rest of youse too....;)
23-May-2011
9:18:41 AM

On 22/05/2011 Fish Boy wrote:
>Just watched all the vids, nice nice work, if youse come over to Vancouver
>in the next few years look me up and we'll aid climb Squawmish, that goes
>for most of the rest of youse too....;)

Cheers Nick will do!

On 21/05/2011 IdratherbeclimbingM9 wrote:
>From close scrutiny of the vids, the graffiti that has appeared at the
>Gledhill Bivvy was disappointing to see,

Rod, I did a double take when I read this, and after re-reading it I assumed you'd meant newer bolts over the years, or perhaps the tie off loops on the carrots from previous parties (although I did think it was strange to use the word 'graffiti' to describe them).

I couldn't let it go so watched the vid carefully pausing it every second or so. And low and behold someone has scratched "Aid climbing s..." (I assume it's "sucks") into the wall above the belay bolts.

I spent a good 10 minutes there with Karl, and didn't even notice it!!!

I agree it's a real shame.
23-May-2011
11:11:05 AM

Finally had the time to have a read. Excellent trip report, thanks for sharing!
23-May-2011
11:15:03 AM

Awesome work guys! Great to see a dream come to fruition. Awesome use of multimedia as well. Congrats.
| | |
| --- | --- |
| | There are 43 messages in this topic. |
Home | Guide | Gallery | Tech Tips | Articles | Reviews | Dictionary | Forum | Links | About | Search
Chockstone Photography | Landscape Photography Australia | Australian Landscape Photography | Landscape Photos Australia

Please read the full disclaimer before using any information contained on these pages.
Australian Panoramic | Australian Coast | Australian Mountains | Australian Countryside | Australian Waterfalls | Australian Lakes | Australian Cities | Australian Macro | Australian Wildlife
Landscape Photo | Landscape Photography | Landscape Photography Australia | Fine Art Photography | Wilderness Photography | Nature Photo | Australian Landscape Photo | Stock Photography Australia | Landscape Photos | Panoramic Photos | Panoramic Photography Australia | Australian Landscape Photography | High Country Mountain Huts | Mothers Day Gifts | Gifts for Mothers Day | Mothers Day Gift Ideas | Ideas for Mothers Day | Wedding Gift Ideas | Christmas Gift Ideas | Fathers Day Gifts | Gifts for Fathers Day | Fathers Day Gift Ideas | Ideas for Fathers Day | Landscape Prints | Landscape Poster | Limited Edition Prints | Panoramic Photo | Buy Posters | Poster Prints