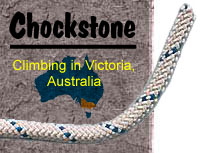 Sponsored By
ROCK
HARDWARE


Scarpa: Scarpa "Mystic GTX" Approach Shoe. Premium model. Gortex lined. Vibram Sole. Climbing toe... Size 43 Eur. (10 USm) $149.00
50% Off

Chockstone Forum - Trip Reports
Tells Us About Your Latest Trip!
Author

| | |
| --- | --- |
| Vietnam climbing: same same but different | |

14/01/2011
12:00:58 PM

I dream of limestone. Particularly of limestone cliffs girt by sea. Of the kind you can't find in Oz except perhaps in WA in a little well-hidden spot by the name of Bob's Hollow. Of course, you could do the obvious: jump on a plane and take the boat to Tonsai. The Thais are fun people, big smiles everywhere, the food is great, the ocean's warm. You can even buy big fat joints with your beers from the rasta guy/DJ/barman right there on the beach. No, I didn't inhale. No, you can't do that at Bob's Hollow.

There's another possibility though. Especially if you want to climb in January: Vietnam.

This year, Dominik's art business led him to take part in an international art fare in Singapore mid-Jan. Alex was quick to suggest a climbing trip to piggy back on the occasion. With girlfriends in tow, off we went and I thought you'd appreciate a trip report of the few days we spent climbing in Ha Long Bay. I threw in a little background info for those interested to make a similar trip and to help you budget it.

Hanoi

Maya and I arrived a couple of days before the usual suspects Dominik and Alex. Vietnam requires visa for all visitors. You can obtain them before you leave (as did our teutonic couple) or you can wish you had, like we did. Of course, I blame my travel agent for everything. Seriously, if you use the embassy online service like we did in order to obtain your visa upon arrival, make sure you have US$25 in cold hard American currency on you. We didn't but were saved by an obliging Australian couple. Thanks again Bruce.

Hanoi, the grand old dame of Indochina, is a mesmerizing place. We stayed in the old town near the Lake of the Restored Sword (Ho Hoan Kiem). The taxi ride from the airport costs about 300,000 VND or about $15 (remove four zeros and divide by two) - the airport is quite a fair way out. Because we are all insanely rich, we elected to stay at a decent hotel, Maison d'Hanoi, for about $100/night. This is by far our greatest luxury as the cost of living in Hanoi is insanely cheap. Today for example, the four of us ate for 220,000 VND. Do the maths and that's about $11 or $2.80/person - fried rice, cucumber salad and drinks included.

The streets of Hanoi are filled with liquid traffic. The width of the lanes widen or shrink depending on the flow; there's hardly any traffic lights but yet the flow moves and swirls constantly. You learn to cross the road trusting that the swarms of motorbikes will swerve around you, accompanied by never-ending warning beeps. Somehow this chaos works - scooters, pushbikes, cars, pedestrians all move along without pause. Fascinating. Probably not as fascinating as this engineering feat, though:


Local version of the National Broadband Network.

We took a couple of days to visit Hanoi. We saw the embalmed remains of Ho Chi Minh in his own personal mausoleum. Quite an eery experience according to Maya who keeps referring to our visit to the Nausoleum. The poor guy, Uncle Ho for the locals, wanted to be cremated but there is a price for being a national hero. We also visited the Museum of Ethnography. Very interesting, never mind the horrifically loud, distorted and pentatonic water puppet show. Lastly, and my personal favorite was our visit to the Fine Art Museum. Dominik, being a gallerist himself, could have spent many hours examining the modern art section. Here's a couple of pics for you


Riveting bronze of a "partisane" (female soldier) marrying war and art in a life-size sculpture


Tiny detail (2 cm x 3 cm) of a complex fresco illustrating daily life under the communist regime.

Tuesday, January 4th

Our cab picked us up at the agreed time, 6:15. Dominik's request to have breakfast lunchboxes prepared for the two hour ride was brilliant. There are times when having a German friend comes in really handy. Alex looked as pale and rubbery as Uncle Ho himself, though. Brooke, who had just arrived the evening before after much delay in Ho Chin Minh City airport probably wished that her man showed more color. All was not well for our Austrian friend and by the time we got the ferryboat in Hai Phong, we had to lay him down on a bed of luggage. To say he dozed on an empty stomach is a brutally exact description.


Alex's corpse lying on an improvised bed minutes before boarding the ferry to Cat Ba Island. He probably does not remember...

The fast boat took us to Cat Ba Island in 45 minutes (150,000 VND). By the time we got there, Dominik started to feel queasy too. So, Maya and I left this sorry crowd at the hotel (Princes Hotel, $25/night for a double room) to hunt for a meal (worst pizza ever, good beef stir fry) and to find the local guys at Slo Pony. We bought the guidebook (400,000 VND) and copied manually into it the 20 or so newly developed routes. We're all set now.

Wednesday, January 5th

All set but nowhere to go. Neither Dominik nor Alex is in any condition to climb. Actually, I don't feel top notch myself. So, change of plan. Maya, Dominik and I rent out scooters ($3/day) for a little trip around Cat Ba Island.

Riding on the coastal road, fresh air in our faces, did us some good. We reached a fishing "village" (Thôn Bác) about 20km out of Cat Ba Town where after much pointing and gesticulation, we were able to obtain a cup of tea. Mind you, it was two sachets of ice tea served with hot water. Better than nothing. Fun place though.


Dominik enjoying his tea. The place is actually also the local petrol station where gasoline can be bought in old coke bottles.

The way back took us to the Hospital Cave - a series of natural caves organized as bunkers during the Vietnam War. According to our guide, Ho Chi Minh resided there alongside 300 soldiers while the Yanks were bombing the hell out of the neighborhood. Interesting place if only because it contained a cinema (?!?) hall located in one impressive limestone cave.

We finished the day at the "Green Mango" restaurant eating White Man food, as Maya says. I think everyone is too well aware of how sensitive their stomachs are. Even so, Dominik had to excuse himself near the end of the meal. Oh well, hopefully tomorrow will be better.

Thursday, January 6th

Finally some rock face time! Butterfly Valley is only a short scooter ride outside Cat Ba Town. After some route-finding salsa, we finally found the impressive limestone wall set in beautiful surroundings.


Butterfly Valley Wall in it's bucolic setting.

The wall (also known as Lien Minh) derives its name from the mesmerizing butterflies fluttering about. It's divided into six sections spanning about 150-200 meters over an average height of 50 meters with single pitch climbs of up to 30 meters. Over two days, we got onto routes in four of those: Upper Mantle, Cool Banana, Center of the Universe, and Pond Wall. I counted 41 climbs ranging from 4a (14) to 8a+ (31) - in other words, fun for the whole family.

The rock is of excellent quality and, without having done any engineering fatigue tests, the protection solid. It was bolted the French way with fixed hangers and the climbs are rarely run out - at least compared to the Blueys. It was Dominik's first time on limestone and he liked it ("me likes"). It took him a while, due to his limited linguistic abilities, to distinguish between tofu and tufa but he got there eventually.


Myself trying out my luck on "Fingerless Phoman" (7a).

I'd like to have some fun story to tell but it was simply an enjoyable day out with friends. Good climbing, varied climbing in a great setting. The scooter ride took us back to Cat Ba Town around dusk for another ordinary meal. Dominik's leathery fish burger was a sight to behold.

Friday, January 7th

Wow! Ok, today was the day. "Screw loose" was the name. A three pitch number on Tiger Beach. It's got an overall grade of French 6b -- my translation is 20m, 18; 20m, 21; 30m, 20. Why is it amazing? Well, first, the location. Check this out:


Slo Pony Wall on Tiger Beach

Slo Pony organizes boat trips on a daily basis to both Moody's Beach and Tiger Beach. Depending on how many people join in, the cost varies: we paid 430,000 VND (21.50$) per person for a full day including lunch. Hiring a climbing guide is more expensive. There are alternative ways to get there using local boatmen that are way cheaper but we thought we'd stay on the safe side.

In the morning we climb at Moody's Beach, warming up on some easy but interesting climbs (16s, 19s) before lunching on the boat with other kayakers and climbers. Honestly, this was one of the best meals we had on Cat Ba Island. Throughout the meal, we were eyeing our multipitch with childish anticipation.

The basket boat brought us to the base of the climb which took place inside a 30m high narrow cave coiffed with a giant 15m long stalactite. The first pitch qualifies as unusual 18 and Alex took care of it. Dominik was in charge of the second pitch which is truly stellar. You basically climb to the roof of the cave and then bridge over the stalactite. At this very moment, just before exiting the cave, you basically have 40 meters of void between your feet. An amazing view into the turquoise water of Lan Ha Bay. Glorious. That moment alone is worth the trip to Vietnam. This climb will become a classic just like Humanality at Tonsai Beach.


Dominik and Alex on top of pitch 2 and myself trying to get there.

If you ever jumped on this climb, skip the first belay you encounter (the one depicted above) on the second pitch; there's another one 10 meters above. That will allow you to do the last pitch without too much rope drag. Of course you can do the climb in four pitches if you prefer - with a threesome, that's too much faffing around.

I took care of the last pitch which is a notch easier but quite long and with the crux at the end where the rock becomes more or less indistinguishable from soil. So the last 5-10 meters also bring some excitement to the outing. With two 60 meter ropes, two raps will take you back to the ground. If tide is low that is, otherwise, you'll be in for some wading. Nothing serious but your ropes will get wet.

Saturday, January 8th

Butterfly valley once more. Another enjoyable day on the rock face.

Sunday, January 9th

Oh well, no more climbing for this trip. On the fast boat back to Hai Phong. I leave Cat Ba Island with mixed feelings. The climbing was top notch, on unblemished unpolished rock, in inspiring uncrowded locations. And here's the but: we haven't seen the sun once in five days; it's been cold; the hotel, albeit cheap, was, well, mediocre; finding good food is not a trivial task and the level of spoken English makes the smallest tasks complex (e.g. ordering hot water; checking out explaining there is some error in the bill).

Looking back, I think we were simply unlucky with the weather. January in northern Vietnam is normally cool but sunny and so was it apparently a few days before our arrival. The climbing conditions - temperature, availability - are far better than what Thailand can offer at this time of the year where getting up early to get on the best climbs is commonplace.

My overall impression is that climbing-related tourism is now in Vietnam at the level of Thailand one or two decades ago. The potential is tremendous, especially sea cliffs of unforgettable beauty. I wish we tried DWS but the conditions were not conducive and we were too pressed for time. That would certainly be a fantastic experience.

Cheers, François
14/01/2011
3:28:18 PM

Great read. I would love to see more pics of your trip!
14/01/2011
4:40:44 PM

When my wife and I went to Halong Bay in March 09. We were doing the tourist boat thing but the paddling in a kayak was not that enjoyable in the wet and the surroundings. We went to Cat Ba island for a night and it was extremely windy and overcast.
Halong Bay is about 20 degrees N of the equator whereas Tonsai is only 8 degrees N.
15/01/2011
7:23:33 PM

On 14/01/2011 ClimbingNT wrote:
>Great read. I would love to see more pics of your trip!

Here are some more pictures from the trip as requested. They are more or less in chronological order.


Alex enjoying his climbing on some easy-ish climb on Butterfly Wall. Sure beat having the "tourista".


Dominik approaching the daunting finish of a long climb on Butterfly Wall. Even more so when you skip hangers as he realised afterwards...


Myself approaching the same finish. This shot captures well the look and feel of this nice piece of limestone.


On the way to Lan Ha Bay (Moody's Beach and Tiger Beach). Spectacular landscapes and all sorts of fish farming activities.


Climbing on Moody's Beach. Not so many climbs (6 according to the guidebook) but excellent intro to climbing on grey limestone (pointy, very pointy).


View from Moody's Beach. When dropped by the basketboat, you have the whole (small) beach to yourself. Great.


Dominik just emerging from the 30 m cave onto the face. A great moment as you basically must bridge between two walls with a lot of air between your feet.


Myself approaching the finish of "Scree Loose" after three fantastic pitches. Go do it!

16/01/2011
9:48:12 AM

Cool trip report mate.
5/02/2011
10:04:31 PM

A good read, with cultural variety to spice up the climbing experience, and interesting pics too.
14/02/2011
9:13:36 PM

Love the AUSTRIA cap..
16/02/2011
11:33:54 AM

Great trip report, and stunning photos. I'm very jealous...
| | |
| --- | --- |
| | There are 8 messages in this topic. |
Home | Guide | Gallery | Tech Tips | Articles | Reviews | Dictionary | Forum | Links | About | Search
Chockstone Photography | Landscape Photography Australia | Australian Landscape Photography

Please read the full disclaimer before using any information contained on these pages.
Australian Panoramic | Australian Coast | Australian Mountains | Australian Countryside | Australian Waterfalls | Australian Lakes | Australian Cities | Australian Macro | Australian Wildlife
Landscape Photo | Landscape Photography | Landscape Photography Australia | Fine Art Photography | Wilderness Photography | Nature Photo | Australian Landscape Photo | Stock Photography Australia | Landscape Photos | Panoramic Photos | Panoramic Photography Australia | Australian Landscape Photography | Mothers Day Gifts | Gifts for Mothers Day | Mothers Day Gift Ideas | Ideas for Mothers Day | Wedding Gift Ideas | Christmas Gift Ideas | Fathers Day Gifts | Gifts for Fathers Day | Fathers Day Gift Ideas | Ideas for Fathers Day | Landscape Prints | Landscape Poster | Limited Edition Prints | Panoramic Photo | Buy Posters | Poster Prints