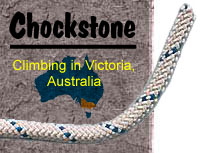 Sponsored By
ROCK
HARDWARE

| | |
| --- | --- |
| | For All Your Climbing Gear! |

Beal: "FLYER II" 10.20mm x 50M. (Dry COVER) Water Absorption: 12% Weight/mtr - 64 gms. UIAA Falls - 9. Impact Force - 7.4 kN Only 1 left! $239.00
20% Off
Climbing Media Reviewed
[ Books | Movies | Screen Shots | Best Stuff | Aussie Titles | Latest Reviews | Reviewed Only | All ]

Vertical Limit
(Action, PG) K2 & Nitroglycerin don't mix.
User
Comments

Mike
7/21/2002

Vertical Limit is a mainstream, pure fiction, Hollywood action film with about as much proximity to real mountaineering as Shuttle Puck has to Ice Hockey. Forget everything you've ever known about climbing and you might have a chance at enjoying this movie, if you're into explosions, predictable plots, and melodrama. We stopped counting technical faults after about 25. In terms of realism towards rock & ice climbing, and high altitude mountaineering this movie is plainly poetic licence on steroids. By the end of it you're saying, enough already.

The basic plot revolves around a brother and sister, Peter and Annie Garrett played by Chris O'Donnell and Robin Tunney. In the opening scene Peter cuts his dad loose, high on a desert climb in Utah, while they all dangle from the end of a rope, in one of the most fabricated, fictional incidents that could ever be dreamed up. After you've said "what the?", several times trying to figure the sequence and system that leads to this tragedy it's plain pretty quickly that this tale resides firmly in fantasy land.



The plot then moves to K2, the world's second highest peak, where-in some rich dude decides to hire the best guides money can buy so he can bag the summit as a marketing ploy. Needless to say the mountain has other plans, and half of them wind up dead, or trapped, including Annie, who now needs brother Peter to come to her rescue.



The scenery is simply stunning, and if you're into explosions you won't be disappointed. People leap out of helicopters with nitro-glycerine strapped to their backs – a statement that pretty much sums up the whole film. Numerous people fall off cliffs, have avalanches crush them, disappear down crevasses, and get blown up. The old cut-the-rope-to-save-yourself, concept is pushed into realms of the painfully unconvincing.

Like I said, it's got as much realism as a cartoon, but at least it does have some actual rock & ice climbing scenes even if they are fake, and the backdrop of the mountains are pretty amazing. If you're a non-climber who's into action films you'll possibly quite like it. However, I'd be guessing that most climbers would be pretty disappointed, and would probably enjoy the movie K2 more, out of the few mainstream climbing movies available.


Anonymous
7/18/2002

A truly awful film. The video was on sale ex-rental so now I own the thing. It's interesting watching the first five minutes of the movie, which is supposedly rock-climbing in Utah (actually studio fakery), and counting the number of climbing techniques which the producer gets wrong. You can forgive the occasional short-cut - after all, the whole movie lasts about as long as a multi-pitch route and we have to get all the way to the crevasses of K2 before we are done - but Vertical Limit goes way beyond reasonable 'dramatic licence'. Like Cliffhanger, the first few minutes are calculated to get you on to the edge of your seat without leaving time for too much close analysis, and it might work for an audience of naive American teenagers - but even they would probably end up laughing at it. The acting, characterisation, story, are as bad. A real turkey.
timstich
7/31/2002

This film will provide the perfect compliment to an evening of drunken puking with old climbing partners. Watching it sober will leave you groaning as if you had a hangover. An unintentionally stupid film that proves again that mountains and hollywood don't mix.
Wildtrail
8/12/2002

Not derserved of the half star. The worst piece of Hollywood garbage to flow down the pike to date. I guess if you were looking to find out what high altitude mountaineering was all about, you'll get the exact opposite with this movie. Not only was the concept remarkably insane, the acting was just as bad. Not worth box office prices, certainly not worth the rental fee. Don't say I didn't warn you.

If you aren't expecting anything, then it is a one star "Hollywood" movie at best.
empenera
1/12/2003

muito ruim
Anonymous
9/2/2006

I would rate it as the worst film I have seen. It even tries to take itself seriously. Absolute crap.
Anonymous
9/2/2006

I would rate it as the worst film I have seen. It even tries to take itself seriously. Absolute crap.

albion
9/20/2007

A shocker, no question about it. Even worse than the nitro was the double ice axe leap across the chasm. Plausible? Some simple physics suggests not! Only 'Scream of Stone' is potentially worse, although that film at least has the Araps scene.
Anonymous
11/19/2009

this movie was cool come on who cares if it wasnt that realistic least there was good action no crap it was hollywood shits that dont no much about climbing but that leap was sick all though impossible but pretty sick i guess im just not that simpleminded its gotta be real to be cool reals too deppressing its nice to have a movie packed with sum action at least some of it was really filmed at k2 unlike k2
dmnz
1/4/2011

Funny in all the wrong ways
---
Further Reading:
Movie For Guys - Review by Billy Bob
Amazon - Details on purchasing, reviews, etc.
Camp4 - Review from Camp4 web site.

Home | Guide | Gallery | Tech Tips | Articles | Reviews | Dictionary | Forum | Links | About | Search
Chockstone Photography | Landscape Photography Australia | Australian Landscape Photography

Please read the full disclaimer before using any information contained on these pages.
All text, images and video on this site are copyright. Unauthorised use is strictly prohibited.