On 16/11/2004 A5iswhereitsat wrote:


>Damieta
>>I thought I saw something*
>Brilliant.
>I enjoyed your insightfull (evocative) 'short story' there mate.
>(You should cross-post it to 'that' Thread for posterity).

OK Here it is, a good excuse to retrieve this fledgling thread from the archives for another Kent-style shooting spree. It's not much, but it's a start........

.......He had been walking the flanks of the mountain ever since and would continue until the end of time. Moving over talus, rock walls, ice-fields and cornices - sometimes at great speed. During dawn, day, dusk and night.

The life of men had faded into a far and distant memory. Faces, figures, names, facts, had all blurred into a dream-like and vague recollection - did it actually happen or was it a dream? As time passed it became more and more dreamlike, almost forgotten, only a small instalment in a moving picture that now seemed to have so much more depth, clarity and yet simplicity. All was understood now, without being questioned.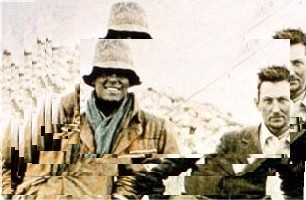 And he only knew that time was passing by the changing seasons. As snow turned to melt water and re-froze.The winter storms driven by bitter, cold winds that would tear, rip and steal. Large easterly-moving fronts announced the coming monsoon. Alpine grasses and small insects came to life during the thaw, encroaching on the mountainside, and then retreated to the valley floor as the white blanket of snow and ice re-claimed its place in the endless cycle of freeze-thaw-freeze.

Alpenglow, when shadows drew long fingers across the rock walls and snow covered peaks, marked the end of day and coming of night.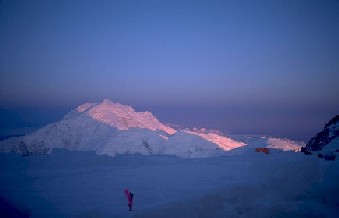 He often heard noises, sometimes the sounds of talking, shouting and laughter, but never saw anyone. Migratory birds and other animals made their way through the valley below, but never stayed long....