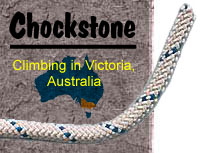 Sponsored By
ROCK
HARDWARE


17 Down Under: 17 DOWN UNDER. "A celebration of moderate grade climbing in Victoria". 184 pages. 285 images. Father & son team, Steve & John Morris, embark on a journey to climb and photograph 50 of the best rock climbs in Victoria, grade 17 & under. Inc bookmark $50.00
9% Off

Chockstone Forum - Accidents & Injuries
Report Accidents and Injuries
Author

| | |
| --- | --- |
| CABGs & climbing - a random info thread ... | |

21-Nov-2017
5:48:12 PM

A thread that will evolve as I update it along the way, in good old campfire discussion fashion, ... but first to set the scene...
(Please be patient as it's an ongoing work in progress!)

O Oysters, come and walk with us!
The Walrus did beseech.
A pleasant walk, a pleasant talk,
Along the briny beach:
~ ~ ~
The Walrus and the Carpenter
Walked on a mile or so,
And then they rested on a rock
Conveniently low:
And all the little Oysters stood
And waited in a row.
The time has come, the Walrus said,
To talk of many things:
Of shoes - - and ships - - and sealing-wax - -
Of cabbages - - and kings - -
And why the sea is boiling hot - -
And whether pigs have wings.

~ Lewis Carroll; (excerpt; Through the Looking-Glass and What Alice Found There. ~ 1872).

So what has cabbage got to do with climbing I hear you ask?
Well more specifically CABG... otherwise known as an acronym for Coronary Artery Bypass Graft (can be one or more...), ie heart bypass surgery.

I just arrived home from having this done, and can now give feedback on how the condition affected my climbing beforehand, plus how the ongoing recovery from it affects my future climbing, for any that may be interested.
If your not interested, then do yourself a favour and hide the topic to help de-clutter your screen!
Heh, heh, heh.




21-Nov-2017
6:04:03 PM

Okay, I know there isn't anything unique to my circumstances, though the topic hasn't arisen in any detail on Chockstone previously.

A couple of statistics.

1,400 CABG operations are performed per month in Australia with <2% of patients having issues arising from same.
The Australian health system if fantastic as most of the significant cost (around $50,000), of each operation is covered...

~ ~ ~

In the middle of August just gone, I went climbing to a beginner friendly location, as I was introducing a couple of semi experienced (some sport climbing background) climbers to 'trad' climbing for their first time.

The area had suffered from bushfire a couple of years back, and we had to bushwhack through regrowth over disappeared tracks to access the base of the climb we intended to do.
A good warmup it proved to be, though not overly strenuous.

At the base of the climb while we unpacked our gear in preparation for it, I then experienced a strong and highly irregular heartbeat...
When next I meet those folk, I shall have to ask them if they noticed anything unusual in my behaviour/demeanor at that time, though as events flowed on the day, they didn't indicate anything was unusual with me.

It (my heartbeat) was erratic but this only lasted for less than a minute.
It was a very hammer-like pounding (without pain, numbness, slurring of speech or any other 'classic' symptoms), thump, thump, thump, thump, thump. Then nothing! ... just long enough for my mind to think "is it going to start again"? It started again, but like ye olde clown car in a circus, you know the ones, they have wheels of different sizes and shapes, so that as they travel along they are wonking all over the shop...

Then thump, thump, thump, thump, thump again, once again followed by the pregnant pause, and clown car start-up.

And a third time, again the same; all up the total of the three combined was less than a minute.
I felt a bit light headed and slight nausea just afterward, but it quickly passed while I sipped on some water.
I was on my feet the whole time during this, as we were donning our harnesses etc.
It was mid morning on a pleasant day weather wise.

I then led an easy rope-length climb; slab start to a low angle finger crack, which I deliberately broke into two pitches by incorporating a semi-hanging belay at the base of the finger crack.
We swapped leads amongst each other, descending off the top double bolt anchor to the semi hanging belay each time, and ran laps on the upper half, practicing placing and cleaning gear.

We continued the learning / sharing of trad experience till late afternoon, and I experienced nothing further out of the ordinary on the day, nor indeed, ongoing to date; though as one will see with subsequent updates to this post / thread the further the incident was investigated the further into the 'boiling' I went!

To be continued.


22-Nov-2017
6:32:19 AM

Best wishes for your recovery Rod.
Steve

22-Nov-2017
7:17:22 AM

Wondered when you were going to post here... Got the all clear to go home last Friday M9?
23-Nov-2017
12:29:35 PM

Jeeze M9, I already counted you as super fit... you'll be unstoppable if they've made modifications to your heart and circulation!
23-Nov-2017
1:30:33 PM

Hey Rod! I hope you recover soon.You a tough minded dude. Keep it up.
23-Nov-2017
4:09:51 PM

Thanks gfdonc, TimP and Johny. The sentiment is appreciated.

Dalai, yes escaped on Friday but after being opened up and repaired, I've decided they forgot to put the endurance I had back in before they closed me up again, as my daily routine since has been a little exercise and a lot of sleeping!

Hmm.
>super fit

This raises an interesting facet of CHD (coronary heart disease)...

After all the initial tests (MRI x 2, ultrasound x 2, treadmill stress test + others I forget now!), I was diagnosed with calcification blockages in three places of the heart arteries, ie the ones that return from the main body-supply artery to feed the heart.

Calcification is different to cholesterol, but similar in effect. A blockage is a blockage and when it becomes fully effective then a heart attack is the result.
Calcification is often associated with hardening of the arteries (simply age and stage wearing out of the heart), and usually presents in the 6th decade, however my GP, Cardiologist and Surgeon all told me that recent studies have proven the link between early age onset of calcification of arteries in those who subject their hearts to high work-rate loads; particularly athletes such as Olympians, Tri-athletes, Marathon runners, etc!

In my case, yes I like to remain fit, and so have been mountain biking regularly (truth be known, much more often than climbing!), in the past 18 months.
My strava times were improving with distances getting longer and times coming down, and I was feeling good about that with no noticeable negative side effects. I rode on average two to three times a week for two or three hours each time, mostly on single-track (imo about 3 times harder than road riding comparable distance), in hill country. A typical ride for me was 25+ km with approx 700 m height gain / loss within same.
Some hills were my 'yardstick hills' and I regularly pushed myself on them.
One hill in particular that initially took me 25 minutes to ride up, I got down to 8 minutes of sustained effort on, and regularly was achieving sub 10 minute times for it in the last 6 months...

To that end I bought a new mountain bike, but have since decided they tricked me and sold me a hovercraft instead!
... As every time I rode it I was hovering between this life and the next!!

My surgeon told me that the condition I had was what his mob call a widow-maker and it was only a matter of time before I had a heart attack, and that I wouldn't have survived it.
Every time I went mountain biking (or climbing), there was a real risk I wasn't going to return, and I didn't realise it; but was thinking by default that by pushing my limits (literally the detonate button) harder, that I was improving my fitness / perhaps climbing grade / health generally!

Scary eh?

One of my wag cycling mates when he found out I needed a bypass, asked me "How long would that be good for?"
I replied "They told me 25+ years."
He then said, "Why settle for 25? Ask for a double bypass and go for the 50 year warranty instead!"

tbc...
23-Nov-2017
4:21:23 PM

Hi Rod, glad to hear that you're out of hospital. Sounds like a pretty decent excuse for a bit of rest. Let me know if you're up canberra way anytime.
23-Nov-2017
4:24:42 PM

Very happy to hear you're ok Rod. I think a simple "I'm busy" would have been an easier way to get out of the Buffalo aid weekend;)
24-Nov-2017
12:57:32 PM

Good 2 C your still in the climbing game M9 after your recent distraction.
Keep on keeping on.
24-Nov-2017
2:25:00 PM

Glad you're on the mend Rod! All the best for a speedy recovery.
2-Dec-2017
8:43:18 AM

Hope your recovery is still motoring along mate and that you're not floating away with all the rain up there?
11-Dec-2017
8:48:34 AM

Thanks ODH, M75, gnag, Sabu and ajf.

Recovery is slow but noticeable, though I am fortunate as I'm only recovering from the surgical procedure and not a heart attack prior to it as well.

Improvement has gone from taking 5 minutes to 'walk' 250 metres around a hospital ward, to now walking 5 kms in about an hour, at a month after procedure.
Hills knock the walking times around, but this is also due the c0cktail of drugs that I'm still on, some of which lower the heart rate considerably, so on a sustained hill the lungs play catch-up trying to compensate,... not unlike gasping after an all out sprint,... an unusual feeling when one has just done the equivalent of walking up a couple of flights of stairs!
Some of the drugs finish when the supplied box/s runs out, and others will be longer term.

Artery bypass grafts are 'harvested' from your own body and my surgeon was careful to point out that if needed they would take additional arteries from forearm/s, or veins from leg/s, to do the repairs; as once inside they don't stop till all repairs that are required are done.

From a climbers perspective he said that if forearm arteries were used that I could expect a certain amount of tingling sensation and loss of feeling in fingers / hand (due reduced blood supply), but no loss of strength, of the hands - arm/s involved.

In my case I did not require any additional harvesting, as the primary go-to arteries for this type of procedure are taken from inside the chest cavity, ie (at least for blokes), the mammary ones that supply blood to the nipples (redundant), as there are sufficient other arteries in that region to provide sufficient blood-flow to that area.
From my experience it leaves you feeling like your nipples have gravel rash and much of the central portion of your chest feeling numb and card-board-like, though I'm told that this will diminish over time.

From a statistical viewpoint, I've learnt that recent studies indicate a 20% less successful rate for those who receive leg vein grafts, even though they are strong and sizeable enough.
I don't know but strongly suspect that the lower success rate is also aligned with the fact that by the time surgeons are using leg veins they are dealing with triple / quadruple / etc bypasses; ie the patient is likely in a category that would have less overall chance of full success anyway...

Since starting a rehabilitation program at a local hospital I have also had my expectations of recovery time revised considerably.

Upon learning that part of the rehab consists of using pushbike style apparatus in a gym I was hopeful of at least riding my pushie again on non-technical terrain at around Christmas time, as after all what's the difference cycling outdoors vs indoors?.
Wrong.
It isn't the exercise per se, it is any vibration or worse still, jarring, associated with it, that can undo the good work the surgeons have done.
Horror stories of patients whose chests may have remained wired together, but underlying muscle / overlying flesh, etc separating due vibration, with consequent additional recovery time and enhanced scarring, have me erring on the side of caution, ... as I'm in for the long haul!

So, for the first 8 weeks (preferably 12), the following limitations (amongst others) apply;
- no lifting anything heavier than 2 kg
- no pushing or pulling
- no placing of both arms behind ones back
- no loading of one arm above shoulder height ... (maybe not such a big deal to forgo, as I've never been great at one arm pull-ups anyway!! Heh, heh, heh.)
- no vibration or jarring (includes using ride on mowers and pushbikes!).


11-Dec-2017
9:38:59 AM

Bureaucracy.

Having such a procedure done is a notifiable (legality) thing regarding ones drivers license, with VicRoads / RTA.

The normal limitation is no driving for 6 weeks, though my surgeon indicated I could drive again after 4 weeks, as long as I tell my insurance company that he said it's OK, and provide them with his contact details regarding same.

However...
Rehab told me that notifying them involves obtaining a form from them that requires signing off by my GP.
Once they hand me the form it starts the clock ticking and if they don't get the form back within 10 working days my drivers license will be automatically cancelled!
A Class 3 (heavy rigid / commercial) license has even tighter restrictions... Having a combined multiple category license also means that if cancelled then it affects all categories.

Not good when living in a rural area; as to get to/from the motor registry requires being driven; and rural GP's are often booked out for 3 weeks ahead, and this without the added down-time of Christmas-New Year holiday period thrown in as well!
Solution is to make the Doctors appointment first, then get the form; ... not that I'm likely to be man-handling a heavy motorcycle any time soon anyway!


11-Dec-2017
9:48:45 AM

Holy shit dude! I'm glad you're still bopping around, even if it is slowly for the time being!
11-Dec-2017
10:54:32 AM

Rod you are hard as.


| | |
| --- | --- |
| | There are 16 messages in this topic. |
Home | Guide | Gallery | Tech Tips | Articles | Reviews | Dictionary | Forum | Links | About | Search
Chockstone Photography | Landscape Photography Australia | Australian Landscape Photography | Landscape Photos Australia

Please read the full disclaimer before using any information contained on these pages.
Australian Panoramic | Australian Coast | Australian Mountains | Australian Countryside | Australian Waterfalls | Australian Lakes | Australian Cities | Australian Macro | Australian Wildlife
Landscape Photo | Landscape Photography | Landscape Photography Australia | Fine Art Photography | Wilderness Photography | Nature Photo | Australian Landscape Photo | Stock Photography Australia | Landscape Photos | Panoramic Photos | Panoramic Photography Australia | Australian Landscape Photography | High Country Mountain Huts | Mothers Day Gifts | Gifts for Mothers Day | Mothers Day Gift Ideas | Ideas for Mothers Day | Wedding Gift Ideas | Christmas Gift Ideas | Fathers Day Gifts | Gifts for Fathers Day | Fathers Day Gift Ideas | Ideas for Fathers Day | Landscape Prints | Landscape Poster | Limited Edition Prints | Panoramic Photo | Buy Posters | Poster Prints