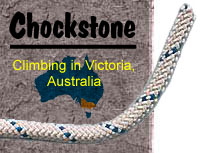 Sponsored By
ROCK
HARDWARE


Black Diamond "STOPPER" Set. (Sizes 4 to 13) - 10 pieces. Comes with a "free" karabiner for racking. $109.00
16% Off

Chockstone Forum - Trip Reports
Tells Us About Your Latest Trip!
Author

| | |
| --- | --- |
| TR - Wolgan - the Magic Line | |

11/06/2013
10:09:43 PM

I recently had a month with my family overseas – I used to use these occasions for clubbing, drinking too much and generally misbehaving, but I think I'm getting old – certainly clubbing has lost its appeal and I booked in 4 weekends of climbing this year. One of them was lost to being sick, but I got away to the Blue Mountains (Tom Thumb / Great Rum Beer Chimney), ACT (Orroral Ridge & Booroomba) and for the culmination, a long weekend at what is becoming my favourite camping / climbing destination, the Wolgan. There is something very special about the Wolgan – the great campsites, waking up to views of towering walls drifting in mist, even the inevitable tough approaches are brilliant. I enjoy exploring new areas almost as much as the climbing, and if scrambling along the base of a huge new cliff, soaring lines everywhere you look, appeals to you, the Wolgan will be right up your street.

One drawback with the Wolgan is that there isn't a lot of easy climbing, and most of the easy stuff is pretty old school – blocky, ledgey, vegetated and insecure. But I'm an old school climber, this is the type of stuff I learned on, and truth be told, never really moved much beyond. There are plenty of clean lines in the Wolgan, including some of the most spectacular and awe-inspiring routes in NSW – the towering routes on Upper Old Baldy hook my gaze every time, and I dream of getting up on Excalibur and Scimitar every time I visit. But these are serious undertakings – you best be solid on trad 18/19 before getting up on them, and even then, they are full day, quite serious undertakings. I'm not ready for them now, particularly as I'm generally the leader of our little crew – but maybe one day.

This trip there were 3 of us – Steve, my oldest friend and long term partner – and Quentin, my regular partner now. Steve is a casual climber, for 25 years he has been joining me on adventures around the world – never training, never leading, but always capable of getting up anything I'll lead, which probably says more about my leading than his climbing. Quentin and I have been climbing together for just over a year – we lead sport at about the same level (17/18 comfortably enough) but he is just learning trad & multipitch leading. I'm slowly getting back into trad leading, after many years of not climbing, then a few years getting back into the sport on mostly bolted routes. I love trad climbing, there is something so pure and satisfying in rolling up to the base of the rock, going ground up and doing everything necessary to keep your team alive on the way up, then leaving the rock looking exactly like it always was afterwards. Except when I'm actually trad leading, of course, when I cry and whimper and wish for bolts every two metres. Somehow, in a triumph of imagination over experience, I keep doing it, and quite often enjoy myself, mostly ex post facto.

Our goal this long weekend was to get in as much easy climbing as possible, introduce Steve & Quentin to the joys of the Wolgan, and generally just have a great boys climbing weekend away – but I did have one specific goal. When you wake up in the smaller of the campsites, just over the river, the winter sun rises and illuminates the most amazing line high up on Magic Mountain, the peak you can walk up just south of the campsite, facing Old Baldy. It is on the left of the obvious clean orange face above the giant landslide, and starts as a corner crack, going straight up a pitch or so, curving over to the left and into a spectacular open book. The crack continues up this to a huge capping overhang – and looks like the crack turns into a roof crack, which you could use to circumvent the overhang, very excitingly. The crack then continues up the grey slab/headwall, curving right until it reaches a wooded ledge near the top. 3 pitches, spectacular setting, winter sun, visible from the campsite – must be a classic, right? But I can't find it described anywhere…. Some research turned up The Point / Landslide area, which is the right area, and there were two possible candidates where the RDs (from 1968 and 1970) could conceivably fit – both grade 15, which is within my ambit – so my goal was to get up there and give it a crack.


The view from the lower campsite - inset shows the line


We left Sydney Friday early, driving up the Bell Line in the fog. Campsite entirely to ourselves – hooray! Quickly setup camp, and then off to the Coke Ovens for first day of orientation. What a great crag – something for everyone. We warmed up on Deathbed Confessions, an easy bolted climb right up the middle of the SOD wall, with just enough run out between bolts to make you concentrate. Quentin led the first pitch easily, we practised our semi-hanging belay techniques at the chains, and then I led the second pitch to the top. A 58m rap to the ground, and we were warmed up. Nice.


View of the Coke Ovens crag from the old coke ovens at the base.


Quentin leads off on Deathbed Confessions


Nice pano of the route - credit Steve Phillpott


I led the second pitch. Note optimistically slung chickenhead.


Long rap off DC


Then on to Organ Grinder. I'd led this before, so Quentin got the sharp end. It is only a grade 14, but nothing remotely like a sport climb – you need a wide variety of skills to get up this in style, chimneying, jamming, heel & toe, a bit of face climbing, all in quite a spectacular position. Quentin quickly understood why it was called Organ Grinder (have a look at the photos, and you'll understand the particular hazard to the leader) but led it well, I loved it on second (so much easier when you don't fear death) and Steve nearly blew a valve but as always, managed to get up it.


Quentin on Organ Grinder (the name refers to the arete he is straddling...)


Steve running out of finger strength near the top


the views from the ledge - tourists dont get to see this. Credit Steve Phillpott


Then it was my turn – the second pitch of Organ Grinder is pretty poor, but next to it is the top pitch of Monkey Business (15), which leads you around a little roof and then straight up a very appealing corner crack. It took me a while, mostly because I'm scared, and wanted to lace it up every couple of metres. It protects well, though, and makes a much nicer finish – the combination of the two routes is excellent. Both Steve and Quentin found Monkey Business much easier than Organ Grinder – whereas I found it about the same, perhaps because I was leading. Again, a long double rope rap (58m) led to the ground.


Alex on Monkey Business

Multipitch with 3 is pretty slow – we'd hoped to get in another climb, but the days are short, and already the sun was dipping below Old Baldy, so we called it a (successful) day and headed back to camp. Big campfire, excellent curry, an explosion of stars, red wine, whisky, a quiet smoke with good friends – how good is life?

Saturday dawned grey, and we were a little slow to start. Heavy packs on, and up the Magic Mountain track – no such thing as an easy approach in the Wolgan. But miraculously, the old access instructions from 1986 are good, and we found the vague trail leading off to The Point / Landslide area. And hooray for '70s climbers and their habit of painting initials at the start of climbs – our warm up for the day was clearly marked and easily found. But first – off to have a look at the giant route I'd been dreaming about. It took us a while, involving much scrambling over crumbling ledges and hideous shale slopes – but oh wow, what a line. We found the two described routes, Electric Kool-Aid and Psychedelic – both 15, both pretty tough looking adventures – but this line is something else. Looks considerably harder, more like 18-19 range, although the roof could be anything, you'd need to get up there to find out. I scrambled up an easy gully back towards The Point, and popped out on a ledge at the height of the overhang on the climb – awesome exposure, and very very impressive looking. Anyway, way beyond my sense of adventure at the moment… Anyone got any idea of what this line is? Anyone fancy a crack – I'm not up for leading it, but would love to give it a go on second… it is a truly inspiring line.


"I wonder what the roof goes at?"

Tail somewhat between our legs, we traipsed back to Reunion Blues, described as "A nice relaxing climb when you are suffering from a bloody big hangover." Fantastic, just what we needed J. I led this, and had a ball – a nice, generally secure corner crack with good pro and nothing too strenuous. A great big ledge with a tree for a belay, and then a choice of lines up the headwall – the second pitch was more than a little friable and mossy, but still enjoyable.


Looking for pro in the lichen - P2 Reunion Blues


Quentin enjoying the ledge on top of P1 Reunion Blues

Another long (55m) rap led to the ground, and our next climb – The Ripple Effect (13). This is the looong grey slab just left of Reunion Blues, and Quentin refused point blank to lead it, citing the very high likelihood of all of the holds falling off it. I quite like "library climbing" (pick a hold, don't like it, put it back, choose another hold) and there did seem to be a large number of bolts. On closer inspection, the bolts were bash-in carrots, in good nick, but no glue and a worrying amount of air between the shaft & the rock. But I figured it was a slab, and as long as I fell down and not out they would probably hold – so off I went. It was actually great fun, very straightforward edging up a very direct line, loads of jugs, and if anything easier than Reunion Blues. Strangely, the bolts just stop at about 45m up – luckily I'd noted this on the rap down, and took some pro for the top, finishing up the last few metres of Reunion Blues. Not a bad route at all, if you have a high tolerance for lichen and portable handholds.


Great views from on top - our campsite is the closest clearing

Then it was time for lunch, which we had at the base of the main wall in this area, gazing up at Off the Lip (18) and Crystal Cylinders(19). I wasted a lot of time trying all the tricks in my psychological kitbag to get Quentin to rack up and lead OTL, but no joy, I eventually had to resort to lame comments about how the weather was turning and perhaps we'd better not set off up a multipitch when it was about to rain. So we packed up and pioneered the direct route back to the campsite, following a plumb-line route through the bush. Fortunately for our egos, the skies then opened, enabling much self-congratulatory commentary about how wise we are getting in our dotage, how awful it would be if we were on P3 of Off the Lip, how our decision to retreat was wisdom not cowardice, etc. Went for a walk around the ruins in the rain (very atmospheric) and then built a huge fire in the pouring rain and sat around it in our waterproofs (and not so waterproofs) pondering my decision not to bring a tarp. Campfire evenings are much less pleasant in the rain, but we discovered that red wine, whisky and smoke have a way of making even that enjoyable…


Quentin looks damp, Alex is suspiciously happy in the rain.

Sunday dawned wet, cold and grey, and the cliffs were streaming with water, cloaked in mist, and generally looking remote and foreboding. Not much thought required – muddy tents jammed in the Subie, and off to the Bells Line café for giant cooked breakfast, and a quiet ride home. Once more, not a whole lot of climbing done, but an excellent weekend, and plenty of fodder for the imagination – I'll be coming back to the Wolgan for years to come.
11/06/2013
10:24:20 PM

luv yer work...

Great line, I wonder if a small leader (or someone not as well proportioned as me) could chimney up the back and pop out above the roof?
Either way, lots of big cams would be needed.
11/06/2013
10:29:43 PM

O man i sure missed out on making this trip with you guys :-(
Ill have to get on Organ Grinder next time i make it out there. Thumbs up to exploring some of the less traveled places. Seem to be making a habit of it now. Im disappointed you didnt do the one chimney you always mention. Thought u had a thing for them after our Tomb Thumb adventure :-D
12/06/2013
8:45:17 AM

haha - am scarred for life... Diarrhea Chimney is every bit as appealing as it sounds - I was nearly killed by rockfall just looking at it from the bottom (actually, thats an unfortunate turn of phrase...).

But I keep claiming to be an old-school trad fan, I should be better at chimneys. I'll put some on our hit list :-)
12/06/2013
8:49:47 AM

Mikl - while scouting the route, I scrambled up a steep gully to the right of the climb, and popped out (very unexpectedly) on a precarious ledge looking right onto that roof. It was a hideously exposed position, the little ledge I was on was undercut, and I was unroped, so didn't hang around long (and didn't have a camera with me, more's the pity) but it looked like you could relatively easily get up under the roof - but then traversing out around it looked very very exciting indeed - my hands are sweating now as I type this. Would be a brilliant challenge, but very scary. Looks like decent pro with big cams.
12/06/2013
8:50:41 AM

I reckon you've on par to overtake Francois as master of the TR;) Great pics and well written. Very stoke worthy....
13/06/2013
7:08:20 PM

I'm sure I've posted my shot of a much smaller chickenhead slung about 15cm from a rusty carrot I completely missed many years ago, so your one is fine.

As for the line... I've got a bunch of cams which haven't seen action for too long, and I'm trying to work out how to sneak off to the Wolgan. The line going right under the roof then up the right leading crack also looks like fun, in an old school "proper line" kind of way. I wonder if I can get away for a (long) day in the school holidays.

I really need to learn to jamB, though I suspect there's a fair bit of layback/undercling action involved there.
13/06/2013
7:26:53 PM

On 13/06/2013 Dr Nick wrote:
>I'm sure I've posted my shot of a much smaller chickenhead slung about
>15cm from a rusty carrot I completely missed many years ago, so your one
>is fine.
>
I looked, and all I got was;
>Dr Nick Has Not Uploaded Any Pictures

~> It would have been good to do a comparison. ☺



technogeekery posted;


>I led the second pitch. Note optimistically slung chickenhead.

I would have put a slip knot in the sling and snugged it up tight. I also would have weighted it with the biggest gear still on my rack that I reckon I'd not need higher on the pitch, as it looks from the pic that rope drag is lifting it already!
13/06/2013
8:56:17 PM

In that case:



My memory was out - it's more like 50cm.


13/06/2013
9:14:39 PM

On 13/06/2013 IdratherbeclimbingM9 wrote:

> I also
>would have weighted it with the biggest gear still on my rack that I reckon
>I'd not need higher on the pitch, as it looks from the pic that rope drag
>is lifting it already!

Thanks for the tip m9. ;)
14/06/2013
8:18:32 PM

On 13/06/2013 IdratherbeclimbingM9 wrote:

>I would have put a slip knot in the sling and snugged it up tight. I also
>would have weighted it with the biggest gear still on my rack that I reckon
>I'd not need higher on the pitch, as it looks from the pic that rope drag
>is lifting it already!

No - this really was a psychological one - slip knot would probably have pulled it off the chickenhead, loose it seemed better.

Weighing it down is good for sure, but had very light rack, and wanted every piece I had! As it was, there was a cunningly disguised and somewhat rusty (but very welcome) bolt just a meter or two up, so it really was a "chicken" head.
| | |
| --- | --- |
| | There are 11 messages in this topic. |
Home | Guide | Gallery | Tech Tips | Articles | Reviews | Dictionary | Forum | Links | About | Search
Chockstone Photography | Landscape Photography Australia | Australian Landscape Photography

Please read the full disclaimer before using any information contained on these pages.
Australian Panoramic | Australian Coast | Australian Mountains | Australian Countryside | Australian Waterfalls | Australian Lakes | Australian Cities | Australian Macro | Australian Wildlife
Landscape Photo | Landscape Photography | Landscape Photography Australia | Fine Art Photography | Wilderness Photography | Nature Photo | Australian Landscape Photo | Stock Photography Australia | Landscape Photos | Panoramic Photos | Panoramic Photography Australia | Australian Landscape Photography | Mothers Day Gifts | Gifts for Mothers Day | Mothers Day Gift Ideas | Ideas for Mothers Day | Wedding Gift Ideas | Christmas Gift Ideas | Fathers Day Gifts | Gifts for Fathers Day | Fathers Day Gift Ideas | Ideas for Fathers Day | Landscape Prints | Landscape Poster | Limited Edition Prints | Panoramic Photo | Buy Posters | Poster Prints